The key to sustainable growth hides in the data you gather about businesses. If you're representing a digital agency and want to help your clients grow, offering them a wide array of services isn't enough anymore.
You need a quantitative approach to provide the best services possible and help your clients achieve growth.
E-commerce analytics has grown in importance over the last several years, with 66% of marketers recognizing that. But how many of them possess the skills necessary to act on available data in a meaningful way?
E-commerce analytics offers a competitive advantage, and you must master it. That's where software solutions and white label software come into play. But before we get to the software, let's start with the basics:
Why should marketing be data-driven?
What is E-commerce Analytics?
E-commerce analytics encompasses the entire process of discovering, acquiring, and interpreting data for finding patterns, gaining actionable insights, and translating them into actions. All for growing business results.
Through e-commerce analytics, you can measure performance, discover trends, measure ROI, and even adopt a quantitative approach to a quality category, such as user behavior. Professionals use e-commerce analytics to:
Measure results;
Make more informed strategic decisions;
Cut costs and overhead;
Improve the overall business performance.
All this helps businesses stay flexible and quickly adapt to performance and user behavior changes. E-commerce analytics expresses a centralized approach to data management.
And where's data, there's software to make marketers' lives easier. Here's how!
What is E-commerce Analytics Software?
E-commerce analytics software helps marketers and retailers track performance by aggregating various data types coming from different sources. It collects the information needed to adopt a data-driven approach to marketing, generates the reports you need, and presents real-time data through comprehensive dashboards.
You can skim the most valuable information for your business or dig deep through the variety of e-commerce analytics reports such software can generate. And using a single comprehensive tool has its benefits, as you'll see in the next section:
Benefits of Using Such Software
Robust e-commerce analytics software helps you see the big picture, how a business performs, and what pitfalls to avoid. Here are the primary benefits of using MarTech for your e-commerce analytics: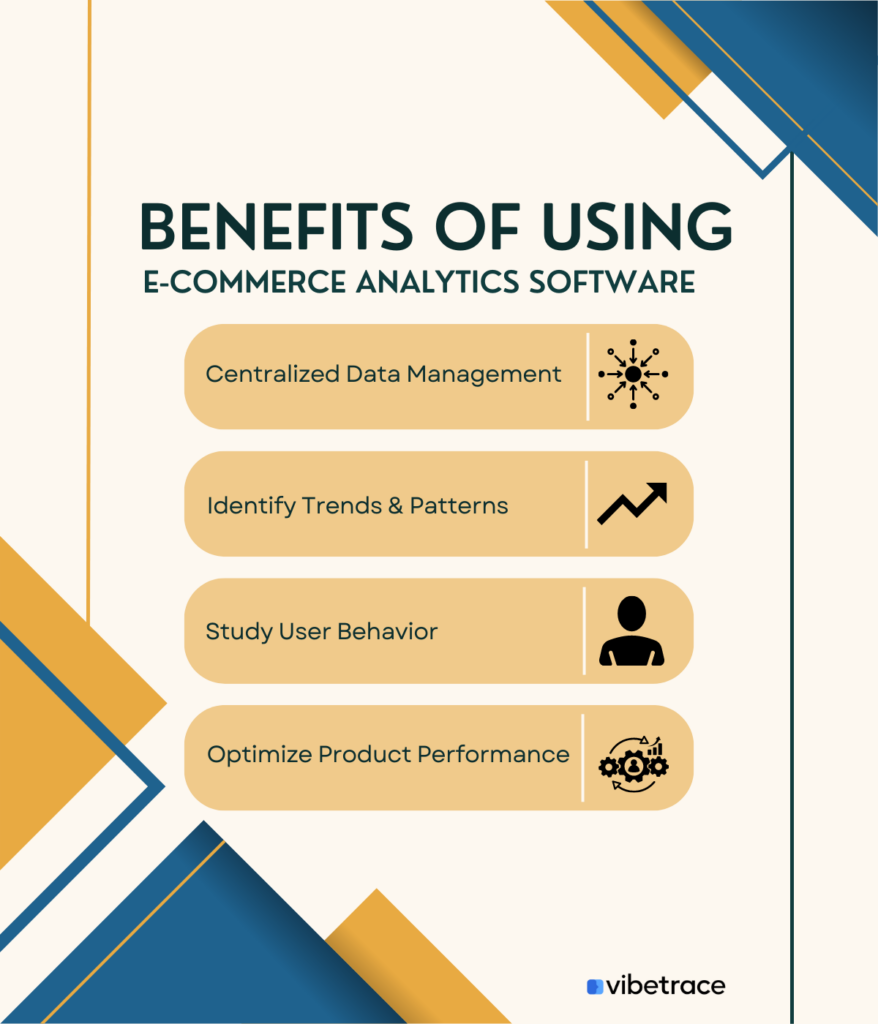 Centralized Data Management – you can have data coming in from various sources. Instead of switching between platforms, why not have everything in one spot? That's what such software does for you – it gives you a real-time screenshot of a business, all in one place.
Identify Trends & Patterns – since data is aggregated, the user-friendly dashboard of e-commerce analytics software, like the one that comes with VibeTrace, helps you easily discover patterns in achieved results and user behavior. That can help you make forecasts and beneficial strategic decisions based on reliable data.
Study User Behavior – e-commerce analytics helps you acquire a 360-degree view of your customer with personal data, site activity, and engagement. That way, you can create the most convenient and engaging user experience for different segments, accelerating growth and creating loyal customers.
Optimize Product Performance – pricing and discounts represent some of the trickiest moments in e-commerce. Analytics and aggregated data can help you understand how each product performs. That way, you can develop better pricing strategies and optimize conversions and ROI.
To achieve all that, e-commerce analytics software must have various features. The most crucial ones we'll cover next!
Do you need help with Ecommerce Analytics?
Test our tool for free to see how our ecommerce analytics features will help you run your marketing campaigns in a much better way.
Features of E-commerce Analytics Software
To help you increase customer loyalty and boost growth, e-commerce analytics software must provide:
Analytics reports specific to e-commerce;
The option to integrate with the tools and platforms you're using;
Detailed customer segmentation and profiling based on interactions with the business;
Comprehensive dashboards for analytics and KPIs;
Performance tracking through different sales channels;
Tracking for key e-commerce metrics.
Since you're gathering data and want actionable insights, available trackable metrics must align with your business needs. Below, we'll see some of the most valuable metrics to track with e-commerce analytics reports.
Important E-commerce Metrics to Track
Inexperienced marketers often focus on traffic, top-viewed and most-purchased products, and sales when making strategic marketing decisions. They stay at surface level. But key metrics go way further than that, and you must consider them if you want to offer growth to your clients and develop your business as well. Some of them are:
Customer Lifetime Value (CLV) – how much a customer spends during their time as one? CLV affects profitability directly. Through e-commerce analytics, you can identify one-off buyers and loyal customers and work toward increasing their CLV. That way, you can aim for a higher average customer lifetime value (LTV) and invest more in attracting new customers.
Returning Visitors – we've mentioned that on several occasions already. Returning visitors are more valuable than newly generated traffic. It's much more efficient to convert existing traffic. That's why you should pay attention to that metric. A higher percentage of returning visitors means people are interested in a business and its products. The latest research suggests that a 20% ratio of returning to new visitors, or higher, is what you should aim for.
Pages per Visit – are visitors interested in an online shop? Pay attention to how many pages they browse through when visiting. A higher number shows they're interested in what the store carries. This metric relates to the average time spent on site – the longer the customers stay on an e-commerce site, the better their experience and the higher their interest.
Conversion Rate – there's no hard-and-fast rule on what your conversion rate must be. But you can use industry benchmarks to see if the results you're getting are competitive. Both Shopify and BigCommerce report that, on average, a good starting point is a 3% conversion rate.
You'll have to monitor various analytics reports depending on your goals and business needs. Below, we'll discuss the most valuable ones, along with key metrics related to each, so keep reading!
Want to be up to date with Marketing?
Subscribe to Marketing Automation dedicated newsletter!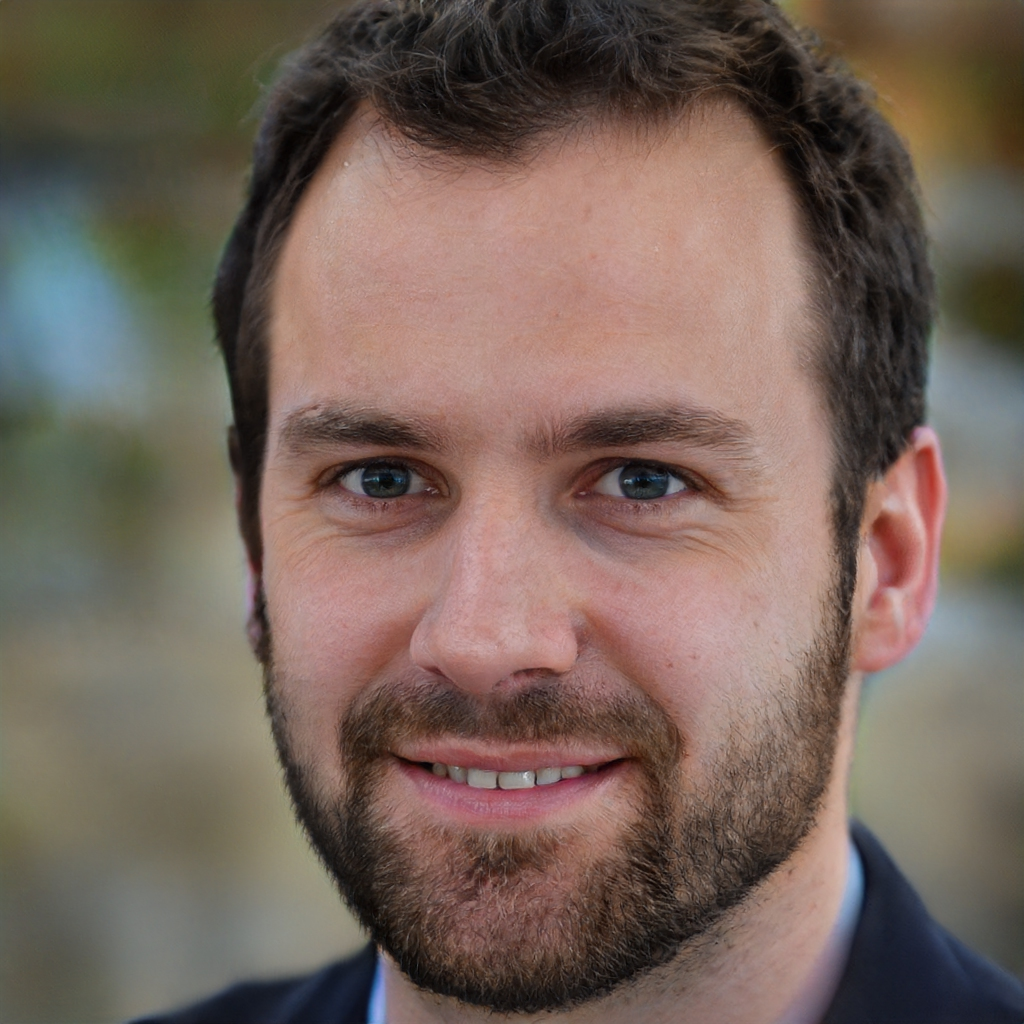 Stay connected with what's really important to optimize your digital revenues.
By clicking the button, you accept our Terms & Conditions. Also you will need to confirm your email address.
Top White Label E-commerce Analytics Reports
E-commerce analytics reports help you measure success and more. They help you gather insights and gain actionable information at a glance. Most importantly, they allow you to track and determine customer behavior.
Through them, you can see how customers interact with your offers and content. By creating detailed segments, you take the next step in data-driven marketing and can personalize their experience.
When you develop content and make recommendations that resonate with customers, you can significantly improve results. For that purpose, you'll have to monitor and gather data from four main types of e-commerce analytics reports.
Four Main Types of Reports:
Detailed and insightful e-commerce analytics reports equip you with all the information you need to accelerate growth and offer efficient services to your clients. You'll gather data from: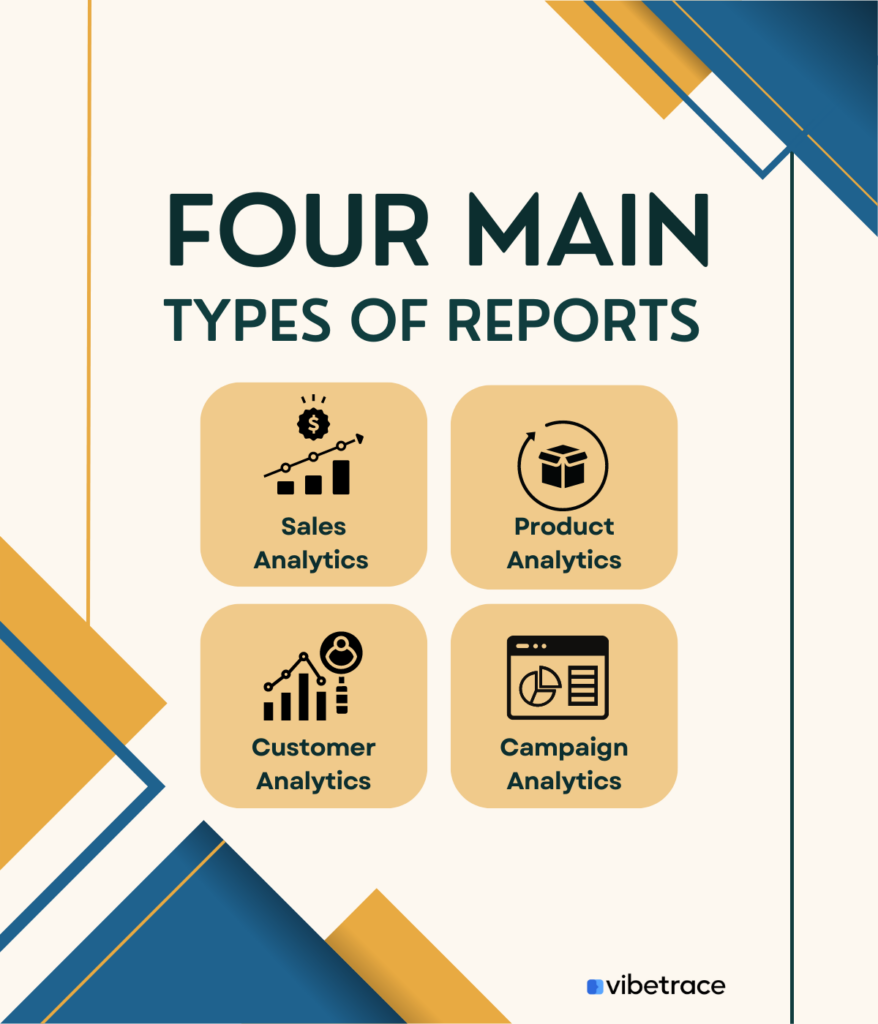 Sales Analytics – helps you keep track of purchases. You can determine who made the purchases, their values, what products have been bought, and even the sales channels that generated the conversions. Robust e-commerce analytics software helps you track key metrics like revenue, discounts, net profits (overall and per order), profit margins, and more.
Product Analytics – helps you determine product performance. Get actionable insights on pricing strategies when you see how well products are selling. Discover the top viewed, most purchased, most wishlisted products, the top added to cart items, and even see products hurting your bottom line. Make better merchandising decisions to improve results.
Customer Analytics – knowing your customers is half the battle. See where customers come from, their interests and preferences, and even how they shop online. Track their activity, analyze their campaign interactions, gather data on email, SMS, and push notification subscribers, create lists and segments, and start boosting engagement and conversions through targeted campaigns. Find your most valuable customers with the highest CLV and their cart values.
Campaign Analytics – finally, monitor your revenue growth and analyze campaign contribution. Gather insights on assisted and direct conversions and see real-time campaign performance. Depending on the channel, you can track metrics like Open Rate, Click-Through Rate, Impressions and Clicks, and more.
With robust e-commerce analytics software like VibeTrace's built-in solution, you can manage all your custom reports from one spot. Drill down to the very core with dozens of metrics and attributions for a deep dive into analytics. Or extract the essence – overall actionable insights that can transform the businesses that your agency is taking care of.
To get such essential software, you have two choices:
Create the software yourself – consider your and your client's business needs. What services do they need, and what do you want to offer them to grow your agency? Hire an expert team of developers and invest time and money to get a working solution. Or…
Use a white label solution – turn to existing MarTech, such as white label e-commerce software like VibeTrace. Those are comprehensive platforms with essential e-commerce tools, including white label e-commerce analytics reports. They provide lifetime support and take care of the development process. The best among them can cater to your specific business needs and further develop additional features to fit your needs.
If you're on the fence about using a white label solution, in the next section we'll see the undeniable benefits of that option.
Are you a Digital Agency?
Using White Label E-commerce Analytics Software – Is It Worth It?
Modern marketing is data-driven marketing. Using e-commerce analytics software that can centralize data management and generate key reports is essential. And the primary advantage of using a white label alternative instead of developing it yourself is saving time and cutting costs.
White label software offers a wide range of sophisticated tools essential to marketers' day-to-day work. From reporting to workflow automations, you can cut down repetitive tasks and focus on informed, data-driven strategic decisions to promote growth.
The best part is that white label software comes with pricing that scales with your business. That gives you tailor-made pricing options that will fit your current needs and adjust as you grow.
If you're ready to secure said growth for your clients and your agency, see the VibeTrace marketing platform in action to determine if it will fit your business goals. Book your demo today!
Useful Links: