Having a marketing plan for 2023 is essential for the success of your digital efforts
Just as a blueprint is necessary for building a house, a marketing plan serves as a roadmap for your marketing efforts, helping to ensure that all necessary steps are taken and that the campaign is well-organized and effective.
Without an ecommerce marketing plan, it may be difficult to effectively execute your marketing campaign and achieve your desired outcomes.
To ensure that your marketing plan for 2023 leads to lower costs for traffic acquisition, profitable sales, and a successful business, be sure to review the marketing plan in the article carefully and implement the ideas noted in the plan confidently.
This will help to ensure that your marketing efforts are effective and achieve the desired results.
12-Month Marketing Plan for the Year 2023
January Marketing Calendar 2023
January is the first month of the year and it's hard to miss out on preparing for the next special days.
Review existing and plan new marketing automation workflows
The marketing plan for January should outline the specific actions and strategies you will use to achieve your marketing goals during the month and should include details such as your target audience, budget, and key performance indicators (KPIs).
Ensure that your marketing efforts are well-organized and focused so you can see more progress.
Special Days in the month of January:
January 1: New Year's Day
January 8: Winter Sales (European countries)
January 16: Blue Monday
January 16: Australian Open
January 16: Chinese New Year
January 16: Martin Luther King
January 28: Data Protection Day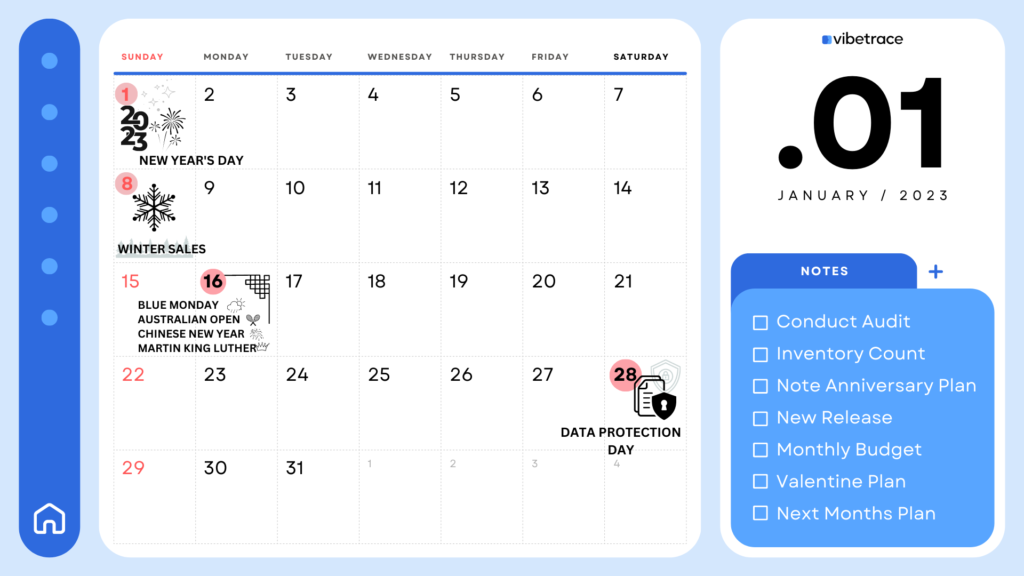 Conduct an audit to develop a comprehensive growth strategy. To prepare a comprehensive growth plan, it is important to conduct a thorough audit to gather relevant data and insights.
Experience is a key factor in improving any marketing strategy, and it is important to consider the unique needs and goals of your business when developing a marketing plan.
Do an inventory count: Conduct an inventory of your current stock and determine which items are still available and which have sold out or need to be restocked.
Make a note on your calendar to mark your business anniversary: Your business anniversary can be a good time to offer big discounts and special gifts to your buyers. This day will keep them engaged with your updates.
Provide something new: A new year means new stuff for people, so why not try releasing a new product to entice your customers? This will also give people the impression that your business has good product development.
Need help with ecommerce data?
Our CDP allows for very powerful metrics to be tracked.
Start setting up a monthly budget: Before beginning your marketing plan, it is important to set aside a budget for the year and establish clear goals for your marketing efforts. Setting a budget can help you save money and ensure that you have the resources needed to execute your plan effectively. It is also important to set goals for your marketing efforts, as this will help you track progress and determine whether your plan is on track to achieve the desired results.
Prepare for a special event campaign for Valentine's Day: Make sure that you keep track of your calendar of upcoming festivals and events, as these can be great opportunities to boost sales and increase awareness of your business.
For example, Valentine's Day can be a good time to offer special promotions or combo deals, and you can use creative and attention-grabbing subject lines to draw in customers.
Make a plan for the major events coming up next month: Always stay ahead of the game and plan ahead for each month. By preparing marketing plans in advance, you can better anticipate and take advantage of events and opportunities as they arise.
For example, you may want to create monthly plans for major events such as Christmas, Black Friday, and Valentine's Day, as these can be important opportunities to boost sales and increase awareness of your business.
Make a content calendar for the next quarter. While it may be challenging to plan out content for an entire year, it is still useful to have a broad overview of the content you plan to publish on a monthly basis. The content plan doesn't need to be perfect; just put together the ideas to be published on a monthly basis. So, it would be easier to make detailed plans based on monthly reviews.
Create main and festival campaigns: Keep an eye on festivals and major events for the month. World festivals are very important to attract all subscribers, irrespective of region. Make a calendar or follow Vibetrace's blog to stay updated regarding the upcoming calendar. There is one major event every month and a few smaller ones.
Set a monthly goal: To reach your goals, create a success path and divide it into smaller parts. It's hard to know your path without setting smaller goals. It's impossible to reach the top without the steps.
Want to be up to date with Marketing?
Subscribe to Marketing Automation dedicated newsletter!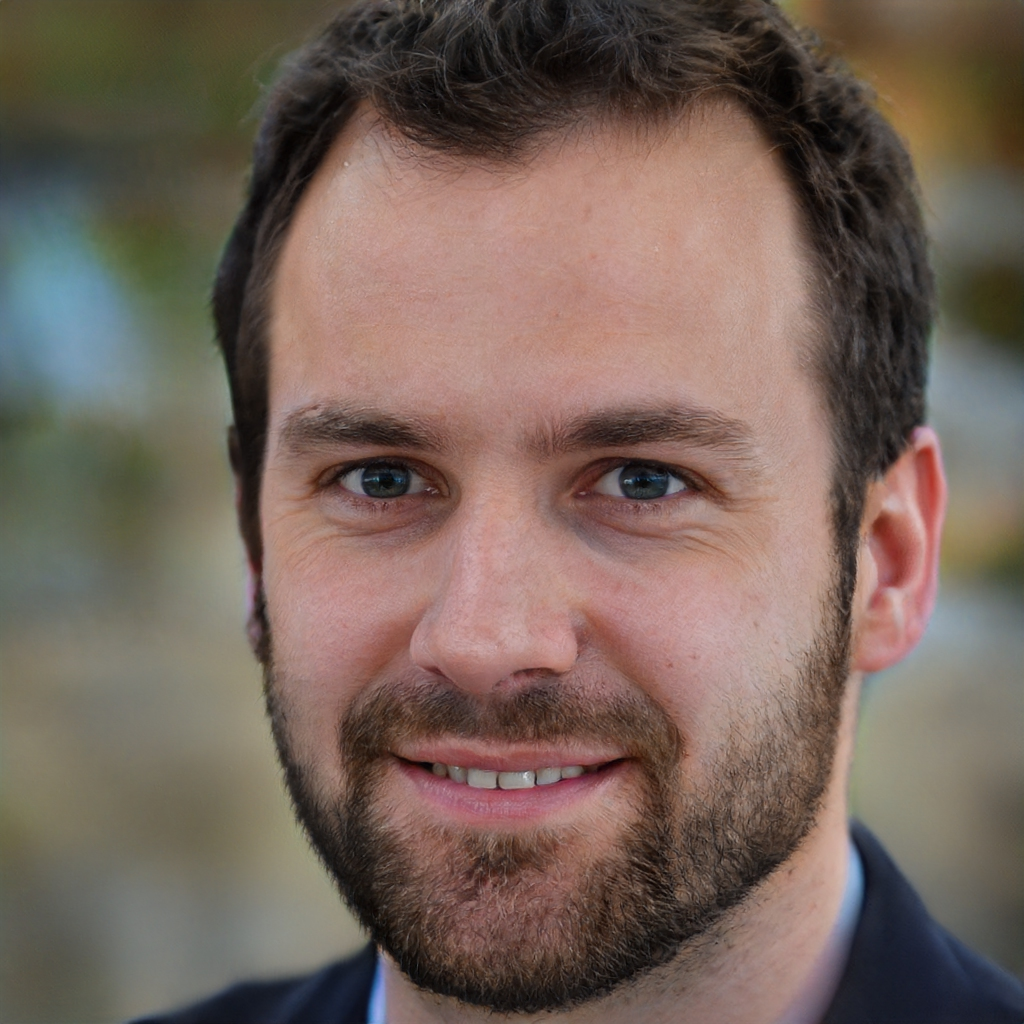 Stay connected with what's really important to optimize your digital revenues.
By clicking the button, you accept our Terms & Conditions. Also you will need to confirm your email address.
February Marketing Calendar 2023
February is one of the most awaited months of the year when people look forward to Valentine's day.
The marketing plan for February should include details about any special events or promotions that you plan to run during the month. It may also be useful to conduct test campaigns to see how different strategies and approaches perform.
As you work to achieve your marketing goals, it is important to track your progress and make any necessary adjustments to keep your efforts on track.
Special Days in the Month of February:
February 1: LGBT History Month
February 1: Black History Month (US)
February 2: Groundhog Day
February 12: Super Bowl LVII
February 14: Valentine's Day
February 20: President's Day (US)
February 21: Mardi Gras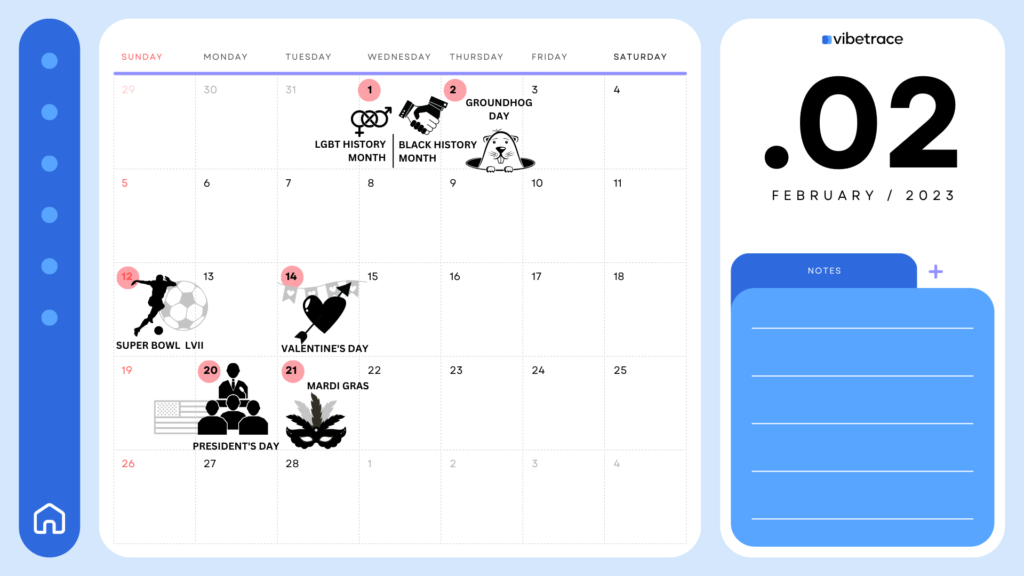 Focus on more lead generation ideas: After a month of the campaign, you can create some tricky campaigns to get more CTAs through email or another channel. Campaigns must be powerful enough to generate more leads. Make a proper audit each month and optimize your campaign.
Start content development: Develop high-quality content that meets the needs of your audience to increase visibility. Research, create in-demand materials, and solve common problems to attract visitors.
Publish content on a budget- and resource-dependent schedule and promote it through email newsletters, notifications, and social media posts. Focus on quality and targeting the needs of your audience to ensure that your content is effective and drives traffic and engagement.
Run the main campaign: You might have created a proper campaign plan for the whole year. As you work to execute your plan, it is important to track your progress and measure the success of your efforts. Your main campaign should be closely aligned with your overall business goals and should be designed to support your long-term growth and success. In addition to your main campaign, you may also want to develop short-term campaigns that focus on specific events or promotions.
Need help with your Email Marketing?
We offer managed services. Let's see how can we help you
Run your Valentine's Day campaign: Start preparing for Valentine's Day, including planning campaigns and promotions around specific days such as Rose Day, Chocolate Day, and Propose Day. Consider creating a Valentine's Day email series to kick off the new year and engage with your audience.
Track and monitor the previous month's report: To understand whether the plan is on track or not, reports can be tracked and monitored through various parameters. It depends on how you want to understand or what are your goals. Based on the goals, you can set parameters to track reports.
March Marketing Calendar 2023
March could be your first month to analyze how well your business is doing since the beginning of the year.
The ecommerce marketing plan for March should include details about any special events or holidays that are celebrated during the month, as well as any other notable days that may be of interest to your target audience.
Take advantage of the extra attention and excitement that any occasions generate and use them as an opportunity for this month to engage with your audience and promote your business.
Special Days in the month of March:
March 1: Women's History Month
March 3: World Wildlife Day
March 8: International Women's Day
March 14: National Pi Day
March 17: St. Patrick's Day
March 22: Start of Ramadan
March 27: Mother's Day (UK)
March 31: International Transgender Day of Visibility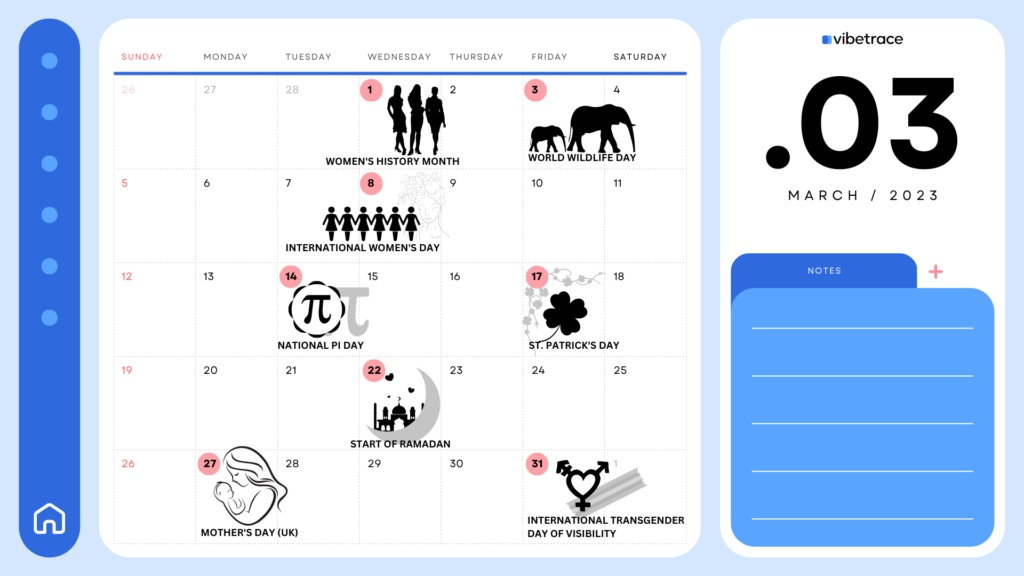 Evaluate other popular content on the internet: Try to look at the Google Keyword Planner or monitor different tools that can give you an idea of popular topics.
Demanding topics can increase the number of visitors to your website or blog, which might help you increase the visibility of your business.
You can get ideas from the internet on how to make popular content using Google popular search, Quora, and Slack Overflow. Lastly, try to look for the popular unresolved questions, which can give you an idea of how to give solutions to them.
Analyze the first quarter: It has already been three months. Now, it's time to analyze the past three months of the campaign using the proper parameters.
Ask the following questions: Is your plan on track? Is your strategy on the right track? Is there any optimization required or not? All these different questions can help you understand the campaign and improve it.
Need help with your Email Marketing?
We offer managed services. Let's see how can we help you
Re-budget the marketing plan: Think about re-budgeting the plan if needed. Rebudgeting can help you optimize your plan properly. You can do this every quarter as your campaign improves to maximize the optimization of your emails.
Release products or gift ideas for Women's day and Mother's day: To encourage sales during the month of March, consider offering gift ideas for women that are only available for a limited time.
By releasing these products at the beginning of the month, you can give people time to browse and consider their options, and create a sense of urgency by making them only available for a short period of time.
Additionally, these special occasions are anticipated by everyone and it's gonna be a loss to miss it.
April Marketing Calendar 2023
April is the month of easter which also can be a huge part of your campaign.
The marketing plan for April should include a special promotion or sale to celebrate April Fool's Day, which takes place at the beginning of the month. This can be a fun and lighthearted way to engage with your audience and drive traffic to your business.
As the second quarter begins, April is also a good time to review your marketing plan and make any necessary adjustments or improvements to ensure that your efforts are aligned with your business goals and are having the desired impact.
Special Days in the month of April:
April 1: April Fool's Day
April 7: Easter Friday
April 9: Easter Sunday
April 10: Easter Monday
April 22: Earth Day
April 22: End of Ramadan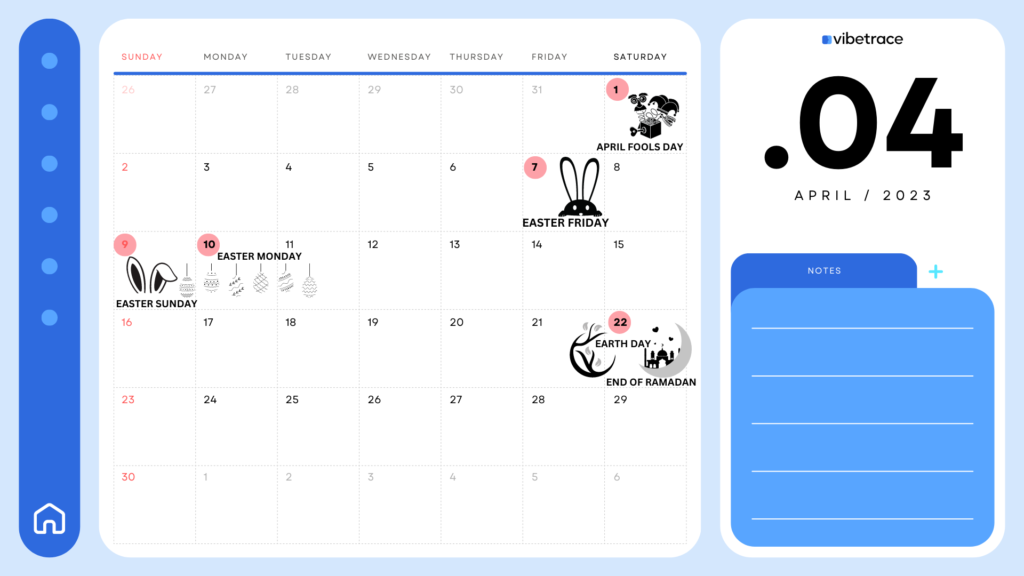 Start publishing content: Consider publishing high-quality content on a regular basis, ideally at least once a week, to engage with your audience and build anticipation, This will give your subscribers something to look forward to, and can help to create a sense of community and connection with your brand.
Run a survey or get feedback: Try to create a survey or get feedback from all of your clients to improve your service or the quality of the product.
A small survey can improve your quality of service and help you understand your business from the perspective of your customers.
Make challenges or games: Giving cashback and discounts has become so common. Customers need something new to try. So, try to create challenging games that will encourage your customers to participate in your sale.
This strategy can help to engage your audience in a more interactive and engaging way and may be more effective at driving sales and building long-term customer relationships.
Create a content plan for the 2nd quarter: You can divide your content plan into four parts and begin the second part of the content plan this month.
As you move through each part of your plan, take the time to review your progress and analyze the results of your previous efforts.
This can help you identify the weaknesses in your content and make adjustments to improve them.
May Marketing Calendar 2023
May does not have as many special events as in other months, but it is an important time to prepare for the upcoming months and ensure that your marketing efforts are on track.
The marketing plan for May should focus on continuing to execute your existing content and campaigns in a consistent and effective way.
By focusing on maintaining momentum and making any necessary adjustments to your plans, you can set the stage for success in the months ahead.
Special Days in the month of May:
May 1: May Day (International Workers' Day)
May 4: Star Wars Day
May 13: Eurovision Song Contest
May 14: Mother's Day (US)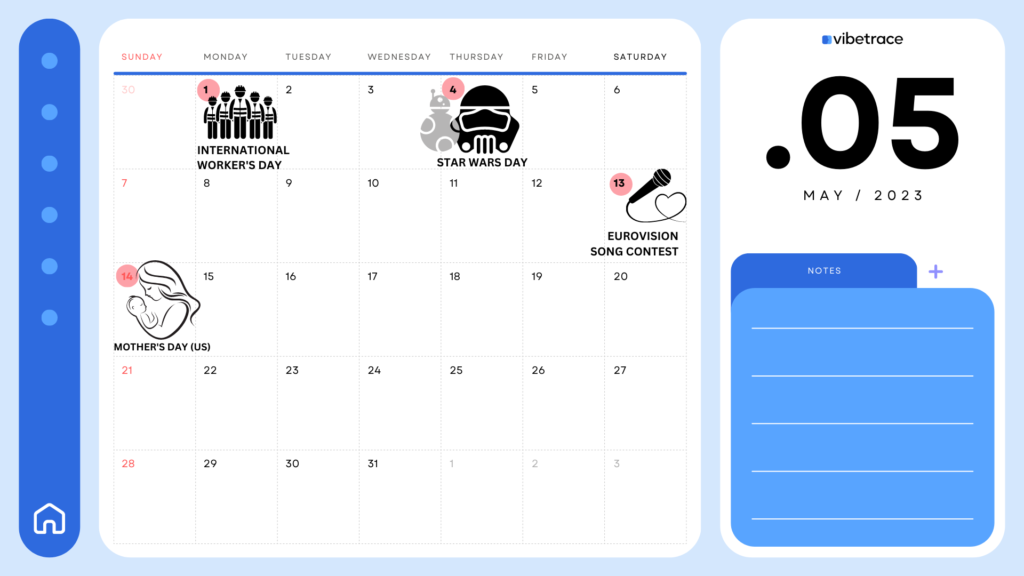 Publish More Content: Start publishing your 2nd quarter content plan gradually. The second quarter plan is critical for increasing and gaining subscribers for your end-of-year sale. Try to look for hot topics and solutions for your content to keep more people interested and engaged.
Add a Weekly Campaign: If you haven't started publishing on a weekly basis, this is the perfect time to switch to a weekly content plan. Try to create a strategy to create a weekly series or story that will keep subscribers interested in your newsletter.
Add spring-summer products to your lists: June is often a popular time for travel, as the weather is typically warm and pleasant in many parts of the world.
To take advantage of this month of April, consider offering deals and promotions on products that your customers may need for their travels, such as luggage, travel accessories, and other travel-related items.
Focus on children's products: There will be an end to the summer school holiday. If you have children's products, now is the best time to publish content related to children's wear or school products. Creating a big sale or combo offer can boost your sales.
Do you like this article?
Join Mary and the Marketing Automation dedicated newsletter!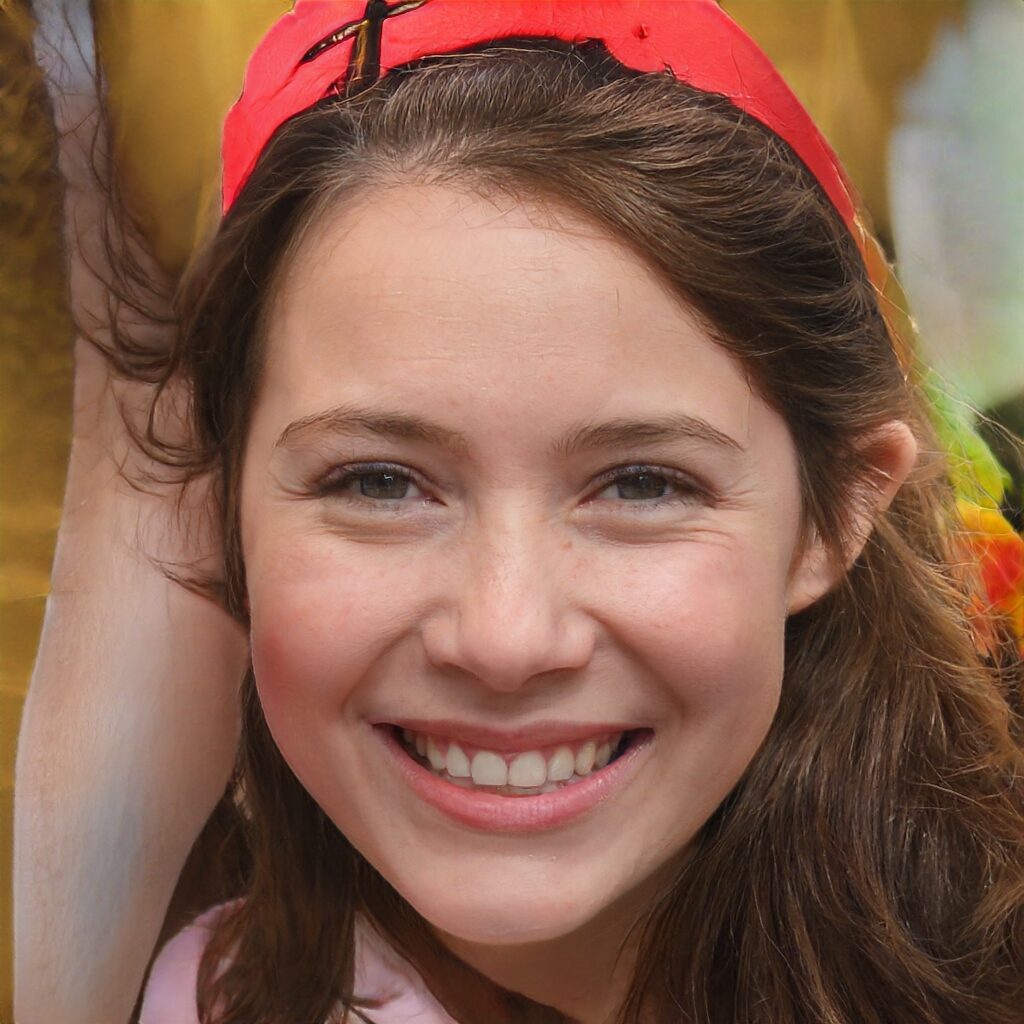 Stay connected to what's really important to optimize your digital revenues.
By clicking the button, you accept our Terms & Conditions. Also you will need to confirm your email address.
June Marketing Calendar 2023
June is often the beginning of the peak summer travel season.
The marketing plan for June is to consider developing marketing campaigns and promotions that highlight the unique features and benefits of your business, and that are tailored to the interests and needs of your target audience.
You might want to start increasing your marketing cost to maximize your potential of earning.
In addition, you should also make sure to track and analyze the results of your marketing efforts to identify areas for improvement and make any necessary adjustments to your strategy.
Special Days in the month of June:
June 1: Pride Month
June 16: Neurodiversity Pride Day
June 18: Father's Day (US)
June 21: World Music Day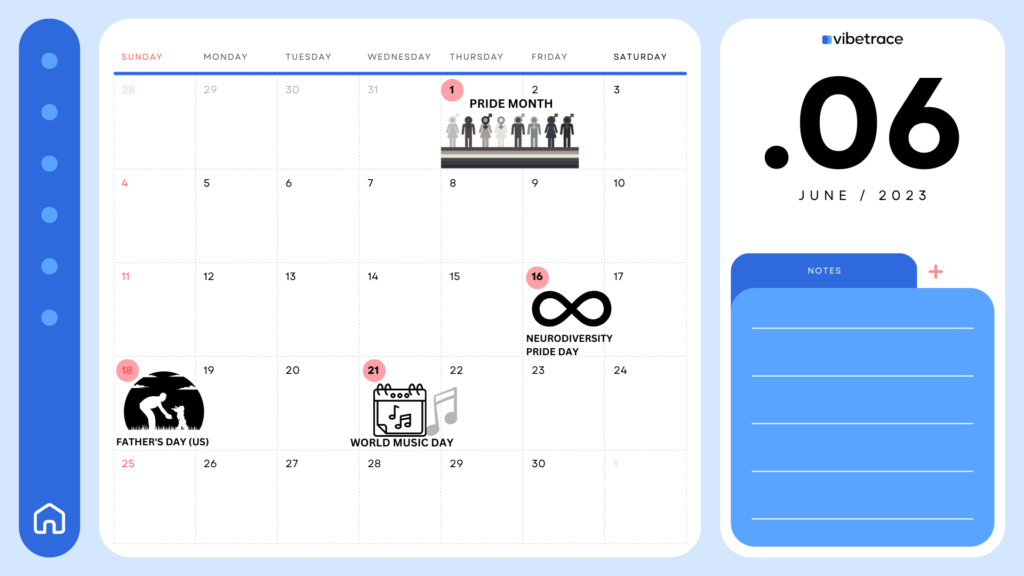 Evaluating the 1st and 2nd quarters of content together: Evaluate both the 1st and 2nd quarters together and check the difference to identify things that need more improvement. You should focus on the improvement or optimization required for the third quarter. Optimizing content strategy means publishing the right content at the right time.
Focus on an international day's marketing plan: Other than business events or festivals, there are plenty of international days, for instance, Father's Day, Pride's Day, Music Day, etc. Keep an eye out for all international days and pitch your offers or products.
Create an event or campaign: This could be the best time to create an event or competition to let people actively take part. Other than boosting product sales, it is very important to have customer engagement. Creating competitions or events will help boost customer engagement.
Make promotions on outdoor products: If you have a range of outdoor products, you can consider promoting them during the month of June to take advantage of the summer season. This might involve creating campaigns or special offers to showcase these products and highlight their features and benefits to potential customers. You could focus on products that are suitable for activities such as beach trips, hiking, or visiting new places, and emphasize how they can help customers enjoy these experiences to the fullest.
July Marketing Calendar 2023
July is the time to make necessary changes to your marketing efforts to lessen errors and mistakes and be patriotic and national days and holidays.
The marketing plan for July should center on capitalizing on the summer season as well as any holidays or special events that occur during the month.
The ecommerce marketing plan can be enhanced by keeping the national day as part of the major holiday and the mid-year discount sale.
Offering exceptional bargains or discounts on summer-themed products or services, as well as hosting an Independence Day sale or promotion (in the United States). You can organize a contest or giveaway to raise awareness and attract new customers. Plan for the balance of the year and identify any areas where your marketing efforts might be improved.
Special Days in the month of July:
July 1: Canada Day
July 1: Tour de France
July 3: Wimbledon
July 4: US Independence
July 14: Bastille Day – French National Holiday
July 17: Emoji Day 
July 20: FIFA Women's World Cup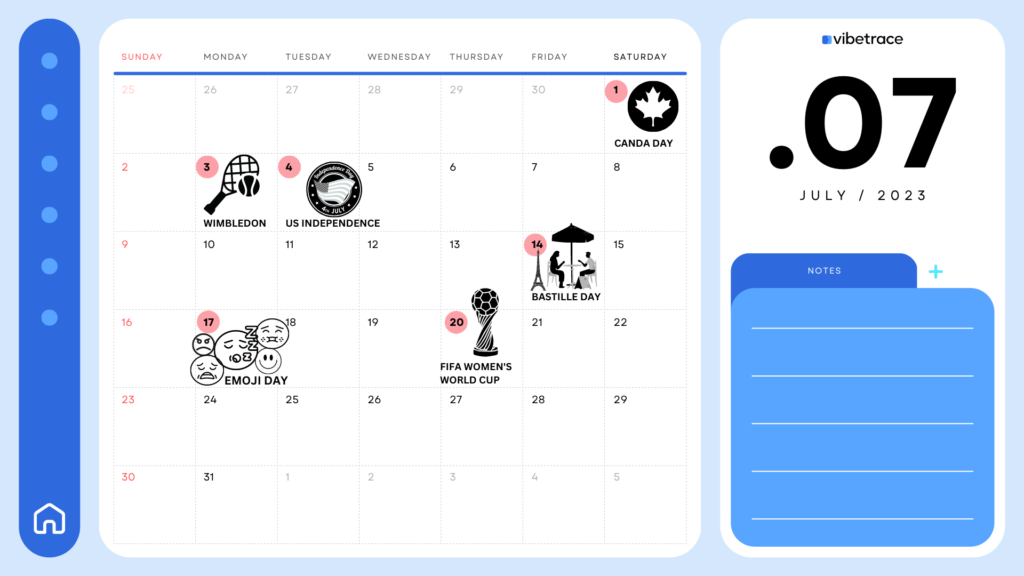 Prepare the content for international events: Plenty of events would have been organized by mid-year. Start by picking the best event of the year, creating content about the specialties it had, and creating a useful guide to picking events like this. These events are very useful for creating related industry traffic or business traffic.
Prepare content for festivals: Christmas and other major festivals are halfway over now. Prepare content based on Christmas or New Year searches. That can boost the content and visitors and help you gain more subscribers for your email newsletter.
Create 3rd quarter content: based on the evaluation you have done. The third quarter is really important for publishing the content. Content should be published carefully, and useful content can attract a number of visitors to your website or blog. The third quarter is very important for your business. It requires a lot of attention, so careful drafting of the content is necessary.
Create a fun challenge: Try doing another challenge or game to increase engagement from customers on Emoji Day.
August Marketing Calendar 2023
August is about the end of summer and back-to-school product promotions.
The August marketing plan should focus on the promotion of back-to-school commodities and services, as well as the continuation of the summer tourism season. This could include selling items related to returning to school, such as laptop computers, textbooks, and school supplies, as well as offering discounts on travel packages and destinations.
Consider running ads to promote end-of-summer sales or clearance events, as well as any events or activities your organization is planning in the coming months.
It is vital, like with any marketing plan, to assess your target audience's needs and interests in order to create campaigns that are relevant and interesting to them.
Special Days in the month of August:
August 4: International Beer Day
August 13: International Left-Handers Day
August 19: World Photography Day
August 25: FIBA Basketball World Cup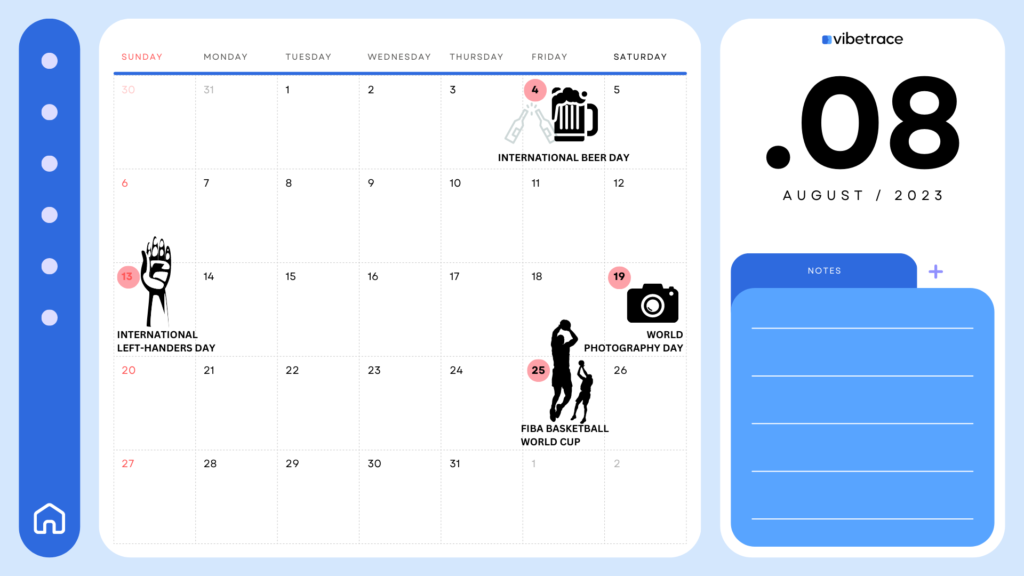 Start preparing a major holiday campaign: It's going to be a major holiday soon. Start brainstorming those holiday campaign ideas.
Prepare a list of the products you can use for these holidays. Start an email series to introduce it to your consumers. Begin by making a pitch and offering a discount or a raffle.
Prepare the mystery box and surprise the subscriber: Start preparing the mystery box for your customers. Create a sign-up form or log in to your website to open the mystery box. It's a nice trick to attract more visitors to your website or more subscribers.
Back-to-school Campaign: Create a back-to-school campaign, especially for children or school products.
End-of-summer campaign: It's going to be the end of summer, create an end-of-summer sale to give a boost to your sales.
September Marketing Calendar 2023
September is for back-to-school and the start of the fall season.
The September marketing strategy should prioritize the promotion of products and services associated with back-to-school and the start of the fall season.
It may also be a good time to highlight any seasonal sales or discounts, as well as any new products or services that your firm is providing.
As the third quarter comes to a close, now is an excellent opportunity to evaluate and analyze your progress, as well as make any necessary modifications to your marketing strategy.
Special Days in the month of September:
September 1: Back to School
September 4: Labor Day (US)
September 8: Rugby World Cup
September 15: Hispanic Heritage Month
September 17: Oktoberfest
September 21: International Day of Peace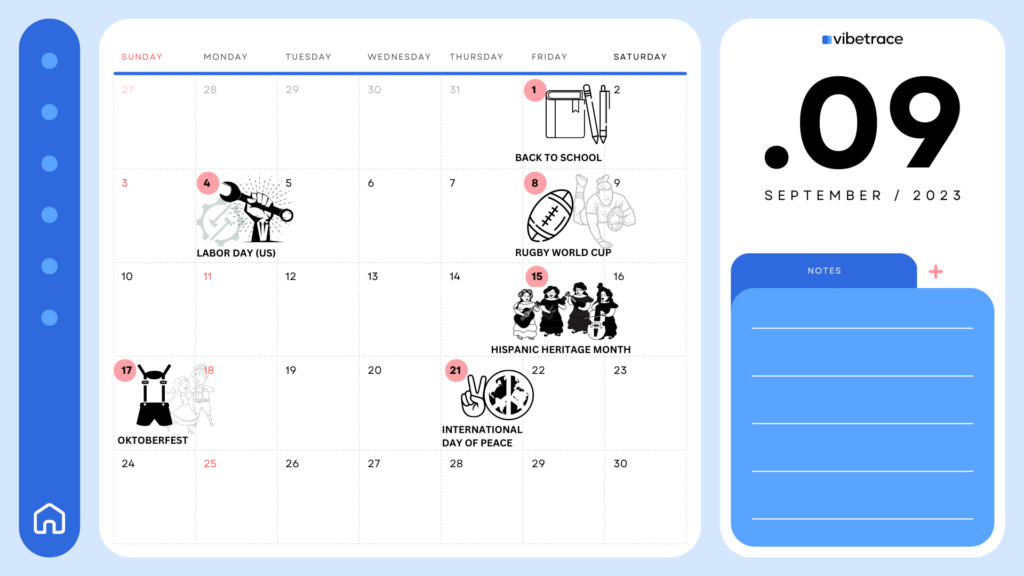 Evaluate 3rd quarter content plan: As soon as you start content publish, start evaluating all the content. Check all the required parameters, which can be helpful to optimize the content plan. It is very much important that your content plan stays on right track.
Surprise with a mystery box: Prepare more mystery boxes to surprise all your subscribers. Send it through email or SMS.
Start an autumn campaign: focus on the dedicated autumn campaign. Dedicated newsletter for autumn where the campaign can focus on the products and services related to autumn.
Find more subscribers and share the benefits of the newsletter: Try to collect more leads through the newsletter and create segments. More subscribers will be useful to publish good content
October Marketing Calendar 2023
October is the month of Halloween and being creative.
Halloween-related goods and services should be heavily promoted as part of the October marketing plan. You can create special offers or discounts for products with a Halloween theme to increase traffic.
This could be a fantastic chance to engage with your target market and increase brand recognition.
You may also consider promoting your Halloween-themed products or campaigns through email marketing and social media, as well as by interacting with your audience through online competitions or giveaways.
Need help with your Email Marketing?
We offer managed services. Let's see how can we help you
By being creative and thinking outside the box, you can create an effective marketing plan that will make you stand out and boost sales throughout the Halloween season.
Special Days in the month of October:
October 1: Black History Month (UK)
October 1: Cricket World Cup
October 9: Thanksgiving (Canada)
October 9: Columbus Day
October 10: World Mental Health Day
October 16: World Food Day
October 31: Halloween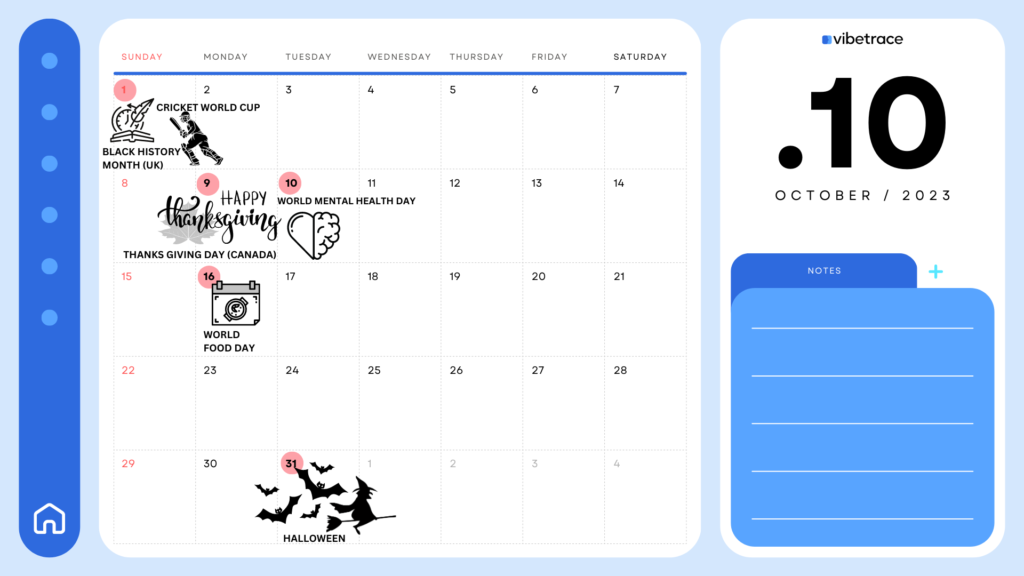 Prepare for the 4th quarter Content Plan: Evaluate the content plan for the third quarter and start preparing a content plan for the last quarter and the new year. A content plan for the last quarter must be prepared based on the evaluation of the first three quarters.
Prepare for the Christman Plan: Christmas is near, and it is the biggest festival. Christmas can give you a boost in product sales. Start your campaign by sharing the benefits of the products and their values. Focus on graphics or video email marketing rather than just content email marketing. Find the most comprehensive list of Christmas subject lines.
Special Halloween Starter campaign: Create a special Halloween starter campaign to showcase special sales and discount offers.
Prepare for Black Friday: Soon it will be Black Friday, it is better to stay alter and prepared with all the content required for Black Friday.
November Marketing Calendar 2023
November is an excellent time for the Christmas preparation
The holiday season should be the main emphasis of the marketing strategy for November. People are frequently seeking methods to save money and locate the ideal gifts for their loved ones, so now is an excellent time to advertise gift ideas and special offers.
With your marketing initiatives, you may also concentrate on inspiring a sense of urgency, urging customers to buy as soon as possible in order to take advantage of the finest offers.
Special Days in the month of November:
November 12: Diwali
November 20: Transgender Day of Remembrance
November 23: Thanksgiving
November 24: Black Friday
November 25: Small Business Saturday
November 27: Cyber Monday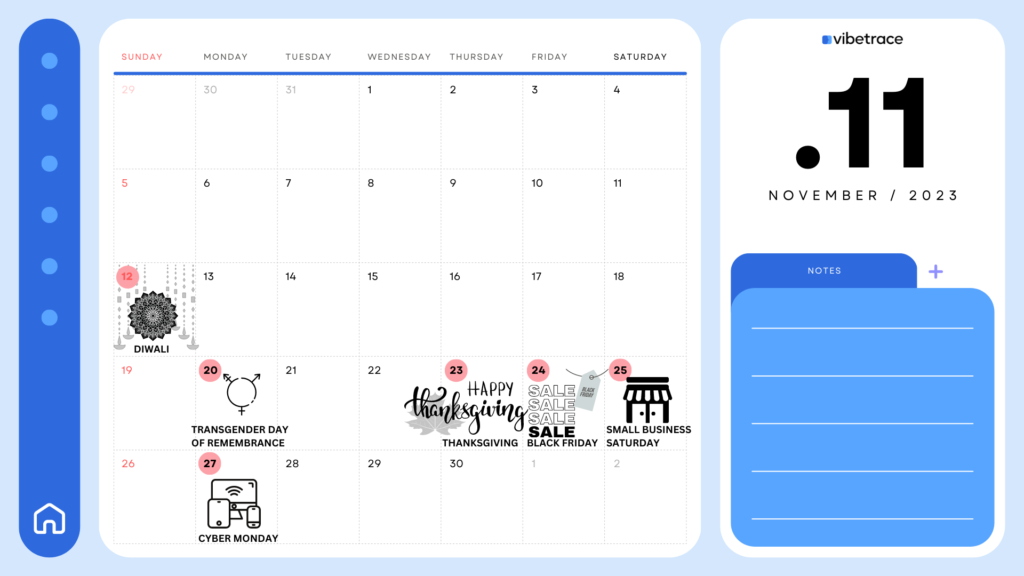 Run major discounts: Start different campaigns, from small to major discounts. The best way to start a discount is with free shipping. Free shipping is the most attractive and effective discount email. Discount can be divided into parts from 40% as an early bird discount to 10% latecomer.
Run the Christmas and Black Friday campaigns: Start the major campaign a month before. You can start with Black Friday, and in the meantime, the Christmas campaign can be started later on.
Don't forget our list of email subject lines for BlackFriday
Christmas campaigns are most important to boost sales and increase subscribers. If possible, start publishing content related to Christmas plans, travel plans, or products that can be helpful during Christmas. Create proper CTAs from email or web content.
Early access promotion: Give early access to your loyal and existing customers to the Black Friday and Christmas sales.
Create combo promotions: Create combo offers and share ideas with your customers. Plan ideas about different gifts and combos for colleagues, friends, and relatives.
Need help with your Email Marketing?
We offer managed services. Let's see how can we help you
December Marketing Calendar 2023
December is the biggest holiday season and evaluates strategy
The end of the year and the holiday season should be the main topics of the December marketing strategy.
Offering exceptional discounts and promotions at this time will entice customers to buy your goods or services as presents for others.
To engage your audience and get them in the Christmas spirit, you can also produce content and campaigns with a seasonal theme.
It's also an excellent time to evaluate your results for the year and make any necessary modifications to your marketing plan for the following one.
Special Days in the Month of December:
December 3: International Day of Persons with Disabilities
December 7: Hanukkah
December 24: Christmas Eve
December 25: Christmas Day
December 26: Boxing Day (UK)
December 31: New Year's Eve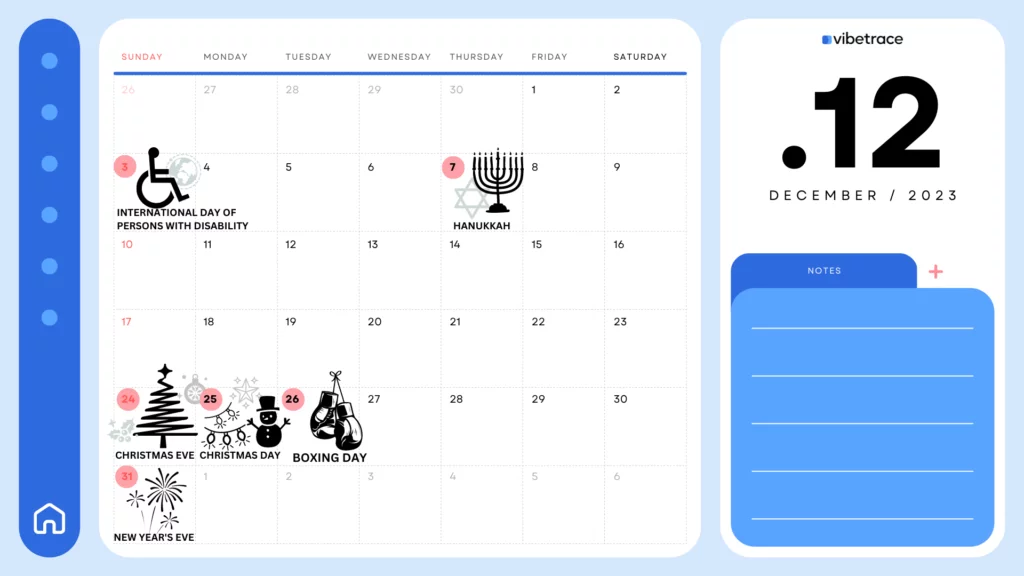 Evaluate your Christmas plan: From the very first week, start evaluating your Christmas plan. can be optimized too. Evaluate all your campaign parameters. Keep fixing any mistakes and running campaigns segment-wise.
Also remember we provide a list of email subject lines for Christmas and New Year
Before you run the campaign, please make sure to run A/B testing.
Keep notes for next year: Keep looking at your competitors. Put it in your next year's plan. All improvements are required from this Christmas to next Christmas. Look for challenges and optimization, overall market growth, and growth in your company.
Evaluate all content plans: Evaluate all your content plans. What are the chances of improvements? Look for the most visited pages and evaluate the content. Demand might vary from year to year, but still, figure out the most demanding content from last year.
Best product of the year: Share the idea of the Best product of the year. Allow more discount.
Increase budget: Allocate a special budget for Christmas to run major campaigns.