White label marketing solutions are the best option for digital agencies to save money, keep up with the competition, build their brands, and develop their own loyal following of customers over time.
But what is a white label software solution, and why is it such a good choice? This guide will cover all you need to know on the subject.
Why do agencies choose white label technology?
So, why do companies want to make use of white label marketing solutions in the first place? Well, in order to understand that, we first need to understand the definition of what is white-label.
A white label is a product without a brand. So, white labeling is the process of branding a third-party product with its name, style, etc. Basically, you buy a license to use a white label service or product under your name.
So what is white labeling software?
In simple terms, white label solution is software that is branded and sold by a company as its own, even though it didn't develop it.
Don't confuse it with private label, co-branding, and outsourcing.
Among white label in business examples, there is a popular scenario when a developer creates a piece of software to automate a part of the marketing process. Then, an agency purchases or leases that software in an unbranded state from the developer. Digital agency brands it with their own style, name, or materials, and sell it to customers as though it were their own custom software.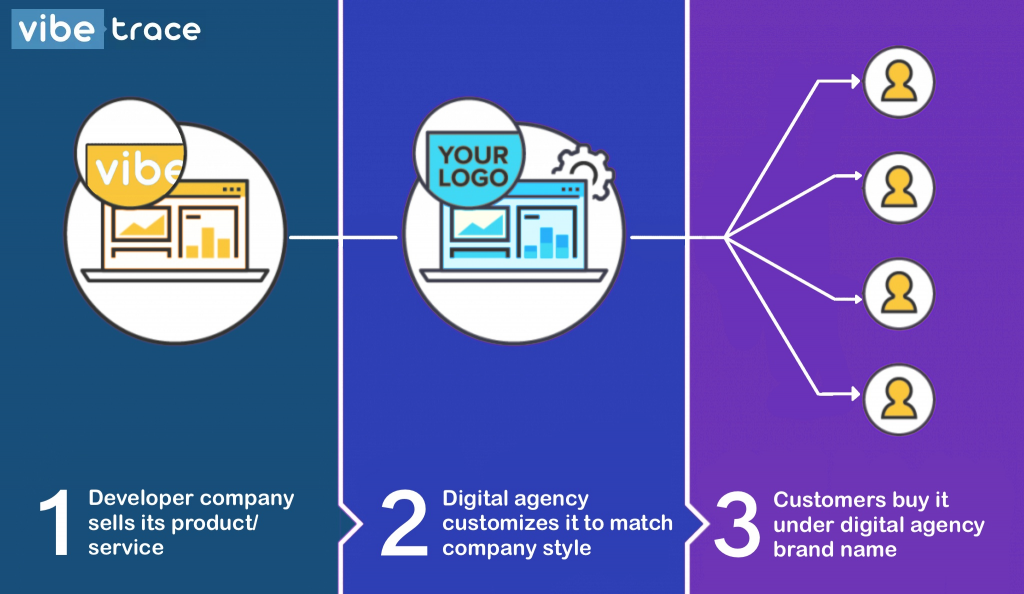 Customers usually do not realize that this is happening.
Why is this done?
Well, there are many reasons. But the main is that when the agency buys and sells white label marketing solutions, it doesn't have to worry about actually making them. With white label solution, companies skip the entire development process, save a huge amount of time and money and sell a proven product to customers without any delay.
What Are the Benefits of Using Private Label Software?
There are a lot of pros and cons associated with white labeling or private label software. But it's easy to see why so many agencies make use of whitelabel marketing solutions on a regular basis. Here are just some of the advantages associated with this type of software:
Saving Time. A major benefit of using white label marketing software is that it can save you a ton of time. Designing and developing software can take months or years in total. You definitely know those stages: from the initial planning phase through to development, alpha, beta, bug fixing, launch, and so on. By using white label app solutions, you can skip them.
Saving Money. Not only can you save time with a white label platform, but you can save money, too. Yes, you have to pay for the software itself. But you won't have to pay for any of the development costs, such as paying $30/hour for a software developer's work ($4800/month of full employment.) Don't forget about testers, etc.
Convenience. Many businesses opt for white label solutions due to the added convenience they can offer when compared to in-house software development. With white label online marketing solutions, you can simply pay the developer for their software and start using it right away. No need to care about fixing bugs or issuing updates.
Brand Reputation. As long as you choose good quality white label service, it can massively enhance your brand's reputation, too. Customers who use the software will associate it with your brand. As long as they're having positive experiences, they'll start to see your brand as a company that can be trusted for other products and services.
Priorities. By not having to invest resources into software development, agencies can keep their company's priorities in order. Investing in white label software solutions can allow an agency to continue doing what it's best at doing.
Better Conversion Rate and Retention. White-label improves agencies' conversion rate and repeated purchases. If you can provide clients with the software they need, they'll be much more likely to buy from you.
An Increase in Revenue. Ultimately, good quality white label software can help an agency build itself up, not only in terms of reputation and client retention but overall revenue, too. Selling a private label solution gives your company another potential revenue stream. It attracts more and more customers over time.
The cons?
Any product bugs will be associated with your agency, not with the white label service provider.
CLient expectations of the new features and product growth that you can't control.
Customization may be limited.
You can't control the speed of fixing white label product bugs.
No need to say, that benefits win. Now, all you have to do is to choose a white label marketing solution that matches your business needs in the best way.
12 most known white label solutions and services examples
There are various different kinds of white labeling services for advertising agencies to make use of: starting from white label hosting solutions, accounting, and CRM, to reports, and ticketing services. Here are some outlines of 12 most commonly utilized of them:
Whitelabel Email Marketing. Email marketing is still one of the most effective forms of digital marketing for small and big businesses alike. Whitelabel email marketing solutions consist of platforms and solutions that optimize or automate the email marketing process. You can sell these solutions to your clients to help them make their email marketing efforts more efficient.
Whitelabel Marketing Automation. There are plenty of steps in the marketing process that can be automated. And white label marketing automation is ideal for businesses that want to streamline their marketing. For example, VibeTrace provides nine marketing automation tools in one: email, text messages, Facebook Ads, surveys, customer data platform, etc.
Whitelabel PPC. PPC stands for pay-per-click, and it's one of the best forms of digital marketing in terms of ROI, with the likes of PPC Google and Amazon ad campaigns able to generate a lot of leads and profits. Whitelabel PPC software makes it easy for users to set up, track, and manage their PPC campaigns.
Whitelabel Search Engine Optimization (SEO). Search engine optimization, or SEO, is also vital for digital marketing, helping brands and businesses be seen on the first page of Google results. White label SEO management platforms help marketing to manage and optimize on-page content with relevant keywords search, provide white label reports, research, etc.
Whitelabel Digital Advertising. Whitelabel digital advertising can include anything from customizable advertising platforms to products that allow users to generate their own ad reports or create campaigns. You can invest in this kind of software and offer to help clients with the creation and management of their future digital advertising campaigns. Wanna example? Look how white label Facebook Ads software from VibeTrace works.
White label social media marketing solutions. There are many kinds of white label social media branding tools you can use to help your clients, such as solutions for social media content creation or automated solutions for streamlined, scheduled social media posting.
Whitelabel Mobile Apps. These days, businesses need more than a website; they need a mobile presence, too, with many small and big businesses creating their own mobile apps. Whitelabel app solutions can include services that make it easy for clients to create their own apps or services in which a client pays you to make an app for them, and you partner with a whitelabel software provider to actually do the coding on your behalf.
Whitelabel Reputation Management. Reputation management is all about monitoring feedback and reviews online, responding to those reviews, and trying to generate as much positive feedback as possible. Whitelabel software in this sector can include software to track new reviews and services like review responses or review creation.
Whitelabel Content Creation. Content, such as website copy and blog posts, can be very beneficial for helping businesses build their online presence. Whitelabel content creation is a service you can offer to clients, providing them with optimized, well-written content for their sites that isn't actually written by you, but by one or more copywriters you partner with.
Whitelabel Graphic Design. Graphic design is another area in which you can invest in white label software and solutions. Whitelabel graphic design may include services like logo design, business card creation, and even full-on brand identity design services to help clients build their brand's visual identity.
White label SMS solutions can be of two types: for sending mass campaigns manually and software for automated text messages (sending is based on customer behavior). In both cases, there is software and multiple providers you chose among depending on your client's budget.
White label payment gateway solution that allows accepting online payments. It includes checkouts, invoicing, payment links, recurring payments, security, analytics, etc.
👉 Check the 13 best white label tools for your agency 👈
Usually, agencies need several of them. I'm sure you'll agree that costs a lot.
Thus agencies prefer a white label digital platform that provides multiple marketing tools under one pricing.
How to choose the best white label solution?
Countless agencies are investing in white labeling software to share with their customers and clients. In fact, you can often see the same basic software and services being offered by lots of different options. How do you pick between them when you want to buy a certain service or piece of software?
Well, in this situation, it's important to not simply dive right in and buy from the first source you find. White label tools have very different reputations, levels of service, and even price points. Take the following factors into account when looking for the right white label solution:
Type of white label provider. The platform is a list of tools designed to automate certain processes within your agency like email, SMS, and pop-up marketing campaigns. Vendors specialize in one specific type of service like design or copywriting for a fee. White label partner is like hiring an entire team of expert analysts to manage your client's campaigns directly.
Price. As stated above, different white label vendors may have different pricing for the same marketing software. In some cases, you can find the same program being sold by different vendors for very different prices, so it's wise to shop around and look for the best deal in order to save the most money.
Reputation. White label vendors have wildly different reputations in the business. Some of them can be well-known for their friendly support and good track records, while others can be regarded as far less reliable. It's a good idea to look through some customer reviews and ratings for your chosen vendor to see how reliable and trustworthy they really are.
Service. Another way in which vendors of white label marketing solutions can differ is in terms of customer service. You may need assistance with using your chosen white label software, and it helps to have a vendor with responsive, helpful customer IT support, such as a live chat system, to respond to your queries and help out with any concerns you encounter.
Other products and services. One of the best ways to differentiate between different white label software providers is to take a look through their products and services lists to see what else they offer, in addition to the software or solution you want to buy. You may find that one vendor has many more solutions that are relevant to your business needs.
First steps to a white label implementation strategy
Now when you know the basics of the choice white label solution, time to know how to use it when working with clients.
Define your client's campaign goals (for example increase sales, reduce cart abandonment, etc.)

Know the clients' ideal buyer persona portraits.

Set key performance actions to measure results.

Select the best digital products and channels to reach the chosen goal (e.g. automated email campaigns, website pop-ups, web push notifications, etc.) 

Let your client know what additional resources may be needed from their side like copywriting for Facebook ads, and keyword research.

Track ongoing progress and past optimizations of your white label provider by reports.

Enjoy the result!
FAQ on a white label software
What does it mean to white label something
Whitelabeling is when a developer removes its logo from the end product and instead uses the branding requested by the purchaser.
What is white label solution?
White label solution is a generic term. Its meaning lies between the developer and the owner notions. Developer creates some solution and sells it on the market. The new owner labels it with its company logo and style, so it looks like the owner is the solution developer now.
What are white label products?
White label product definition implies branding a physical product like a refrigerator with your logo. Thus, customers think it is you who developed it, but it was a third-party company. This term is used in e-commerce and retail mostly.
What is a white label service?
It implies that some company provides a service, UX Design, for example. And there is a digital agency that pays for this service and then resells it to their clients under the agency brand label.
The difference between white label, private label, co-branding, and outsourcing
The term "private label" is more commonly used in reference to goods, whereas "white label" is more commonly used in the SaaS, software industry like "white label marketing platform". So, in both cases, you have something under your brand only. Co-branding is when a supplier's brand is added to the product as well. And outsourcing is paying someone else to do a function for your business, but the final product will keep the name of its creator.