Enterprise Marketing Automation
Cloud based / on-premise marketing automation solution
Hosted in your internal data-center or dedicated cloud.
You own all processes and have direct access to customer data.
We take care of updates, monitoring and uptime.
Modern Enterprise Marketing Automation
With Customer Data Platform
Full stack marketing automation with dedicated management.
Dedicated instance
Full marketing automation under your preferred hosting
Information storage and process can be deployed and customised to any cloud or self-hosted solution.
Configuration
Modular support of features, including new ones
We manage everything: from deployment, monitoring, update and building new integrations or features.
Focus On Business not Software
You don't spend time taking care of data platforms or marketing automation
All headaches of managing software, finding developers, building technology are on us.
Marketing
Ready-made scenarios and templates for your marketing department
We set defaults that can be easily reused to create campaigns, content or automation workflows. Tested and deployed safely.
Real-Time Reports
Advanced real-time reports of data: users, activity, campaigns results, and even ecommerce catalog
Get closer to your customers with our reports built-in or sent over email.
Data Access
Data security is important so we provide various access levels for your company team members.
Safe customer data that it's only yours. Safely accessed using SSO, SAML, oAuth or your dedicated Identity provider.
Top reasons to choose our Enterprise Marketing Automation
Safe data storage GDPR and CCPA compliant. End-to-end Encryption is also possible.
Owned customer data safely stored to your cloud or on-premise hosting.
Fully Managed Platform. We take care of development, monitoring, deployment and upgrades.
Can manage any data volumes. It can be 10.000 customers or 10 millions. We can scale it according to your needs.
White-label type. There is no reference about us. You have full control of Vanity URLs, branding and anything related.
Modern and always up-to-date. We continuously invest into research and development, so you don't have to.
Fully customisable and extensible. Our specialists will do discovery and framing to architect a dedicated solution.
Over 15 years experience building dedicated data&marketing solutions.
Dedicated Customer Data Platform
Integration with other internal systems
Extensible and personalized to your needs
Powerful segmentation and analytics
Managed processes, SLAs and GDPR/CCPA compliant.
Omni-channel Automated Messaging
Built with personalization and automation in mind
Support multi-channel personalization and communication
Email, SMS, Webpush, onsite are standard channels.
Extensions available to integrate with any other channels: whatsapp, telegram or custom new ones.
Powered by data platform and integrations with any other owned data systems
Strong data segmentation, analytics & reporting
Analyze customers' profiles and create segments by customer value, lifecycle activity, or engagement
Check your customer data activity, events, products, categories, and brands performance
Track email marketing subscribe/unsubscribe rate, hard-bounce, spam, Open Rate, CTR
Improve marketing campaigns by analyzing its conversion rate, sales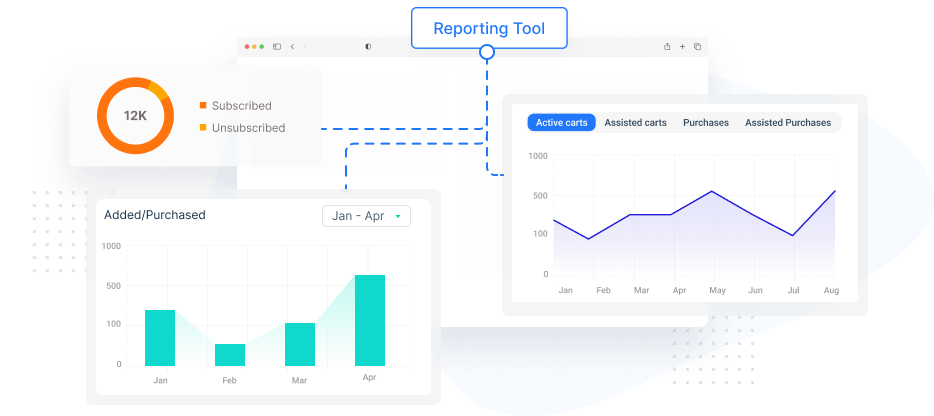 Provide a modern enterprise marketing automation solution that fits your digital business
Unlimited Data
There is no limit on usage. You can have millions of data profiles and store it indefinitely. We can always help with data retention and disposal.
Integrations
We can integrate with any database systems through various connectors. Automate data transfer is also our business.
Standard Events Integration
Digital is our core source of data, so we automate tracking and integration on your digital properties. We do provide server side tracking containers.
Features Extension
Your business is unique and we support that by providing any custom development according to your needs.
Your Data is only yours
Safe store, manage, encrypt your customer data to match company policy. We can have this in a red-zone on-premise hosted or dedicated cloud instance. No overlap with other customer data.
You Focus on Your Success
We handle email deliverability, software development, hardware and all the hard stuff. You focus on your business success.
Stop managing multiple products and teams
Our dedicated enterprise solution comes with a dedicated team of architects and specialists.
From a marketing perspective we provide the following out of the box.
Email marketing automation
Personalized pop-ups and emails
Integration with your existing CRM, BI, Analytics or other Data Platforms

Enterprise marketing automation platform – Frequently asked questions
Discover the Most Common Questions.
Learn how Vibetrace enterprise marketing automation platform can boost your digital revenues