Ecommerce CRM
Increase marketing campaigns ROI with rich customer information
Personalize communication with every customer
Increase engagement and optimize for loyalty
Segment users by customer value, lifecycle activity or engagement
Get the most out of every customer and create repeat purchase behavior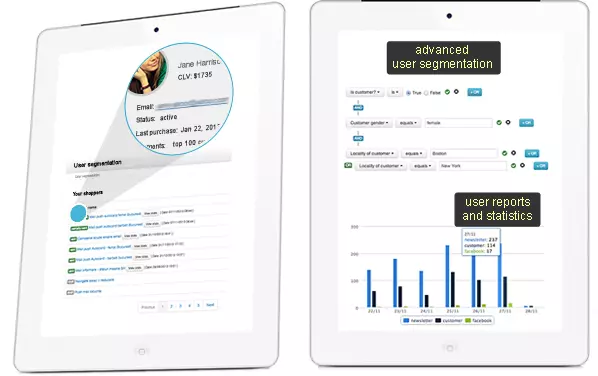 Your customers are your most important asset. Get the most out and increase sales.
Communicate on a personal level
Increase your ROI across channels with a personalized communication approach with your customers.
Boost sales and conversion rates by putting the customer at the center of your retail strategy.
Provide a personalized shopping experience to engage customers and build loyalty.
Customer Intelligence Engine
All user information, activity, purchases are put together in what we called Customer Intelligence Engine. It's the backbone of Vibetrace, plugged into your store to increase revenue, conversion rate through automation and personalization.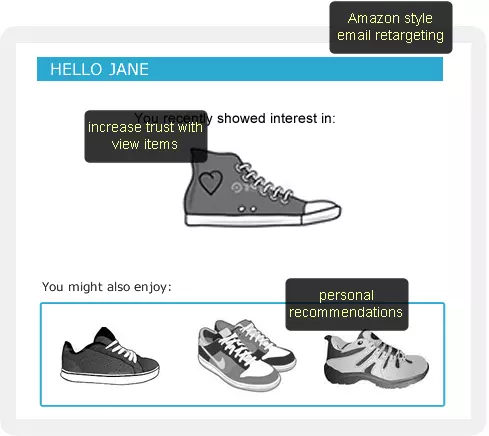 Collect information
Vibetrace intelligently considers each individual visitor on their journey through your site. It keeps track how they reach your website, viewed products, those they select or ignore, purchases they complete and those they abandon.
Analyze data
We analyze user behavior on your website, emailing activity, visit flow and mix them into leading behavioral modeling techniques to anticipate the buyer's wants and needs. As data is collected, a rich consumer profile is created.
Deliver personalization
This profile combined with other shoppers' activity is the basis for the product recommendations and site personalization. The result is shopping experience personalized to each visitor: from landing page to checkout.
Want to find out more about your users?
The first it's on us, and we know quite a few pretty places