One of the key indicators of success today is the so-called conversion rate. Whether micro or macro conversions, every business owner strives to boost their CR.
More traffic usually leads to more sales, especially when talking about e-commerce. But it's vital to invest efforts into converting existing traffic. It's often cheaper to do that than to generate more traffic.
It's better for your brand, your ROI, and the long-term growth of your business. If you own a Shopify store and want to enhance conversions without breaking the bank, check out our detailed guide on boosting conversion rates.
Shopify is one of the most competitive platforms for e-commerce. Keep reading to learn how to stand out from the competition.
What is Conversion Rate?
Conversion rate (CR) will be your key performance indicator (KPI). It indicates the number of desired actions taken (purchases in the case of online stores) against the total number of visitors.
A steady conversion growth indicates that your shop is doing well and you're doing everything right. But if that is not the case, I suggest you check out our knowledge base on conversion rates to help you better understand what CR is, what affects it, and what steps you can take to improve it.
To kick-start your conversion rate optimization efforts, let's start with preparing your Shopify store for success.
How to Prepare to Convert More with a Shopify Store?
Shopify is one of the most popular platforms for e-commerce. It powers more than one million online stores across the globe. Businesses from 175 countries use it to achieve success. Nearly 650 million people have purchased from a Shopify store in 2022. Have some of them happened on your online store?
There are plenty of reasons behind these numbers. As an e-commerce platform, Shopify offers an intuitive way to create an online store without prior technical knowledge or a massive investment in a development team. Opening a Shopify store can happen with just a few clicks.
From a consumer to a business owner – the step is short but hides its challenges. The illusion of so quickly creating a store might leave you unaware of all the ingredients that go into maintaining a successful Shopify store.
What's the point of having one if it's not generating sales?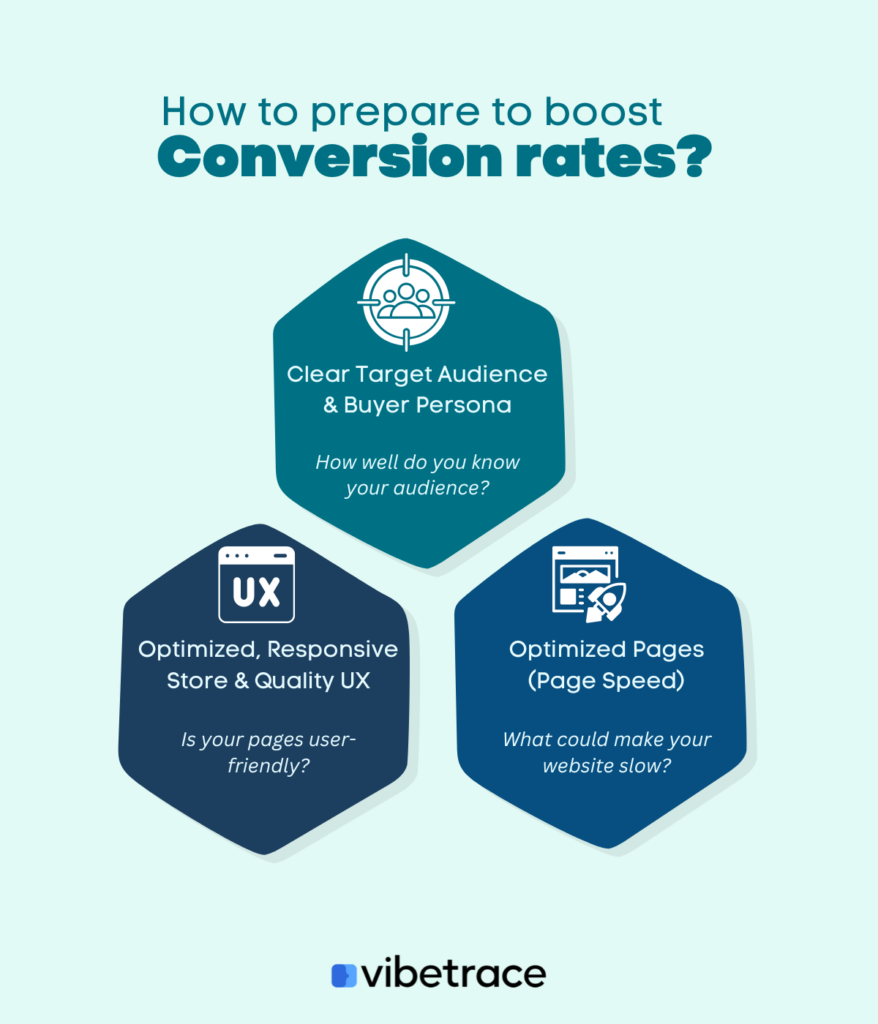 Success starts even before opening your shop. Here are the key aspects of e-commerce to pay attention to if you want to hit the ground running:
1. Clear Target Audience & Buyer Persona
That's the starting point for any business. Think about what you want to sell on your Shopify store. Are you in the business of upcycling antique furniture and will hold stock? Or are you going to sell something for everyone through dropshipping?
That will help you identify your target audience – there's a big difference between selling goods to bargain shoppers and luxury item hunters. Here you must be clear on two things:
Target Audience – the specific group of people most likely to be interested in the goods you're selling. That's a broadly defined group from the entire population that you can define according to various factors like age, gender, income level, location, and so on. Like you're segmenting your customer base.

Buyer Persona – this is an individual plucked from your target audience. You make it as if you're creating a fictional character. Give them a name, age, occupation, and interests. Identify their pains, the gains they desire, the jobs they must get done, and their goals. That way, you can align your marketing and communication with that personality and get to understand your customer better.
Once you know your target audience and are clear on your ideal buyer, thanks to creating a buyer persona, you can easily figure out the best way to serve your products through a Shopify store.
That brings me to the next key aspect.
2. Optimized, Responsive Store & Quality UX
As our daily lives become digitized, we desire a better user experience. As customers, we want a simple, easy-to-navigate UI to guide us on a delightful, smooth user experience.
That includes accessible home pages, well-organized menus and categories, and simple navigation – users must get what they expect whenever they click somewhere on your site.
Is your theme suitable for your site? Can you remove unnecessary steps between the customer and the conversion? Is your store mobile-friendly and responsive?
Having a mobile-optimized website is crucial if you seek success. Mobile e-commerce accounts for nearly 42% of total e-commerce sales and is expected to exceed 43% in 2023. If you can't afford to build an app, make sure your online store is mobile-ready.
These steps will help you achieve excellent performance on mobile and desktop devices. Something that's a must if you want your Shopify store to convert. We'll cover just that in the next section.
3. Optimized Pages (Page Speed)
Page speed is a prerequisite for conversions. A study by Portent proves that conversion rates drop by 0.3% for every additional second of load time. The highest conversion rates are achieved on online stores that have a load time between 0 and 2 seconds.
Page speed is responsible for both better SEO and improved user experiences. The more people drop off your website quickly and without converting is a clear indication to Google, for example, that next time the search engine should not serve your store in the SERP.
The easiest way to determine your page speed is to use Google's own tool – PageSpeed Insights. It will give you an overall idea of what's slowing down your website. The basic measures you can take as a Shopify store owner include:
Choosing a light Shopify theme;
Compressing product images to create smaller file sizes;
Uninstalling any Shopify apps that you're not currently using;
Searching for app alternatives that combine several functions in a single solution instead of using multiple apps.
These are merely the first steps to boosting conversion rates on your Shopify store. Below, we'll give you a detailed look at various aspects of your online e-commerce business you can enhance to increase CR.
Aspects to Enhance to Boost Conversion Rate
Optimizing your Shopify store for a higher conversion rate is a continuous task. Even though you can set automation workflows in place and use various apps, you still must monitor your campaign performance.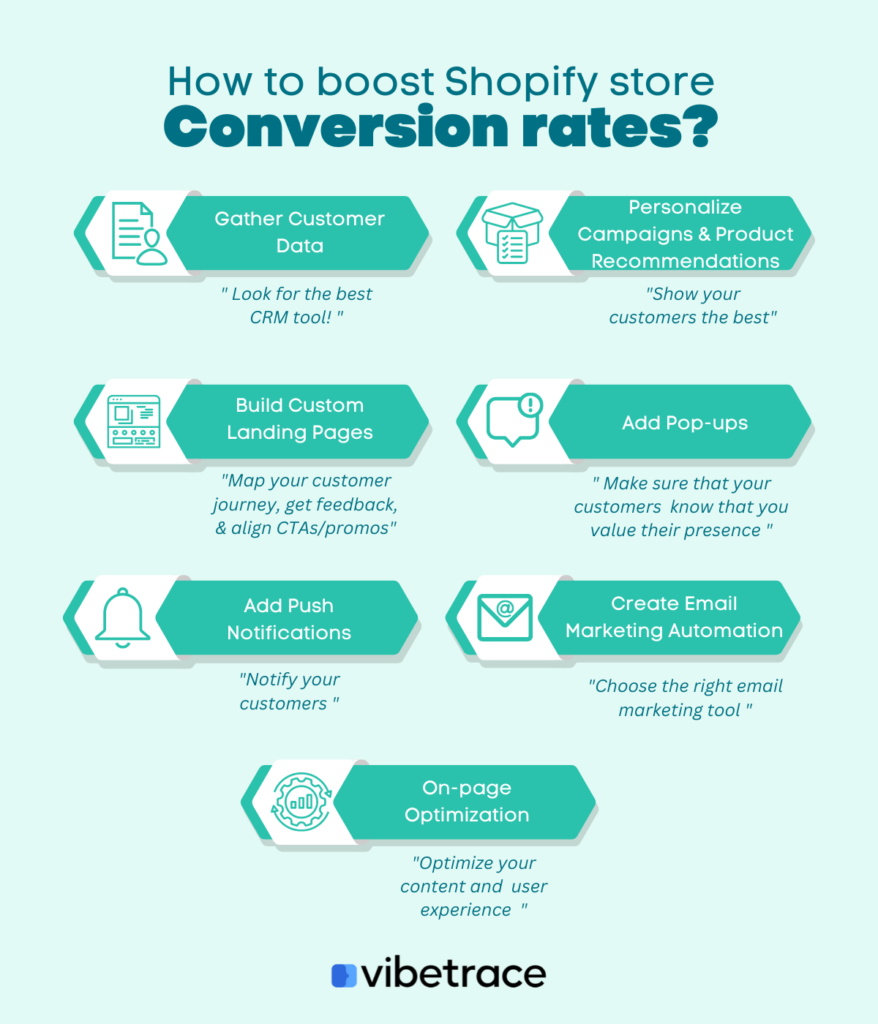 Here are the elements you should enhance, along with some ideas on how, to help you develop personal tactics for improvement.
1. Gather Customer Data
The first step to optimizing your shop for conversions is gathering viable data on your customers. You can do that with robust Shopify apps like VibeTrace and its built-in Customer Data Platform.
Such tools help you acquire valuable information about your customers, including events data.
Events data provides the key to understanding how people interact with your website. When you gather such information, you can:
Monitor site visits of new and returning visitors;
Conclude about their customer journeys and the stage they're at;
Gather information about products in their cart to reduce cart abandonment and launch offers and pop-ups to boost average order value;
Monitor customers' site and buying behavior;
Gather data on interactions with marketing campaigns.
Events data like that helps marketers and business owners understand what objections and obstacles there might be.
Need help with your Customer Data Platform?
Customer Database is the base for successful marketing campaigns. Let us show you what we can do for increased retention and revenues.
Are there too many steps leading up to checkout? Is your page load speed too slow? What hampers the user experience in a way that prevents them from converting, and so on.
2. Personalize Campaigns & Product Recommendations
After gaining, segmenting, and understanding data, the second most significant aspect to consider is using personalization on your Shopify store and in your campaigns. Use the information you gather to cater to individual customers.
You can achieve that in several ways:
Serve Personalized Content on the Store – dynamic content change allows you to display recently viewed items, often bought together products with apps like Frequently Bought Together, Recommended Searches, Recommended Categories, etc.

Offer Personalized Discounts & Promotions – your most valuable customers are the loyal ones. To encourage their buying behavior, you can use data to identify them and offer tailor-made promotions like 2-for-1, discounts from every second purchase, and even loyalty points and participation in loyalty programs.
These personalized approaches go well with a product recommendations engine like the one that comes with VibeTrace. Those engines use machine learning and powerful algorithms to analyze customer behavior and shopping patterns to make relevant product recommendations.
3. Build Custom Landing Pages
Website personalization and customized content that changes dynamically are powerful CRO instruments. Through this approach, you can achieve:
Enhanced UX (user experience) – personalized web content answers the customer's desire for personalization. When you customize your Shopify store to individual preferences, you improve the overall experience, make it more relevant and engaging, and as a result – achieve higher conversion rates.
z
Improved Customer Loyalty – loyal customers are your most valuable asset. When you use personalization and customize landing pages, you can generate more leads and gradually turn first-time visitors into loyal customers, simply because with every visit, their experience will be better.
That's thanks to the data you gather and use to carry out web personalization:
Shared Data – like name, age, location, desires, requirements, and interests;
Hinted Data – according to their behavior on your website, from the visited pages to the searches and product clicks they make;
These combined allow you to gain actionable insights by shaping the customer's context. Thanks to that, you can start serving more relevant content and products to returning visitors you know better. You can map their journey, ask for feedback, and align your CTAs and promotions with their context.
If someone's been reading your cashmere scarves style guide on your blog, don't just tease them with 15% off their first order. Create a pop-up announcing the latest selection of cashmere scarves they can shop with a 15% discount.
That leads me straight to the next valuable element to enhance.
4. Add Pop-ups
Pop-ups are excellent instruments for engaging visitors, generating leads, and boosting sales on your Shopify store. They're an element of website personalization and give a playful spin to the customer journey.
When a new visitor lands on your website, you can use traditional pop-ups to give them a coupon code. Utilize them whenever you want to encourage returning visitors to make a purchase. You can even gamify them with pop-ups like the Lucky Wheel.
Pop-ups are a popular strategy to prevent cart abandonment and stop people from dropping off your store. These are called exit-intent pop-ups. You design them to appear at the exact moment in which the visitor tries to close your site.
Want to be up to date with Marketing?
Subscribe to Marketing Automation dedicated newsletter!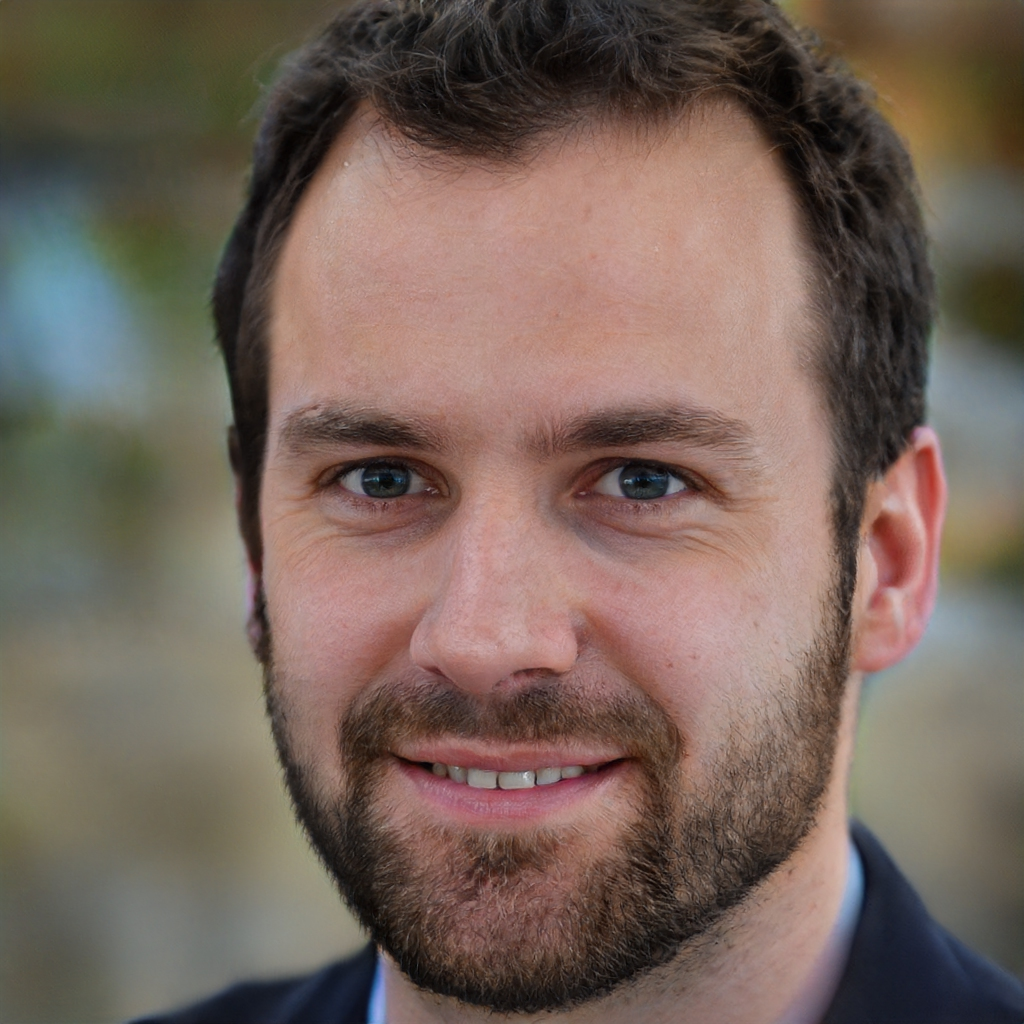 Stay connected with what's really important to optimize your digital revenues.
By clicking the button, you accept our Terms & Conditions. Also you will need to confirm your email address.
That's the right time to display a compelling offer that will keep the customer on your store and provide an incentive to complete a purchase.
When you create pop-ups with robust apps like VibeTrace, you can rely on multiple scenarios:
Email collection;
Exit-intent pop-ups;
Product recommendations;
Product bounce pop-up;
The beloved Lucky Wheel and more.
Make sure you have an attractive offer, make your message clear, and add a clear CTA to help customers make the next step easily. You can offer anything – from free delivery if they complete an order in the next 15 minutes to various discounts if they act now. There are plenty of apps you can use like Privy and Rivo Popups.
5. Add Push Notifications
Push notifications allow you to cover all your bases and be present in every communication channel. Sooner or later, your visitors and customers will leave your website. You can use push notifications with apps like PushOwl as a tool to re-engage and retarget people.
We're spoilt for choice, and there are hundreds of thousands of online stores we can browse and purchase from. It wouldn't be surprising if people forgot about your Shopify store, especially if you've been slacking on building your brand.
Push notifications provide a great way to stay on top of your subscribers' minds and keep them active. You can use this channel to send compelling promotions and time-sensitive coupon codes.
Store owners can leverage a ton of data to create relevant push notifications regarding products customers have browsed, added to their lists of Favorites, or even hold in their cart.
6. Create Email Marketing Automation
Start growing your email marketing list from day one to boost conversions. With apps like VibeTrace, you can create email marketing automation workflows. Target various segments with tailored messages and use triggers to enjoy a hands-free approach.
Email marketing is part of the marketing automation workflows you can add to your Shopify store when using apps like Klaviyo and Automizely. You can use it to:
Welcome new customers and subscribers;
Recover abandoned carts;
Re-engage inactive visitors;
Upsell and cross-sell existing customers;
Gather customer feedback and reviews for your products;
Nurture your leads.
Need help with your Email Marketing?
We offer managed services from strategy, to implementation and tracking. Usually getting a 15-25% increase in results. Let's see how we can help you!
And as a result – boost your conversion rate.
Everything we've discussed is possible when you utilize the right apps. Below, we'll elaborate on on-page optimization – including things you can do before you launch your website and create lists with customers.
7. On-page Optimization
CRO doesn't end with using the right app for the right marketing task. On-page optimization will affect several aspects of your Shopify business:
Its SEO and performance in search results like those in Google;
The user experience customers have;
The conversion rate you expect vs. the one you can achieve.
On-page optimization makes a massive difference for ROI and bottom-line results. That's why below you can find a list of the essential things you can do to optimize your Shopify store:
Optimize Website Page Loading Speed – test your site with PageSpeed Insights right now and see how it's performing on both mobile and desktop devices. And optimize your site for speed. You can even find Shopify apps like ROAR to help you.
A/B Test Page Design – landing pages, themes, and even the colors you're using will affect your bottom-line results. Use A/B testing to determine which works best for your business and target audience.
Use Heatmaps & Session Recordings to Discover Usability Issues – tools like Hotjar Heatmaps can help you collect user behavior data to help you see how visitors interact with your website. That allows you to identify usability issues like clashing colors, unreadable fonts, missing or unclickable CTAs, problems on the checkout page, and so on.
Offer Support, Including Live Chat – make your business easy to reach with quality customer support and live chat options. Availability is part of providing a delightful user experience.
Utilize Social Proof – allow reviews on your products with apps like Rivyo and demonstrate their quality to customers through them. Highlight your customer support and delivery service through testimonials. Use your email marketing lists to gather authentic, genuine feedback.
Feature User-Generated Content (UGC) – customers trust other customers. Leverage UGC that your customers share with apps like Yotpo and Stamped to showcase the use and application of your goods in real life.
Provide Free Shipping or Discounts on Orders Over a Certain Amount – a great way to encourage customers to generate higher average order values.
Make a Simple & Intuitive Checkout Process – give customers the ability to perform one-tap checkout. Apps like Shop Pay allow them to save purchasing information and autofill it. Customers like creating accounts for that exact reason – to avoid re-entering data with every new purchase.
Do you have to do all that? The answer is yes. Conversion rate optimization can be complicated and time-consuming if you're not using the right tools, but the results are worth it.
And speaking of results, let's have a quick look at what to aim for as we wrap up today's article.
To Sum Up: Good Conversion Rate to Aim For
The average retail conversion rate is about 3%. Currently, the average CR for Shopify store owners is around 2%. Email marketing is the highest converting channel with 4.29%, followed closely by search with 3% and 2.9% on direct purchases.
If you want to rank in the top 20% of Shopify stores, aim for a conversion rate of at least 3.7%. The stores in the top 10% have a CR of more than 5%. To get even remotely close, you should apply all available tools and tactics for boosting your conversion rates, as described above.
CRO is the result of a lot of experimentation, analysis, and testing of various strategies. Try out a versatile app like VibeTrace and start optimizing your conversion rate today. Start with a 14-day free trial!
Mentioned Apps: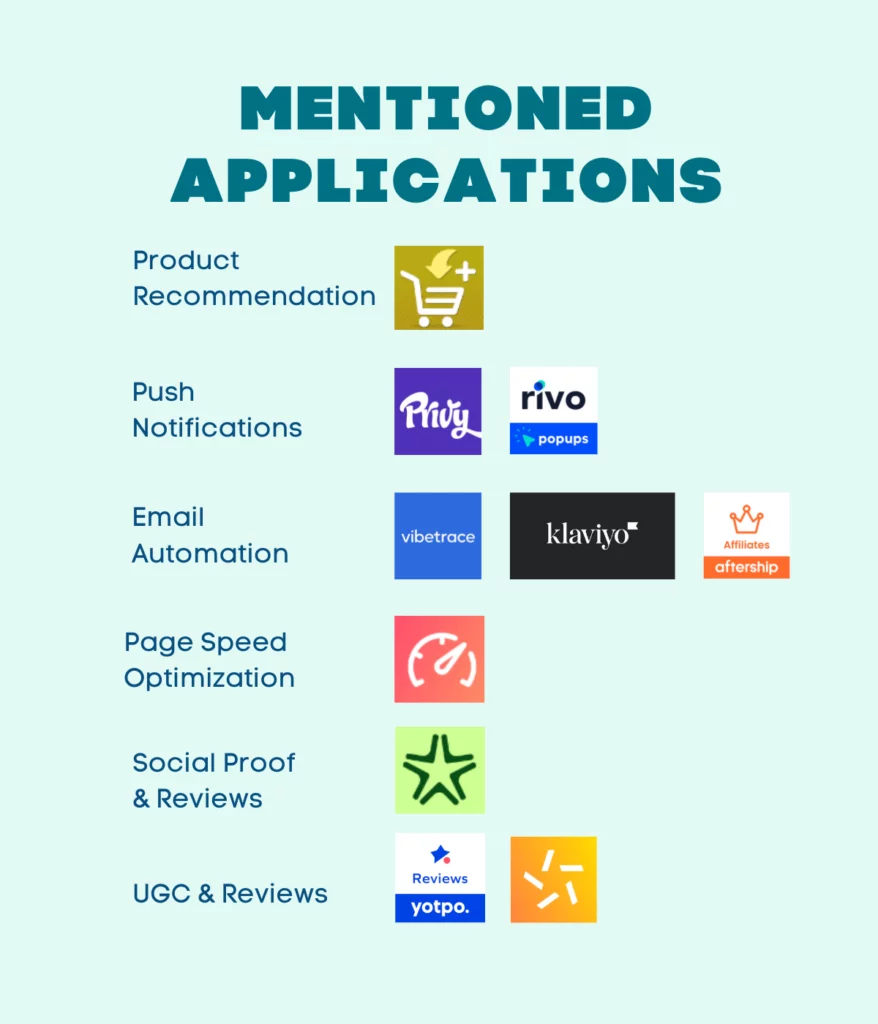 Product Recommendations: Frequently Bought Together
PopUps: Privy, Rivo Popups
Push Notifications: PushOwl
Email Automation: Klaviyo, Automizely, Vibetrace
Page Speed Optimization: ROAR