Are you filling the gaps in your customer's journey to boost sales and grow revenues?
If you're tired of abandoned carts, unopened emails, and ignored promotions, it's time you learn how to engage your visitors at the right moment with the right offer. There jump in the automation workflows.
Vibetrace is a good alternative to Klaviyo and provides you with marketing automation workflows that will transform your e-commerce business. Like a Swiss army-knife for Marketing Automation (and yes, we also have presence in Switzerland).
Automation has become synonymous with success. It's a must-have for your online store if you want to spend more time on growth rather than mundane tasks. And here's why!
Why You Need Marketing Automation Workflows for Shopify?
Marketing automation frees your hands to focus efforts on meaningful activities that can boost growth instead of spending time on repetitive tasks.
It is the use of software for the management, execution, and measurement of marketing efforts. Workflows are every step-by-step process a business has that leads to completing a task.
Running on Shopify?
Test 14 days free! Integrate Customer Database and Marketing Automation with your Shopify store.
In an e-commerce context, a workflow embodies the customer's journey itself.
If you already have a fleshed-out buyer persona, you're aware of what that journey looks like. You've discovered every point of interaction with your business – from before to after they make a purchase.
These are the touchpoints at which you can influence your customer and convert them. They also indicate where you can use marketing automation.
Touchpoints are one of 3 key elements of automated workflows that Shopify store owners create. The other 2 are:
Marketing automation triggers – the events or conditions that, when met, lead to the next step in the workflow, e.g. signing up for a newsletter might trigger a series of emails. Adding a product to favorites might trigger personalized recommendations or push notifications of low stock. And that's the third key element – actions.
Actions – this gets automatically carried out by your Shopify marketing automation workflows software when a customer triggers it.
Triggers help you make your marketing efforts effective. They allow you to give your customer what they want right when they want it. And delight them. Delight from the overall experience translates into higher conversions and better ROI.
Now that you have a better understanding of workflows and what it means to automate them, it's time to see which are the most valuable Shopify marketing automation workflows you can set up.
Must-Have Shopify Marketing Automation Workflows
Shopify marketing automation workflows help you recapture missed sales, sell more, nurture leads, and achieve overall growth. Of course, the first thing that comes to mind are automated email marketing campaigns, but that's not the only workflow that can benefit you. Among the most crucial automated workflows are:
1. Welcoming first-time customers & subscribers workflow
Willing subscribers are one of the most valuable assets for your Shopify store. Once they sign-up for your newsletter and emails, make sure you show them you've noticed that.
Welcoming new subscribers is the foundation you need to build long-lasting relationships.
An example trigger is a sign-up through a pop-up form on your website or making a purchase. The workflow starts immediately and can consist of different things, depending on your goals:
A simple thank you with a single email;
A series of onboarding emails with valuable content regarding the products in your store;
A thank you, accompanied by a discount code, incentivizing a purchase (their next or first one, if you're offering a discount code for becoming a subscriber).

Welcome emails have 3x higher open rates and 2.5x higher CTRs compared to promo emails, making them one of the most valuable elements of your overall marketing strategy.
When setting up your Shopify marketing automation workflows, that's not only a must but also the first one to create.
They help you leave a good impression, provide a delightful first-time experience with your brand, and allow you to position yourself front and center in your visitors' minds.
Welcome Email Series are a must
Be it Shopify or any other ecommerce platform, you need to welcome your new subscribers with style. Let us know if you need help with this or follow our best guide on Welcome Email Series
2. Welcoming Push Notifications & SMS
If you collect phone numbers or enable push notifications on your website, you can create separate workflows for either or both to welcome subscribers.
As tiny bits of copywriting, SMS and push notifications (web or mobile) create a whole new way for marketers to reach their target audience.
Opting to enable either is a clear signal on behalf of customers that they're interested in what you can offer them.
What both have in common is the ability to create urgency.

People see them immediately as they arrive and can act right away.
This, coupled with the ability to highly personalize both push notifications and SMS, will help you leverage high open rates and CTRs to boost your results.
And that's why marketers have added Shopify marketing automation workflows for them to their utility belts.
A great example of sending a welcoming push notification or SMS is providing access to an exclusive promotion or a discount code.
The instant nature of both can prompt customers to take immediate action.
If it's a case of a first-time customer, not just a subscriber, you can alert them they have successfully placed an order that's being processed.
3. Cart abandonment workflow
Sometimes customers need a little nudge to go through with their purchase. If you want your Shopify store to thrive, managing abandoned carts is a must.
The trigger is adding one or more products to the cart.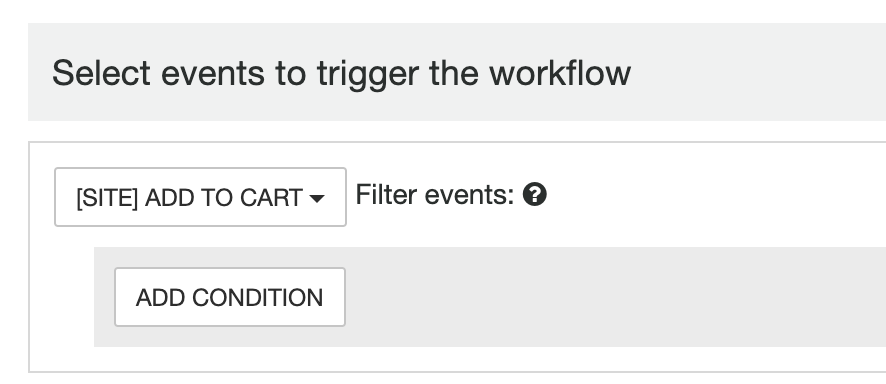 You can specify the period after which the cart is considered abandoned – let's say, 1 hour.
The workflow will check if the purchase has gone through after the specified period, and if not, automatically send your follow-up:
An email or SMS reminding customers they have items waiting in their cart;
A push notification that is triggered upon their return to the website.
Either can feature a time-sensitive discount or a low-stock warning, for example, for further incentive.
Additionally, you can feature guidelines to contact support in case the customer's encountered a problem during their checkout process.
The workflow can end when a checkout condition has been met, or the cart is empty. It restarts if the customer updates the cart but does not complete the purchase.
The workflow can also feature a series of follow-ups before restarting or ending – let's say, a second email after 24 hours and a third email in three days.
You might want to consider removing customers from the workflow and adding them to another, like re-engagement, if they remain uninterested after several attempts to recover an abandoned cart.
Otherwise, you risk alienating them, which can result in customers unsubscribing.
Need help with your Email Marketing?
We offer managed services from strategy, to implementation and tracking. Usually getting a 15-25% increase in results. Let's see how we can help you!
4. Automation workflows for Upsell & Cross-Selling
Shopify marketing automation workflows for either can increase revenues and turn one-off customers into returning ones.
They are a great way to improve your customer's experience on your store and strengthen relationships. They rely on segmentation, past purchases, and user behavior.
That is where the power of customer database comes into play.
Based on the data you collect, you can segment your customers according to the specific purchases they make or actions they take.
Let's say you want to upsell visitors browsing through jackets – you can set up a workflow for such a segment that automatically sends a push notification for higher-end products based on the visitors' browsing behavior.
If a purchase has not occurred after a visit, the next step in the workflow can be an email with recommendations tied to the browsing history.
When cross-selling, you can leverage transactional history and fulfilled orders to make personalized recommendations to your customers.
Again, segments play a key role in the process.
When a customer fulfils the conditions for a segment, for example, high-end formal shirts, the triggered workflow might consist of emails offering high-end accessories like ties, cuffs, or even a specific type of shirts – complementary or related items.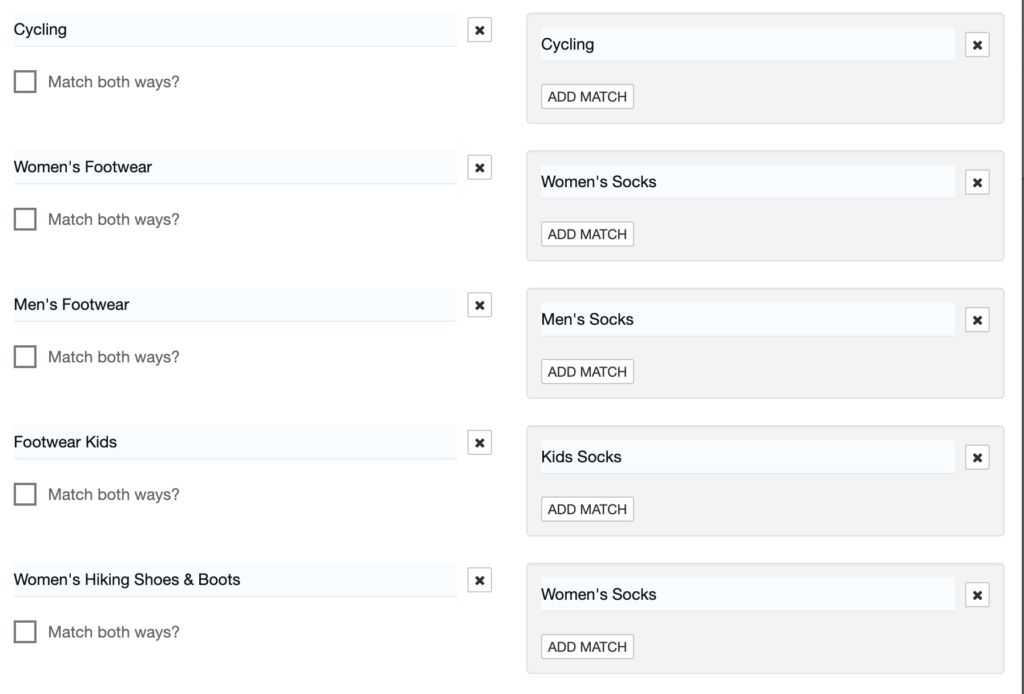 You can also send product recommendations as push notifications or personalize pages with related products to cross-sell customers during their purchasing process.
In terms of timing, upsell workflows occur pre-purchase, while cross-selling works both as a pre- and post-purchase type of workflow.
Both rely heavily on customer data – you can leverage that through VibeTrace's powerful Customer Data Platform.
Do you like this article?
Join Mary and the Marketing Automation dedicated newsletter!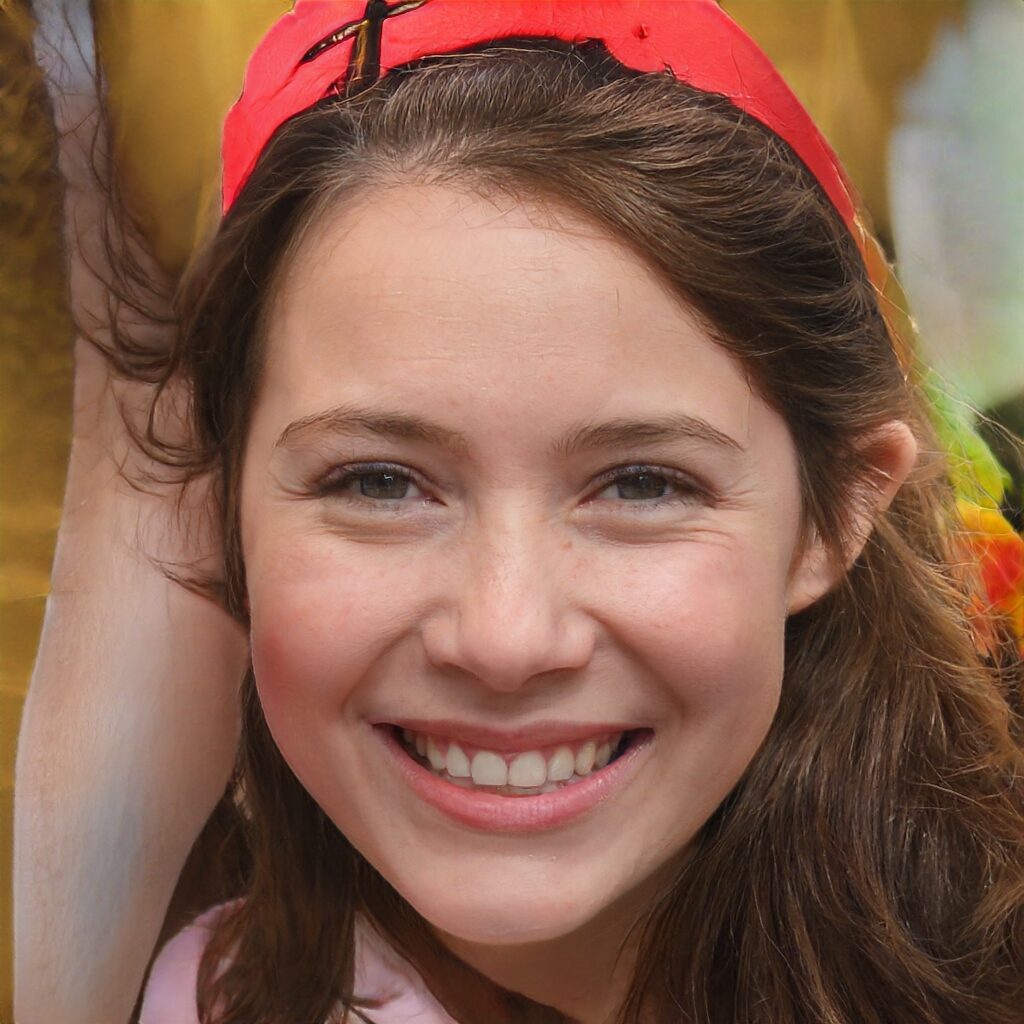 Stay connected to what's really important to optimize your digital revenues.
By clicking the button, you accept our Terms & Conditions. Also you will need to confirm your email address.
5. Re-engagement workflows for Shopify
Low engagement is a clear sign your visitors and customers are starting to forget about your store. The triggers for re-engagement can vary and depend on your definition of an inactive subscriber.
Examples of such triggers are:
Lack of purchases for a certain period;
Deteriorating CTRs;
Customers that don't open your emails.
When the trigger for "inactivity" is met, the workflow leads to an email or a series of emails that aim at re-engaging people and putting you back in the minds of customers.
You can use various tactics to renew their interest – ask them if they still want to receive recommendations and promotional information; send them a time-sensitive discount; share what's new on your store, etc.

Re-engagement workflows can also help you remove customers who are no longer interested from your lists.
A series of emails, for example, can end with a "last chance" type of message with a specific prompt, and if the customer doesn't do what you have asked of them, the workflow can end by automatically removing them from the list as inactive.
6. Customer feedback workflow
That is another example of a post-purchase workflow that can benefit your e-commerce business.
Asking your customers for feedback is an excellent tool for establishing trust and strengthening relationships, as well as gaining insights into their experience and satisfaction in order to improve them.
An example trigger for the workflow can be a product purchase.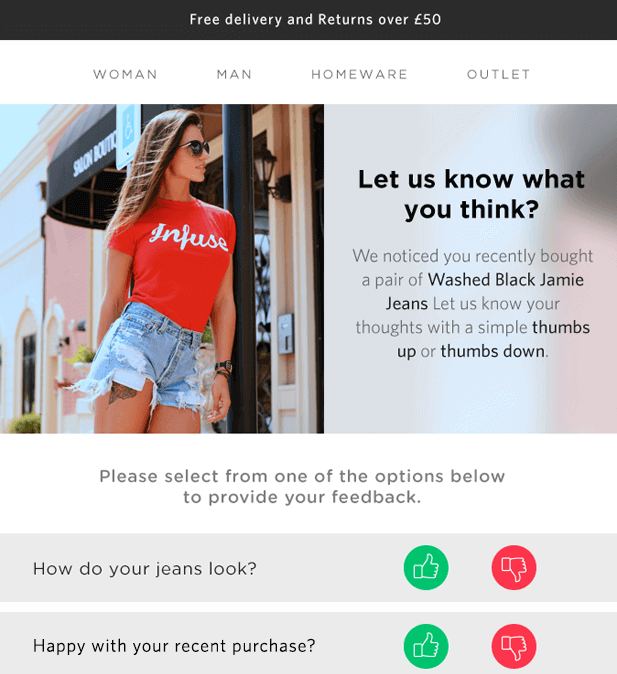 You can inquire about their satisfaction with the product and the overall experience – from ordering to receiving it.
When setting up Shopify marketing automation workflows regarding feedback, you don't have to stop at requesting it. If the received feedback is positive, that can lead to a second step that might include:
Adding the person to a list like Satisfied Customers – those who receive special discounts and exclusive promos via email, SMS, or push notifications.
Requesting further action – like sharing their experience on social media, sharing photos of the products, or writing a review.
In case the feedback you get is negative, the next step in the workflow might include:
An offer to refund their purchase, exchange or replace the product;
A prompt to contact customer support to clear up the situation;
A discount from their next purchase, etc.
The options vary and depend on your capacity to deliver on them.
Need help with Ecommerce Revenues?
Our Customer Database powers customer retention strategies and smart segmentation for omni-channel marketing.
7. Lead nurturing done right
Lead nurturing is essential if you want to turn existing subscribers into paying customers instead of wasting time on generating more questionable traffic to your store.
The best part – it can happen at every stage of your customer's journey. Examples of lead nurturing workflows include:
Offering special discounts for regular customers, as well as VIP promotions via email, SMS, and push notifications;
Sending out congratulations on birthdays, if you gather such information, along with special birthday promotions;
Celebrating anniversaries – for example, a discount for being a subscriber for a month, half a year, or a whole year;
Personalized recommendations based on viewed products and page visits, along with exclusive time-sensitive discounts to give them the incentive to buy now;
Early access to seasonal offers and events such as Christmas shopping, Black Friday, etc.
Lead nurturing workflows help you track engagement and customize the journey. At the same time, you work toward turning visitors into loyal customers that will return again and again to your Shopify store.
8. Using pop-ups in your workflows
Emails, SMS, and push notifications are not the only instruments at your disposal.
With website pop-ups, you can create unique experiences for your visitors and engage them at various touchpoints in their journey.
Some examples of triggers that activate workflows using pop-ups are:
Website visit – you can alert new visitors of current sales with a pop-up. Or inform returning visitors about discounts. You can personalize pop-ups depending on how you segment your visitors – higher discounts for regular customers, one-off time-sensitive offers for returning visitors who haven't made a purchase yet, etc.
Product view – a pop-up might offer a discount code if a customer purchases the product they're viewing for some time, or provide upselling recommendations.
Category visit – a pop-up can alert customers of the most popular products in the category they're viewing, of low-stock inventory on discounted products, and so on.
Cart page – before customers complete an order and when they visit their shopping cart page to review the products in it, a pop-up might offer related products as a cross-sell.
Exit intent – whether exiting the website or intending to abandon a cart, you can stop and recapture visitors with a pop-up.
You can choose between various options and personalize your message to achieve optimal results, depending on the triggers you select.
Leverage audience insights, customer data and behavior and perform A/B tests to give your customers what they want at every touchpoint in their journe.
Do this with customizable and engaging pop-ups as part of your automated workflows.
Benefits of Using a Shopify Marketing Automation Workflows Software
Using automation software has one goal – streamlining workflows to improve efficiency. And that has its undeniable benefits:
Better time management – instead of spending time on mundane tasks, teams can focus on strategic activities that boost performance. They have more time for creative work, brainstorming, and coming up with the next big idea.
Improved conversions – whether we're talking about micro or macro conversions, automation can boost both. Track and qualify leads, create more efficient retargeting and remarketing campaigns, and improve personalization for higher engagement and better conversion rates.
Quality insights – powerful customer data platforms and efficient automated segmentation will help you understand your customers and their journeys better. That way, you can spend more time coming up with innovative and improved ways of capturing leads and generating sales instead of manually segmenting audiences and stitching reports together.
Cost-effective & scalable – automation helps reduce marketing overhead and costs associated with manual tasks. In addition, automated workflows are easily scalable, so they will grow as your business does.
Set Up Your Shopify Marketing Automation Workflows Today
Automation of workflows is a key ingredient for accelerated growth.
Marketing Automation Strategy is not simple
We do provide guides for free. Always follow our blog and subscribe for our newsletter. But to succeed in this very competitive field with your Shopify store you need strategy. If you need marketing automation managed services, we are just a click away.
First of all you need to integrate your Shopify Store with your account. But that's automated, so it's just a few clicks away.
After configuring your account, go direct to Automation and use the predefined scenarios we've made available.
It is here to stay, and if you're ready to grow your Shopify store and customer base, leave manual tasks to technology.
What are the Shopify marketing automation workflows you have on your store that create the most value for you? What else would you like to add? Let us know and book your demo today to see how you can achieve it with VibeTrace.
The software gives you an all-in-one automation software with a built-in Customer Data Platform that helps you streamline your processes and optimize conversion rates and ROI.
From advanced web personalization to email marketing and powerful integrations, the VibeTrace platform gives you the tools to delight and convert your customers at every step of their journey. Book your demo today, and start growing tomorrow!