When thinking about how to increase conversion rates, there are many basic ideas that you can use to optimize your business website and marketing efforts.
You can use email marketing and retargeting to nurture leads and bring them back to the website to convert.
It's also important to use analytics and data to track and measure the effectiveness of your efforts, so you can make data-driven decisions.
If you're in a hurry and looking for services to increase conversion rate, wait no more.
In this article, check out what experts recommend to see what works best for your specific audience.
Tips on how to Increase conversion by 25% on eCommerce Store [Srdjan Stojadinovic]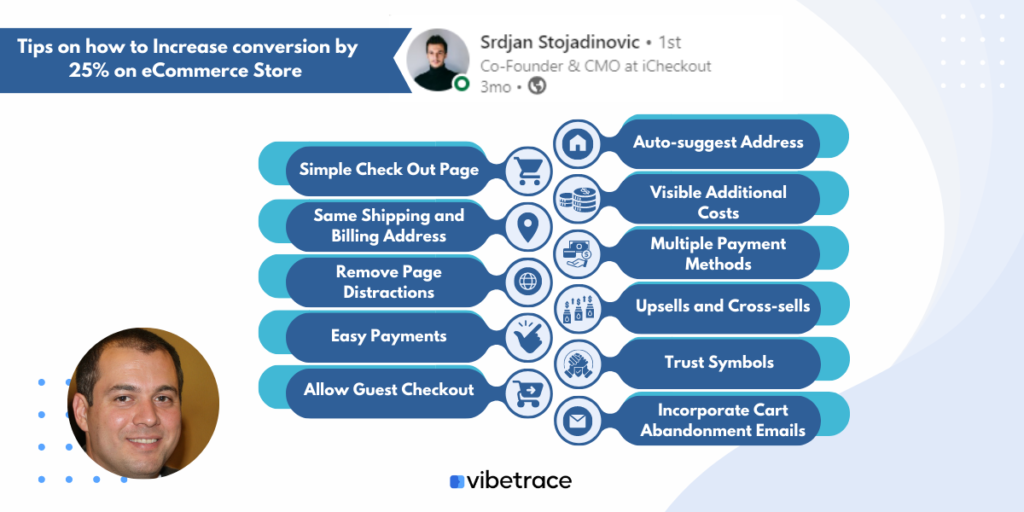 If you have your own eCommerce store, your primary objective is to increase conversion rates, sales, and revenue. To keep track of your business improvements, you must focus on using one key metric: the conversion rate, which is the percentage of website visitors that take a desired action, such as making a purchase.
According to Srdjan Stojadinovic, Co-Founder & CMO at iCheckout, there are several tips that you should consider to increase your conversion rate by 25%.
Simplify the Check-Out Page
The more unnecessary steps you eliminate, the more conversions you're going to make.
So, to simplify the checkout process is by provide customers with a clear and concise summary of their order, including the cost of the items, any discounts applied, and the total cost of the purchase. Make sure it is easy to find the cost, and clear, no hidden fees/charges.
People are a bit lazy at times and the more details you ask from them, they might end up leaving your website. The fewer fields customers need to fill out, the less likely they are to abandon the checkout process.
Set 'Shipping Address' the same as 'Billing' Address' by default
Setting the option for "Same as Shipping Address" as the default billing address, it eliminates the need for customers to enter the same information twice, making the checkout process more convenient for them.

To further understand, the shipping address is the address where your customer wants their order to be delivered, while the billing address is the address associated with the payment method used by your customer.
Remove Page Distractions
Ensure that your customers are only shown the necessary information they need to complete their purchase, without any distractions that might cause them to abandon the checkout process.

You can try removing navigation links, social media icons, or other non-essential elements from the page, or reorganizing the layout to make the important information more prominent.
By reducing the amount of information on the page, the customer can focus on the task at hand, which is to complete their purchase, increasing the chances of a successful checkout.
Keep Payments on your Site
If possible, choose a payment processor that allows you to accept credit cards directly in your store.
You may also try adding digital wallets. The easier for customers to make payments, the bigger the chances for you to make them do purchases.
Allow Guest Checkout
For customers who want to make a quick purchase, creating an account is time-consuming and deterring, which drives them away.
This can increase conversion rates and reduce cart abandonment, as customers are less likely to be deterred by the additional step of creating an account.
However, you can also try to convince them to create an account for easy tracking of orders, a faster checkout process for future purchases, personalized offers, and recommendations.
Auto-suggest an Address
Use address auto-suggest tools so your customers may fill the form fields faster.

By having the option to automatically fill the billing address with the shipping address, customers can save time and effort by not having to type in their address again.
This can also help to ensure that the correct and complete address is captured, reducing the likelihood of issues with deliveries.
Display Shipping Costs Up Front
Ensure that the shipping and additional costs are visible on your "view cart" page to eliminate surprises and potential abandonment.
This gives your customers awareness of associated costs with their purchase before they proceed to the checkout page.
By providing customers with a clear and transparent breakdown of costs, they can make an informed decision about their purchase and have a better shopping experience.
Offer Multiple Payment Methods
Make sure that these popular payment options are offered and easily accessible for customers to use. Examples of such options can include Cash on Delivery, PayPal, Google Pay, etc.

Providing a variety of options allows different types of customers to make a purchase in the way that is most convenient for them.
Include Upsells and Cross-sells
Recommend recently-viewed, top-rated, or specific products based on what the customers already have in their cart.
This can help you entice your customers to add more products to their cart to try your best-selling offers.
It can not only increase the conversion rate but will also help you increase your revenue.
Show Trust Symbols
Install SSL, add trust symbols, and display your privacy policy to reduce customers' concerns and assure them that it is safe for them to purchase from you.
Trust symbols can help you to gain the trust of your potential customers to make purchases without hesitation.
Incorporate Cart Abandonment Emails
Use email marketing to bring customers back to your store so they can make purchases.
Your previous buyers have a higher chance of making another purchase after trying your product, so you can build your relationship with them through email marketing to make them feel valued.

Improving conversion rates is an ongoing process that requires experimentation and patience.
Continuously providing high-quality service to customers can establish a sense of reliability for your brand, leading them to think of your business the next time they are in need of a product. It's crucial to remember that it takes time to find what works best for your store.
Here are some cart abandonment emails you should check:
Link:
https://www.linkedin.com/posts/srdjanstojadinovic_ecommercetips-checkout-woocommercestore-activity-6981568048646262784-KGR-/?utm_source=share&utm_medium=member_desktop
Want to be up to date with Marketing?
Subscribe to Marketing Automation dedicated newsletter!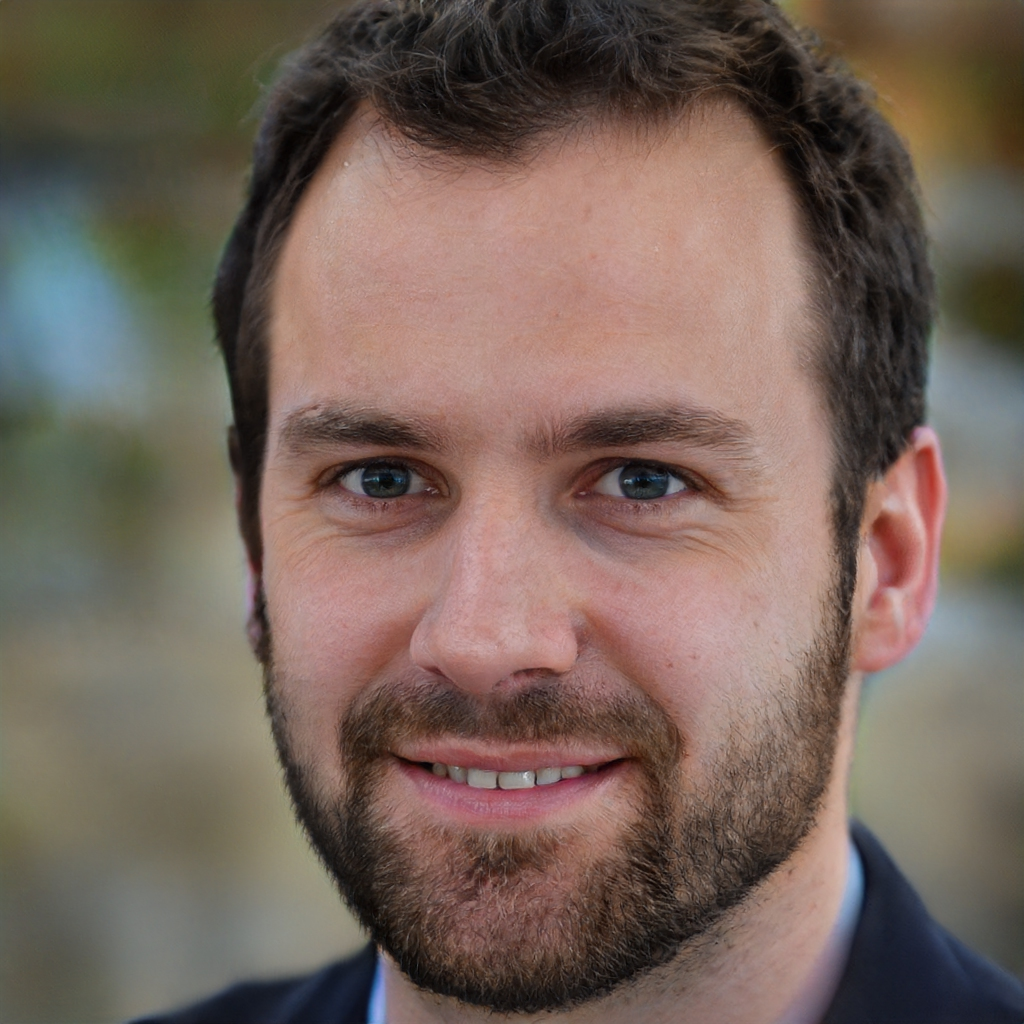 Stay connected with what's really important to optimize your digital revenues.
By clicking the button, you accept our Terms & Conditions. Also you will need to confirm your email address.
How CRM Converts and Retains Customers [Craig Kent]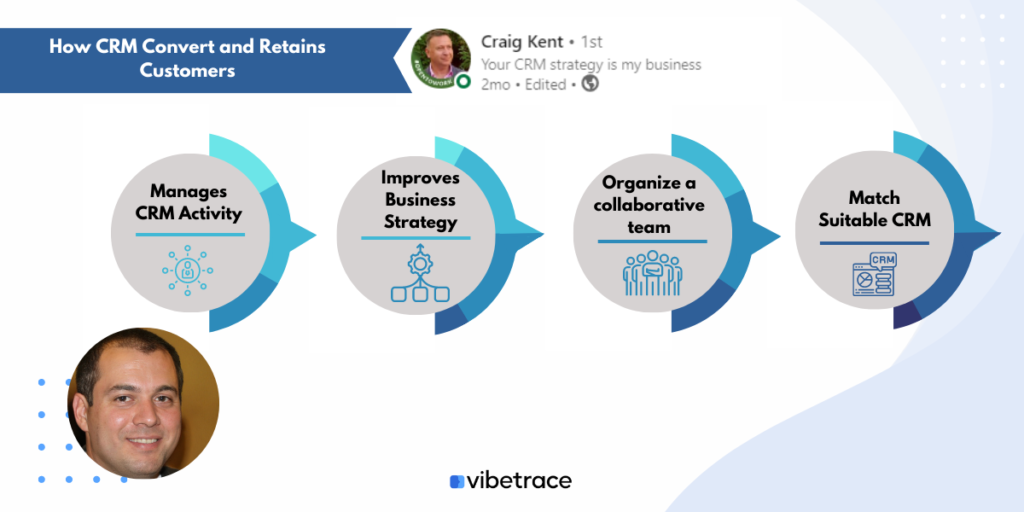 Increasing conversion rates and retaining customers can be challenging, especially if your business is still building its brand. However, using a CRM (customer relationship management) platform can be an effective way to achieve this goal.
Craig Kent, the owner of CRM Guru, has shared his insights on how CRM platforms can help you to convert and retain customers. Here are his tips to increase conversion rate.
Audit your CRM activity.
CRM platforms typically have built-in reporting and analytics tools that can be used to audit your CRM activity. These tools allow you to track and analyze various aspects of your customer interactions, such as customer engagement, lead generation, sales, and customer retention.
Create & roll out an effective strategy
CRM & Email Marketing strategy bespoke to your business. CRM platforms can help you organize your business marketing strategies by segmenting customers, creating unique content, sending automated emails, and tracking the results of your campaigns.
Work with you and your team
to bring campaigns, customer journeys, and targeted personalized communications to life.
A CRM platform can collaborate with your team to effectively execute initiatives such as campaign management, personalized customer journeys, targeted personalized communications, collaboration, and integration.
Match your business to best software
Choose the right CRM or Email Marketing platform for you and your team.
Your business has unique characteristics and processes, therefore, what works for other businesses may not be suitable for you. Utilizing a CRM platform can assist in aligning your CRM processes with the specific needs and characteristics of your business and team.
Properly implementing a CRM platform can lead to a variety of benefits for your business, such as:
Increased customer conversion
High-quality clean Email lists
Segmented comms: right message to the right customer at the right time
Increase in revenue, sales & profit
Link: https://www.linkedin.com/posts/craig-kent-11aa0b1b_if-you-are-struggling-to-convert-retain-activity-6996727822085935104-7GJ5/?utm_source=share&utm_medium=member_desktop
Need help with your Email Marketing?
We offer managed services from strategy, to implementation and tracking. Usually getting a 15-25% increase in results. Let's see how we can help you!
How to Level up your Volume & Value Email Marketing [George Wert]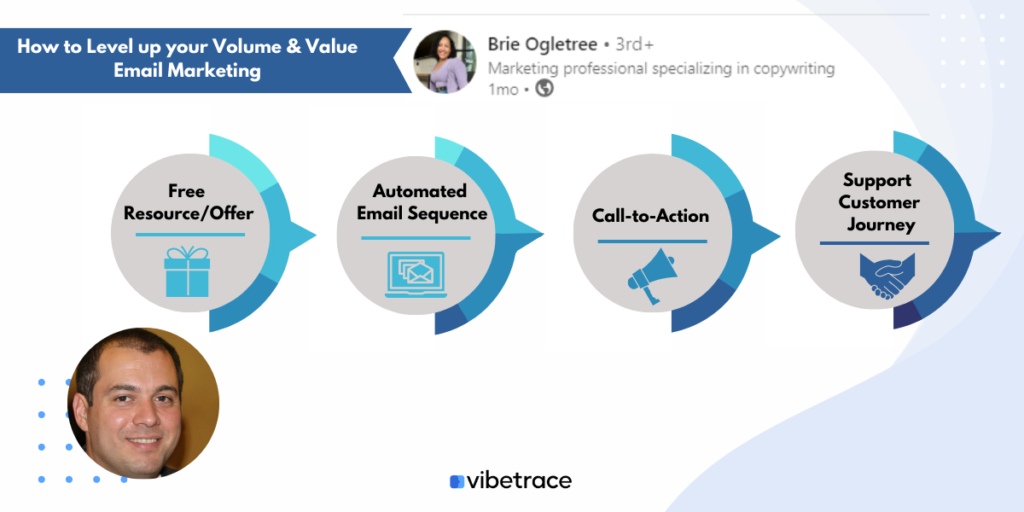 "That's what email marketing is about. The best in the game is giving the MOST away." George Wert mentioned this in his post. Clearly, email marketing is not as easy as you may think, but you can follow tricks to increase conversions by adding more volume and value to your email marketing.
If your email marketing needs more volume and value, there are several strategies you can implement to achieve this. In fact, this will also help you increase conversion rates of your business!
Welcome Flow Series
One approach is to create a 30-day welcome flow for new subscribers, which can help you build trust and establish a relationship with them. 
We have a big topic on Welcome Email Series.
Post purchase emails
Additionally, you can send 7 post-purchase emails to provide value and encourage repeat purchases. Another strategy is to offer 3 or more lead magnets or freebies to attract new subscribers and provide value. 
Promotional Campaigns
Furthermore, you can create a 2-month long campaign to hype up a promotion, this will create excitement and anticipation among your subscribers and increase the chances of them making a purchase. All these strategies will help to increase the volume and value of your email marketing and drive better results for your business.
Link: https://www.linkedin.com/posts/georgewert_copywriting-emailmarketing-inboundmarketing-activity-7001237044119109632-kvKl/?utm_source=share&utm_medium=member_desktop
Tips on How to Convert and Keep your Customers [by Brie Ogletree]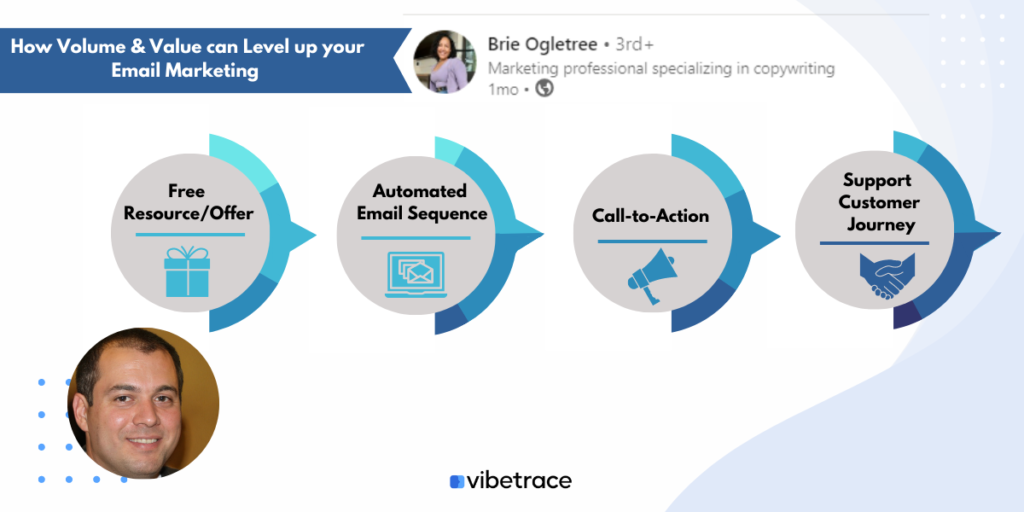 Brie Ogletree, a marketing professional specializing in copywriting, begins her post with the words, "Having an online presence such as a website is a great first step to helping customers find and understand your products and services, but only having a website without any way for a potential client or customer to get to know your business or brand is equivalent to retail store window shopping in 2022-2023."
She explained further that without actively engaging potential visitors, they may come across your social media or website by chance but not stay to explore your offerings.
So, to increase engagement, it's important to initiate interaction and guide them to relevant content on your site.
Here are some ways to nurture potential clients/customers virtually, so that when they are ready to make a purchase, you will be top of mind:
Provide a complimentary resource/offer
that addresses their challenges and aligns with your product/service solution.
Pop-up boxes are currently an effective way to do this on a website. In fact, it is a useful tool for boosting conversions and growing your customer base.
However, it's important to ensure that they are not overly disruptive to the user experience.
Pop-up boxes can also be used to capture email addresses and other contact information, which can be used for lead generation and to send targeted marketing messages. Additionally, It can be used to promote limited-time offers or promotions, which can create a sense of urgency and encourage visitors to make a purchase.
Create an automated email sequence for new sign-ups 
After your customers provide their name and email to receive your complimentary offer, create an automated 3 to 5 email sequence.
In the email sequence, it's important to introduce yourself and your brand, letting the potential customer know what you're about and how you can help them. Encourage them to use the freebie they've signed up for and provide clear instructions on how to use it.
As you continue to engage with them through the email sequence, keep providing them with helpful tips, teach them something new, and inspire them to take action.
The email sequence should be tailored to the specific problem you help them solve and the corresponding solutions that you offer. This will help build trust and establish you as an authority in your field.
Encourage potential clients to take action
by purchasing a product/service or scheduling a call with you.
At the end of the email sequence, it's important to personalize the final email to your potential customer. This is your opportunity to make a strong offer that they can't resist. It could be a special promotion or exclusive discount on your product/service.
Make sure to highlight the value of the offer and how it aligns with the problem you help them solve. The offer should be time-limited to create a sense of urgency and encourage them to take action. This can be a great way to convert potential customers into paying customers.
Stay in touch with your customers.
After converting a potential customer into a paying customer, it's important to continue to support them on their journey. This can be done through ongoing communication via email, text, or social media.
By providing valuable information, such as tips, educational content, and updates on your products/services, you can continue to build trust and keep your business top-of-mind.
Additionally, you can reach out to them to ask for feedback, this will give you an opportunity to understand their needs and tailor your offerings to better suit them. This can include special promotions or exclusive offers, which can encourage repeat purchases and brand loyalty. 
Overall, by continuing to support and engage with your customers, you can turn a virtual window shopper into a happy and loyal client/customer.
Link: https://www.linkedin.com/posts/brieogletree_koalendar-activity-7004411767095201792-v0YY/?utm_source=share&utm_medium=member_desktop
How RFM framework can boost ROI from Email Marketing [Joe Portsmouth]
According to Joe Portsmouth, the number One of the biggest mistakes businesses make with email marketing is not properly segmenting their email lists.
Take note that not segmenting your email list can lead to sending generic messages that may not be relevant to your audience, resulting in low open and click-through rates, and ultimately, fewer conversions.
By segmenting your list, you can create more targeted and relevant messages for each group.
For example, if you are a gift store, you can segment your list based on the customers' purchase history, interests, and gender.
This way you can send targeted emails to customers separately based on specific criteria, such as demographics, behavior, or interests, promoting products that they are more likely to be interested in.
However, If you are wondering how to do this, Joe Portsmouth, shared a 3-part framework to segment your lists and boost ROI from email marketing through RFM Framework
Need help with Customer Retention?
We can help you increase customer retention with Customer Database and Marketing Automation services.
What is RFM Framework?
The RFM framework evaluates your customer list by each of these 3 categories:
R for Recency
F for Frequency
M for Money
Recency
How recently has your customer made a purchase?
The more recently a customer has purchased, the more likely it is that they will stick around as a customer.
Recency Use Case:
Let's say the likelihood of repurchasing falls off a cliff when someone hasn't ordered on the last 30 days.
How to Put It into Action:
Trigger automated emails around days 25-29 to "Save" the customer before they churn
Frequency
How often does your customer make a purchase?
Factors that impact this behavior include:
Price
Type of Product
Need for replenishment
The more frequently your customer buys from you, the more likely it is that they will stick around.
Frequency Use Case:
If your business is a subscription supplement brand and each jar provides a 60-day supply, it creates a predictable purchase cycle.
How to Put It into Action:
Encourage customers to stock up on the supplement before their 60-day supply runs out, and then win them back after the 60-day period has passed.
Money
How much does your customer spend?
Know the difference between big and little customers. The more they spend, the more likely you are to keep them as a customer.
Money Use Case:
Your top 20% of customers are bringing in 80% of the revenue.
How To Put It Into Action:
To retain customers, consider sending them loyalty rewards, providing priority support, and implementing a gentle upselling strategy. Repeat customers are crucial to the success of your business, so it's important to keep them happy and satisfied.
In conclusion, effectively segment your email list by utilizing the RFM Framework, which is based on three categories: Recency (R), Frequency (F), and Monetary Value (M). This framework helps you identify the most valuable customers and create targeted email campaigns for them.
Link: https://www.linkedin.com/posts/josephportsmouth_a-3-part-framework-for-better-email-list-activity-6998643568613425153-FEQl/?utm_source=share&utm_medium=member_desktop