Email marketing is simple to adopt, can easily provide you with a high ROI, and enables rapid growth for your business.
Although the question is "How can you make it an effective campaign that generates high conversion?"
You might have read several tips and tricks to create the perfect email marketing process yet there's only one important matter people miss out on in making an effective Email Marketing Strategy – CONTENT.
Key takeaways:
Segment your customers and recipients
Write persuasive engaging content, not only add images and links
Track and analyze results
Tell a story. It helps you sell
If you have tried several templates, attractive images, and even popular subject lines – it might never be enough without excellent content that can convince consumers.
Keep reading this article and learn more about how to make your email marketing strategy to the next level through content.
Deliver A Persuasive Content To The Right People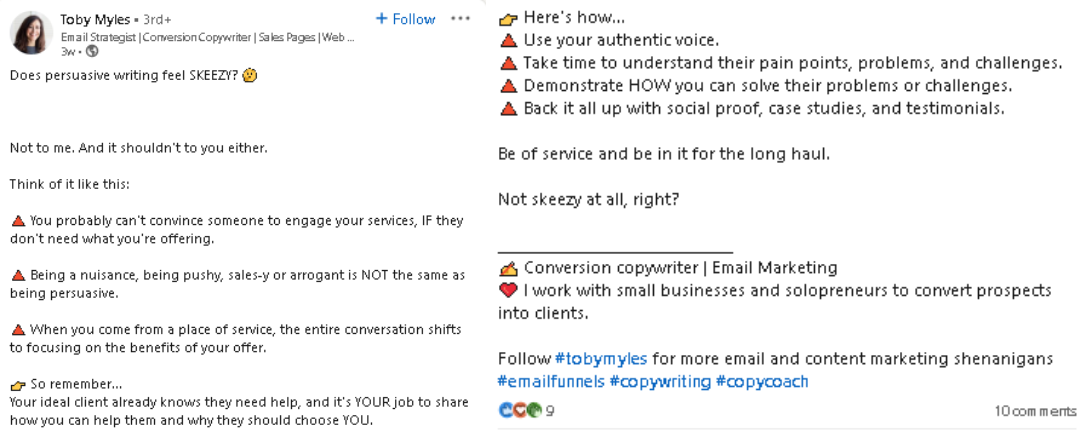 You probably have written different types of emails for your marketing and tried to be creative in order to get people to read them. However, if you're thinking about what tone of voice to use in an email, you should be persuasive and engaging.
If you think it would sound too much pushy, you should stop thinking that way. Just like what Toby Myles, an Email Strategist, mentioned in a post: "your ideal client already knows they need help, and it's YOUR job to share how you can help them and why they should choose YOU"
This means that if your email got delivered to someone who doesn't need your service or product then there's really a high chance you can't persuade them.
In Toby's post, she mentions several ideas about the truth regarding persuasive emails:
You can't convince someone to engage with your services If they don't need what you're offering.
Being a nuisance, being pushy, sales-y or arrogant is NOT the same as being persuasive.
When you come from a place of service, the entire conversation shifts to focusing on the benefits of your offer.
So if you are thinking about how to write your email content properly you may follow these suggestions:
Use your authentic voice.
You have to be more natural like as if you are just talking to a friend – not too formal but respectful.
Take time to understand their pain points, problems, and challenges.
Your product or service is ideally a solution to someone's problem, therefore if you recognize these, people will undoubtedly be aware of how beneficial your company can be. In fact, this also gives people brand awareness.
Demonstrate HOW you can solve their problems or challenges.
The way you acknowledge people on how you can help with their problem, the more they feel valuable which can lead to conversion in the future.
Back it all up with social proof, case studies, and testimonials.
Try to present some proof by redirecting them to external links and landing pages on trustable websites which might make them feel you have genuine content.
Source: LinkedIn
/
Do you like this article?
Join Mary and the Marketing Automation dedicated newsletter!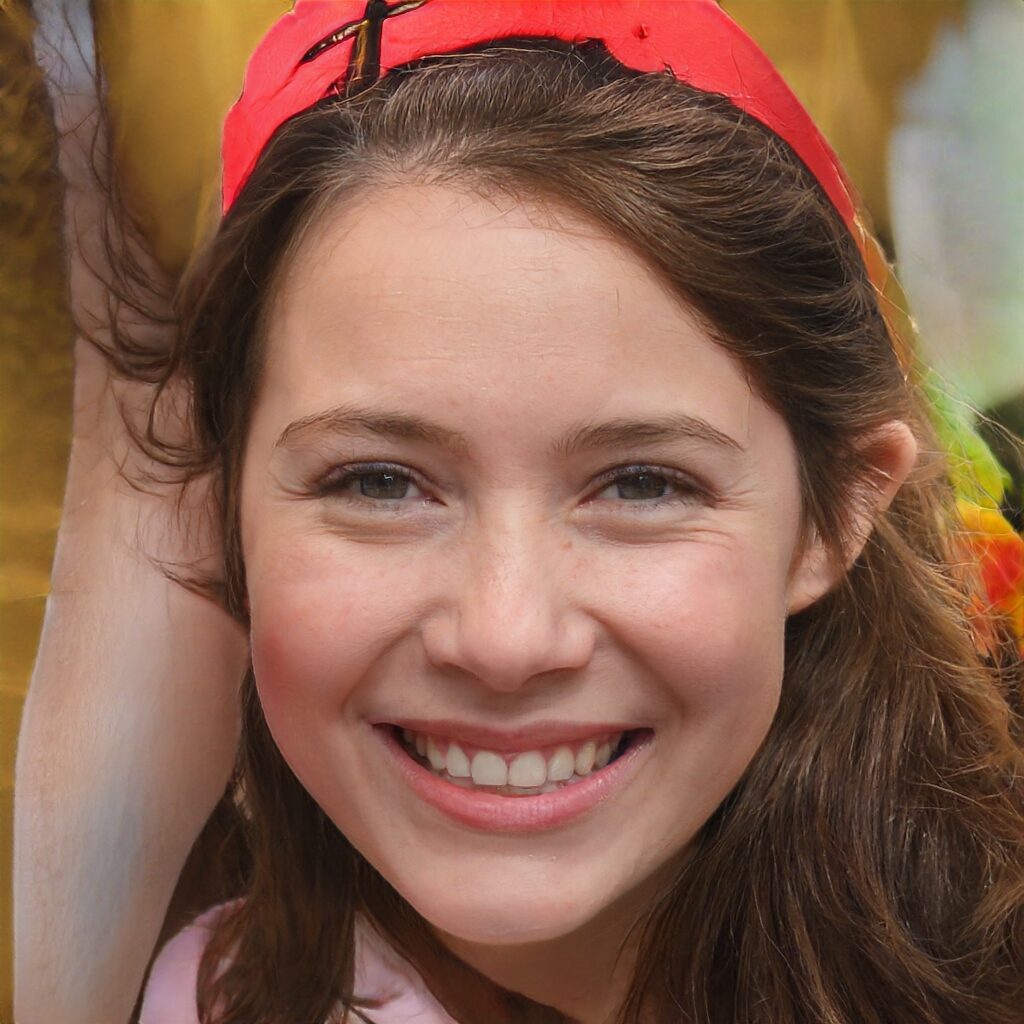 Stay connected to what's really important to optimize your digital revenues.
By clicking the button, you accept our Terms & Conditions. Also you will need to confirm your email address.
Seven Steps To Scale Your Company With Content Marketing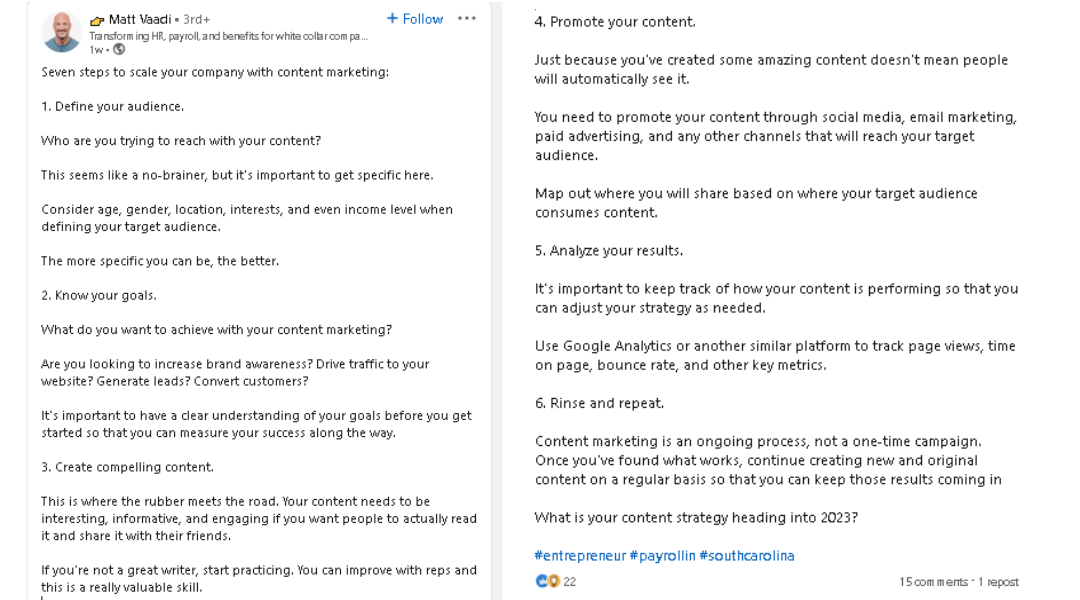 The most ideal email campaign requires good content. If you think that an attractive email is enough to make people open inboxes and read messages, you might be thinking the wrong way.
Although you must keep in mind that one of the best ways to engage people with your business is to create content and share it as a newsletter on people's emails – this will give you more chances to achieve your objectives.
Here are seven steps to scale your company with Content marketing according to Matt Vaadi, CEO of guHRoo:
Define your audience.
Your target audience is the people you want to attract who can be interested in the product or service you offer.
Be more specific by considering your potential customer's age, gender, location, interests, and even income level to properly define your target audience
Know your goals.
Your goals are what you want to achieve with your content, which can be to sell, provide information, engage users on your website, generate leads, raise brand awareness, and so on.
It's important to have a clear understanding of your goals before you get started so that you can measure your success along the way.
Create compelling content.
To create compelling content, your writing must be interesting, informative and engaging especially if you want people to read and share it with their friends to generate more organic reach.
Remember that writing will always be an important skill because it is an essential aspect of generating content that is perfect for email campaigns.
Promote your content.
Amazing content doesn't necessarily mean people will see it unless you do something to promote it.
You need to promote your content through social media, paid advertising, email marketing, and any other channels that will reach your target audience.
In fact, email marketing may be the ideal way for you to get it to the right people because your subscribers are more likely to be people who are interested in your business and have a higher potential for bringing in money.
Analyze your results.
It is important to monitor the performance of your content so that you may modify your strategy as needed.
You can use several software and tools on the internet according to your need.
Although you may also freely use Google Analytics or another similar platform to track page views, time on page, bounce rate, and other key metrics. – This is FREE or may offer free trials which are best while you are trying to look for what may work for your business.
Rinse and repeat.
Content marketing is a continuous activity, not a one-time campaign. Once you've discovered what works, maintain developing new and creative content on a regular basis to keep the results flowing in.
Source: LinkedIn
Need help with your Email Marketing?
We offer managed services. Let's see how can we help you
Choose The Right Person To Write Your Content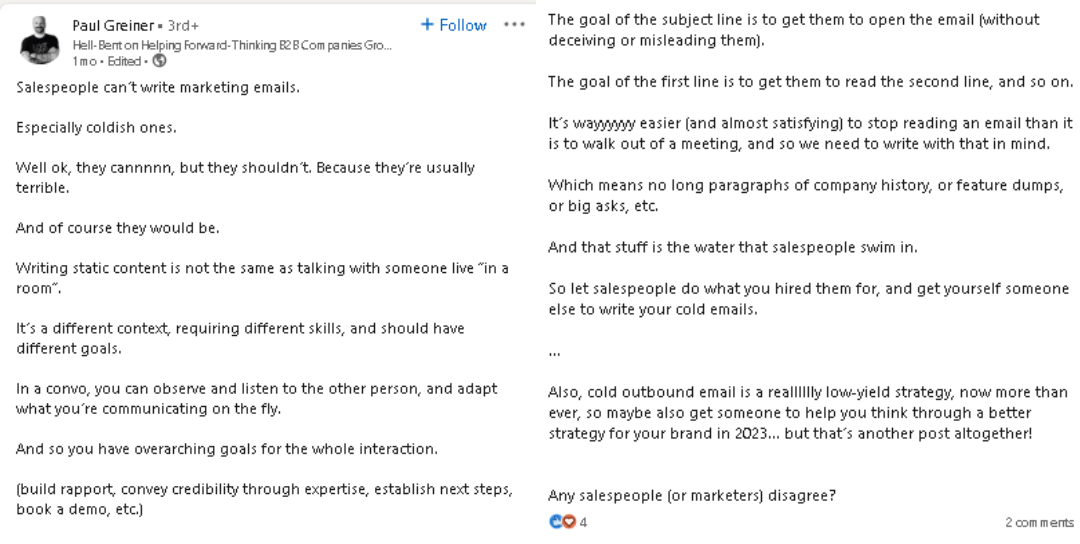 The purpose of creating content for email campaigns is for it to be read rather than merely opened. So, when creating great content, your goal is to create a solid subject line that will entice your potential customers to read the next few lines – this way, you can make more money with your emails.
But looking for someone that will fit into the role of writing your content also matters.
As Paul Greiner, VP of Brand and Strategy Succes in Renoun Creative, mentioned in his post that – Salespeople can't write marketing emails – they are usually not the right people in making a writing static content because their goal is different.
Most businesses have probably made the mistake of believing that salespeople have the greatest means to communicate, even through email campaigns. In general, their objectives are to develop rapport, show credibility through knowledge, establish the next steps, book a demo, and so on.
While such goals may be appropriate for an e-mail campaign, you should be led by much smaller goals as you write.
The goal of the subject lines is to get people to open the email which is not misleading and deceiving.
The goal of the first line is to get them to read the second line, and so on.
This means that you need to write with your mind and try to think of a few lines that can get people's attention – not long paragraphs of company history, feature dumps, big asks, etc.
Source: LinkedIn
Create A Legitimate Conversation With One Subscriber

Email open rates and click rates are not your primary goal for your email campaign so even before you try other ideas for your emails make sure that you know your main focus first.
Cookie-cutter email templates and year-long "sequences" for your subscribers are just an add-on to an email but not something that will really help you get more engagement and conversion.
According to Jacob Suckow, Founder of Guerrilla Marketer, Your primary goal is to create a legitimate conversation with one subscriber by creating good content.
Keep in mind that in creating good content, you must be at you own natural voice and
Source: LinkedIn
Tell A Story To Build Up Your Audience Impact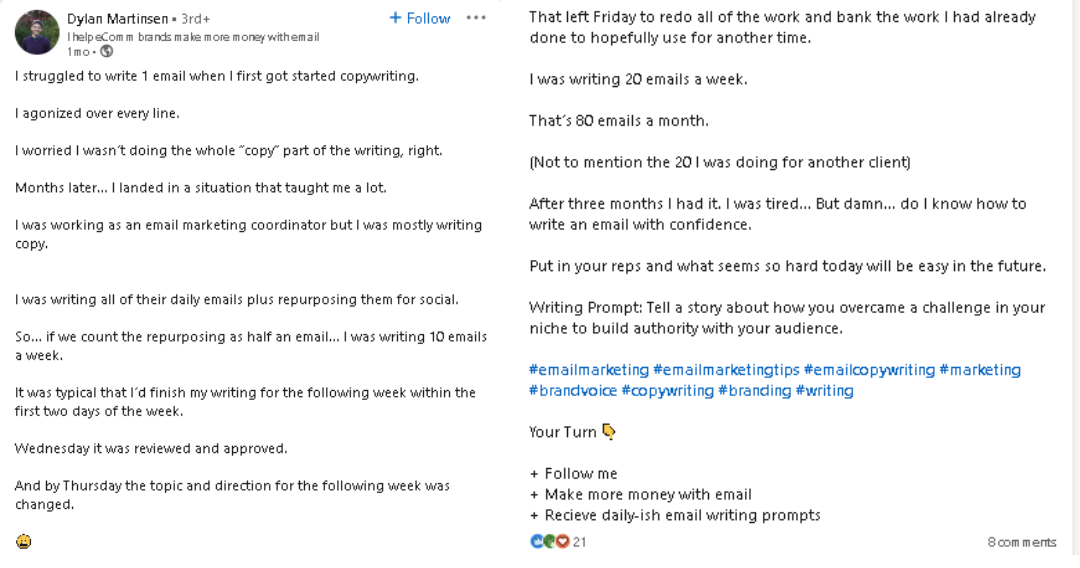 Creating an email could be a bit hard at the start. If you have been struggling with writing good content for your email, then you probably have already felt like almost giving up.
But don't lose hope. There are many ways to improve your writing and that is by making writing a habit till you get the perfect words that won't only attract customers but will also intrigue them to read it.
"Put in your responsibilities and what seems so hard today will be easy in the future." Dylan Martisen, Email Marketing Manager, has mentioned in his post as he describes his journey about writing emails.
He also mentioned that Telling a story about how you overcame the challenge in your niche builds authority same goes with writing emails, In order to keep them in touch with you, you can consider using a story to target them.
Well, who doesn't love stories? We all do and this can be your way to build more audience impact!
Source: LinkedIn