The rise of mobile-first and omnichannel expectations has created both opportunities and challenges for eCommerce.
The result is a rapidly changing market — tools and technologies that were cutting edge last year may abruptly become obsolete, leaving companies behind the curve.
As digital commerce continues to evolve, it's vital for businesses to keep pace with growing demand to emerging new trends with built-in agility and scalability.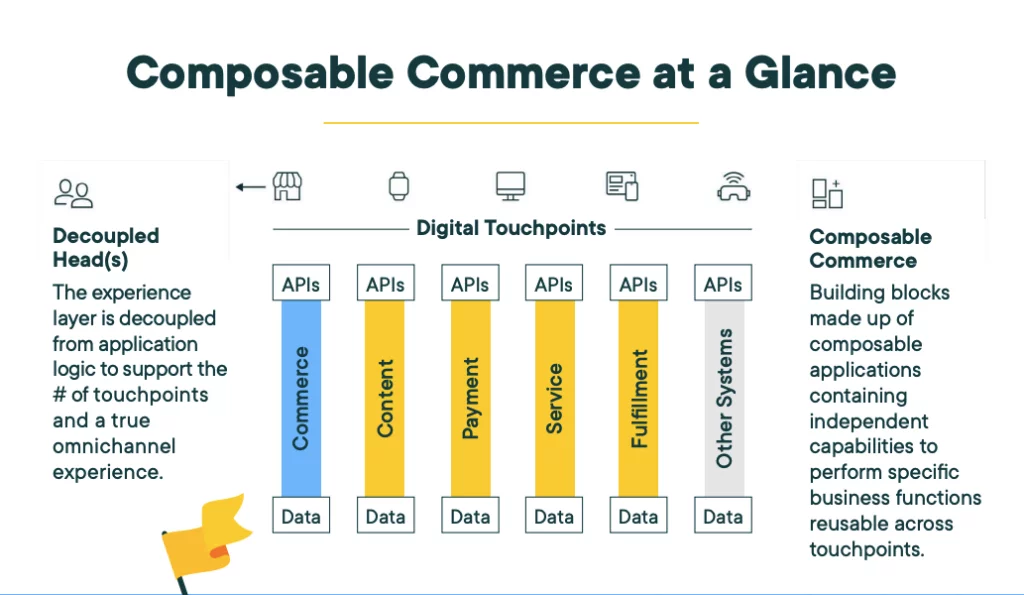 These same characteristics, set the stage for the ongoing evolution of eCommerce technologies.
Composable commerce makes it possible for businesses to both meet current customer expectations and future-proof eCommerce operations. Here's how.
What Is Composable Commerce?
Originally coined by research firm Gartner, composable commerce refers to the use of modular components and services that, combined, deliver a unified eCommerce experience.
Components are independent and interchangeable, so they can be added, removed, or modified as necessary without negatively impacting key functions.
This creates a naturally future-proof tech stack — as solutions become outdated or obsolete, they can be easily replaced with more modern alternatives.
Traditional approaches to eCommerce, meanwhile, are monolithic. Businesses purchase a proprietary, all-in-one solution that offers a fixed set of features and functions.
Over time, companies tend to outgrow these solutions as their needs change, eventually resulting in a disconnect between the eCommerce functions companies have and the features they need. To unlock cutting-edge services, businesses must entirely remove and replace their eCommerce suite with a composable commerce approach.
The Characteristics of Composable Commerce
Composable commerce solutions share three characteristics that set them apart from their monolithic counterparts.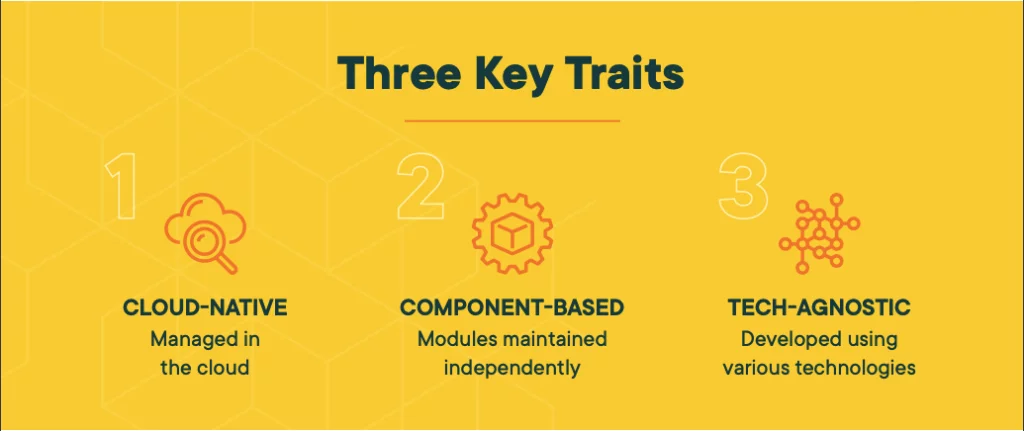 Cloud-native SaaS
First and foremost, composable commerce is cloud-native. This provides both resource and performance scalability since applications aren't tied to on-premise storage and compute resources.
The use of cloud-native services also offers flexibility — businesses can scale resource usage up or down as necessary to meet user and budget demands.
It's also worth noting that cloud-native doesn't simply mean cloud-hosted or cloud-supported. That's because applications that are hosted in or supported by the cloud may simply be migrated legacy software, meaning they can run on the cloud but can't gain its full benefit.
Cloud-native apps, meanwhile, are specifically designed to maximize cloud resources.
Want to be up to date with Marketing?
Subscribe to Marketing Automation dedicated newsletter!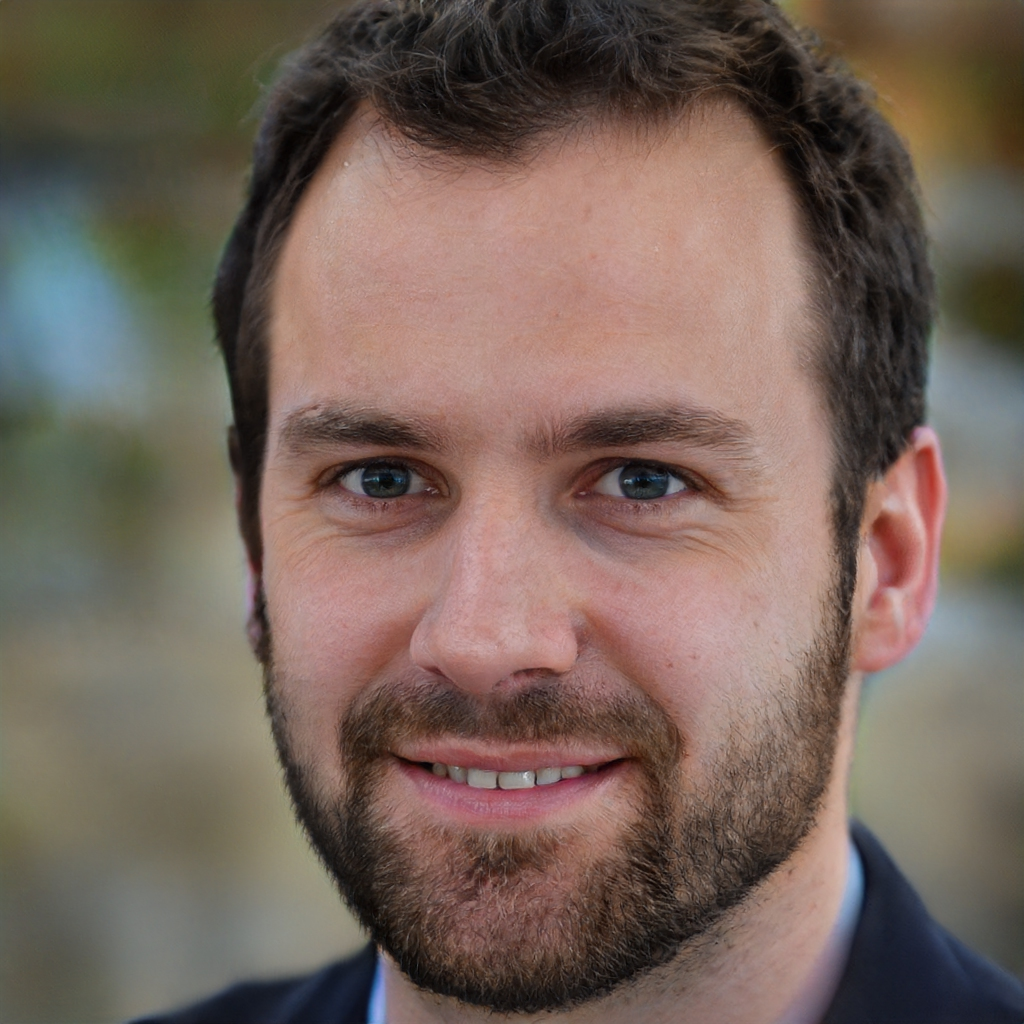 Stay connected with what's really important to optimize your digital revenues.
By clicking the button, you accept our Terms & Conditions. Also you will need to confirm your email address.
Component-based
Composable commerce solutions are component-based. This means that all elements of the solution are independent and interchangeable.
This is made possible using application programming interfaces (APIs), which facilitate communication between disparate app modules. When new apps or services are deployed, companies don't need to rewrite existing code — they simply need a lightweight API to connect new and existing services. 
Tech-agnostic
Finally, composable commerce is tech-agnostic — they don't rely on any single, proprietary technology to operate. Instead, they're designed to work across multiple platforms and operating systems.
As a result, organizations can choose to select, code, integrate and monitor their composable stack in whatever way works best. 
Combining these three characteristics allows composable solutions to leverage a decoupled, API-driven operations model.
In practice, this means that end-user experiences are decoupled from application logic, allowing companies to combine multiple applications and deliver a true omnichannel experience.
Because these applications are interoperable but not interdependent, they can be modified, upgraded or removed without impacting the performance of eCommerce platforms.
For example, if businesses choose to remove and replace the API that handles their content creation — such as for blogs, product pages and e-books — this removal won't impact other functions such as pricing details or payment.
How Composable Commerce Benefits Businesses
By choosing a composable approach, businesses gain key eCommerce benefits including: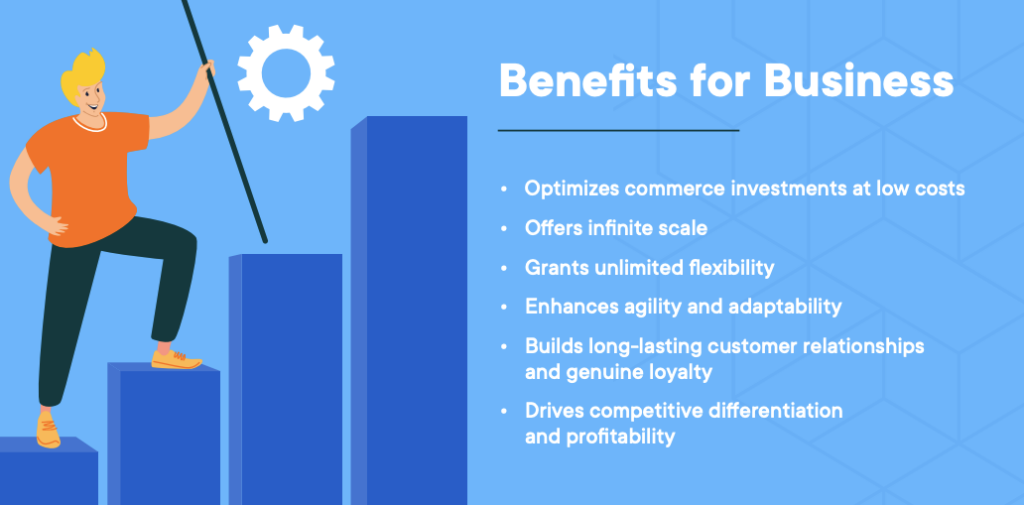 Because composable options are cloud-native, they can scale infinitely to meet evolving resource demands. As more capacity for storage or operations is needed, businesses simply use more resources and pay accordingly. This is in stark contrast to on-premise servers, which require companies to either purchase additional storage and compute resources that are left unused until they're needed or buy new hardware once capacity is reached, putting them at risk of delivering a subpar user experience.
APIs make it possible for companies to easily connect disparate technologies and share key data. These lightweight pieces of code let applications communicate without the need for interdependence, in turn letting businesses create the eCommerce environment that best meets their needs.
With new eCommerce components constantly in development, companies must be prepared to pivot as needed and deploy additional services. With composable commerce, implementing these services can be done ASAP, since they won't impact the function of existing tools.
In practice, this means companies don't need to worry about unexpected infrastructure downtime or potential software conflicts when deploying a new feature This is because services work in parallel rather than in series — one problem or failure won't cause a cascading effect.
Improved customer experiences
Better experiences keep customers coming back. With composable commerce, brands can create truly omnichannel approaches that meet consumers where they are and provide customized, personalized experiences.
This is critical in a world where customers expect responses to queries or complaints instantly.
The longer businesses wait to connect with potential buyers, the lower their chances of making a sale.
Increased competitive edge
Companies that adopt composable commerce aren't just capable of delivering the services that customers want — according to Gartner, they're capable of doing so 80% faster than their competitors. They're also able to pivot more easily in response to emerging trends. Rather than struggling to keep up, they're on the cutting edge.
From Closed to Composable: Strategies for Effective Implementation
While moving from closed to composable offers a modular, flexible and future-proof approach to eCommerce, effective implementation is critical for companies to get the most from composable solutions.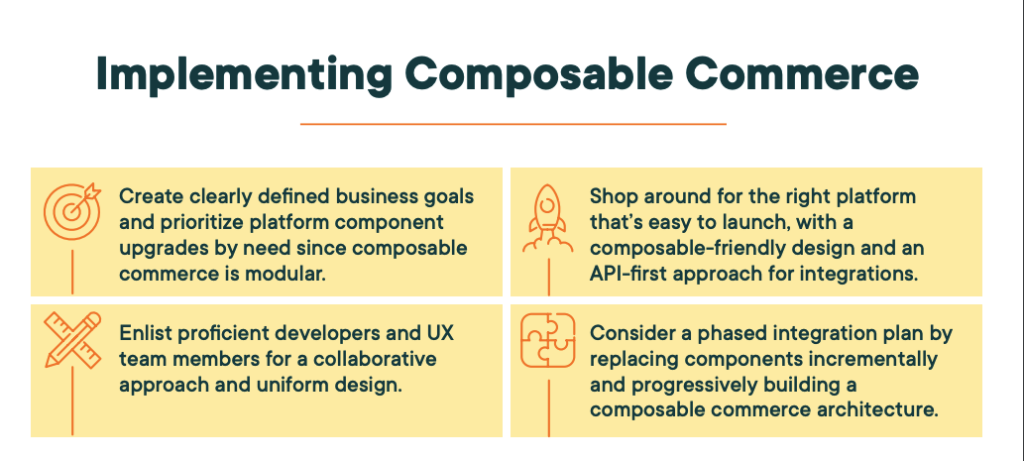 The first step is to define goals and create plans.
Because composable commerce is modular, companies can build out eCommerce platforms as much (or as little) as they need. By defining key goals, companies can tie composable spending and effort to clear outcomes.
For example, if the priority is improving checkout experiences to boost customer conversions, businesses can integrate APIs that allow multiple payment options and streamlined tax and delivery cost calculations as a starting point.
Next, organizations need to shop around for the right eCommerce platform. Not all solutions are created equal, and some are more composable-friendly than others.
Here, businesses should look for platforms that are easy to launch, simple to use and feature an API-first approach to integrations. Look out for solutions that are truly cloud-native, component-based and tech-agnostic. 
Finally, it's worth considering a phased integration plan that replaces components incrementally rather than all at once.
This allows companies to establish a stable foundation and steadily build the solution set that works for them.
The Future Is Flexible
eCommerce paved the way for simple and speedy digital transactions, but this was just the beginning.
Now, it's no longer enough to have a great product at a great price — customers want a shopping experience that begins at their preferred point of contact, provides engaging and compelling content, convinces them to make a purchase and creates enough interest that they return.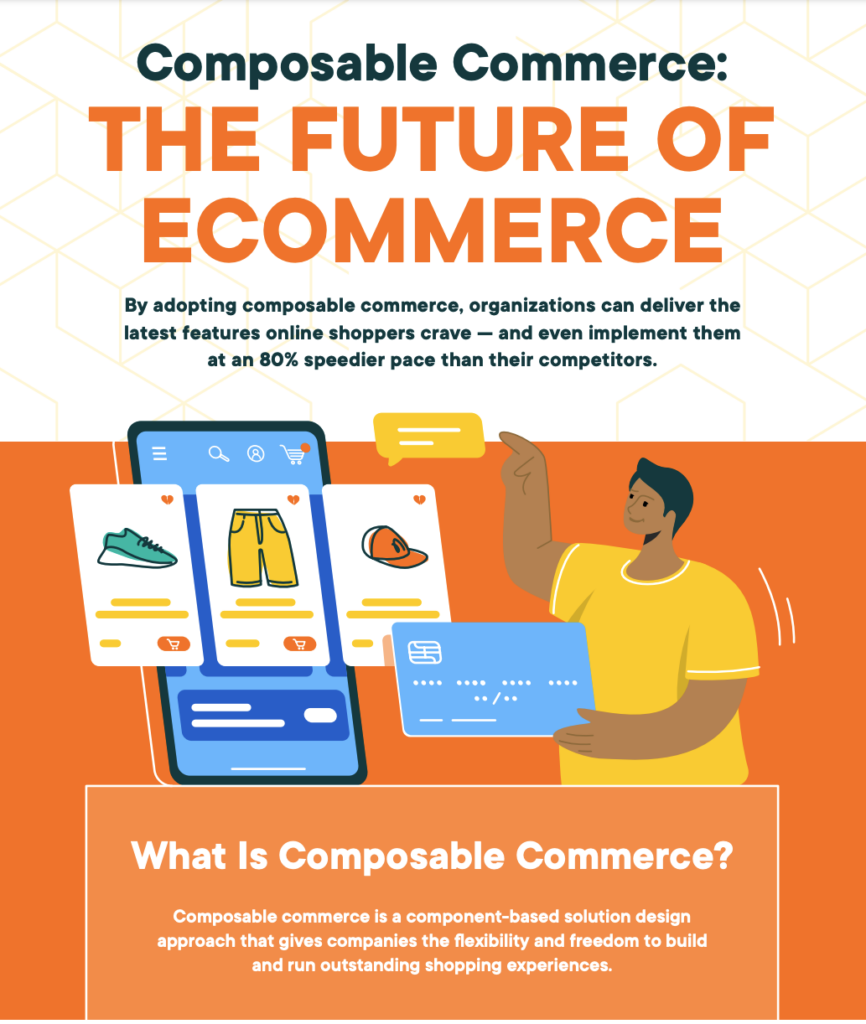 Traditional eCommerce solutions can't keep pace. Hampered by finite capacity and lacking flexibility, these monolithic frameworks offer an easy entry point but aren't capable of delivering a truly omnichannel and personalized experience in the long-run.
The result? Flexibility is the future. Composable commerce offers a way for companies to implement, integrate and operate the services they need when they need them to differentiate and grow.
Learn more about composable commerce and its future-proof potential in the accompanying infographic.