Onsite segmentation based on any user attribute
This is a huge improvement and makes it a big differentiator from our competitors. You can conditionally display onsite campaigns based on ANY (yes, absolutely any) user attributes. What does it mean:
Until now you had access of about 60 conditions we were having access on the client side. For example you could display a campaign based: on UTM attributes, page URL, number of page views, # of items added to cart and so on.
But you could not display a message based on:
gender
subscription to specific list
first purchase date
total value of purchases
… other attributes that were available for outgoing campaigns (email, sms, webpush).
Now you can and to give you some ideas, here are some best use cases:
display a special offer to either males or females
collect more interests using tags when you know total values of past purchases
display discount for returning customers
give free shipping to people who did not purchase in the last 3 months
Note: to enable this feature on your account you must have a premium plan and contact your account manager.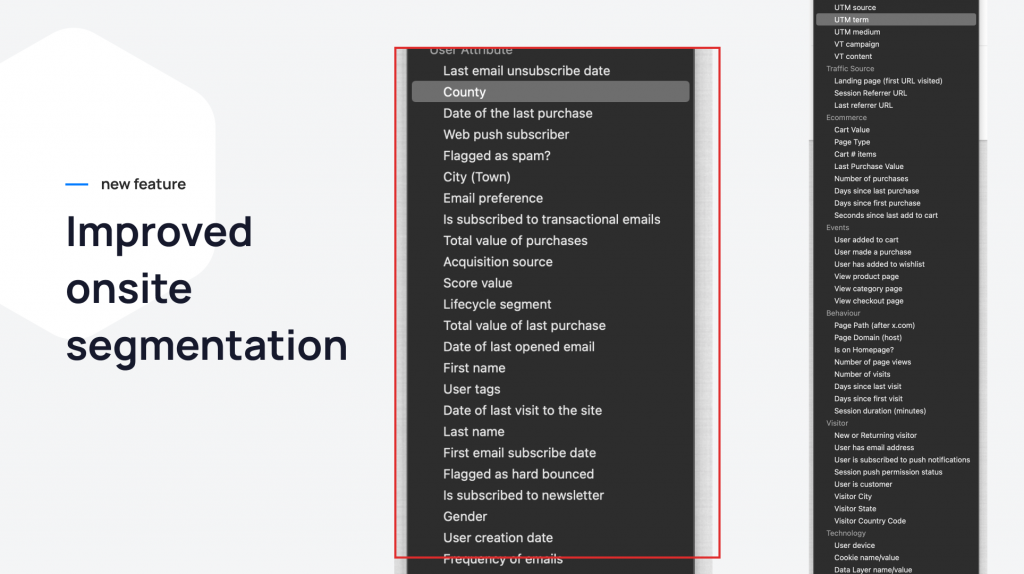 Push blast are merged into other campaigns
Push blast was identical to newsletters, but you would find it separated in the menu and automated selected all push subscribers. The same thing could be achieved through a newsletter, so this was duplicate feature.
All campaign types can use any of the existing outgoing messaging channels: email, sms and webpush
In order to maintain product logic, we're completely moving those under existing newsletters and recurring campaigns that you already know. You can add segmentation, add messaging limits and all existing features of those campaigns.
This helps us maintain a cleaner product, instead of managing the same objective through different features.
User segmentation. Easier to user
Added: Preview for user attribute values.
User attributes can have various values. Even common attributes like country or gender can be very different. And it's hard to extract those when you create a segment and don't know what values you can use.
Now you just click the icon next to the input field to see a preview of the values.
Added new operator: IS ANY OF
Before: if you wanted an attribute to be from within a list, you had to use the OR operator.
After: use "is any of" and enter all values in a single field and we'll do the rest.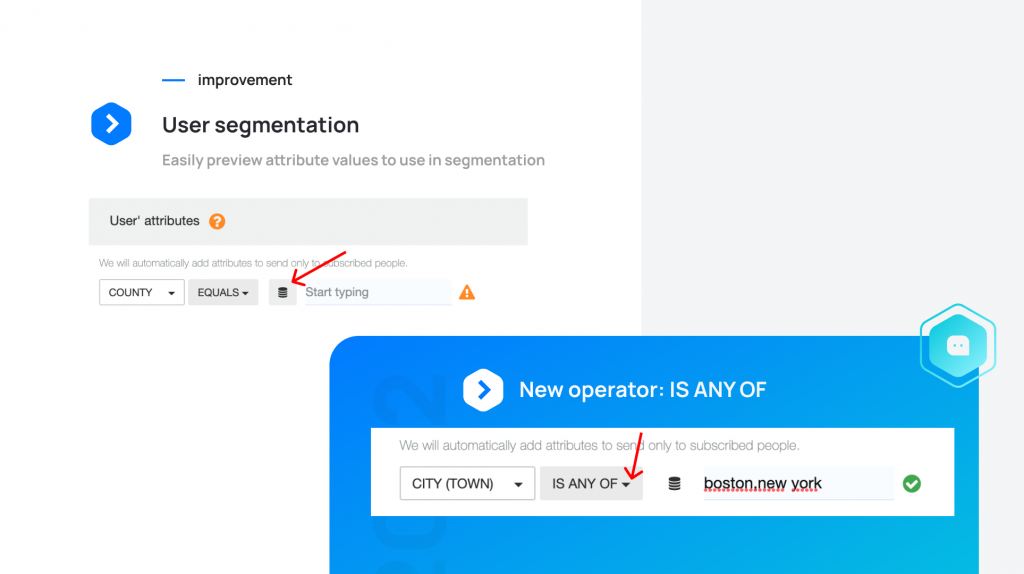 Automated added ALT tags for product images
Deliverability is important. So we made a small change that get's added to the total deliverability score for your email campaigns.
All product images are getting now an alt html tag, so you get a higher score. No action needed on your side, just use our recommender engine inside your email templates.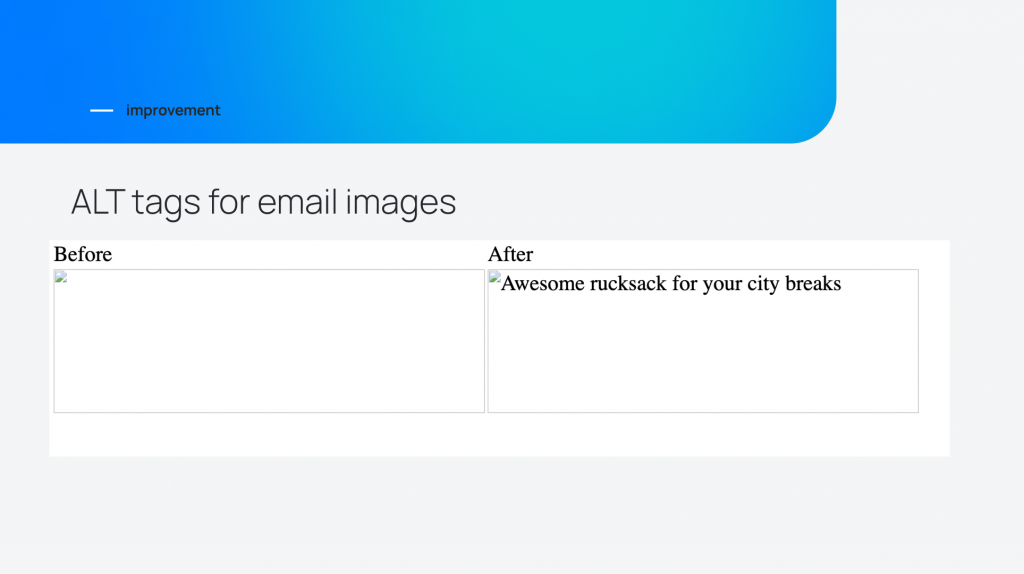 Automated screenshots of email templates from your gallery.
Visuals are powerful. So instead of trying to remember what design is behind a specific design, we're showing you the preview in a full-page screenshot.
Easily decide which email template to use when designing a new email. Our quick previews are generated after each update of the template.