Your website traffic is made of people (and bots, don't forget about them). But out of those unknown visitors, about you don't know anything, or maybe just have their IP address.
But from those Visitors many can be identified with a solution like Vibetrace. Identified visitors are those people about whom you have an email address, a phone number or a device ID that uniquely identifies them.
What is Identified Visitors Rate?
Identified Visitors Rate represents percentage of visitors who are uniquely identified as an individual. Therefore you can precisely know who they are and what they do on your website. Can be:
email address
phone number
device ID
unique customer identified
unique CRM identifier
Identified Visitors Rate Formula
The formula is simple and is calculated based on number of identified visitors / total number of visitors for a specific period.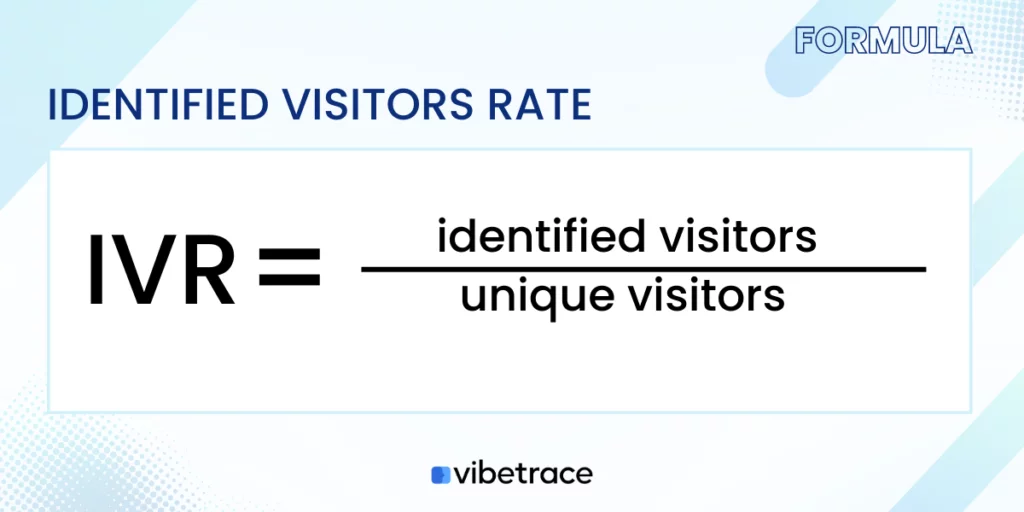 How to Track Identified Visitors Rate?
Tracking Identified Visitors Rate can be done using a solution like Vibetrace or in Google Analytics through a custom dimension.
For example, this is how you can find out how many are subscribed to email, or have push notification enabled on your digital property.

For integration with google analytics you can set things as custom dimensions and run all your reports based on such filters.
For more information on Google Analytics (GA4), please read this page.
Identified Visitors Rate Calculator
There are only a few ways you can find out how many identified visitors did visit your website. It's important to have this rate of at about 20% in order to benefit from entire marketing automation features.
Simple Identified Visitors Rate Calculator
Simple Identified Visitors Rate Calculator
Number of visitors:
Number of Identified Active Visitors:
Important Things about Identified Visitors Rate
When discussing identified people on a website, it is important to always be respectful and mindful of their privacy. This includes your marketing campaigns that might scare people if they find out you know too much information about them.
It is also important to be aware of any legal implications that may arise from the publication of information about identified people, and to ensure that all content is in compliance with relevant laws.
Tracking identified visitors allows websites to gain insights into who their visitors are, where they come from, and how they interact with the website. This data can then be used to optimize the website and create more targeted marketing strategies.
Metrics related to Identified Visitors Rate
Time on Site
The amount of time visitors spends on your website.