Are people fond of emails? It appears so, according to the statistic that 72% of people would rather be contacted through email than any other form of communication.
However, that does not guarantee that your emails will be opened. So, the question remains: how can you ensure your emails are opened?
If your email open rate is low, you won't be able to gain new customers through email marketing. To avoid this, you'll want to take steps to increase your open rates. How can you do this?
If interested have a look on our email clients statistics for 2023.
If you've noticed that your email open rates have been decreasing, it's time to do something about it. This post will provide you with strategies and tips to help you improve your email open rates for your email marketing campaign.
Don't wait any longer—take action now to increase email open rate of your business!
What is "Open Rate" in email marketing?
The open email rate shows what proportion of your mailing list subscribers has opened a specific email sent by you.
It is calculated by dividing the number of opened emails by the total number of subscribers on the list.
If you have a mailing list of 100 subscribers, and 70 of them open your emails, your open rate would be calculated to be 70%.
The email open rate can be used to measure the success of your email marketing strategy. It is calculated by dividing the number of subscribers who open your emails by the total count of subscribers, then multiplying by 100%.

For example, if 70 out of 100 subscribers open your emails, your open rate would be 70%. This percentage gives you a good idea of whether or not these are resonating with your subscribers.
By measuring your email open rate, you can gain insight into the success of your email marketing plan. Additionally, this metric can help determine if your messages are capturing your readers' interest.
If your email open rate is low, you should take this seriously and take action to find out what is causing this issue. It could be that your customers are not going through your sales funnel as expected. Investigating the factors that affect your email open rates is a good place to start.
5 Reasons Why Some Emails Don't Get Opened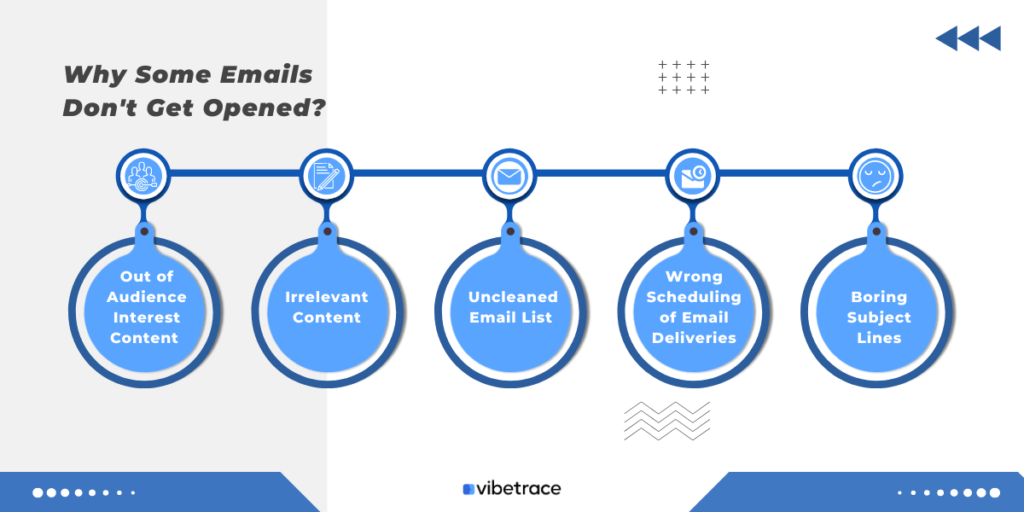 Ensure that the content you create is meaningful to your intended audience.
When it comes to individual subscribers, they all have different needs and wants; and can be grouped into multiple categories. Interests can vary widely among these groups, so it's important to ensure that the information in your emails is up to their standards.
If the content of your emails is not relevant or of low quality, you can expect your open rate to suffer, as individuals will be less likely to open emails that do not contain anything of interest to them.
When providing information, it is essential to tailor it to the people who will find it most useful and relevant. This way, they will be more likely to view, appreciate, and interact with it. People appreciate the information, even more, when they can apply it to their everyday lives.
Email Content
The content of an email is an essential component in the overall success of the message. It must be engaging and relevant to the interests of the subscriber in order to be successful.
If a person is looking to craft an effective email, they may want to consider taking a storytelling or writing course to gain insight and tips. Even experienced writers often struggle with staying on topic, with experts suggesting that less than half of the texts they write adhere to the original subject matter.
Email List Quality
If you want to ensure your visitors are genuinely interested in what you have to offer, you should try to persuade them to join your email list. To maintain the quality of your database, you should make sure to validate your mailing list frequently. To do this, you can use an email verifier to detect any invalid or bad contacts.
Time of the Day
Determining when to send emails can be tricky. While there is no definite "perfect time," it is possible to figure out which time works best for your audience. Everyone has different preferences when it comes to reading emails, so it may be beneficial to experiment by sending emails at different times of the day
After determining which time yields the best results, stick to that particular time frame, and your emails will reach the right people.
Subject Lines
Your subject line is essential to your email's success. Over a third of subscribers use it to determine whether they'll open the email or not, so it is important to craft it with care.
Keep your subject line concise but informative, so that your subscribers know what to expect in the email and are intrigued enough to open it.
This could dramatically increase your open rates and help your messages reach the right audience.
5 Tips for Writing Attention-Grabbing Subject Lines for Emails
Looking for more email subject lines?
We have a dedicated topic on email subject lines:
Half the battle of email marketing is convincing your subscribers to open your emails. To increase the likelihood of getting your subscribers' attention, try using one of these five types of email subject lines to improve your open rates:
Create Subject Lines That Make Your Audience Wonder
If you want to boost your email open rate, tapping into people's curiosity can be a great way to do it. Crafting a subject line that sparks intrigue and encourages people to learn more is key. A digital marketer's email is a great example of this, as it's sure to leave readers wondering what "the secret" could be. After all, curiosity is a fundamental part of human nature.
Personalized subject lines
By personalizing your email subject line, you can gain up to a 50% increase in open rates! This is because subscribers feel a greater sense of familiarity and trust towards your brand when they see their name or other personal information in the subject line.
For example, instead of using the generic "Hi, valued subscriber," use the user's name instead; this will help capture their attention right away. Additionally, you can further develop the relationship by tailoring your email content based on their relationship status, birthday, and browsing history. Doing so will be essential for the success of your email marketing.
Need help with your Email Marketing?
We offer managed services. Let's see how can we help you
Subject lines about more freebies
Everyone loves freebies! They provide incentives to encourage people to take action. By sending out free offers, promotions, and rewards to your subscribers, you will motivate them to open your emails and look out for more emails from you. This title will surely make your subscribers open their emails!
Funny subject lines
A humorous email subject line can be an effective way to grab the attention of your subscribers. Instead of the usual serious emails, a funny one can stand out in the inbox and make people smile.
Humor is a great conversation starter and can help increase the open rates of your emails. With the right subject line, you can make your message stand out and get your readers interested in what you have to say.
Shocking subject lines
An effective way to capture a reader's attention is by presenting an unexpected statement. Although controversy can be a great attention grabber, it should be used with caution. When crafting a shocking or controversial subject line, it is imperative to be truthful and genuine. Refrain from creating clickbait or statements that could be seen as offensive to your readers.
10 Best Strategies to Increase Email Open Rate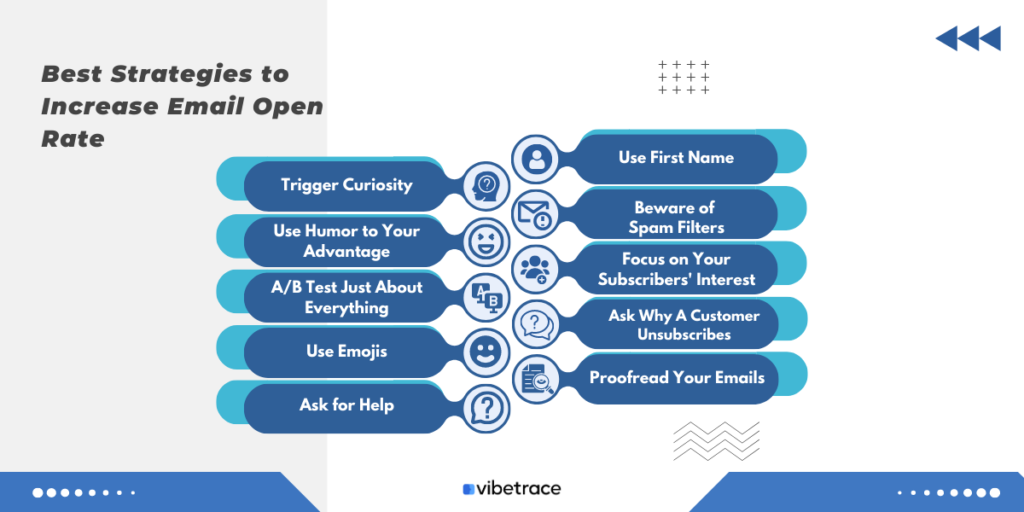 If you're wanting to boost the open rate of your email marketing campaign, here are 10 tips that can prove to be extremely helpful. Try them out and see the results!
Trigger Curiosity
The goal of emailing your subscribers is to get them to take action. To make sure they click on your CTAs, use a subject line that will intrigue them. A teaser subject line is a great way to spark someone's curiosity and make them want to know what your email contains. Writing a unique subject line will also decrease the chances of your email ending up in the trash.
Use First Name
Rather than having a distant, anonymous approach with your subscribers, try to build a personal connection with them. Addressing them by their first name will make them feel like the email was created especially for them. This will likely cause them to have a favorable reaction and be more intrigued by discovering how your email can benefit them.
Use Humor to Your Advantage
Adding a bit of humor to your emails can make readers smile and help create an enjoyable connection between you and your subscribers. Instead of sending out emails that sound too detached, impersonal, or dull, make an effort to inject some humor into your content. This will make your readers look forward to the emails you send and increase your open rate.
Beware of Spam Filters
Sending emails that have a high chance of being opened should be your top priority. To ensure your emails are not flagged by spam filters, you must take extra care when crafting them.
Spam filters are becoming increasingly sophisticated, meaning you don't have to purposely write a "spammy" email to be marked as such. By taking the necessary precautions, you can significantly improve your email open rates.
Looking for white label solution?
See benefits of our white label marketing automation platform
Use Emojis
Some people may believe that emojis have no place in an email. However, we believe that the use of emojis in emails is not inappropriate or wrong. Therefore, there is no problem with including them in your emails.
Emojis can portray emotion, show subscribers that the email is not from a robot, and build a connection between the sender and receiver. Additionally, adding emojis to the subject line can make the message more vibrant and friendly.
Do you know that Vibetrace provides an automated way to include Emojis in your subject lines and emails?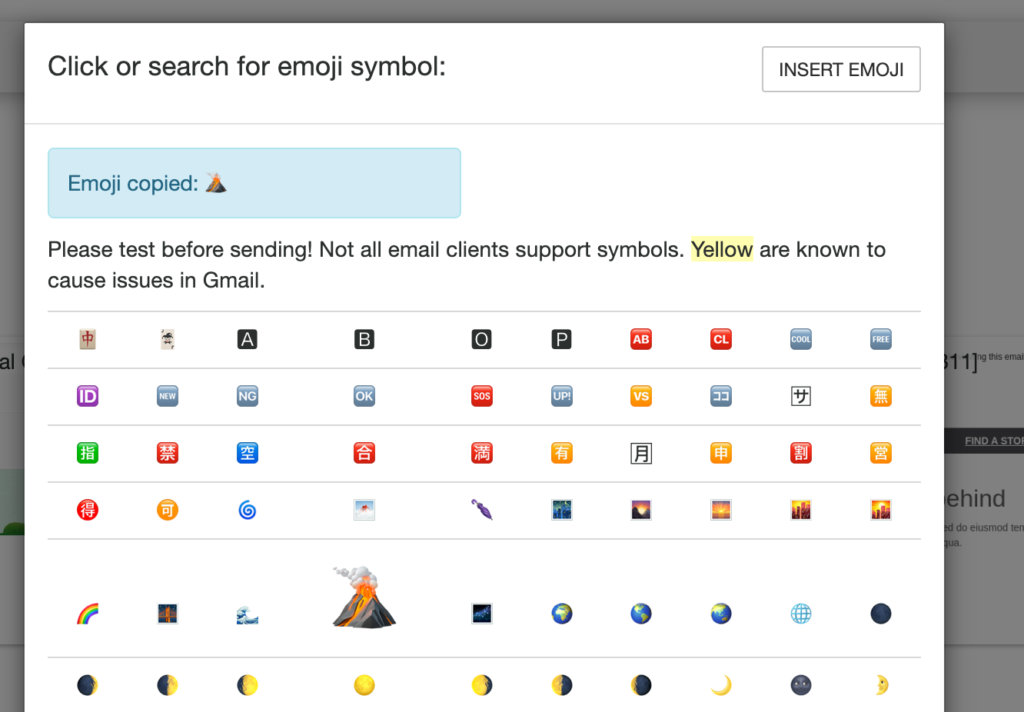 A/B Test Just About Everything
A/B testing is essential for determining which content or elements of your email campaign are the most effective. You can not only test different subject lines but also other component parts of your emails, such as calls to action, images, and more. By trying out various versions, you can get an understanding of what resonates best with your subscribers, which will boost your email open rate.
Focus on Your Subscribers' Interest
The key to a successful email list is to keep your subscribers interested and engaged, rather than focusing solely on increasing sales.
While the goal may be to drive sales, it is important to provide content that your subscribers will find interesting and relevant. This will help keep them engaged and ultimately lead them down the sales funnel.
Use advanced customer segments in order to be relevant with your campaigns
Ask Why A Customer Unsubscribes
When a person chooses to unsubscribe from an email list, they are likely unsatisfied with some aspect of the list. Upon attempting to unsubscribe, they will likely be directed to a page containing a form with a list of options, asking for the reason for the unsubscribe.
It is important to take this seriously, as it is an opportunity to learn from mistakes and prevent further subscribers from unsubscribing. By finding out why someone chose to unsubscribe, you can make changes to your list to keep more people interested.
Ask for Help
Having someone else review your emails prior to you sending them out can be extremely beneficial. Since you may be so accustomed to the content, you may not catch any errors you have made. To avoid this, it is wise to have another person look through your emails. Request assistance from friends, family, or coworkers to identify any mistakes before you distribute them.
Proofread Your Emails
After completing an email, it is essential to thoroughly review the content. Scan for any errors, inaccurate statements, or anything else that may require revision. Proofreading should not be underestimated; pay close attention to the text and employ tools like Grammarly to ensure accuracy.
Final Thoughts
When you send out an email campaign, try to incorporate one or two of the above strategies and compare it to your past send-outs. If you notice that your results have improved, continue using the new methods. Remember, every campaign is unique, so your email marketing goals will differ accordingly.
Whether your email open rates are satisfactory or not, you now possess the tools to make them soar. If you are content with your current open rates, a slight boost wouldn't be unwelcome.
If you're looking for a way to make sure your subscribers look forward to your emails, Vibetrace has the tools for you. With our free signup, you can access our full suite of tools and start building relationships with your subscribers. Don't wait – try Vibetrace today!