Have you ever considered how much time it takes to make a good first impression?
Only seven seconds, that is!
You did read that correctly. Not minutes or hours, but seconds.
So if you are wondering how you can nail that impression, you must have a powerful subject line. What do you think are the best words for email subject lines?
After all, those are the first words that will help you engage readers to check the email you sent.
But what makes a good email subject line? Well, It must be a message that conveys urgency, curiosity, personalization, and so much more. But it's up to you to make that distinction of which fits best in your business offer and appeals to your audience.
Maybe you've written an amazing email body, but if your subject doesn't cut it, your readers won't open the email.
So if your email subject line isn't on point, here are some tips given by email marketing professionals who shared their thoughts on Linked In. Let's dive in.
The 5 Proven Subject Lines by Chase Dimond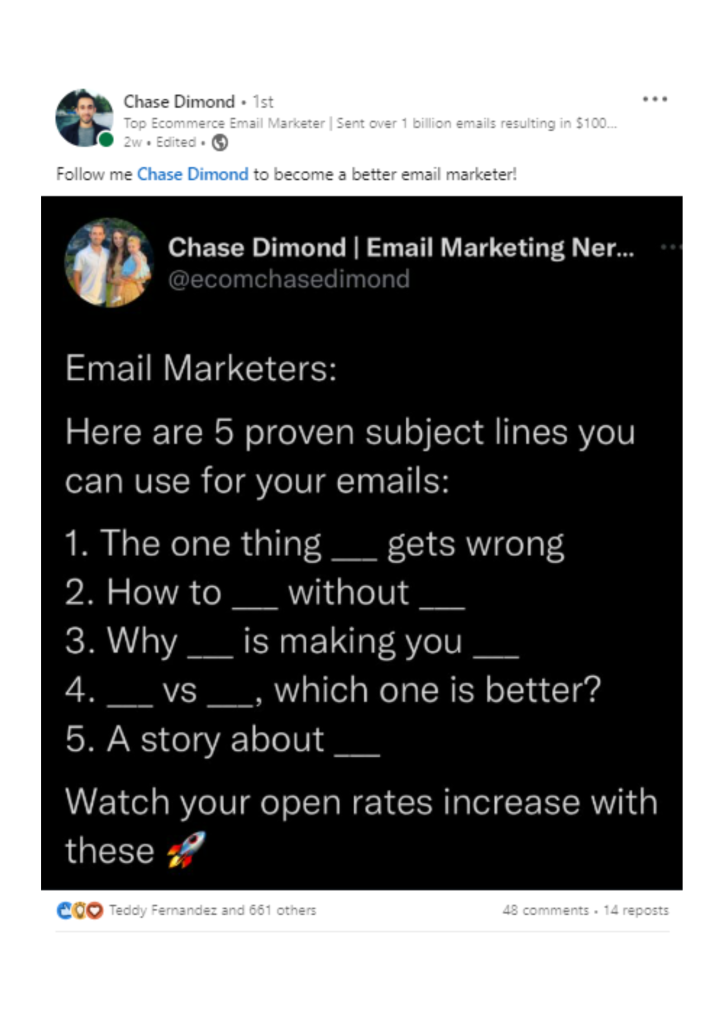 If you are looking for an easy-to-try subject line that has been proven to increase open rates, you must try these subject lines suggested by Chase Dimond, a top eCommerce email marketer, to entice and drive more conversions for your business.
To make it more effective you must keep your Subject lines at 6 to 10 words since it has a 21% open rate (SuperOffice, 2021)
Here are the 5 proven subject lines
The one thing ___ gets wrong
How to ___ without ___
Why is ___ making you ___
___ vs. ___, which one is better?
A story about ___
If you are wondering how to properly create phrases for these subject lines, Omar Osama, a software engineer, has shared his idea for recreating these lines from the comment section of the linked-in post.
This will definitely be a great help if you are planning to implement these in your email campaigns.
The one thing debatable gets wrong if not ended with a solid argument.
How to go with a viral campaign without losing your product credibility.
Why customers are making you lose your confidence in the product?
Campaign A Vs Campaign B, Which one is better? This is an important question to be asked to understand the difference between your marketing campaigns.
A Story about the product with its lifetime can give you a great idea for a marketing campaign that can touch the customer.
Nonetheless, you still have the choice of how you wish to construct your subject lines. Just keep in mind that whatever those lines will be, they must create an unforgettable subject line that will make your reader click and read your newsletter for a higher chance of an increase in conversion.
The 12 Powerful Words to Use in Marketing by Rafay Hamish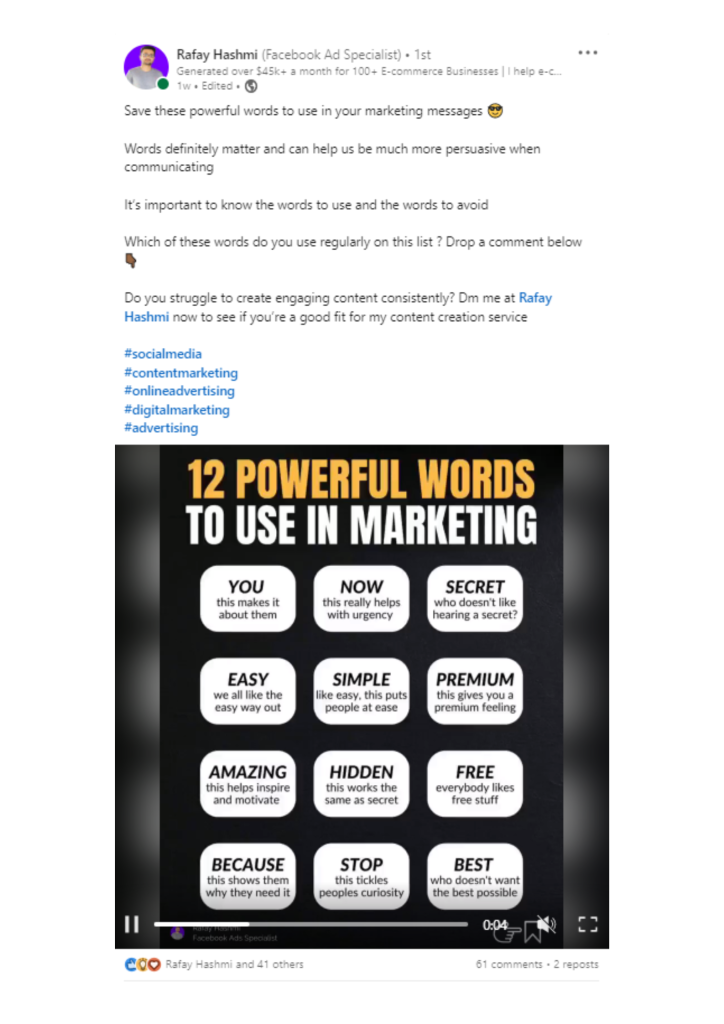 Have you been searching for different powerful words you can include in your subject lines? Well, you must try these words that sound very persuasive when used in communicating on email campaigns which are suggested by Rafay Hamish, a Social Media Strategist.
To keep your email subscribers engaged, you must understand which words to use and which to avoid. This is an excellent method to get your email subscribers excited about every email you send.
According to HubSpot Blog Research, the most effective email subject lines pique the recipient's attention, incorporate promotional offers, and are tailored to the recipient's specific interests. So, try checking out the following words that may help you in your next email newsletter.
YOU – "You" is the most common way to speak directly to the reader so they would feel valuable
NOW – "Now" give a feeling of urgency that may trigger subscribers not to miss out on the offer posted.
SECRET – "Secret" is a favorite word of everyone that makes them feel important and who doesn't want to know one?
EASY – "Easy" has always been everybody's the only way out to get the convenience
SIMPLE – "Simple" could be a cliche but it puts people at ease
PREMIUM – "Premium" gives subscribers an extreme feeling
AMAZING – "Amazing" is the best word that helps inspire and motivate
HIDDEN – "Hidden" is somewhat similar to giving some secret.
FREE – "Free" is the only word everyone loves seeing.
BECAUSE – "Because" delivers the purpose of what you offer
STOP – "Stop" brings curiosity into the minds of every subscriber
BEST – "Best" has the power to make them look at what you have to offer.
Trying all of these words can make a tremendous difference in your emails, and if you're willing to take a chance on providing your emails with powerful words, you should attempt words that will fit into your business.
Trendy and Relevant Subject Line Words by Jason Feifer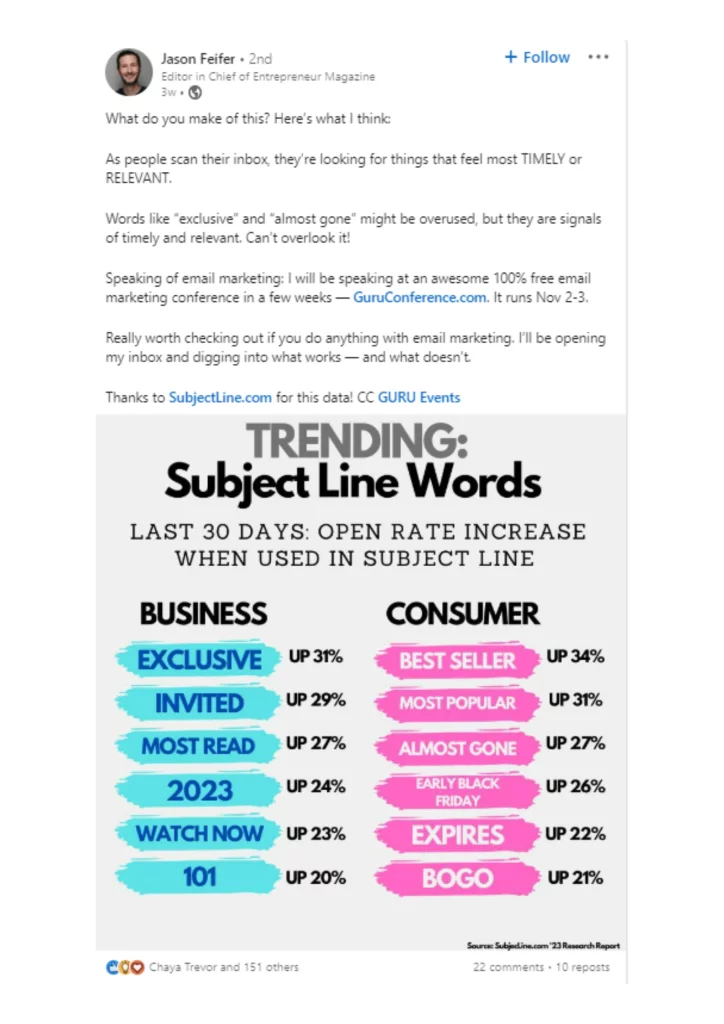 The words you use in your emails can vary depending on the segmented target audience, thus it is critical to understand which subject line must be sent to businesses if you are doing B2B marketing or customers if you are doing B2C marketing.
Jaison Feifer, Editor in Chief of Entrepreneur Magazine, has suggested subject lines you can use for your emails to increase open rates. In reality, he has illustrated the goal percentages of open rates for each word in a picture.
The post was actually published in early Black Friday, which is also part of the subject lines that can be utilized for sending emails to consumers. According to Campaign Monitor research, Fridays have the highest email open rates (almost 19%), while Saturdays have the lowest open rates (17%).
Here are the trending Subject Lines in the post:
For Business
Exclusive
Invited
Most Read
2023
Watch Now
101
For Consumers
Best Seller
Most Popular
Almost Gone
Early Black Friday
Expires
Bogo
Get inspired and feel free to test the words on your next email marketing campaign.
12 Types of Email Subject Lines that Get Clicks and Drive by Philip R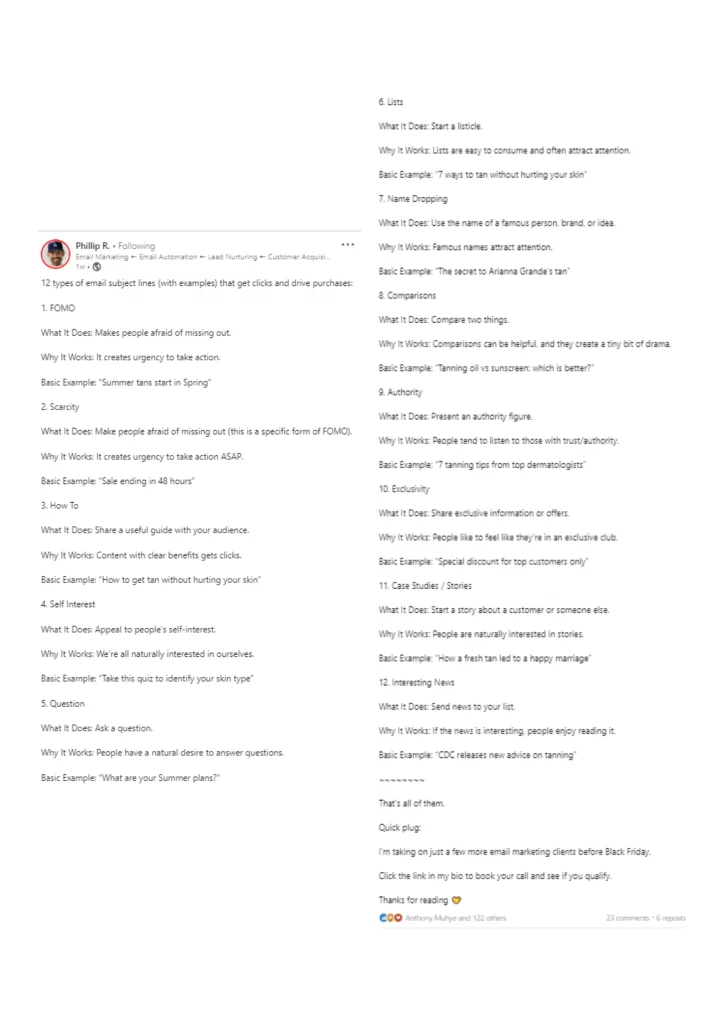 Understanding the various sorts of email subject lines is essential when selecting a subject line so that you can effectively communicate your purpose for sending email campaigns. The following are the 12 types stated by Philip R. in his Linkedin profile:
FOMO – "Fear of Missing Out" is technically the meaning of this word which makes people afraid of missing out on opportunities which creates an urgency to make them take your offers.
Scarcity – This is to create urgency for subscribers to make immediate responses before the end of the promotion you created.
How To – This is sharing a useful and relevant guide to your email subscriber which can lead them to your website content.
Self-Interest – Making an appeal to your email subscribers' self-interest, which is typically utilized on basic surveys about them that will offer them the results they want to see
Question – Asking question drives people's interest that makes them feel valued.
Lists – Listicles that provide a list of relevant information and popular trends.
Name Dropping – The use of a famous person, brand, or idea that drives the attraction of email subscribers.
Comparisons – Comparing two things that can be helpful to give your subscribers something to think about.
Authority – Presentation of an authority character to whom others want to listen.
Exclusivity – Providing exclusive information which are like secrets only for members or subscribers.
Case Studies / Stories – Sharing of the story of customers or anyone that will intrigue readers.
Interesting News – Listing of relevant news that is good for reading.
The next time you create your own subject line, you would surely get into the right direction and right audience so don't forget to keep all these types in mind!
The Enticingly Effective Subject Lines by Carrie Solomon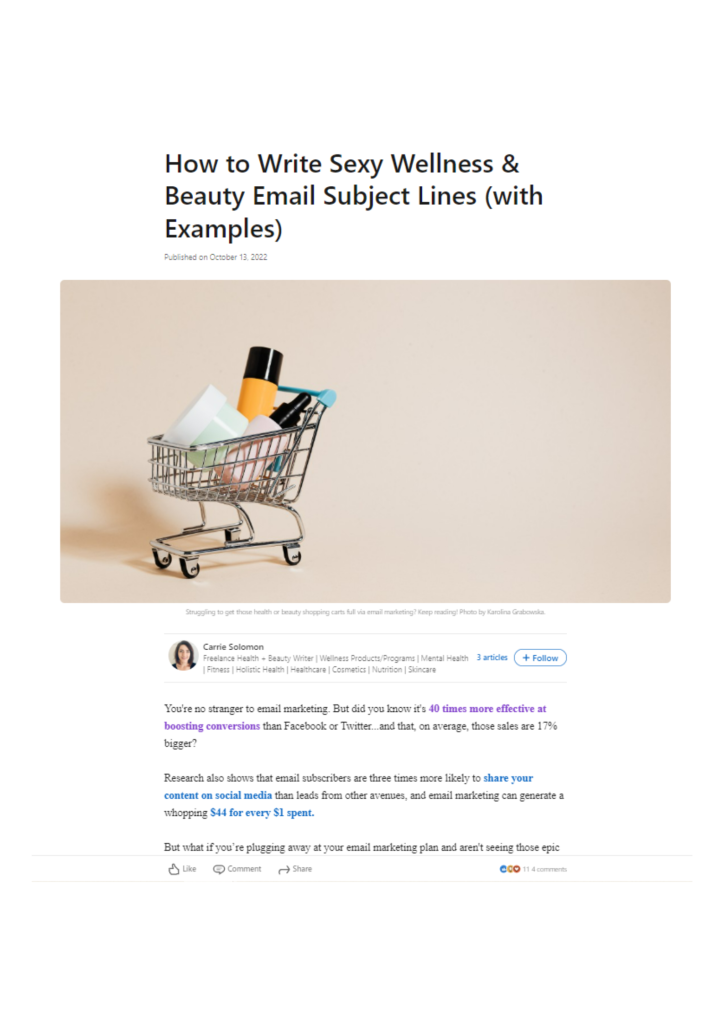 "How to Write Sexy Wellness & Beauty Email Subject Lines" is a LinkedIn content created by Carrie Solom which explains everything you need to understand about email marketing especially if you are engaging consumers with products related to Health and Beauty.
According to Campaign Monitor research, email marketing generates over $44 for every dollar spent. However, you should be aware that effective and engaging subject lines are required to increase conversions.
Here is an enticingly effective subject line that was mentioned in the article:
Personalized
Relevant
Clear and focused
Motivating
Fresh
Short and to the point
There will always be potential for trying these subject lines, particularly if you are in the same niche, so conduct your own research and see if these words perform well on your email campaigns.
What do you think are best words for subject lines?
Have you encountered other subject lines or words that brought you amazing results? Improving subject lines it's really important to get your email opened first.
It's like a funnel:
email needs to reach recipient mailbox > deliverability
email needs not to get into spam folder
email needs to be visible > subject line and from name play the most important roles here
recently there is also preheader text that helps to get it open
email copy & image will make them click
once they click is destination task to convert them
Doing A/B tests on Subject Lines
There is no magic in what is the best email subject line. It does not exist. Because there are so many variables related to opening of an email, from who received it (recipients), to time of day for sending, time of year, you can not control.
But there are a few things you can do to improve open rate for emails and having A/B tests on the subject line for the same campaign is one of them.
Our platform allows you do create such A/B tests without hassle.
Step 1. Create a second variation of your first content

Step 2. In email info section change the subject line. Keep all the rest unchanged.