Most potential customers are a source of frustration, not only because they don't continue with their purchases but also because it represents a loss for your business.
In fact, statistics indicate that the average online shopping cart abandonment rate is 69.82%, with over 80% of mobile shoppers abandoning their carts.
Considering these numbers, it becomes evident that reducing the abandonment rate is a significant challenge across various industries, including the outdoor gear industry.
Need help with your Email Marketing?
We offer managed services from strategy, to implementation and tracking. Usually getting a 15-25% increase in results. Let's see how we can help you!
In this article, you will learn about the reasons behind abandoned carts and the checkout process, as well as the top strategies for decreasing checkout and cart abandonment for your outdoor gear stores.
Important Cart Abandonment Statistics To Be Aware Of
Cart and checkout abandonment can give you an important look at why your products are not getting checked out.
Although it will be different on different devices due to the surfing habit of different users. Mobile users have a habit of keeping everything in the cart while computer users check out more.
Here are a few cart abandonment statistics you must be aware of:
Difference between Cart and Checkout Abandonment for Stores Selling Outdoor Products
Cart and checkout abandonment may seem to be mistakenly described by most people and some may think that these two are just the same.
But the thing is, it was never been the same as both have a distinct meaning.
Cart Abandonment
When a prospective customer adds items to their shopping cart but leaves the website or app before making a purchase, this is known as cart abandonment.
This may occur in the case of every outdoor goods retailer when clients add products like camping equipment, hiking boots, or outdoor gear to their carts but do not proceed to the checkout stage. Various elements, such as unforeseen costs, comparison shopping, or a drawn-out and challenging checkout process, can affect cart abandonment.
Checkout Abandonment
When customers begin the checkout process but stop before making a purchase, this is referred to as checkout abandonment. Customers who enter their billing and shipping information, choose a payment method and then do not complete the transaction, experience this.
If there aren't enough preferred payment options, there may not be enough shipping options, or there may be concerns about payment security, which can lead to checkout abandonment for online retailers of outdoor gear.
Reasons Behind Cart and Checkout Abandonment In Outdoor Gear Stores
There are a number of frequent reasons for cart abandonment during the checkout process in outdoor gear stores. Unexpected expenses like high shipping costs or additional taxes, which can detract from the appeal of the purchase as a whole, could be one of the causes.
Here are the top 5 reasons behind these carts and checkout abandonments: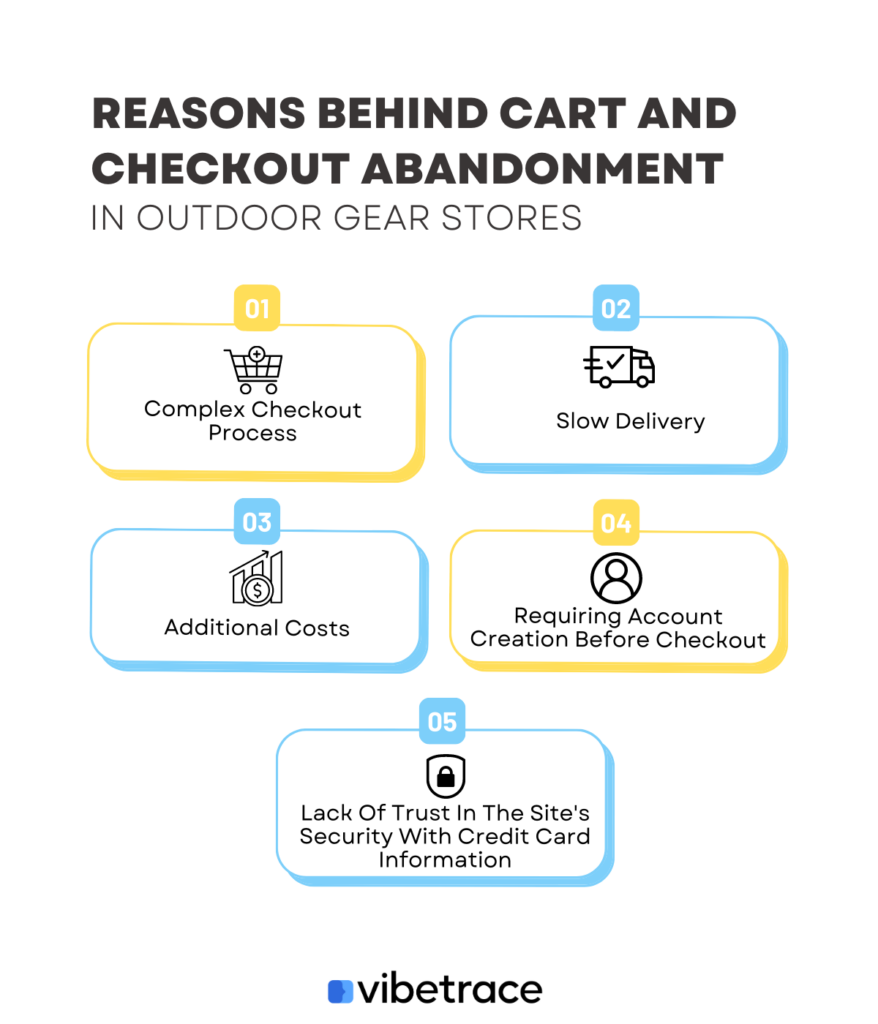 Complex Checkout Process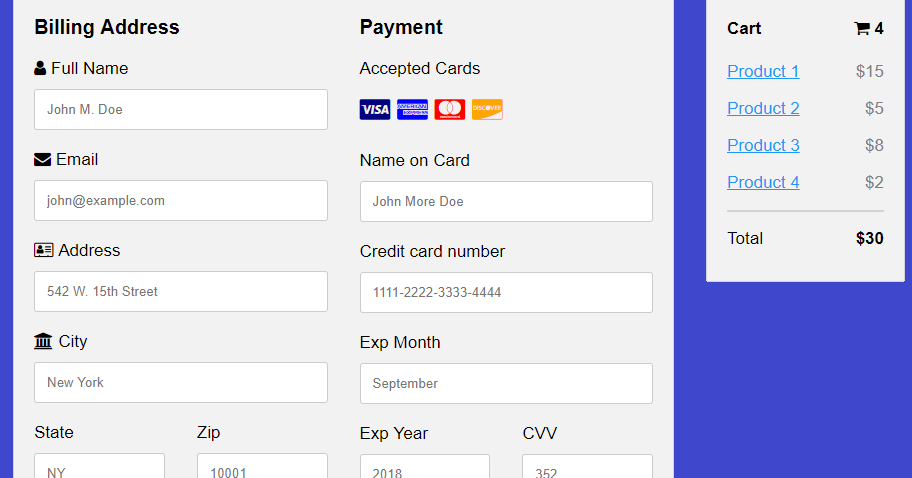 Cart abandonment can be significantly influenced by a difficult checkout process.
Customers frequently place a premium on efficiency and convenience and demand a quick and simple checkout process. Customers may lose patience and remove items from their carts if the checkout process is overly difficult or confusing.
Excessive form fields, requirements for account creation, and a dearth of guest checkout options are some factors that contribute to a difficult checkout process.
As an outdoor gear retailer, you should concentrate on streamlining your checkout procedure by minimizing the number of form fields, providing guest checkout options, and only requesting necessary information to address this problem.
Slow Delivery
In outdoor gear stores, slow delivery can be a big factor in customers leaving their carts unfilled.
Customers frequently have urgent needs that must be met right away, like organizing trips or outdoor activities. Customers may choose to remove items from their shopping carts and look for quicker alternatives elsewhere if the estimated delivery time is too long or there aren't any options for expedited shipping.
Fast and dependable delivery has evolved into a crucial expectation for customers in the cutthroat online marketplace.
As an outdoor gear retailer, you should make streamlining your shipping and logistics procedures a top priority in order to offer customers faster and more effective delivery options as a solution to this problem.
Want to be up to date with Marketing?
Subscribe to Marketing Automation dedicated newsletter!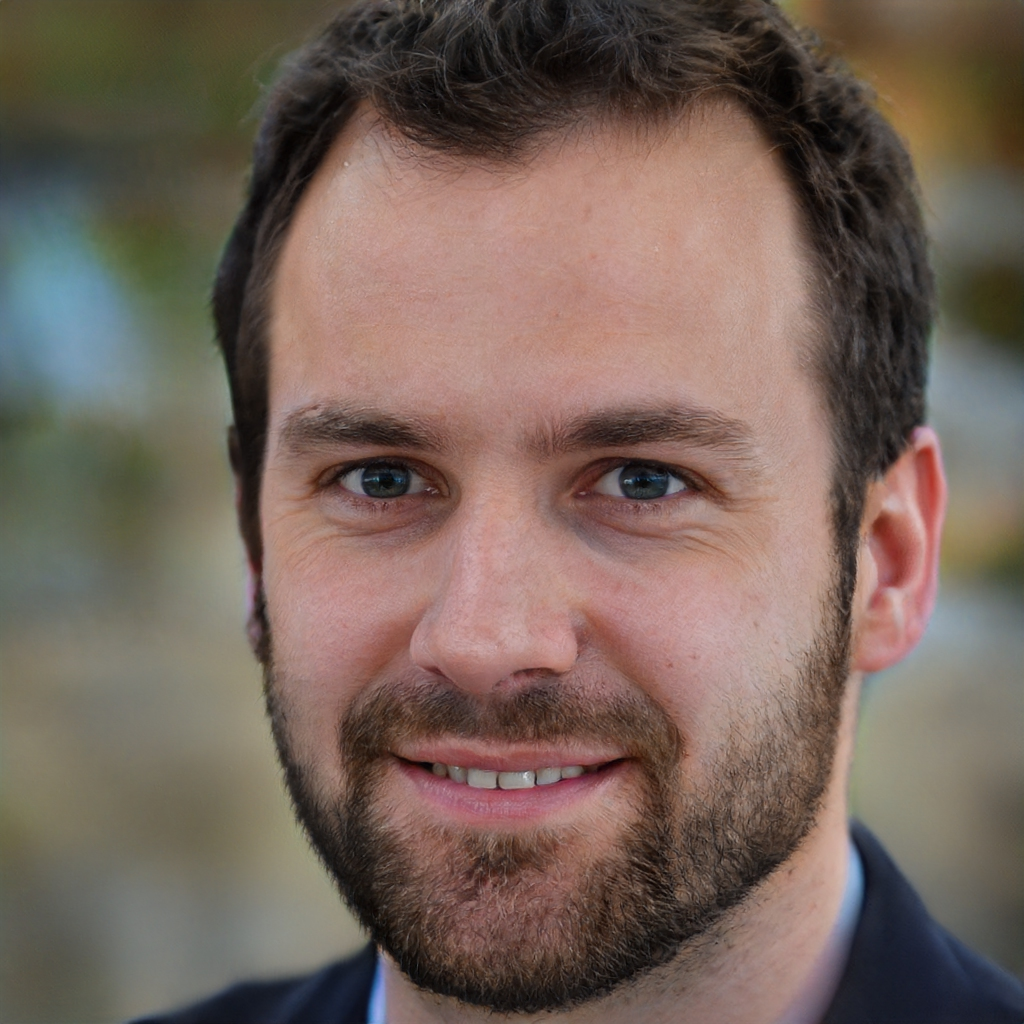 Stay connected with what's really important to optimize your digital revenues.
By clicking the button, you accept our Terms & Conditions. Also you will need to confirm your email address.
Additional Costs
Cart abandonment in outdoor gear stores can be influenced by additional costs like shipping costs, taxes, extra services or accessories, membership fees, and return shipping costs.
Customers in this sector are price-conscious, so they might become discouraged if they encounter unforeseen or excessive costs while checking out.
As an outdoor gear retailer, you should put a priority on transparency by outlining all additional costs up front and providing choices like free or discounted shipping, hassle-free returns, and open subscription or membership programs to reduce cart abandonment.
You can improve customer satisfaction and lower cart abandonment rates by offering a simple and economical purchasing experience. Try to have additional discounts on certain thresholds. Thresholds will help you to maximize your profit and good rates for your customers.
Requiring Account Creation Before Checkout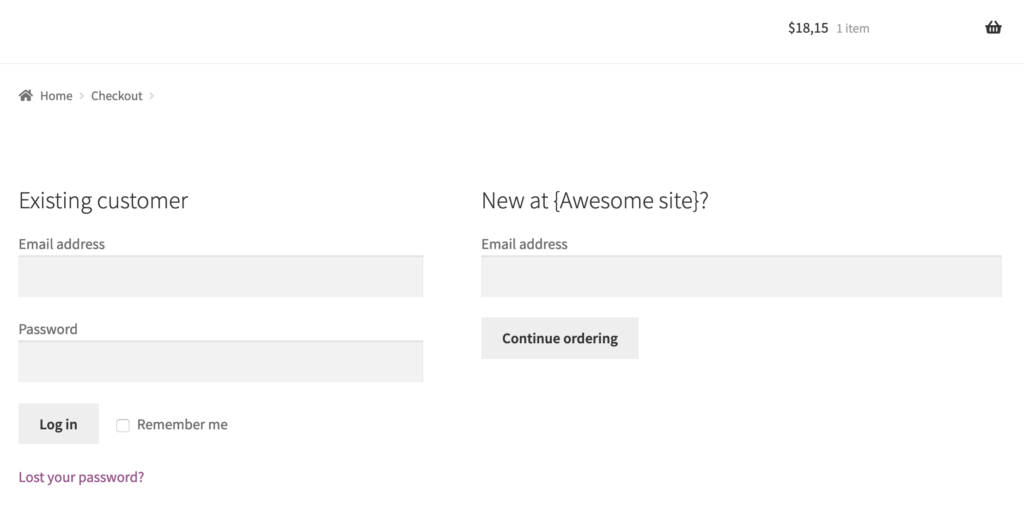 Creating an account before checking out can increase cart abandonment in a number of online stores, including those selling outdoor gear. Customers frequently value efficiency and convenience, so forcing them to create accounts can complicate the checkout process.
Several factors can contribute to cart abandonment, including the requirement for account creation time, and email or mobile information, due to heavy promotional messages. So customer generally avoids entering data into the website.
You have to minimize the process of checkout or allow the guest checkout option for first-time users. It will generate more trust after the first successful order delivery.
Lack Of Trust In The Site's Security With Credit Card Information
Customers lack confidence in a site's security when it comes to handling credit card information. Customers have legitimate concerns about the security and privacy of their private financial information, and any uncertainties or perceived risks can cause reluctance or abandonment during the checkout process.
The following are some factors that may cause cart abandonment if a customer lacks confidence in a website's ability to protect their credit card information:
The site must be properly secured with HTTPS, site lock, and e-commerce antivirus.  After having proper security measures, cart abandonment will decrease.
The Negative Impact Of Checkout and Cart Abandonment On Your Outdoor Gear Business
Your outdoor gear business may suffer significantly as a result of cart abandonment. Customers who add items to their carts but don't finish the transaction result in lost sales and missed opportunities.
Here are a few significant ways that cart abandonment could harm your business: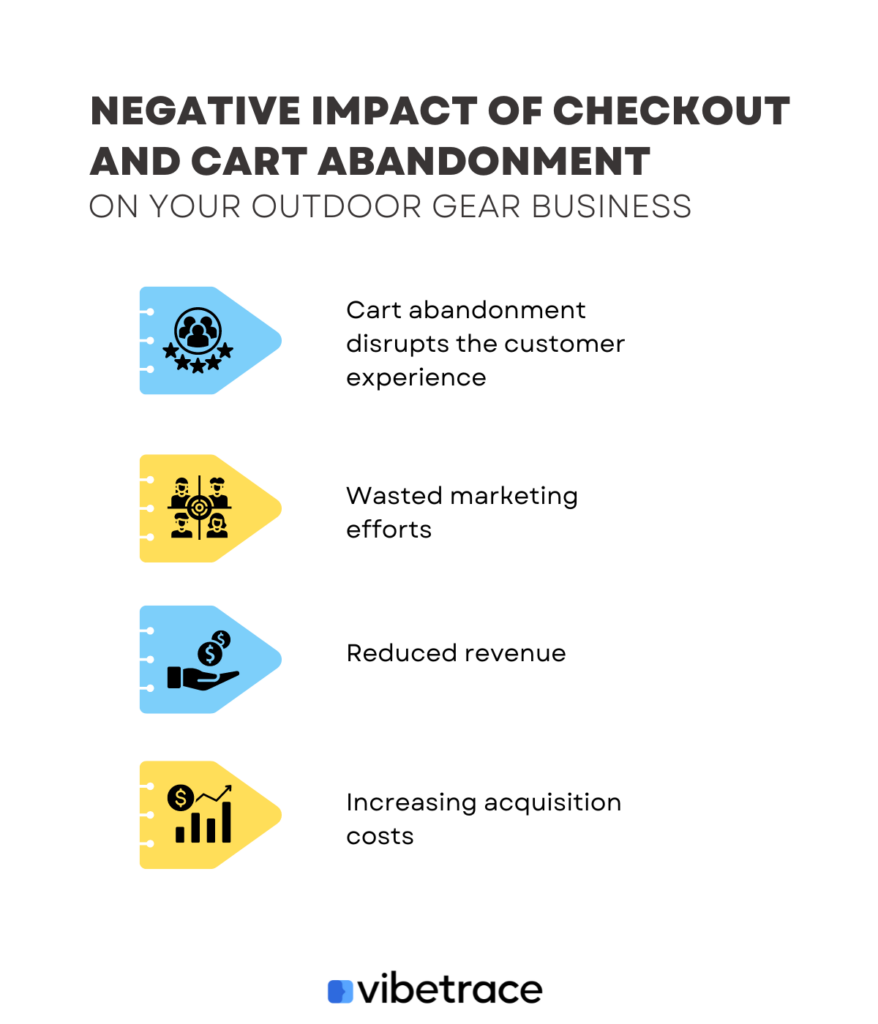 Cart abandonment disrupts the customer experience: You lose the chance to raise the lifetime value of your customers and gain from their continued engagement with your brand when you fail to turn them into devoted, repeat buyers.
Wasted marketing efforts: If customers leave their shopping carts empty, your marketing efforts to promote your products and increase site traffic may be ineffective. If customers aren't finishing their purchases, your marketing campaign's return on investment will suffer and resources will be wasted on attracting non-converting users.
Reduced revenue: By preventing prospective customers from becoming paying customers, cart abandonment directly affects your revenue. Over time, these lost sales may accumulate and significantly reduce your overall revenue.
Increasing acquisition costs: When customers leave their shopping carts empty, it means you spent money acquiring them but were unable to turn them into actual sales. Increased customer acquisition costs result from this without a corresponding increase in return on investment.
Four Steps To Decrease Cart Abandonments For Your Outdoor Gear E-Commerce Store
We are sure you don't want to lose the customer who just knocked on your door and left without buying. So you can take the following steps to improve your strategies.
Analyze User Behavior To Discover Leaks
You can track the whole website and each page with the latest technology. Monitoring and tracking will give you a detailed analysis of the customer's moment. Navigation from the page or customers' activity can be tracked too.
The first step in optimizing your online business is to analyze user behavior to find leaks in your sales funnel.
Understanding how users use your website or app will help you spot any areas of friction or inefficiency that cause users to leave or abandon them.
Do you need help with Ecommerce Analytics?
Test our tool for free to see how our ecommerce analytics features will help you run your marketing campaigns in a much better way.
You can find leaks by analyzing user behavior in the following ways:
Track click-through rates: Tracking click-through rates reveals how users interact with different elements on your website or app and are made easier with user behavior analysis.
Recording and replaying user sessions: You can learn a lot about users' behavior, pain points, and potential leaks by watching how they use your website or app. The user's confusion, reluctance, or frustration can be seen in session recordings, which can help you pinpoint areas that need to be improved.
Use heatmaps and scroll maps: By displaying where users click and how far they scroll on a webpage, heatmaps and scroll maps help to visualize user behavior. You can spot areas with high engagement or abandonment using these visual representations
Gather Feedback From Customers
Give examples of how and what type of data to collect.
Feedback forms can collect data related to experience or product reviews.
Collecting data and understanding customers' needs will give you accurate data on leaks and problems to be solved. For the outdoor gear industry, getting customer feedback is crucial to comprehend their needs, enhancing your goods or services, and improve the overall customer experience.
Develop An Optimization Roadmap For Your Website/App
A website roadmap is a strategic plan that identifies the objectives, top priorities, and timetable for creating, improving, and maintaining a website.
It acts as a manual for website owners, stakeholders, and development teams to ensure a distinct vision and course for the development of the website.
You must clearly state the website's overall goals and objectives. This might entail raising website traffic, enhancing user experience, boosting conversions, or adding more functionality.
Additionally, you must also identify and comprehend your website's target audience with the help of user personas. Create user personas that represent various audience segments, taking into account their demographics, tastes, and requirements.
After identifying your audience, you can now easily specify the types of content that will be produced, the subjects that will be covered, and the frequency of updates. Think about how the content relates to the intended audience and advances the website's objectives.
Conduct A/B Experiments
Here just give the main ideas. It's important, but we are not that experience in this.
Testing and optimizing various iterations of elements on your website or app can be done by running A/B experiments.
A/B experiments involve showing two or more versions of the same element to various user groups and comparing their responses to ascertain which version performs better. An overview of the procedure for carrying out A/B experiments is provided below:
Create a hypothesis or user use cases about how the various iterations of the element might influence user behavior or performance.
Examples Of Emails For Abandoned Carts
Reminder Cart Abandonment Email
Create an email to remind people who left their carts to give them a chance to decide again to buy your product. This is a great way to let them know that there are products left on their carts. Some of them probably just forgot about it or they are still trying to think about purchasing it. Through the use of email, you can make them think again and persuade them.
Expiring Cart Abandonment Email
Many have a fear of missing out so when they know that the product they want cannot be reserved they might hurry up buying it. to give them this kind of feeling, providing them with an email that their carts will expire can make them check out the product.
Product Suggeston Similar to Abandoned Cart Email
Some people who are not satisfied with their choices may leave their carts on your e-commerce store so you can try to email them your suggested picks. This can help them to decide to purchase your products and consider other suggestions you have for them.
Need help Acquiring New Customers?
We can help you acquire valid traffic and convert this traffic into customers. Let's discuss and see what we can do for you.
In Conclusion
Cart and checkout abandonment is a problem that many businesses in the e-commerce sector deal with. However, it offers a chance to use efficient tactics to make up for lost sales and raise conversion rates.
You can reduce the negative impact on your revenue and overall performance by understanding the causes of cart abandonment and putting the right solutions in place.
These abandonments are caused by a number of things, such as:
difficult checkout procedures
sluggish delivery
extra fees
lack of confidence in the site's security.
Vibetrace is a marketing automation platform that can help you recover lost sales and significantly lower your cart abandonment rates. Vibetrace can improve your cart abandonment strategies in the following way. Vibetrace has designed special tools for different stores including outdoor gear.
Additionally, Vibetrace offers real-time reporting and analytics on the effectiveness of your cart recovery campaigns. Metrics like open rates, click-through rates, conversion rates, and revenue generated can all be tracked.
In general, Vibetrace gives you the tools and automation you need to recover lost sales as a result of cart abandonment.