Have you ever been in a grocery store or maybe in a mall? Have you ever tried picking a few items from things besides the counter?
Did you feel satisfied because you bought what you have almost forgotten to buy or maybe you feel happy for trying a new thing you first encountered?
Well, this is how the "Thank you" page works.
Remember
Thank you page on your Shopify store it's the best contact to start with customer retention.
There are many options to do and not let the fresh customer just close the page and wait for the delivery.
How does default Shopify's thank you page looks like?
By default, your Shopify thank you page depends on the theme that you have chosen for your website.
Your customers will be directed to this page as soon as they check out their order. Below is a default Thank You Page from a new shop, that doesn't have any customizations.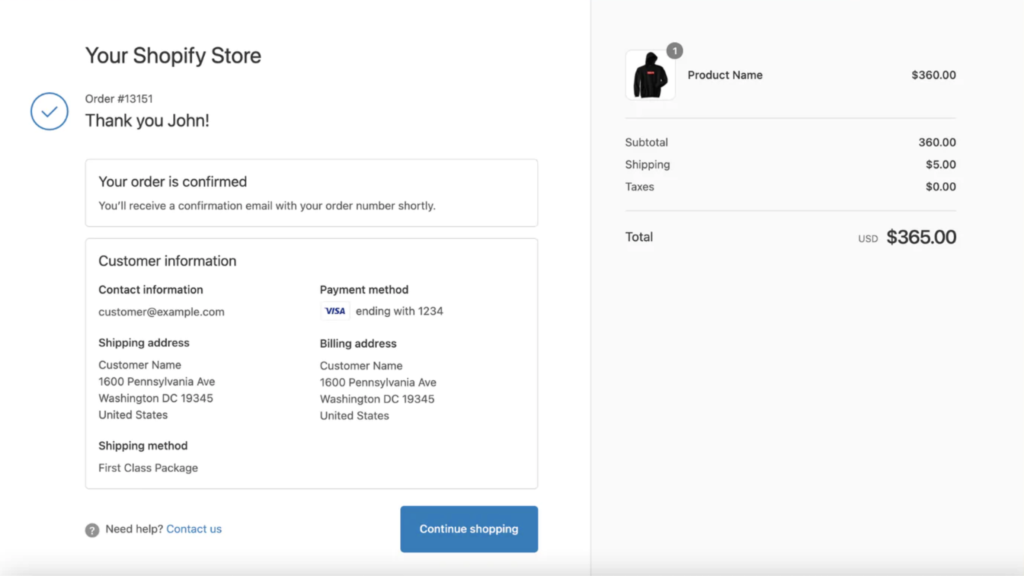 The default Shopify thank you page simply has a "Thank You" message for customers and shows order details.
Other Information available on the Thank You Page:
details of the products that they ordered
billing information
delivery information
payment method
contact information
total value of the purchase
button to continue shopping on the store.
It is simple, straightforward, and omits all other components. This makes it unattractive to customers and lacks the ability to entice them to keep browsing.
What Makes a Thank You Page Design an Essential Part of Your Shopify?
You might be thinking that a thank you page isn't really a need, but in eCommerce, this will help you gain more customers in the future.
Once customers land on your customized thank you page, there are chances to be your customers again, so you have to make them feel that it's an opportunity for them to try more of your products.
This is somewhat similar to creating a simple marketing strategy to keep them loyal to you and may also lead you to more potential customers.
Feedback from your previous buyers and 100% view of thank you pages can be a big help for you to convert customers.
Your first impression on a customer is critical, so be sure to give them a creative Shopify thank you page that makes them feel valued and appreciated if they buy from you again. Customers who buy from you can always come back and buy more. And it's not needed to say again that this is cheaper than acquiring a new customer.
However, there are more tips for you to make it look more appealing and creative.
Using Shopify?
Test 14 days free! Integrate Customer Database and Marketing Automation with your Shopify store.
What is a Shopify Thank You Page?
Simply put, the Shopify thank you page is the last page that appears once a customer from an eCommerce site has placed and completed an order. It is also known as your order confirmation page after a customer has decided to purchase, which may show the summary of their order which they can revisit to check on updates on shipping and delivery.
Additionally, you may use your thank you page to promote your other products, but it must be short and precise, including your brand's logo, so it will be remembered.
Why Do You Need a Thank You Page?
Many retailers and businesses today have started to understand the importance of a thank you page because it gives them the chance to revert customers to purchase again.
First of all you must have a thank you page. Imagine that after customers submit & confirm their order they are redirected to your website homepage. No message, no confirmation page, nothing. They would not know if order was received or anything.
Here are some reasons why you should include a thank you page on your eCommerce website:
Nudge customers to boost their average order value
Through your thank you page, you can promote your products, upsells, or cross-sells for your store, and even show your customers an appreciation for their purchase. This gives the customer an idea that you value each of their purchases, so in return, they can again be a potential buyer of your store for having a good shopping experience. This will encourage them to increase their purchases the next time they make a purchase.
Customers are likely to return more often.
The main goal of your thank you page is to keep your customers attached to your store, which can give them an idea to purchase again from your store. In fact, if a customer buys something from your store or converts, they are much more likely to buy from you again in the future.
Minimal effort for a substantial return on investment.
Increasing your return on investment (ROI) can require a significant amount of planning. If you personalize your order confirmation page, you won't have to spend a lot of money on a marketing plan. Your thank you page can be the simplest thing you can do to make your brand known.
Do you like this article?
Join Mary and the Marketing Automation dedicated newsletter!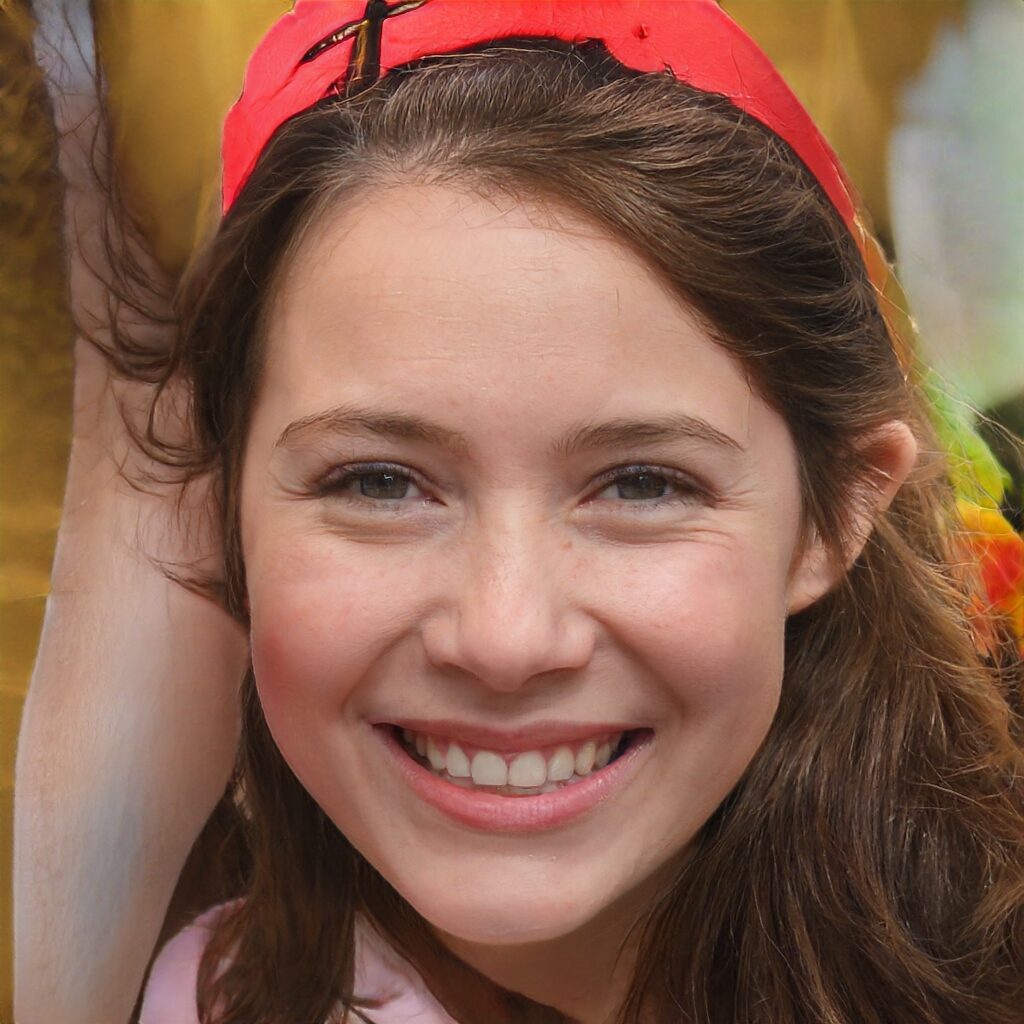 Stay connected to what's really important to optimize your digital revenues.
By clicking the button, you accept our Terms & Conditions. Also you will need to confirm your email address.
10 ways to think about Shopify Thank You Page
Having learned how critical a thank you page is, you should also know how to customize it to maximize its effectiveness in converting customers. Here are 10 creative ways to customize your thank you page:
1- Be creative in personalizing your page.
When creating your customized Shopify thank you page, make sure you have thought about your design thoroughly. It can be the same color as your brand logo or maybe your brand theme color.
Make sure not to overdo it, but enough to attract them.
Be creative enough because your thank you page can be an introduction to your brand identity to the market. Make sure it is unique and creatively made.
You can always ask for professional help, so you won't need to think too much about how to design it properly.
2- Make them feel they need to repurchase from your store.
Some shoppers feel guilty whenever they order online.
This is called "buyers' remorse".
It's the subconscious mind of your customers that makes them feel bad for spending too much.
So, your Thank you page must make them feel that they did the right thing and that they don't have to worry because they will be able to get the benefits from what they bought.
You can simply place the testimonials of your previous customers to calm them and make them feel excited instead of guilty. This is one way to remove all their doubts and make them feel they have to repurchase again once they are satisfied with your product or service.
Your goal is to make them feel good because when a customer feels good about what they bought, they are more likely to repurchase it.
3- Share with them your social media for updates and more engagement.
Retailers have been using email to get engagement with customers for years.
Unfortunately, there are fewer people who read them due to spam filters and the inactivity of other people in using their email. This is the main reason why giving your customers external links like social media is the best way to engage customers these days.

You can use your thank you page to lead them to these accounts to reach and engage with them in the future.
As they buy a product of yours, they are potential lifetime customers, so it is best to give them a way to look out for all your updates, especially on offered discounts during holidays.
4- Your buyers can lead you to other potential buyers.
A good experience for a customer can lead you to more potential buyers.
You may include referrals on your thank you page by giving them a referral code that they can use to refer other people, which can give them discounts once they refer other buyers to you.
This will help you increase your sales and be well known by more customers.
This marketing strategy is very simple, but this is how you can take advantage of your thank you page.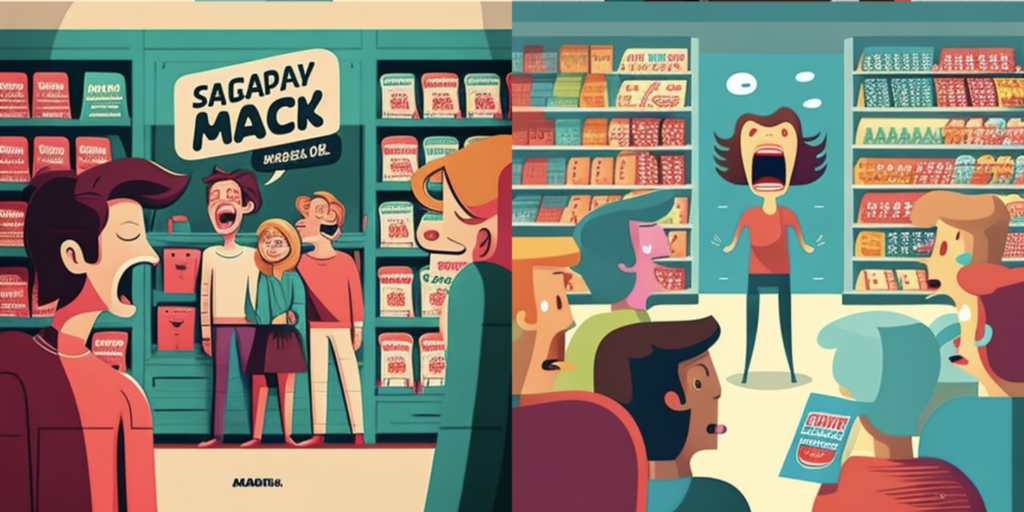 Usually, customers trust previous customers a lot, so they would be willing to purchase the same item when someone else tried to convince them.
5- Make sure to include service options and tracking information.
Your service will be the key to keeping your customers loyal. Default Page from Shopify provies this information by default
So, you have to make them see that if they have concerns about their products, especially regarding returning them and how long shipping takes, you must show them tracking information for their order.
The more experience your customer has, the easier it is for you to gain their trust.
Instead of giving them a hard time reaching you, it's good to provide them with support options and order tracking directly to your thank you page.
You may also add your contact details, such as office number and email, in case they have concerns.
6- Ask for Feedback through a Survey.
Don't miss the opportunity to get a post-purchase survey from your customers. This will help you gain more customers' trust in your brand in the future.
Feedback once a sale has been made is vital since it provides you with your customer's insights, which is a great opportunity for you to know what you need to improve.
You can simply ask them how easy and convenient it is for them to find the products that they need using your website and if they find your pages with creative design.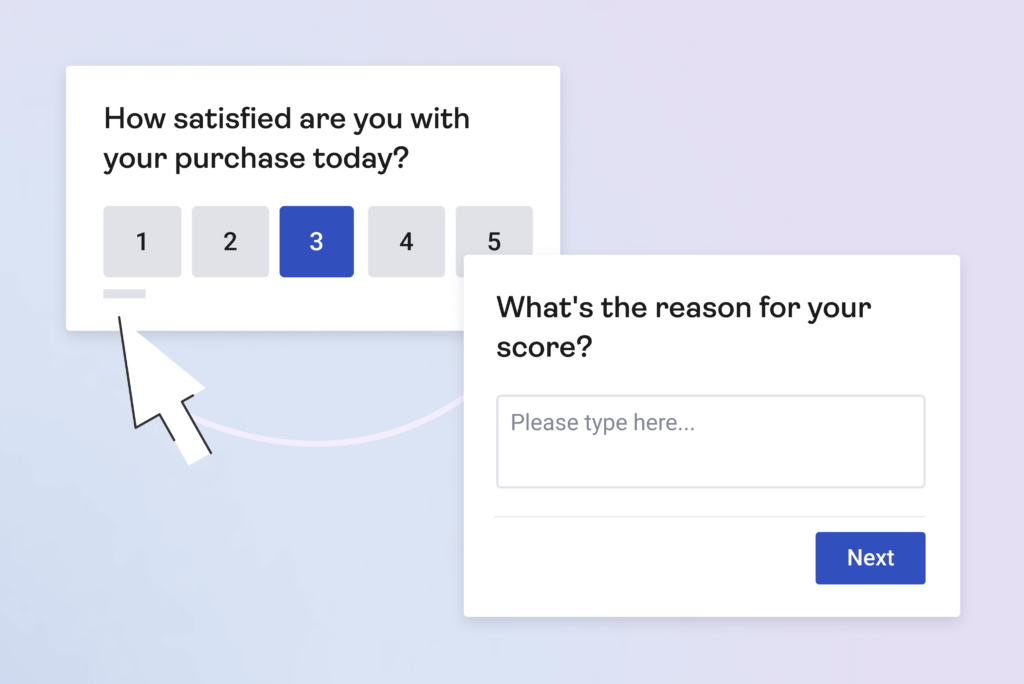 7- Give them trust badges.
Symbols that you give to your valued customers can make them feel more confident. Giving them trust badges is one way to show them that you value their purchase.
If you have a website that provides badges, this will make them want to buy more from you because these badges can help them get discounts, exclusive vouchers, free shipping, and other things. This will reduce the chances of feeling regret.

8- You may use the strategy of cross-selling and upselling.
Make sure you never neglect the power of cross-selling and upselling to take advantage of the opportunity to make your customers buy additional products from your store. This is an effective way to increase your profits.
You can offer them one-time discounts to tempt them to buy from your store again, which they wouldn't want to miss out on.
You may also use popups on your thank you page so they can easily click on products that attract them.
Top apps for doing Upsell on Shopify:
9- Include a video that addresses your customers if necessary.
One way to reach your customers is to make a creative video that can either pop up or be on the side of your thank you page.
This will make your customers feel appreciated. You may also get more reach and make them think of repurchasing again by showing them in videos what benefit they can get from shopping in your store.
10- Gather more details from your customers.
Gathering customer data can help you with your marketing efforts. This will make it easier for you to understand which segments your customers belong to. It will allow you to deliver relevant messages to the right audience.
Data Collection on Thank you Page
In fact, It has been proven that segmentation can increase email open rates by 15% and boost customer return rates by as much as 5%.
You may use a post-purchase survey with choices that is easier for them to answer.
Need help with customer retention?
We can help you increase customer retention with Customer Database and Marketing Automation services.
Top Shopify apps to install to customize your Thank You Page
Using a third-party app is the much easier way, but most of these apps are paid only:
ReConvert post-purchase upsell: ReConvert app helps you to customize your thank you page easily & fully with a drag & drop interface.
Thank You Page Customizer: It allows you to choose from a variety of different widgets to easily and quickly customize your Thank You page.
Thank You Page Upsell: With this app, you can add products directly on your thank you page with the WYSIWYG editor and sell more. It helps you increase store revenue and profits after your sale.
Video on Checkout: This app will let you add a video on both the checkout page and the Thank you page.
EasyClip: Post Checkout Videos: It helps you to add a video on the checkout page (include Thank you page)
Post Purchase Upselly: Post Purchase Upselly helps you to add up-selling products on the Thank you page.
Better Thank You Page – Customizing your thank you page.
Need help with your Email Marketing?
We offer managed services. Let's see how can we help you
Conclusion
Creating a good and remarkable thank you page is essential in increasing your reach, sales, and target customers.
Although you have to keep in mind that you must not overload the design of your thank you page, which may overwhelm your customer. It will always be best to check what kind of service your target segment needs.
This way, you can help them feel satisfied and will most likely make them feel like repurchasing again.
Nowadays, customers get closer to a certain brand or business store when they feel appreciated for purchasing a product or experiencing a service.
For this reason, a Shopify Thank you page is highly recommended when you are trying to earn your customer's empathy and closeness to your offer. Your thank you page should be designed to entice customers to make additional purchases from your store in the future.
This article will give you a brief overview of how you can optimize your Shopify thank you page, which can impact your customer's satisfaction.