Klaviyo is a nice tool for marketing automation, especially built for ecommerce. But there are many customers saying it's too expensive. So what would be a cheaper alternative to Klaviyo?
What is Klaviyo pricing?
Klaviyo prices it's product based on number of contacts. While this is an easy thing to understand, it's better to find a solution which charges you based on usage.
Costs of marketing automation based on list size.
Costs of marketing automation based on usage.
The difference between pricing based on list size and usage is that in the first case it does not matter if you send 0 or 4 emails, you pay that same price. In the second case it doesn't matter if you have a list of 1000 users or 1 million, if you send 10.000 emails you pay exactly for those.
There are pros and cons for both of them. It's always up to the business owner to decide which solution is best. If you are sending daily emails to the whole list (for example daily deals websites), that a pricing based on the list size might be cheaper compared to paying on usage.
Is it cheaper to use an usage based marketing automation solution?
Sending emails to the entire list is not something we recommender. Therefore, after you create your email marketing strategy and decide that 1 or 2 large batch emails per week are enough (therefore about 8 per month), together with all transactional emails, you will have an idea on how many emails you send per month.
If you have a list of 20k emails and send to the entire list 8 newsletters per month, you will have 160.000 emails sent from newsletters. On top of those, let's say you send another 20k emails as transactional ones (the estimation is very high), you will have in total 180.000 emails sent in a month.
Klaviyo will charge you $400 based on the list size (at the time of writing, Oct 2022)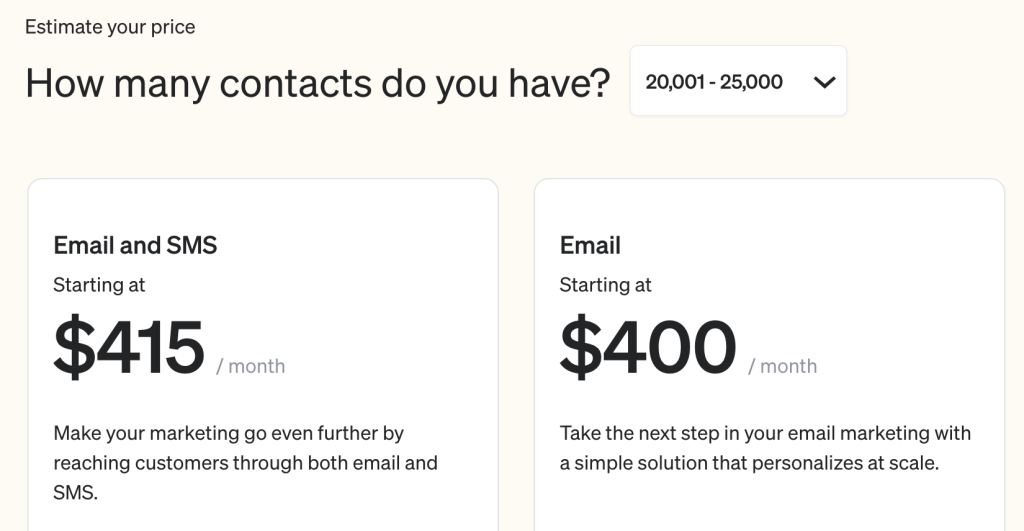 An usage based solution like Vibetrace will charge you $350 for the premium solutions (which includes more than what Klaviyo offers). and $260 for the standard one.
So this could be a cheaper alternative to Klaviyo, if you sending is like described in the

How to get a cheaper alternative to Klaviyo
Are you using Klaviyo and you decided that usage based pricing is better for your business? Then you should look for a cheaper alternatives to Klaviyo Marketing Automation.
Cheaper alternative does not mean worse. It has to provide you with the same (or higher ROI). So let's look for a more money wise, also cheaper, alternative to what Klaviyo costs.
Also, think about the following: when your customer list grows (and it will grow, and we wish you to make it a large list) you will end up paying even more than now. There are solutions to remove customers from your list, but do you really want to remove them?
On the long term, for a solution that charges based on customer list size like Klaviyo, the costs for you will increase and not get cheaper. So let's see how an alternative pricing looks like
Also you can have a look on Klaviyo pricing table, where we show you how much you will pay based on your list size.
Vibetrace is a fully featured marketing automation solution that provides all what Klaviyo plus more benefits:
webpush notifications
polls and surveys so you collect extra information about your visitors
onsite product recommendations
integrations with other email/sms providers, so you are not tied to a single ESP
If you want to start using a marketing automation solution that charges you based on usage, like Vibetrace, you need to do the following steps:
create an account with vibetrace
import your list from Klaviyo into our system
replicate all campaigns and workflows you have in Klaviyo dashboard
if you need help contact us to help you with the transfer.
What to look for when looking for another marketing automation solution, but cheaper:
needs to provide a similar Return of Investment
needs to cover all your marketing cases: does it have automation workflows? can you segment users in very advanced ways, like vibetrace does? can you send newsletters with recommended products?
needs to provide a clear pricing upfront. You can look at numbers in Google Analytics to see how much you will pay for Vibetrace, based on monthly active users.
Klaviyo discounts and coupon codes
We tried to find some coupon codes and discounts to apply to our test Klaviyo account, but unfortunately we could not find any. But if you know any coupon code that is valid and could make Klaviyo costs lower, let us know so we share the code in this article.
Our readers will be happy to get discounts codes for Klaviyo.
Most marketing automations solutions that run in the cloud as SaaS (software as a service) do not provide discount or coupon codes. We do not have them either.
There are discounts you could receive with Vibetrace based on your use case. For example companies not using product recommendations get a really good discount compared to our standard pricing.
Why? Because Vibetrace can be cheaper if you only use the automations or the newsletters, based on the fact that the platform is used less if your website does not make requests to our system on every page.
If you are considering switching away from Klaviyo, you might be interested in our comparison page between Klaviyo and Vibetrace.