Added Survey campaigns
Just in time to ask your customers what they did for BlackFriday.
We had poll campaigns for a year, but if you wanted to share a poll on Facebook or to link it from email you couldn't.
Now it's possible to share survey campaigns, because you have a public URL for each survey.

And they look like below: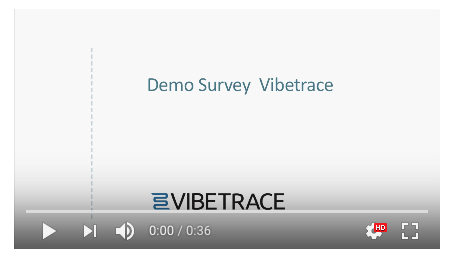 New question types
We've added 2 new question types, along with the 5 existing ones: input (short and long), one or multiple options to select from and also NPS.
toggle (Yes/No or True/False or whatever you want)

mood state (smiley faces)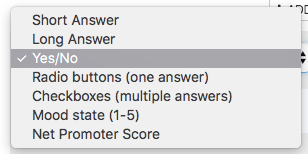 Personalized custom subdomain
All public links can be easily customized with your own domain: pages.vibetrace.com/your_domain.com/…
What public links exists:
surveys links
subscribe and unsubscribe links
new things will come in the following months
Email notifications for polls and surveys
Poll and survey campaigns allow you to receive answers automatically right after you receive a new answer.
Each campaign can have this option enabled, as it is below: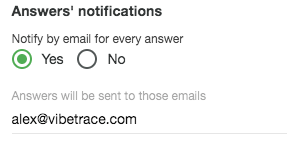 Newsletter process email notifications
Right after a newsletter is processed, you can be notified by email. Activate the option under: Account->Profile
Read about newsletter processing email report
Ecommerce modules update
We've updated all our integration modules to send customer firstname, lastname, county and city along with the order.
We have Magento / Prestashop / Woocommerce / Opencart ready to be used. Many other will follow.