Creating content is one of the most important parts of creating an email campaign because it is the main ingredient for the "Recipe for Money-Making Emails."
Derek Coleman, a B2B SaaS copywriter, wrote in a post that email marketing is similar to food recipes in that both have the same "FORMULA."
It is a set of step-by-step instructions for achieving a specific output or result. You get money-making emails if you follow the right recipe or formula.
So, what do you think is the best way to create an email with a high conversion rate?
Need help with your Email Marketing?
We offer managed services. Let's see how can we help you
This article includes linked experts' tips and tricks for creating an email that generates revenue.
Tip 1: Avoid Practices That Will Not Improve Your Email Campaigns.
When you hear the term "Deadly Sins," it usually refers to any practice that leads you away from the truth. The same is true for email marketing; the worse you handle your campaigns, the less likely you are to have a successful marketing campaign, which will result in you losing money rather than making money. To completely identify the best campaign that will work for your business, you must keep certain things in mind.
Here are the 7 Deadly sins of Marketing provided by Daniel Murray which you can consider to keep you and your marketing campaigns on track:
Not deeply knowing your audience.
You will never be able to get significant leads if you are not sure about who your target audience is.
Being everything to everyone.
You must know that what you offer may not be for everyone because without focusing on a specific lead – you are bound to fail.
Not talking to customers.
Customers wanted to feel valued in a way where they can communicate with you freely so if you can't talk to them, you are losing your shot to get more consumers!
"We've always done it this way" mindset.
One way may not always work which is why you need to keep improving as the needs of customers grow.
Being impatient
A successful campaign doesn't happen overnight so being impatient will only let you lose your interest and goal.
Ignoring the brand and only selling.
Without a brand, there is no focus on the business which means people won't easily identify who you are in the market
Having no empathy or authenticity.
Scamming customers with the authenticity of your brand is the easiest way to fail.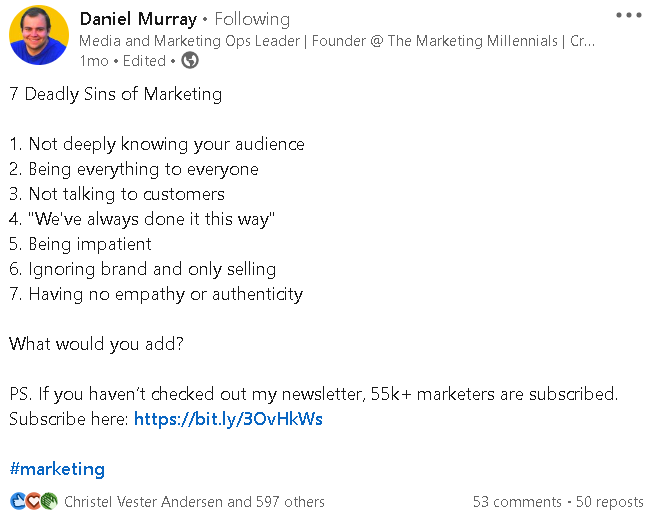 Source: Click here
Do you like this article?
Join Mary and the Marketing Automation dedicated newsletter!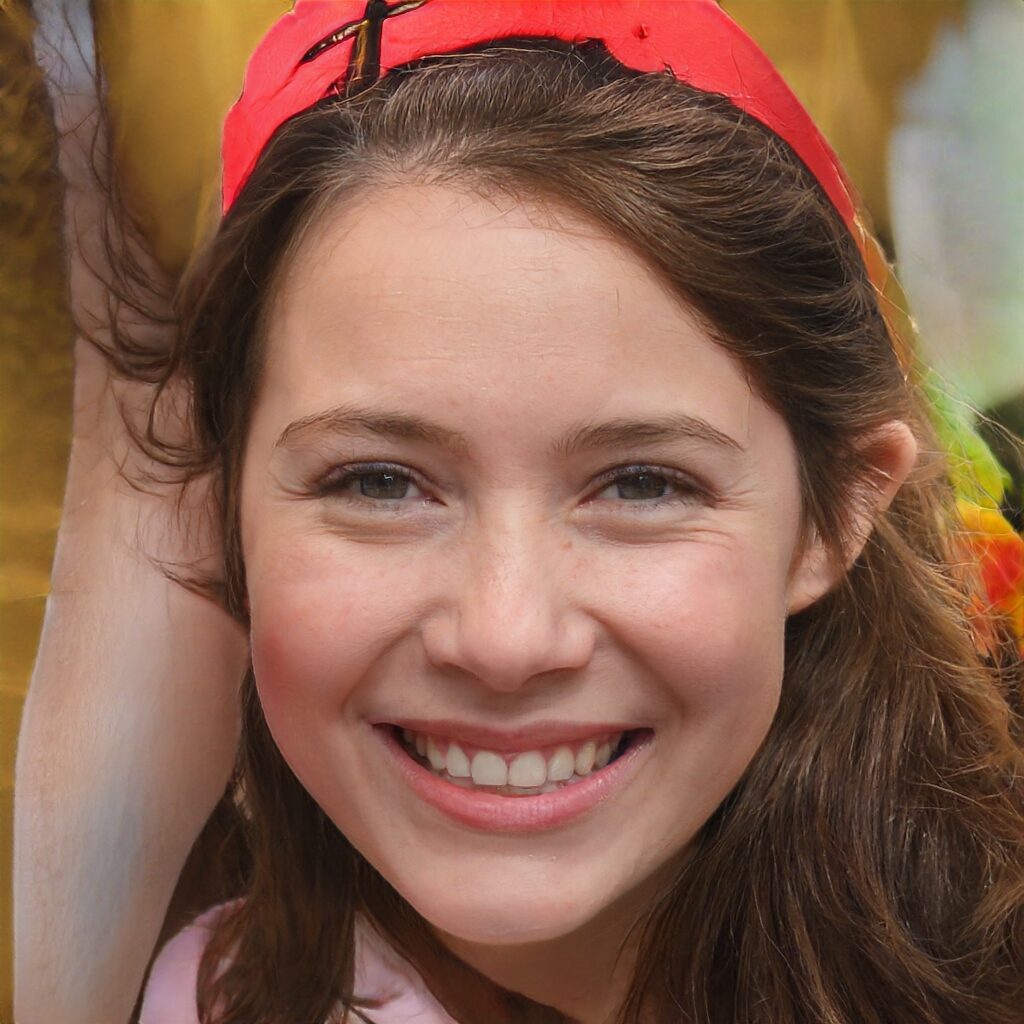 Stay connected to what's really important to optimize your digital revenues.
By clicking the button, you accept our Terms & Conditions. Also you will need to confirm your email address.
Tip 2: Avoid The Same Mistakes Done By Everyone.
Making money through email marketing isn't as simple as you think, but knowing what to avoid is one way to get away with failing repeatedly.
You've probably tried a variety of techniques, some of which may or may not have worked for you. As a result, you must always learn from every attempt you make.
If you're running an eCommerce brand, you must avoid these 5 common email marketing mistakes according to Jimmy Kim:
Failing to plan far enough in advance
Sending campaigns at the wrong time
Not segmenting customer lists or personalizing messages
Using clickbait subject lines to pad your open rates
Lack of goal-setting and metric tracking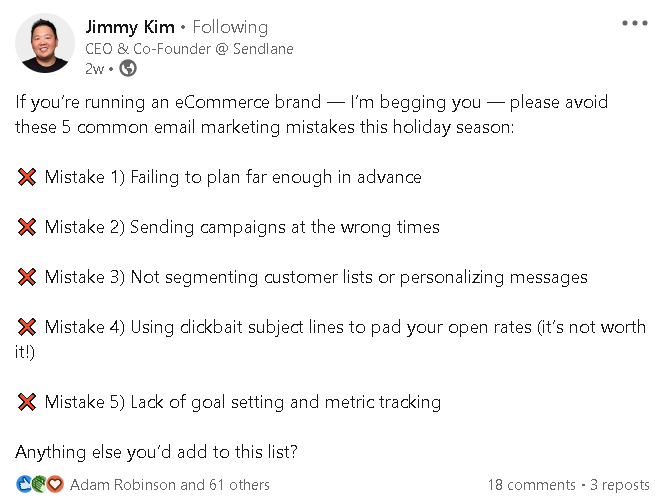 Source: Click here
Tip 3: Keep contact with your previous customers; they are more likely to become repeat consumers.
Even without an online ordering system, your regular email newsletters to potential and former customers can help you create more revenue.
Since they have already tried your product or service, it would be easier for them to trust your brand. This is your chance to maintain them as loyal customers who can also help you expand your organic reach.
Furthermore, marketing to customers you've already known may help you generate more income with the help of email campaigns by giving them exclusive deals and information.
In fact, Brian Curley has shared in a post a few ways to get more repeat business using a newsletter campaign:
Give discounts to past customers to bring them back
Educate readers about what you do, how you do it, and why.
Feature other customer's experiences through testimonies
Share upcoming events and special offers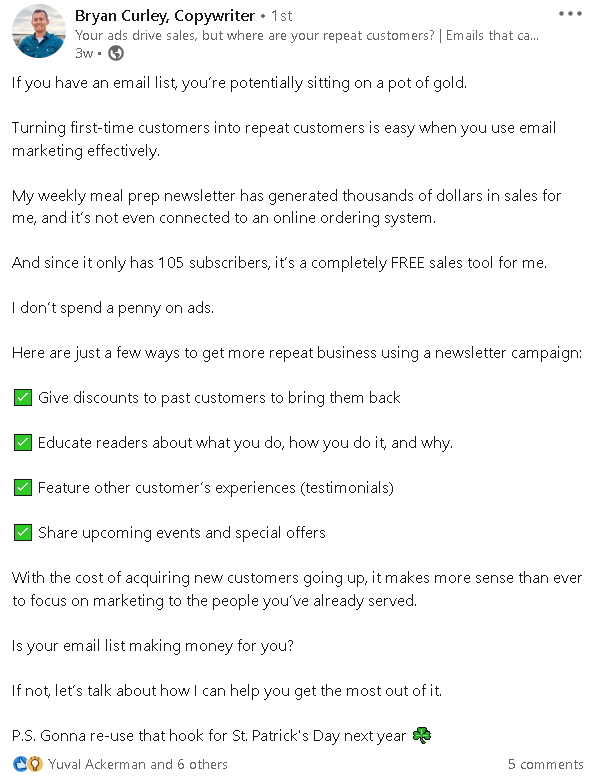 Source: Click here
Tip 4: Remember What Makes An Excellent Email.
There are thousands of experts in the marketing industry that can give you a solid definition of what constitutes an excellent email, but most of them may merely be word of mouth.
Nonetheless, keeping all of them in mind gives you a broader picture of what you can explore and test until you find the ideal plan for your campaign that will help you generate more conversions.
Kelly Cantrell, a digital marketing associate, listed down 16 pillars of a great email:
Use email service providers with a positive reputation.
Choose an email service provider that offers segmentation, A/B testing, and forms
Make attractive subject lines
The subject line must match the email copy.
Establish a goal for the email and create a copy from that goal
Discuss the benefits and not features in the email copy
Break up the email by keeping it short and using bullet points
Think in summaries
Wording an email with psychology (testimonials, faces, FOMO)
Present the email like it was written by a human
Research your niche and competitors (main selling points)
Create for mobile
Use images relevant to your brand and services
Every email should contain a call-to-action
Timing can be everything- look to your email service provider
The majority of emails are viewed on mobile- so remember this idea when creating an email marketing campaign.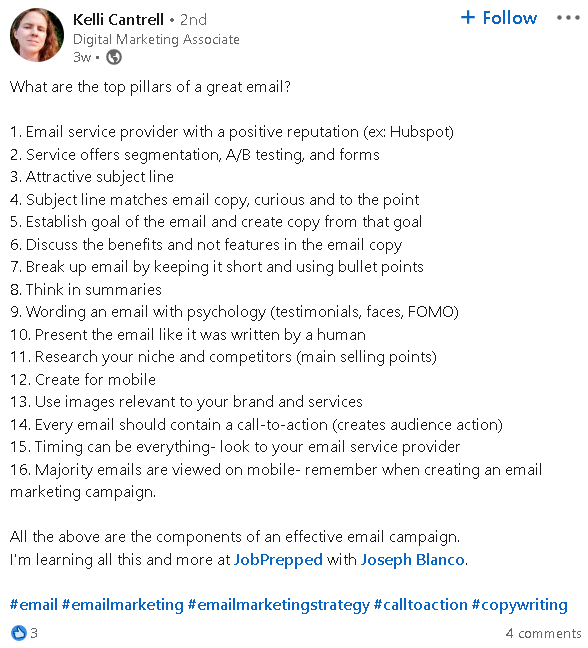 Source: Click here
Need help with ecommerce data?
Our CDP allows for very powerful metrics to be tracked.
Tip 5: Don't Let Your Emails End Up In The Spam Messages
According to Lyuba Arsenyeva, a Business Development Representative, Your email is your first step in communication toward establishing long-lasting boundaries with your prospects. It is the impression you make and the reputation you build.
Although, If your emails end up as junk messages no matter how much money you pay for creating campaigns – They'll be useless.
This is why you have to be more cautious about creating your emails because one of the most important things you have to remember is how to directly send your newsletters directly to people's inboxes or else you might lose your chance of earning more.
Here are the common reasons mentioned in the post why your emails end up in the junk message:
You buy email lists and don't validate them – the most popular mistake.
You start sending bulk #emails without warming up your mailbox.
You send emails with images, attachments, and links or use spam-like words in the email content or its subject lines (found yourself here?).
You send more than 200 cold emails daily.
You don't set SPF and DKIM parameters (sounds scary?).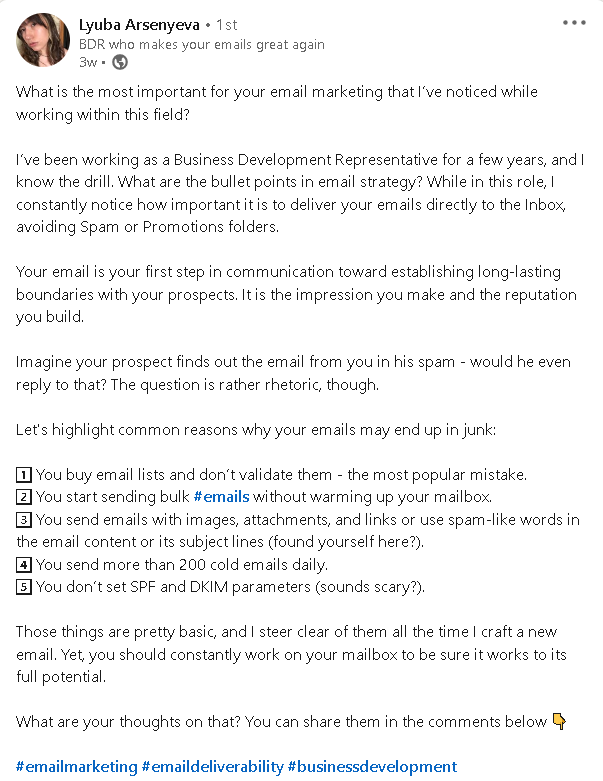 Source Link: Click here