We've merged all product updates from 2017 into this article:
November
Added Survey campaigns
Just in time to ask your customers what they did for BlackFriday.
We had poll campaigns for a year, but if you wanted to share a poll on Facebook or to link it from email you couldn't.
Now it's possible to share survey campaigns, because you have a public URL for each survey.

And they look like below: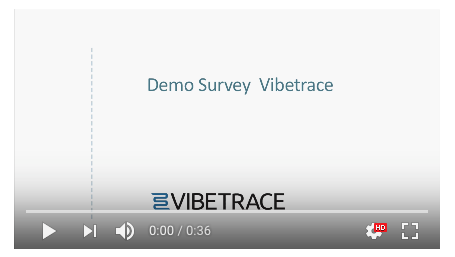 New question types
We've added 2 new question types, along with the 5 existing ones: input (short and long), one or multiple options to select from and also NPS.
toggle (Yes/No or True/False or whatever you want)

mood state (smiley faces)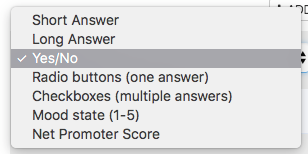 Personalized custom subdomain
All public links can be easily customized with your own domain: pages.vibetrace.com/your_domain.com/…
What public links exists:
surveys links
subscribe and unsubscribe links
new things will come in the following months
Email notifications for polls and surveys
Poll and survey campaigns allow you to receive answers automatically right after you receive a new answer.
Each campaign can have this option enabled, as it is below: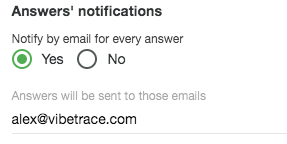 Newsletter process email notifications
Right after a newsletter is processed, you can be notified by email. Activate the option under: Account->Profile
Read about newsletter processing email report
Ecommerce modules update
We've updated all our integration modules to send customer firstname, lastname, county and city along with the order.
We have Magento / Prestashop / Woocommerce / Opencart ready to be used. Many other will follow
October
October was a month of lots of small improvements, bug fixes and stuff to increase sales for our happy clients.
What we've did in October.
use your own domain for push notifications (you need to have https on your website)
recurring push including product recommendations
mix algorithms for facebook share
catalog discovery.
open cart integration (modules for all versions)
subscribing back users who previously clicked SPAM or hardbounced is not possible anymore.
our 5 predefined segments are added to all accounts (evolution is enabled and changes for those segments are not available). You can copy them are change conditions
better overview of user reports, to also include total values for email and push subscribers
agencies are now able to customize billing per client, change color theme and a few more tweaks
August
New design templates
If you use our interactions, email collectors or other onsite personalization message you'll see those new elements in the gallery
Integration modules were updated.
If you use any of our Prestashop/Woocommerce/Magento modules please contact us to upgrade them
¿hablas español?
We've translated our dashboard to Spanish using machine translation! Because we believe in automation this is something we wanted to do using an automated service!
July
Coming up after a huge June update, this month we've invested our resources into making life easier for new and existing clients. So here are Scenarios, pre-made campaigns ready to start in no time.
Each Scenario is like a recipe for success. We've taken most common campaigns from all clients and made them very simple to set up and start.
List of scenarios
Vibetrace is a dedicated marketing automation solution for ecommerce, so we decided to put automation before our daily tasks. And one of the hurdles of working with us was setting things up.
Now we hope the first step was done and you get 23 scenarios you can start in less than an hour. So it's a 3 minute/scenario.
Here are some of the 23 scenarios ready to start.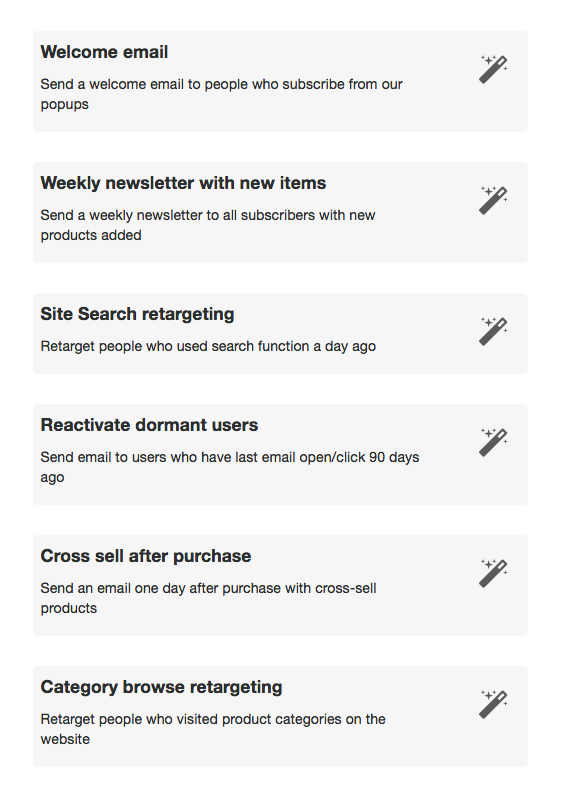 We've currently grouped them by the channel used to reach the customer: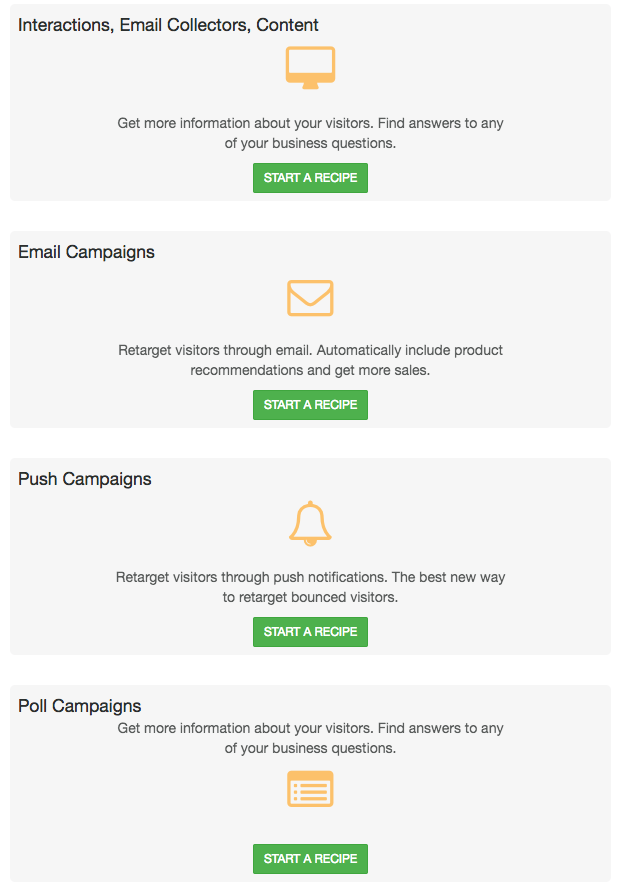 Scenario form
Each scenario has a dedicated page where you can easily change texts, colors, style or translate the template. You can include vouchers automatically, and product recommendations will auto-fill the content.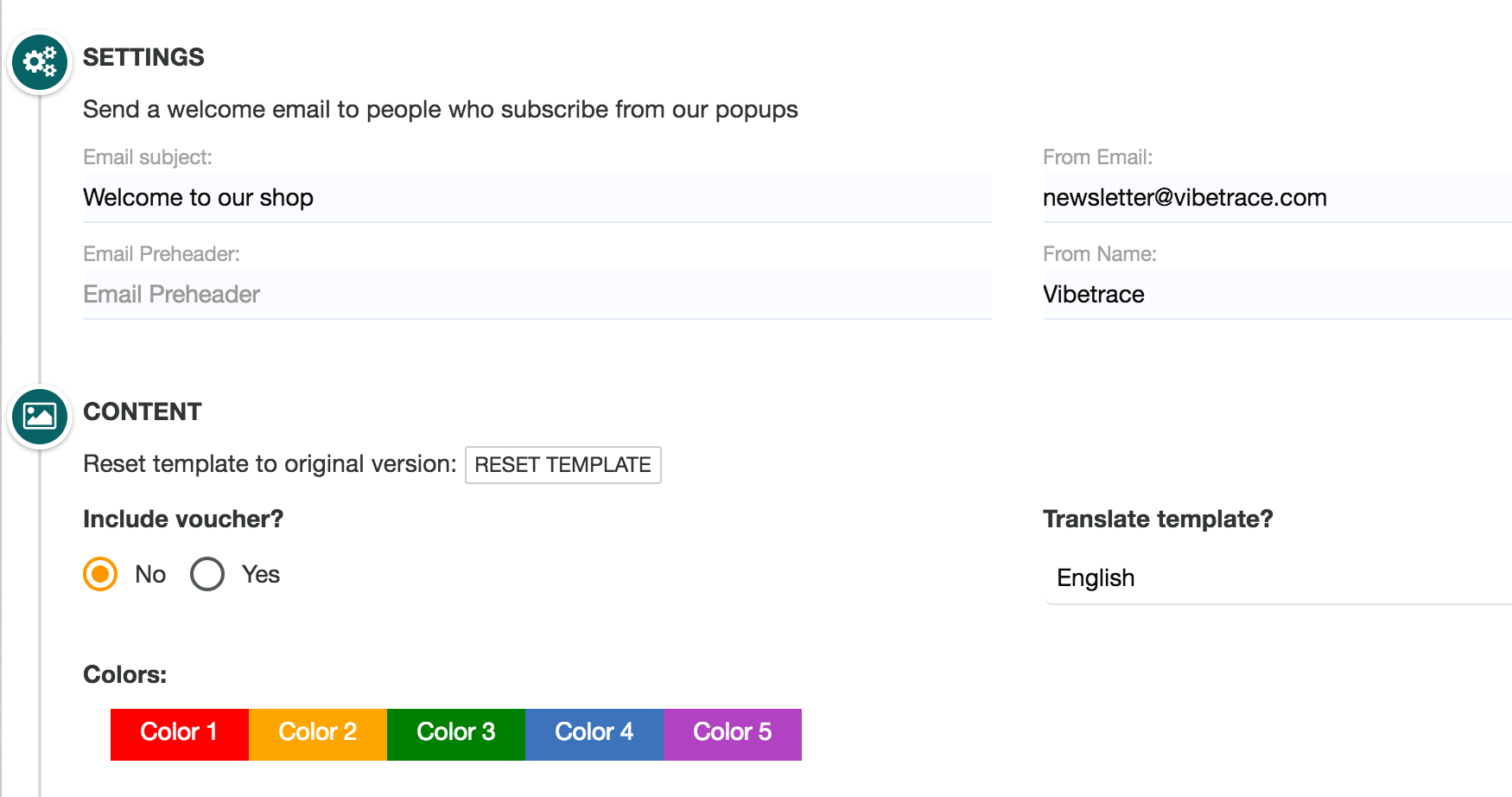 Try scenarios now. We will continue to add scenarios to the list, as we expect them to be much easier to use than to create each campaign separately.
June
We've completely rewritten all code behind statistics/reporting and the interface that displays those in your admin panel. The decision was taken after looking at the old system that made it hard to create new reports in real time.
Looking at the Time Report we have with our developer team, it was a total of 2200 hours, including coding, testing and some more needed tasks for more than 15 smart engineers
For you as a client, (or future client if you don't already have an account) there will be only a small difference on how things look like:
Campaign Reports
All campaigns looks very similar, only the events are different:
email reports show you how many were Sent, Opened and Clicked
onsite campaigns display their Impressions, Clicks and Submit (for forms) events.
Push campaigns are being Delivered and Clicked.
Newsletter campaigns also get extra information on processing the emails: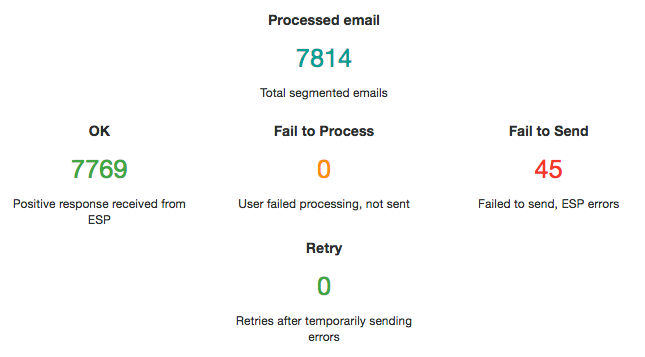 Emailing Activity
Sending emails bring you more profits, so now you know what happens in a simple overview available under Reports section.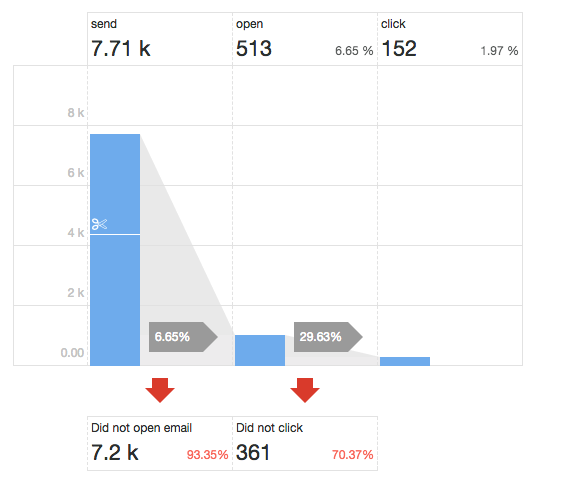 Ecommerce Report
Now you have both assisted carts and conversions, on a daily basis.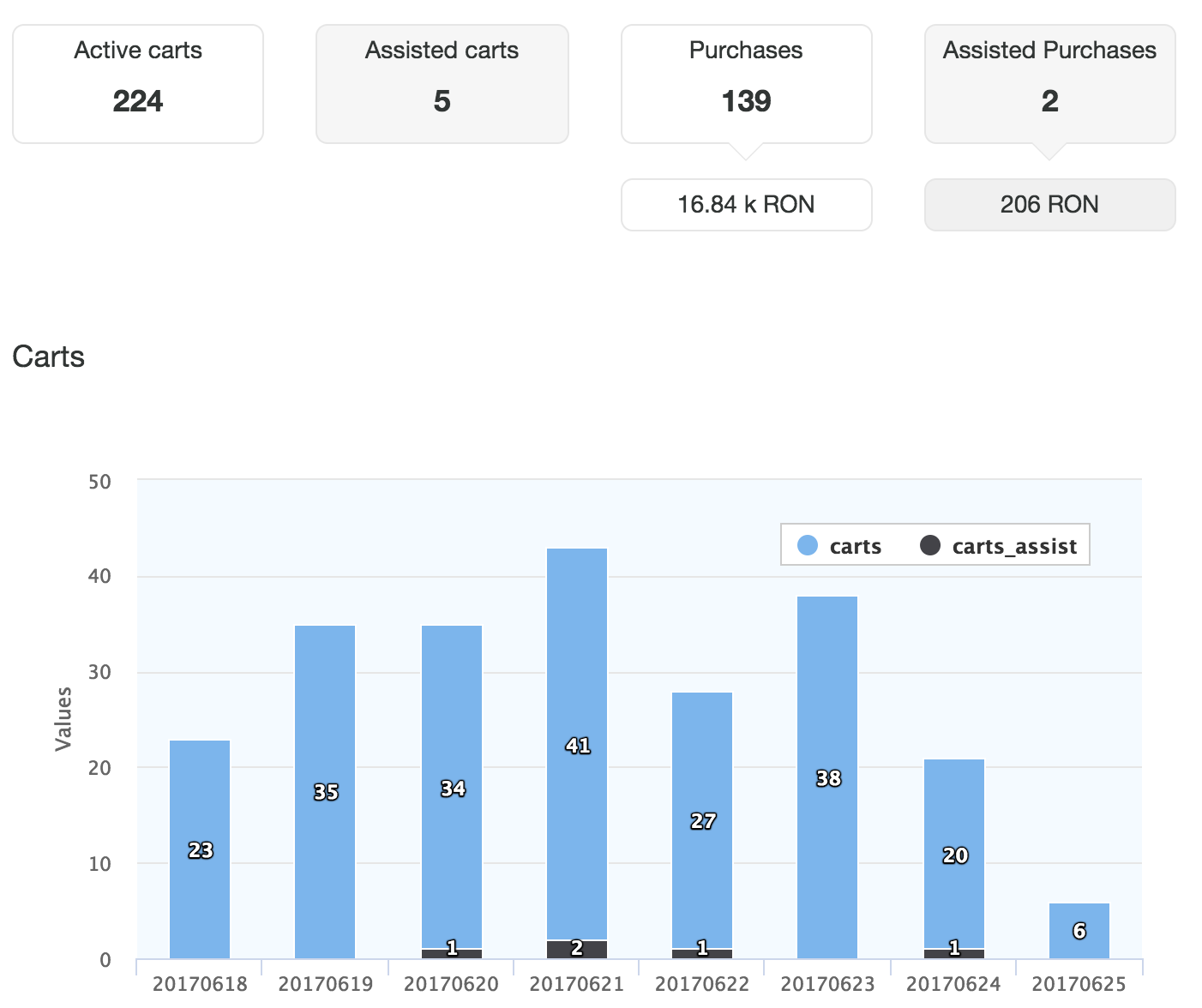 Catalog Report
Catalog report is new and shows data related to items/categories and specific events from your shop. Here is just a preview: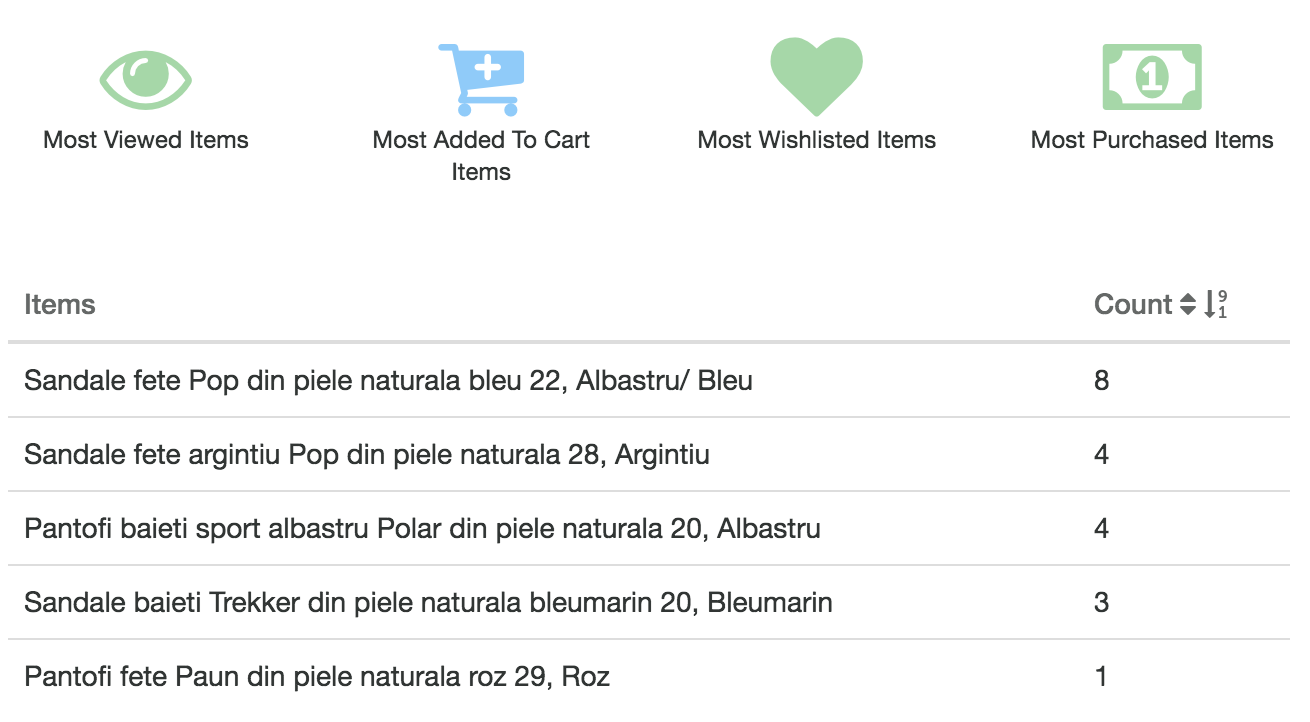 Having the new engine behind the reporting system allows us to build any display any other metric. While some more are on the list to be built over the next months, you're more than welcome to send us your suggestions.
May
Segment evolution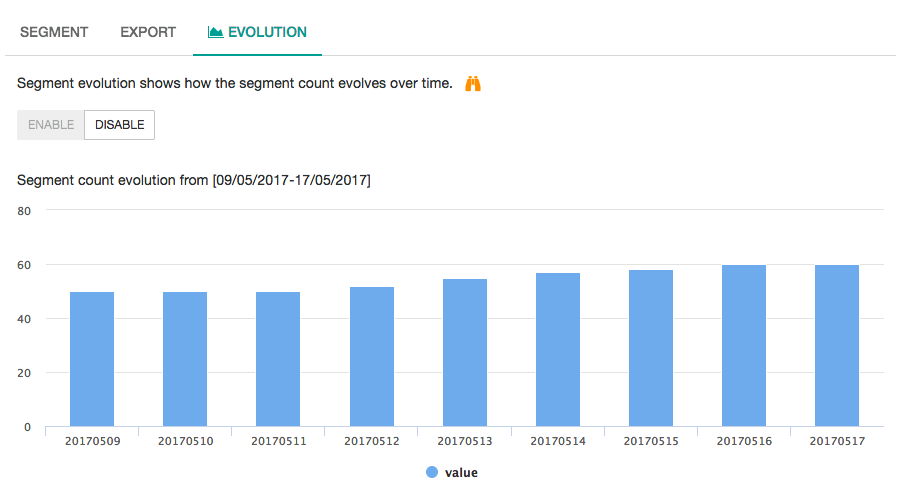 Push Actions segmentation
4 new events are available for users segmentation, related to push notifications: send , display , click and close . Use these events to create new smart segmentations for your campaigns.
Beautiful Funnel Charts
Because ecommerce it's most about funnels (sales funnel, conversion funnel, goal funnel) we've improved our charts with a much better visual. Let us know what you think.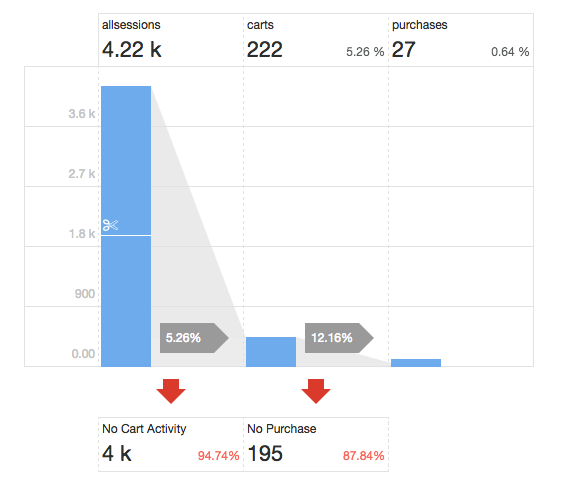 Extra improvements
Simplify campaign creation editor by removing " Sending " step where you can change UTM params for the campaign. Now you can do this in the Content step.
Changed Action Buttons to green and simplified the status of a campaign (so you have a better view of it's current status when editing it)
The newsletter is available here:
April
Ecommerce Push Notifications
Recover carts with push notifications. Retarget list visitors. This in really unique on the market, so start using it as soon as possible!
Will write a full article on this as soon as possible.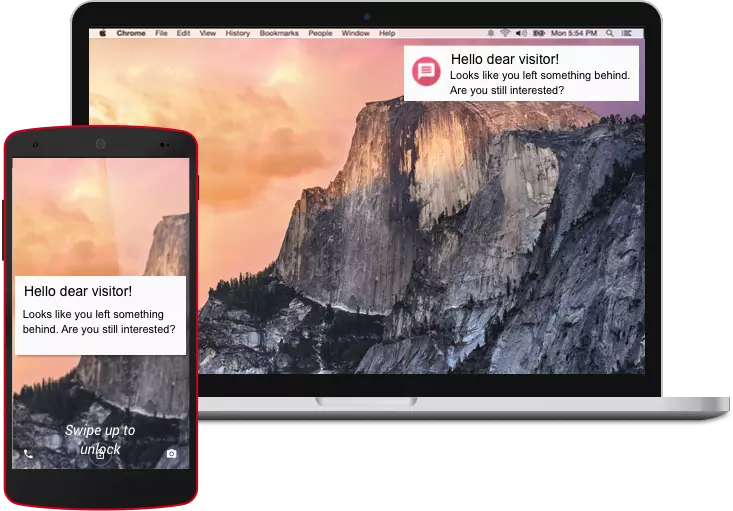 SignUp form on Facebook pages
We've started to increase our footprint outside the website last month with push notifications. This month we've added another feature: to increase list size and collect more emails directly on your Faceobok page.
Transactional PUSH Notifications
Recover carts with push notifications. Retarget list visitors. This in really unique on the market, so start using it as soon as possible!

New Real-Time Reporting system!
This is not yet implemented all over the dashboard, but will soon be. We've rebuilt our reporting system with over 1200 work hours for the entire dev team. Thanks to our CTO, Adar, we're now able to count anything.
Some other stuff
Our statistics are under improvement for the next period. You might see some discrepancies between data until we manage to move everything to the new system.
You'll start getting notifications when you run out of vouchers. You'll get up to 5 emails, when there are 100, 50, 25, 10, 5 vouchers left.
February
Latest features added:
Product Recommendations update. You are now able to manually promote desired products, and increase the discoverability of new items with a simple checkbox.
Default campaigns. While we focus on making the solution as personalized as possible, some things are hard to use. For each campaign type a "defaults" section will give you the most common cases
Assistive campaigns reports. You can get a full report of the assisted orders and what campaigns were introduced in the process. If integration includes orderId and customer email you'll have those attached as well. Have them in Reports -> shop
User export with attributes. It's now possible to choose what attributes to export along with user email. More here
January
Entire month of January we've upgraded our system to be able to add new features , make everything more reliable and increase your satisfaction .
In December we've hired a new engineering team to support our team here. Adar Urdna is our lead developer.
Some improvements we've did during this time:
Multiple email providers supported. Soon this will become a unique A/B testing feature
Email sending speed was improved for both Amazon SMTP and Internal Email Provider (default settings)
Poll campaigns now have full preview inside editor. Also we've added graphs for the reports.