So you don't know what Email Service Provider to choose in 2023? Let's see how Sparkpost vs Sendgrid goes.
Vibetrace is a marketing automation solution that has integrations with both Sparkpost and Sengrid. As a main takeaways, using our software you can A/B test your email service provider.
At Vibetrace we are sending over 30 million emails each month, so we have tested and used their services for quite a while. Sparkpost it's our default Email Service Provider for our email marketing automation part.


Brief introduction to SparkPost vs Sendgrid
We will cover the following aspects between sparkpost and sendgrid:
pricing
overview of both
features
how to A/B test
Do you like this article?
Join Mary and the Marketing Automation dedicated newsletter!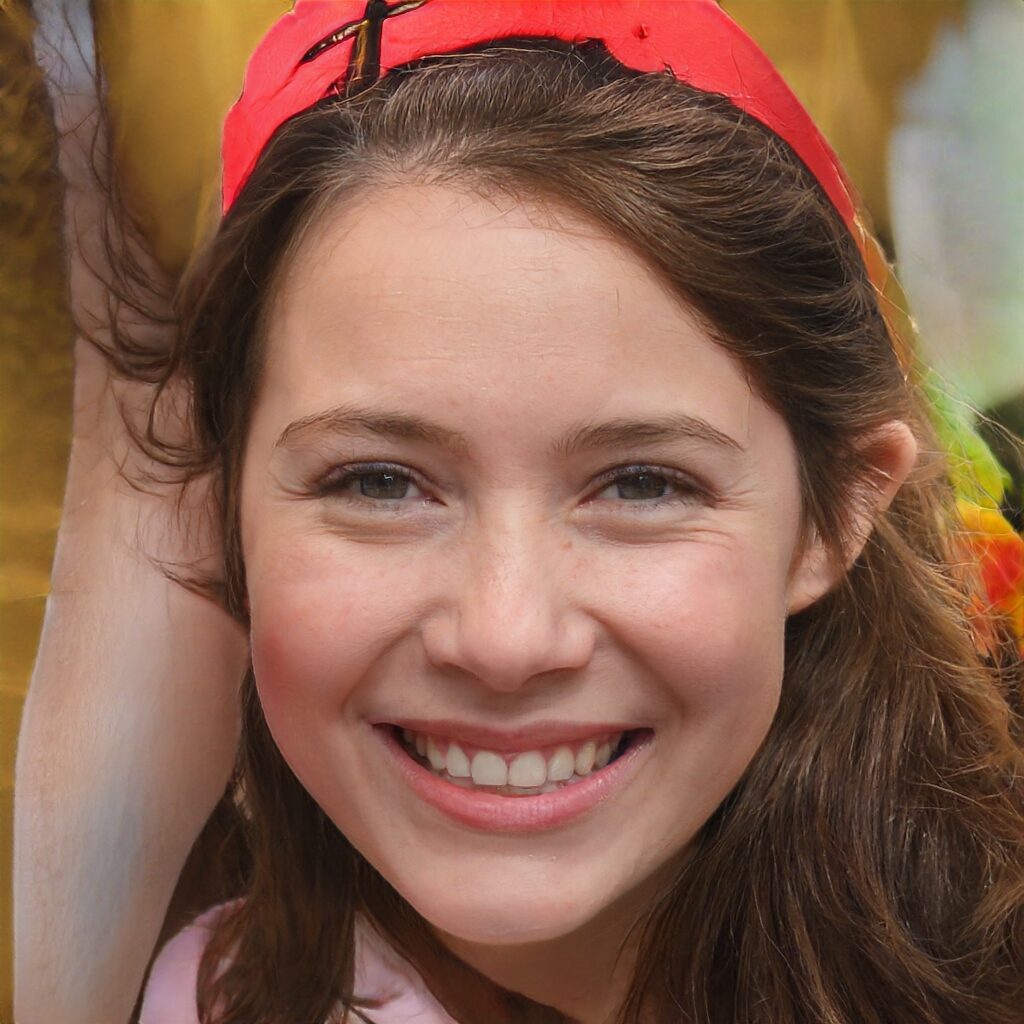 Stay connected to what's really important to optimize your digital revenues.
By clicking the button, you accept our Terms & Conditions. Also you will need to confirm your email address.
SendGrid overview
SendGrid is a cloud-based email delivery service that enables businesses and organizations to send large volumes of email with high deliverability rates.
It provides a range of features and tools for managing email campaigns, including list management, template creation, and real-time analytics.
SendGrid also offers support for industry-standard email protocols and security measures to ensure the safe and secure delivery of emails.
The service is suitable for businesses of all sizes, from small startups to large enterprises.
In addition to its core email delivery capabilities, SendGrid also offers a range of email marketing and automation tools to help businesses create and manage successful email campaigns.
Sendgrid Pricing
Pricing for Sendgrid services start with a free tier if you send less than 100 emails a day.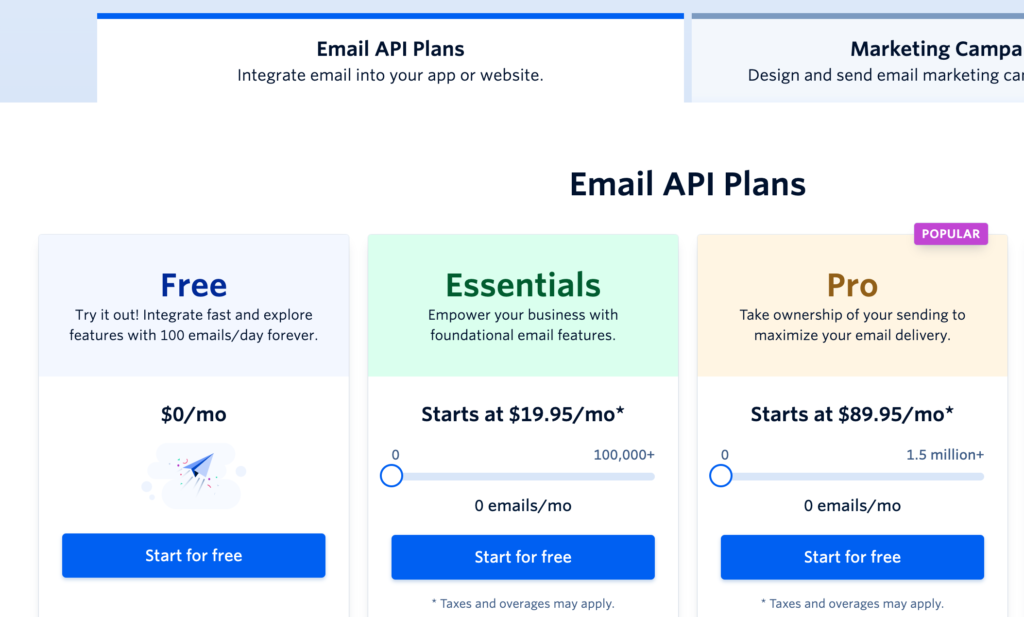 Essentials Plan is a good reason to just start with email marketing because it's cheap. Included in Essentials Pricing are:
1 teammate permission
APIs, SMTP Relay, and Webhooks
Delivery Optimization Tools
Dynamic Template Editor
Insightful Analytics
Guaranteed Response Times on Ticket & Chat Support
Deliverability Insights
For the Pro Plan you get the following extra:
2,500 Email Validations
Dedicated IP Included 🎉
Subuser Management
Single Sign-On (SSO)
What Sendgrid unique offers are it's Marketing Campaigns oriented Pricing Plans. This means that you are charged based on the contact list size, and not by how many emails you are sending.
There is a free tier for up to 2000 contacts and 6000 emails per month, and from there you need to pay.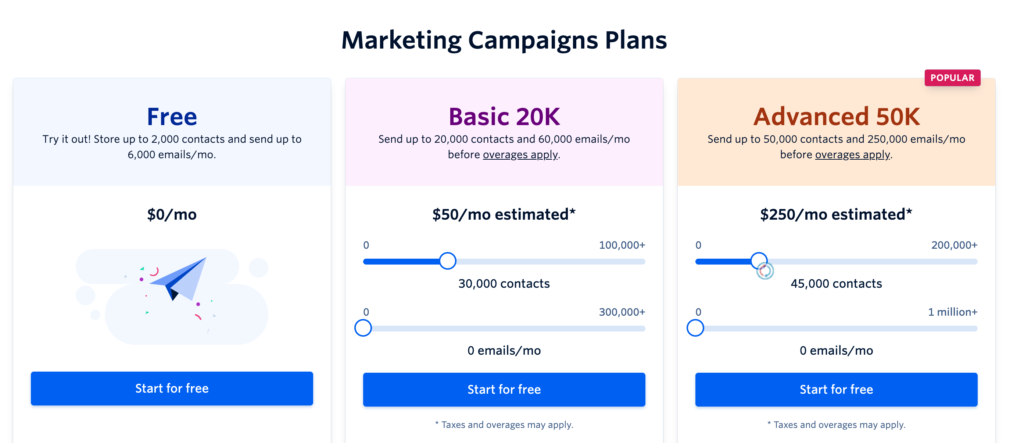 Sparkpost overview
SparkPost is a cloud-based email delivery service that provides a scalable, high-performance platform for sending and tracking email.
It is designed to help businesses and organizations send large volumes of email with high deliverability rates.
SparkPost offers a range of features and tools for managing email campaigns, including real-time analytics, list management, and template creation.
The service also includes built-in support for industry-standard email protocols and security measures to ensure that emails are delivered safely and securely.
SparkPost is suitable for use by businesses of all sizes, from small startups to large enterprises.
Sparkpost Pricing
Sparkpost offers 2 pricing levels, Started and Premier. Premier is for more advanced senders that use subaccounts, are looking for dedicated IPs and/or advanced templates
For the Starter Plan you will get the following:
Send with API or SMTP relay
Signals predictive analytics
Email Health Score alerting
Real-time alerting
Spam trap monitoring
Engagement insights
Dynamic AMP emails
Searchable email event data
2 custom webhooks
Advanced templates and snippets
Online support
If you are a bigger sender (at least 100k emails per month) you can benefit from the extra features offered by Premier plan:
Searchable email event data
5 custom webhooks
Advanced templates and snippets
Inbound email webhooks
15 Subaccounts
Scheduled sending
AB Testing
Dedicated IP included
Automated IP warmup
Prioritized support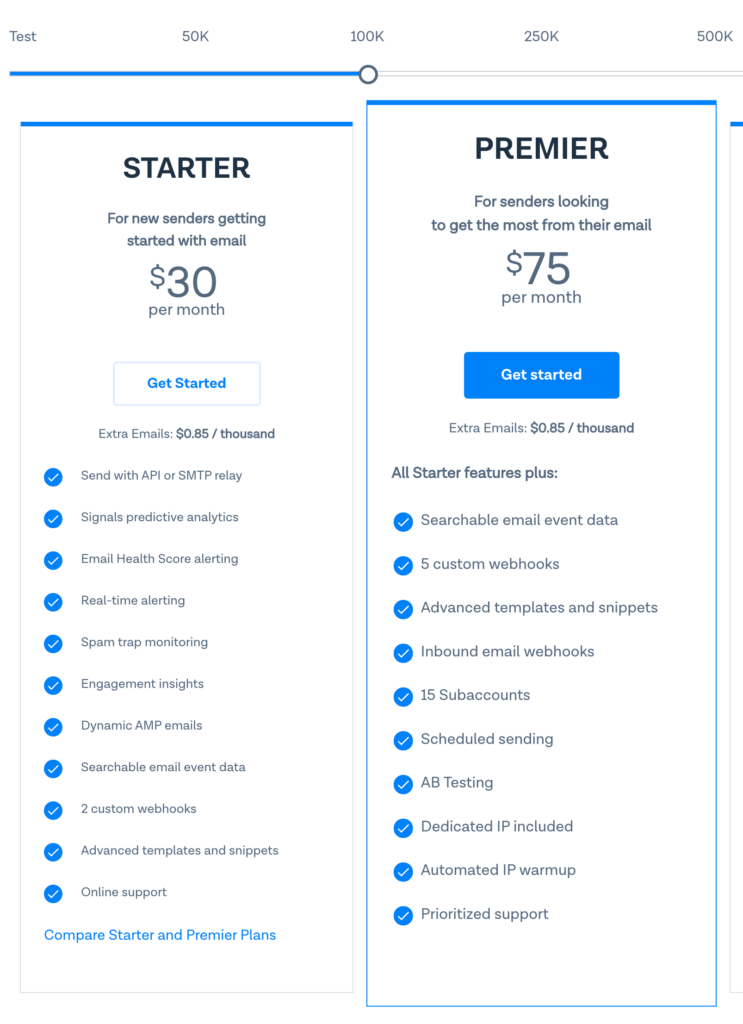 Comparison
Comparison of key features and capabilities
The following features are available in both Sendgrid and Sparkpost. Here's a high level feature based comparison Sparkpost vs Sendgrid
Email APIs. So you can just use their services and never log in in their control panel. This functionality is what they both companies started with and it's really used by a lot of businesses who want to have a reliable email service partner.
Control panel to send email campaigns. It is offered by both of them although Sendgrid is more inclined to marketers.
A/B testing. You can create A/B test campaigns in a simple way
Email templates. Create email designs and reuse them across your campaigns.
Recipient Lists. Organize your email addresses in lists
Campaigns Sendgrid also offers automations, single batch campaigns and sign-up forms. This is something that Sparkpost does not offer.
Webhooks get data into your marketing system with webhooks that can be easily set on your servers.
Comparison of pricing and plans
Both offer a free tier if you are just starting with email marketing. If you are between 10.000 and 500.000 email sends per month, here's a quick overview of their pricing.
Both prices are based on email usage. This is something that also Vibetrace offers as part as our email marketing offering. Prices might be cheaper than these.
| | | |
| --- | --- | --- |
| Email sends per month | Sparkpost | Sendgrid |
| 10.000 | $30 | $19.95 |
| 30.000 | $30 | $19.95 |
| 50.000 | $30 | $19.95 |
| 100.000 | $75 | $34.95/89.95 |
| 500.000 | $290 | $249 |
Sparkpost vs Sengrid pricing comparison table
Comparison of pros and cons of SparkPost and SendGrid
Narrow focus: Sparkpost puts a laser-focus on email delivery and doesn't offer list management or marketing automation features out of the box. Vibetrace plays nicely with both, so why not give us a run?
Sendgrid also offers SMS, based on the fact they were acquired by Twilio. Sparkpost offers SMS through the collaboration with MessageBird.
How to test Sparkpost vs Sendgrid?
Let' briefly show you how you can test or even use both in your daily email marketing efforts.
It's important to see but also very hard to get it right. You need to do it at the same time and split the list in 2. Always best to start with 2 new account, instead of reusing existing ones because it increases validity of the test.
Another topic to consider is to purchase and use dedicated IP's instead of just allowing them to send using one of their shared IP pools.
Vibetrace offers possibility to integrate by default with the following email service providers:
Amazon SES
Sendgrid
Sparkpost
Mailgun
Netcore Pepipost
Mandrill
ElasticEmail
This means that you can simply add them under email settings and you're ready to go. No need to configure anything than the API keys and webhooks needed to push data to our systems.
Step 1. Add Sparkpost and Sendgrid accounts as new Email Service Provider
Go to Email settings in your Vibetrace control panel
Click add new Email Service Provider
Choose ESP type from the dropdown list
Add title (only for reference) and credentials from your accounts
Send a test email. You should receive an email like this one
Done. You're ready to test Sparkpost against Sendgrid in your email campaigns.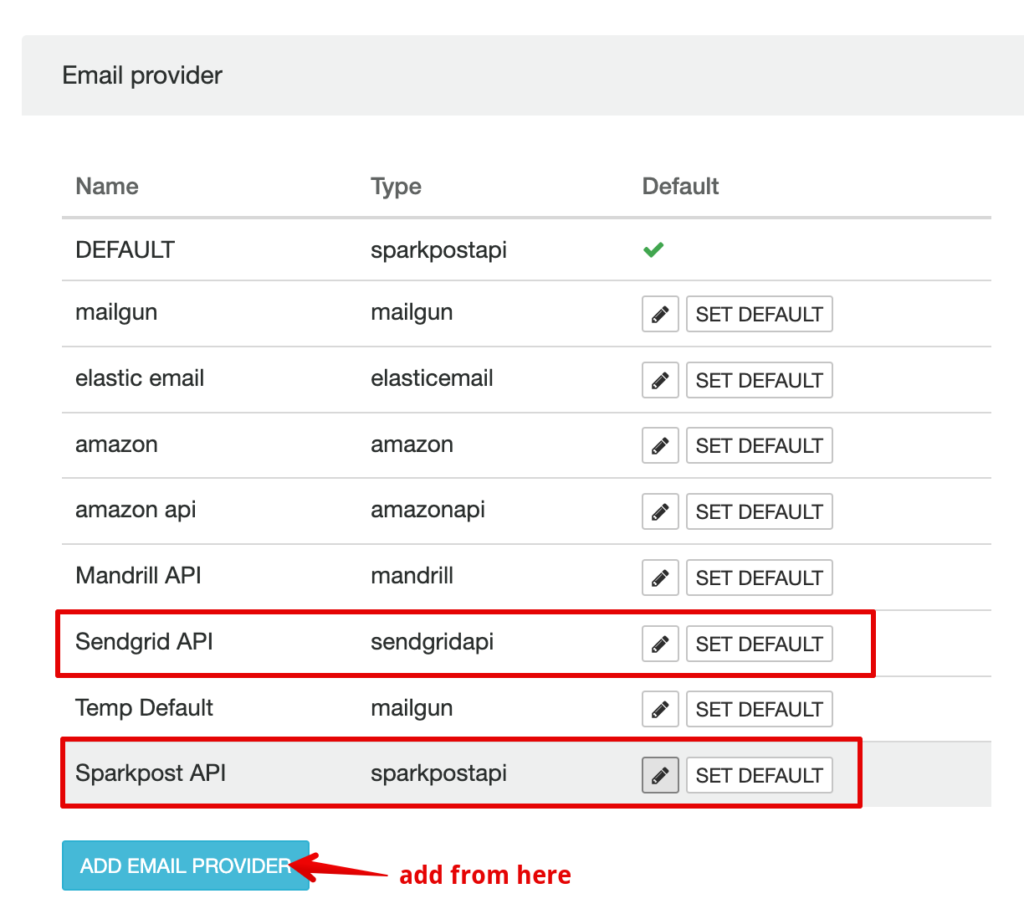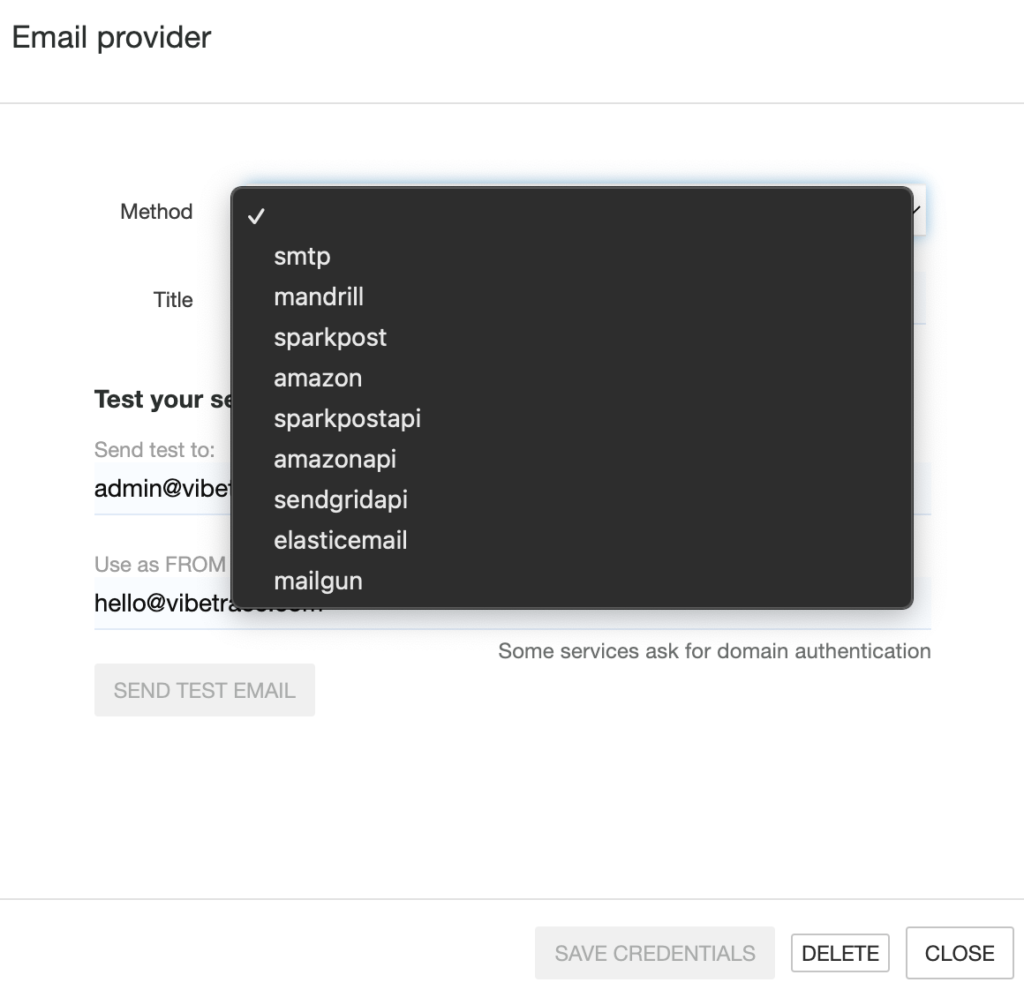 Step 2. Configure your accounts to send webhooks to our system

This step is important because otherwise we won't get deliverability events as well as hard bounces, spam or other specific email events that are important for tracking.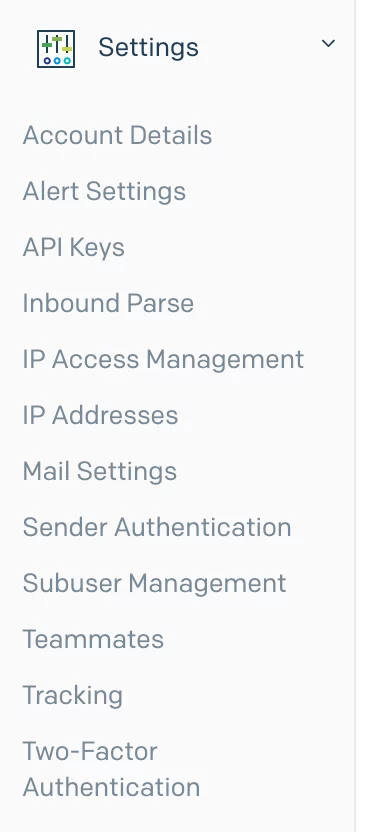 Each of those accounts have different configuration flows. We have documented the processes in our Knowledge base:
Step 3. Create a campaign and do an A/B test
While you can do this with any type of campaign, including workflows, we recommend doing a first initial test with either newsletter and recurring campaigns.
So go to Campaigns > Newsletter and create a new campaign.
Add 2 campaign content elements. You could test more than Sparkpost and Sendgrid, but let's just keep simple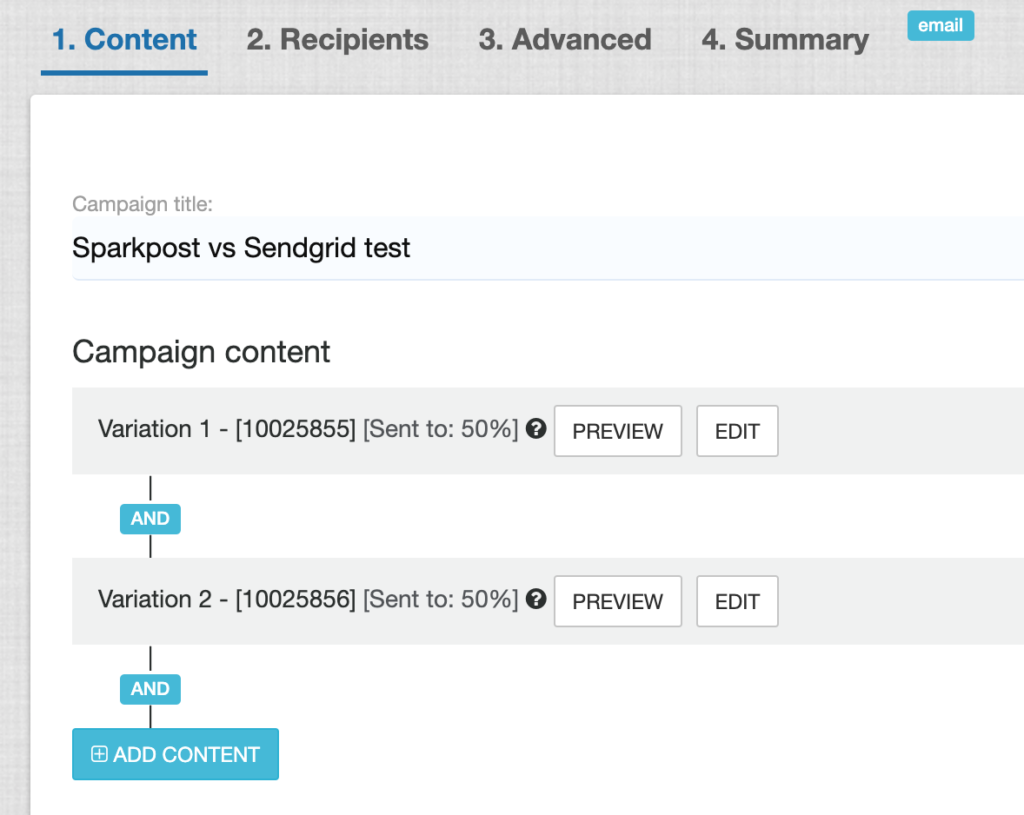 Now you can proceed configuring and creating a normal newsletter. We won't go into details about this but have the following recommendations:
if your sparkpost and sendgrid accounts are new consider warming them up
send to small lists first and see how it goes. You don't want to get into spam folder quickly
continue doing this a/b test for a while, not for a single time.
if you already use one of them for a long time and just plan to switch, the test won't be valid because every Email Server will already know existing IP's and will not see with good eyes the new one.
Are you a digital agency?
Conclusion
Summary of key differences between SparkPost and SendGrid
Both Sparkpost and Sendgrid are very similar if you want to use them as your dedicated email service provider built within an email marketing or marketing automation platform.
However, if you decided to use them directly, without a connection to a top-level software, things are different.
Sparkpost offers Signals Analytics if you want to deep dive into email marketing deliverability and improvements.
Sendgrid offers a Design Library if you're more of a creative personal than a technical homie.
Recommendation for which platform is best suited for different types of businesses
We would say that both Sendgrid and Sparkpost are powerful.
If you have a business that it's not too technical but needs email marketing then Sendgrid would be the choice to go with. It's more oriented to marketers then Sparkpost.
On the other hand, if you have high volumes and you need to be there on whatever regarding email marketing, Sparkpost offers more detailed actions.