Email marketing is the oldest communication channel in digital marketing, and yet, it's still the most efficient one, especially for retailers. Studies show it generates more than $40 for every $1 spent.
In other words, if you aren't actively collecting email subscribers, you're missing out on pure profits. If you're ready to acquire these results for your Shopify, start capturing leads today.
The thing is, collecting email subscribers for a Shopify store is not as easy or as straightforward as it might sound. What's the catch?
There are many moving parts to email marketing, with the hardest part being able to convince people to share their email address. Yet, it's still easier than convincing a first-time visitor to purchase from your store.
Today's article will focus on ways to collect email subscribers for your Shopify business with efficient and proven-to-work methods. First, we'll cover the general approach and then delve into the details and specific strategies you can start executing immediately. Let's begin!
How to Grow Your Email List?
Email marketing relies solely on email lists with quality leads relevant to your business – people genuinely interested in your offer. The second ingredient to successful email marketing is the size of that list.
Email lists grow organically once you start generating sales. But you can take several steps to help your list grow without sales and fast. You can start collecting email subscribers even before you land your first customer.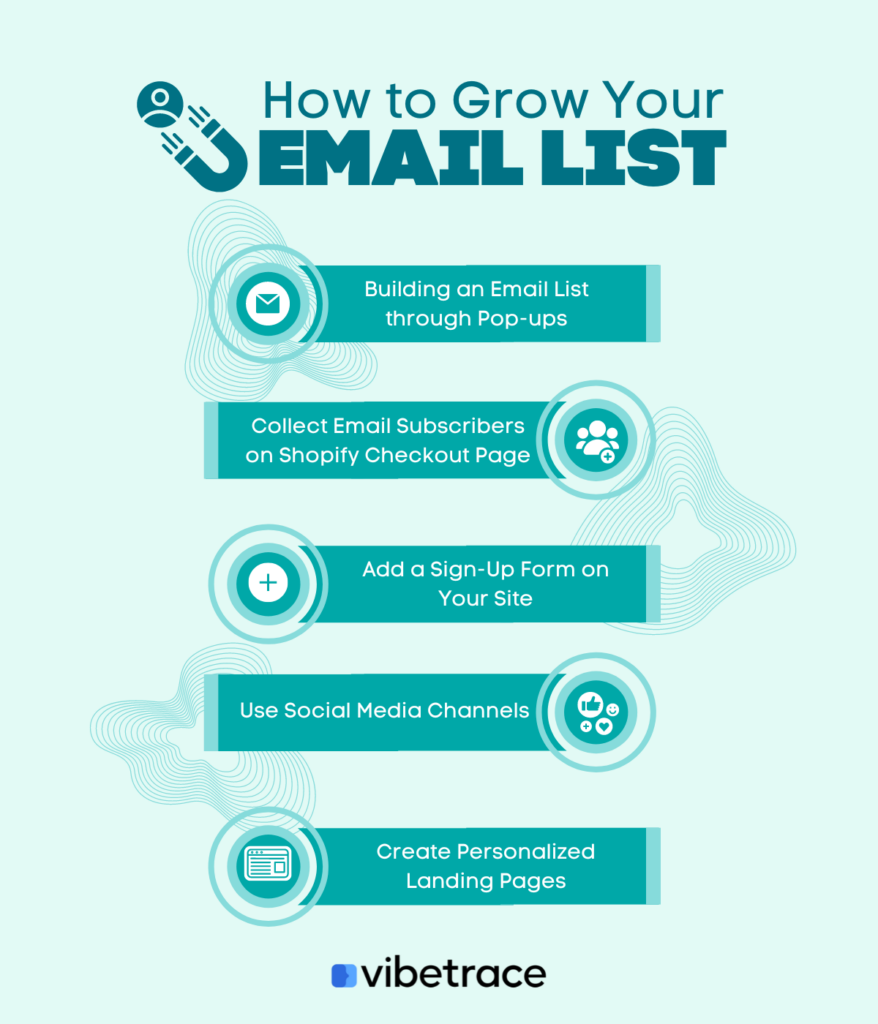 Here are several essential tactics for growing your list of subscribers, regardless of whether they make a purchase:
A. Building an Email List through Pop-ups
Different research quotes different results, but the fact is that pop-ups help boost conversion rates. The average CR of pop-ups is between 6% (according to Popup Smart) and 11% (according to OptiMonk).
They're also a spectacular way to capture leads and collect email subscribers. You can do that:
· By displaying entry ones for first-time visitors – offer them a discount code for their first purchase if they sign up for your newsletter, for example;
· By displaying exit intent pop-ups – perfect to try to keep a visitor a little longer. Those pop-ups display at the exact moment visitors move to leave your page. They can offer coupons and discounts like entry pop-ups if visitors submit an email or a big incentive to complete a purchase right now.
You might think pop-ups are being overused or too old-school, but they still work. With a suitable pop-up builder app like VibeTrace or Privy, you can capture leads with every new visitor and steadily grow your email subscribers list.
B. Collect Email Subscribers on Shopify Checkout Page
You might think that the checkout page is where the customer journey ends, but things go deeper than that. It often happens that people order once and never come back again.
Make your checkout page an email-capturing touchpoint. While customers provide their emails upon checkout to receive their order confirmation, you need their explicit permission to send promotional materials.
Add a simple checkbox for a newsletter subscription and give your list a boost. That way, you ensure that subscribers are interested, and you'll be able to remind them of your existence, but most importantly, you'll be compliant with privacy policies.
C. Add a Sign-Up Form on Your Site
That's probably the most common-sense approach you can use. If you're on the fence about pop-ups and are afraid of pestering visitors, add a subtle sign-up form to your store design.
Shopify offers plenty of form builder apps like MailChimp Forms and Klaviyo that you can use to add sign-up forms to your footer, in a sidebar, or the header. You can add it to blog posts and feeds and even below product categories.
Those subtle opt-in forms must have specific characteristics:
A clear CTA – it's a subtle form, so make your request clear at a glance;
Can be easily filled out – let's say just email and a first name;
Have a clear incentive – a small discount, quality content, exclusive deals, etc.
Sign-up forms rarely find their place in the header. They usually end up below the fold, out of sight and out of mind. You can't expect them to give your subscribers list a massive boost, but they're still a valuable instrument for collecting emails without getting in your visitor's face.
Not to mention that opt-ins are a clear sign those people care about your emails even if they haven't purchased yet. They've scrolled through your store, found your opt-in form, and taken the time to subscribe before leaving.
D. Use Social Media Channels
If you're a Shopify store owner, you must maintain at least one social media channel. Utilize every platform you're using for marketing communication to share your newsletter and capture emails.
The simplest example is an email sign-up CTA on your Facebook business page. Tools like Linktree, Shorby, SeedProd, and Everlinks allow you to add a list of links to your social media profiles – an ideal solution for platforms like Instagram and TikTok.
Make sure you add your newsletter subscription link to those tools. You can feature it with the promotion you're running with pop-ups, or whatever you offer on your opt-in form.
Using social media channels to collect email subscribers is an excellent way to learn more about your visitors. You can even create separate lists depending on the platform subscribers are coming from. That will further help you with personalization and targeted campaigns across communication channels.
E. Create Personalized Landing Pages
Web personalization goes a long way when it comes to collecting email subscribers for your Shopify store. When you personalize landing pages, you can capture prospects:
At different stages of their customer journey;
Coming from various sources;
And with varying characteristics and preferences.
Different people will react differently to your CTAs. That reaction depends on the prospects' context and personal traits. For that reason, you'd want to create multiple landing pages with variations of messages and offers.
Segmenting your audience provides a great starting point to create targeted messaging for different prospects that might fall into one of your existing segments. Apps like VibeTrace, PageFly, GemPages, and Shogun allow you to create engaging, attention-grabbing landing pages with just a few clicks and through dozens of templates.
All these strategies have been proven effective by practice. And once you have the contact info on your email list, you can start turning those leads into paying customers.
Now you can grow your email list with confidence. But if you still want more specific ideas for capturing emails and leads for your Shopify store, keep reading!
Below, we've gathered several advanced techniques you can use.
Ideas to Help You Collect Email Subscribers on a Shopify Store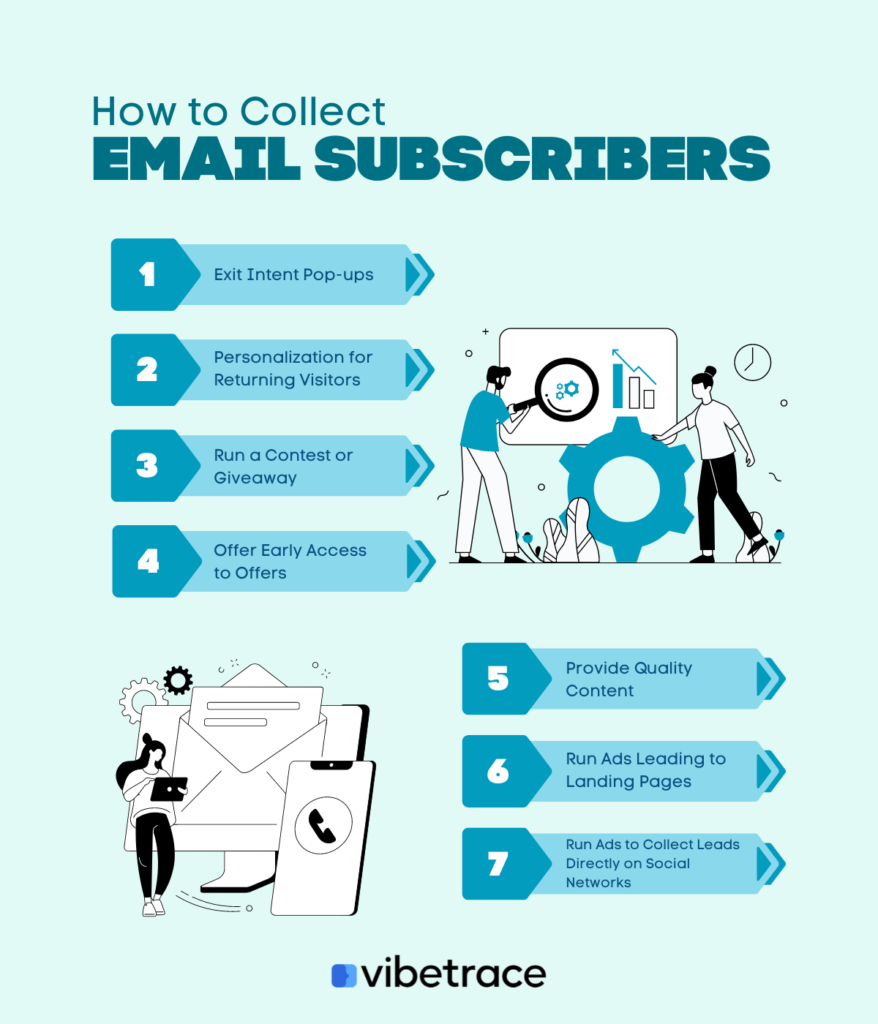 When you collect email subscribers for your Shopify store, you can mix various ideas and tactics to accelerate the list's growth. These are all very popular and give you significant freedom and space for creativity through which to stand out from the competition.
These include:
1. Exit Intent Pop-ups
The previously mentioned exit intent pop-ups help stop visitors from bouncing and forgetting about your website. They display in the nick of time and can entice your prospects. They are more effective than entry pop-ups and prevent cart abandonment as well.
You can aim those only at new visitors and focus on capturing more leads. Exit intent pop-ups must have a one-time offer that visitors can't refuse and a clear CTA to prevent you from losing a prospect. These offers can be anything from a discount to 2-for-1 limited-time offers to free shipping if your business allows it.
2. Personalization for Returning Visitors
Once you create an email-capturing campaign for new visitors, don't forget to consider returning prospects. There can be dozens of reasons why a visitor hasn't bought when they first landed on your store and didn't subscribe to your list – from poor UX to the lack of time or money to complete a purchase right now.
Create a separate segment for those returning visitors and craft targeted messages and different promotions and offers for when they return. Serve them personalized content – for example, consider what products they viewed on their first visit.
Personalization stems from good segmentation, so don't skip this step!
3. Run a Contest or Giveaway
Contests and giveaways are all the rage and can give your subscribers list a massive boost. You can run the giveaway right on your Shopify store with apps like ViralSweep and Social Boost and share the news through your social media channels.
Put a condition for participants to re-share the giveaway post and reach thousands of people. Most importantly, make the reward compelling and worth their social shares and time.
An essential element of successful giveaways and contests is urgency. Remember to feature a countdown timer in your contest form to build urgency.
Of course, that's an advanced tactic that leverages more traffic and a large social media following. But even with a smaller following, if you make your offer compelling enough, you can reach thousands of others, accelerating your list's growth.
4. Offer Early Access to Offers
If you're selling unique, high-quality products, you can leverage that by tempting visitors with early access. Exclusive editions, limited-time offers, and new arrivals can appeal to visitors, especially if you're offering niche products with limited competition.
Such offers speak to visitors' Fear of Missing Out (FOMO) by promising them to never miss out on a great deal for a cool product.
5. Provide Quality Content
Customers come for high-quality products and stay for the value you can create for them. That value isn't limited to same-day shipping and excellent customer support. It's also determined by the content you serve people.
That content usually aims to solve a person's problem. When it comes to generating leads and capturing email subscribers, think about valuable blogs and guides on using your products. Quizzes are another example of great interactive content.
Let's say you offer cosmetics – develop a quiz inquiring into your visitors' skincare preferences and skin type, and make suitable suggestions based on the products you offer. Or send them a skincare routine and a detailed guide if they submit an email.
6. Run Ads Leading to Landing Pages
Creating dedicated landing pages is a classic in lead generation. They always have a specific goal, a conversion you want visitors to complete. Landing pages provide a distraction-free space for a detailed offer tailored to a particular segment.
Paid advertising is an excellent way to make your landing page visible and generate quality traffic if you want to drive email subscriptions. You can run those ads on virtually any social media channel or search engine, targeting your audience wherever and whenever it might be.
That's where audience targeting tools come into play and help you target those exact people that align with the picture of your ideal buyer persona.
7. Run Ads to Collect Leads Directly on Social Networks
While generating organic leads is better for minimizing expenses, ads provide a faster way to acquire traffic that will lead to more email subscribers.
That's why most social media platforms provide a specific lead generation ad format. With it, you can generate leads right on the social media platform. Take, for example, the Facebook lead ads – basically promoted forms that can sync with your CRM.
Instagram offers a similar ad type to help you gather emails on the platform. Another great place for paid advertising for retailers operating out of Shopify is YouTube. You can use the TrueView for Action ad type to drive people to complete a specific action. In that case – subscribe to your newsletter.
As you can see, you can apply plenty of tactics to capture emails. To give you the ways and tools you can utilize, below we'll discuss popular email collectors you can use.
Examples of Email Collectors
No need to research here, I will add this section.
Start Collecting Email Subscribers Today!
Email marketing is the leading source for conversions and growing ROI, especially in retail. You can use various strategies and tools to grow your email marketing list.
Remember that everything starts with fleshing out your ideal customer and aligning your messages to create personalized, targeted offers. To do that, you need a robust app to help you bring your strategies to life.
Once you've acquired quality prospects, it's time to tailor your messages. To do all that without breaking a sweat, check out the powerful all-in-one VibeTrace app and set your Shopify store up for success today!
Mentioned Apps:
Sign-up Forms – MailChimp Forms, Klaviyo
Building Landing Pages – VibeTrace, PageFly, GemPages, Shogun
Giveaways – ViralSweep, Social Boost