If you think that email marketing is too old for your business and has no way of dominating the market, you have to think about it twice.
Latest statistics show from Statista that it was forecasted last 2022 4.3 billion email users and is still expected to go to 4.6 billion by the end of 2025.
Due to these numbers, email marketing has undeniably had good results and has continuously been used by most well-known businesses around the world.
It became the cheapest, most effective, and most recommended marketing channel whether you are just starting your business or you have been improving your existing business.
Furthermore, if you really want to optimize your email you must focus on building a good content that will make your subscribers read.
If you have heard the word "Dynamic Email", it is referred to as any email that contains dynamic content based on the information, preferences, and actions of your subscribers.
This strategy can help you improve your customer experience, increase your engagement, and even save you time from creating emails separately.
Need help with your Email Marketing?
We offer managed services from strategy, to implementation and tracking. Usually getting a 15-25% increase in results. Let's see how we can help you!
Read on and learn more about how to create dynamic content to level up your email marketing game!
Steps for creating a newsletter with products recommendations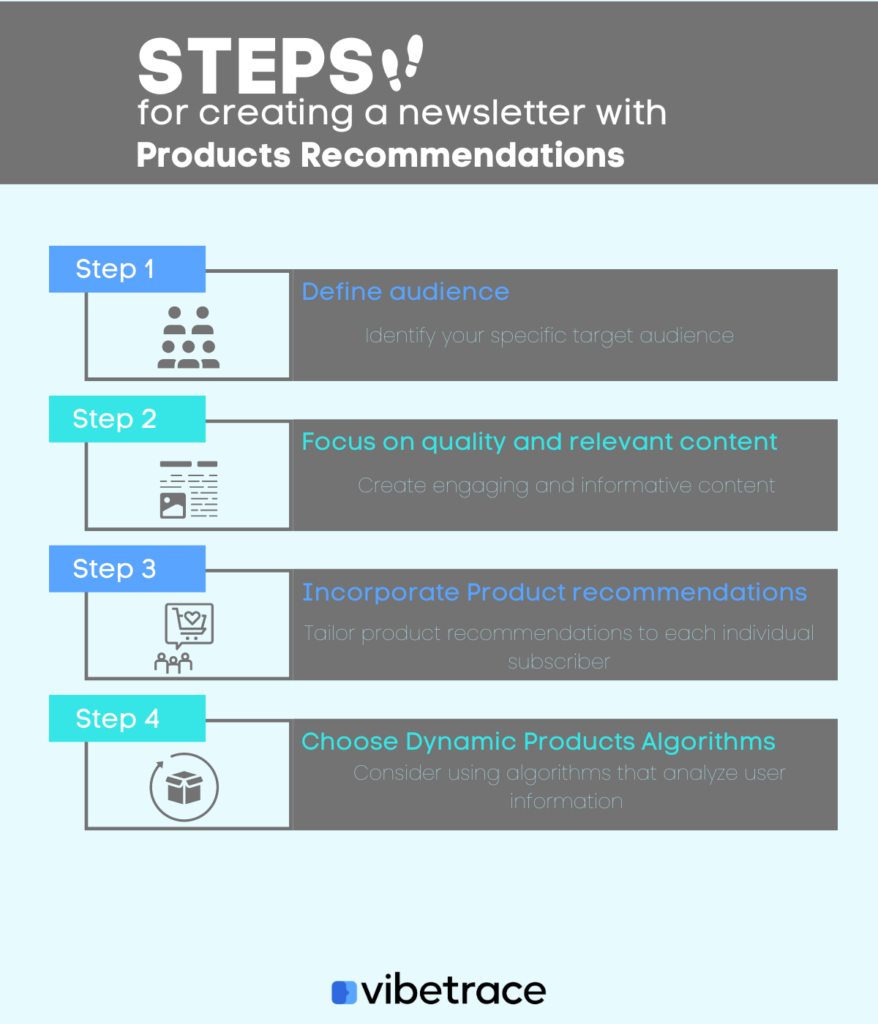 Everything must always come with a guide especially if you are to create an email newsletter that converts and has product recommendations.
Clearly, it may not be easy but with proper steps followed, you can surely save your time experimenting over and over again for your campaigns.
Here are a few of the steps you need to keep in mind:
Define audience
Begin by identifying your target audience for your newsletter. This is very crucial because, without proper segmentation, your campaign might not reach your desired audience.
Determine your potential customers' interests, demographics, and preferences. This will help you tailor your content and product recommendations to their needs.
Focus on quality and relevant content
Create engaging and informative content that aligns with your audience's interests. A boring email may be an unread email so focus on the quality of every email you send.
To make your content more valuable, you can include articles, tips, how-to guides, industry news, or any other relevant information that adds value to your newsletter.
Incorporate Product recommendations
People appreciate emails that are tailored to them and that make them feel important customers so try incorporating product recommendations that looks personally created for them.
Additionally, you must identify products that are relevant to your audience and align with the theme or purpose of your newsletter.
These products could be your own offerings or third-party products that you believe would be beneficial to your readers.
Choose Dynamic Products Algorithms
Last, but not least, think about using dynamic product recommendation algorithms to tailor product suggestions based on the interests and behaviors of your audience.
These algorithms analyze user information, including browsing, purchasing, and preference data, to recommend goods that are more likely to appeal to each individual.
Dynamic Product Recommendations inside emails
As a business owner, you probably have known about the idea that dynamic product recommendations are a great feature for your e-commerce store due to their effectiveness and also provide a good customer experience.
Make sure you don't miss this!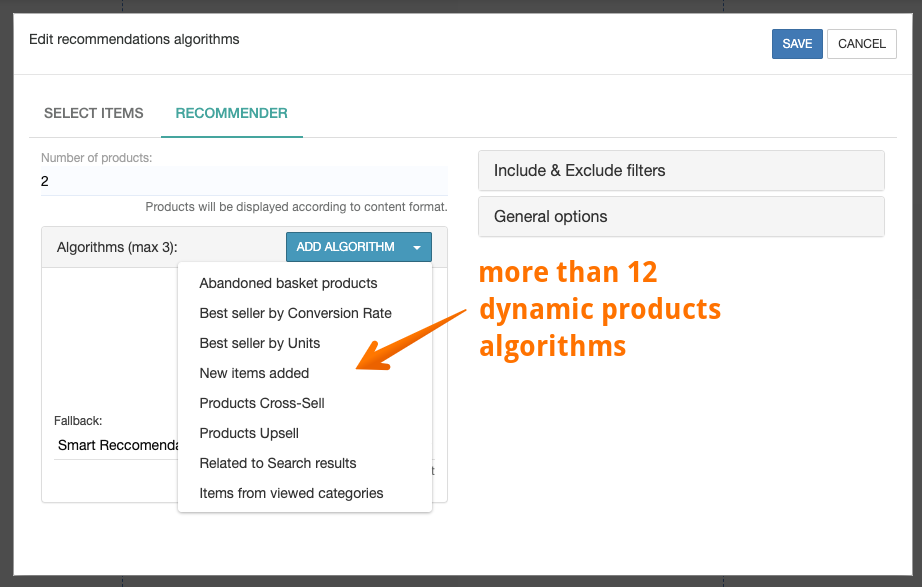 Here's a list of how to create different dynamic emails:
How to create emails with best seller products
A product can be a best seller by the number of units sold, but also by conversion rate.
An effective strategy to engage customers and encourage conversions is to include best-selling products in your emails.
It is beneficial to include these items in emails because they can help consumers who aren't sure about a purchase make that decision.
Although, it's important to remember that top-selling products can change in an online store depending on variables like the time of year, the weather, or a customer's particular interests.
How to create emails with cross-selling products for each user
Cross-selling is a proven and effective strategy that you can implement to increase sales by suggesting related or complementary products to your customers.
To begin with, creating emails with cross-selling products, you must keep in mind that it's important to analyze customer preferences and purchase history to provide personalized recommendations.
Need help with your Email Marketing?
We offer managed services from strategy, to implementation and tracking. Usually getting a 15-25% increase in results. Let's see how we can help you!
For choosing the right products, you can strategically promote goods that are likely to appeal to your target customers by understanding how various products and customer interests relate to one another.
It may take some time so it's best to make use of a trusted tool that will be of great help.
Additionally, you can encourage customers to explore additional products, improve their shopping experience, and ultimately boost conversion rates by including these personalized cross-selling recommendations in your emails.
How to create emails with the newest added products
Promoting your newest added products through emails can make your emails generate excitement among customers who have been keeping an eye on your brand.
To create such emails, you should regularly keep track of your product inventory and identify the recently added items.
This will help you pique customers' curiosity and create a sense of exclusivity once you create content about your newly added products.
The attractiveness of these products can be increased by including eye-catching images, thorough descriptions, and highlighting any special features or advantages.
Just always remember to segment our email list based on your subscriber's preferences and interests to keep them engaged.
How to create emails with abandoned cart products
I guess you probably already know the fact that abandoned carts are not new in the e-commerce industry.
In fact, they also present an opportunity to re-engage customers and recover potentially lost sales instead of just being a negative impact on the business.
When creating emails with abandoned cart products, remember that timing is crucial.
In order to increase your chances of regaining a customer's interest, you must send these emails as soon as possible after they've abandoned their shopping cart.
You can offer incentives like discounts or free shipping, remind customers about the items they left behind, and include a clear call to action for them to finish their purchase in these emails.
How to create emails with the most popular products from the shop
Email marketing is often used to engage customers but more specifically for promotions as well.
The most popular products from your shop require promotions through emails to help you create a sense of social proof and encourage customers to make informed purchase decisions.
You may review sales information, customer feedback, and other relevant metrics to determine which products are the most popular.
You can highlight the items that have resonated well with other customers and highlight their benefits by mentioning these top-performing products in your emails.
Social proof components like ratings, reviews, and endorsements can help you increase the persuasiveness of these products. It's important to design visually appealing emails that effectively showcase the most popular products.
How to create emails with user-viewed products
Customer behavior on your website, such as the products they viewed, can be tracked and used to provide useful insights for creating personalized emails.
To create emails with the recently viewed products of your customers.
You can highlight the products the customer has expressed interest in to raise the possibility of a conversion.
Additionally, segmenting your email list according to the products that your customers have viewed is crucial when creating these emails.
The emails can become more personalized and interesting by incorporating dynamic content that shows the particular products they have expressed interest in.
How to create emails with products from specific categories
Creating specific categories in your emails can help you introduce what you can offer to your subscribers which they could have an interest in. These can be categories viewed by the users or categories selected by you.
This is a great way to target customers with emails to feature your products from particular categories. You can do this by dividing your customer base into segments based on their preferences.
You may also review their browsing or purchasing history.
Although, it's critical to comprehend your customers' interests and preferences when creating these emails so you can make sure that the recipients of your email list receive recommendations that are based on their particular interests.
Use eye-catching product images, clear product descriptions, and any irresistible discounts or promotions that can grab your customer's attention and encourage them to explore products in their preferred categories.
How to create emails with products similar to basketed products
Your customer shopping carts reveal important information about their preferences and intent to buy.
The information you gather from the data can help you produce emails that recommend products that are similar to the ones they already have added to their shopping cart. This can even make you make them more purchases than they intend.
For creating this email, make sure to highlight the similarities between the recommended items and the products in the basket when creating these emails, emphasizing any features, advantages, or discounts that might be offered.
These emails can be made even more effective by incorporating persuading images, compelling descriptions, and obvious calls to action.
How to send emails with items from the last purchase
Your customer's last purchase can provide an opportunity to create personalized and engaging email content that is relevant to their interests. This allows you to maintain their engagement and strengthen your relationship with valued customers.
You can easily identify the recently bought products of your customers by analyzing their purchase history.
With this data, you can create emails that can serve multiple purposes, such as suggesting related products, offering maintenance tips or product guides, or providing exclusive discounts for future purchases.
The post-purchase experience for the customer can be improved by including clear, high-quality product images, concise descriptions, and links to useful resources.
Additionally, you can encourage customer loyalty, promote repeat purchases, and improve your rapport with customers by creating emails that feature products from the most recent purchase.
How to send emails with products with the best discounts
Best discounts to be offered is one effective way to promote products you offer from your e-commerce store through emails that can create a sense of urgency and drive customers to take advantage of the limited-time offers.
The discount percentage or amount, the list price, and any time-sensitive aspects of the promotion should all be highlighted in these emails.
To make these emails even more effective, consider adding visually appealing images, concise descriptions, and clear calls to action.
Personalize the email based on your customer segmentation to encourage them to make a purchase, enhance their customer satisfaction, and boost your sales. By sending emails with products featuring the best discounts, you can achieve these objectives.
How to send emails with products I choose on my own
As a business owner, you definitely know the best!
That's why sending emails with products of your own choice allows you to highlight specific items or promotions that align with your marketing objectives and emphasize the product you are most likely to recommend for everyone.
This approach can be particularly useful for showcasing new arrivals, limited editions, seasonal offers, or any other products you want to prioritize.
Keep a note that it's crucial to take your target audience's preferences and interests into account when choosing the products to show in your emails. This gives you the opportunity to highlight particular products, adhere to your brand strategy, and increase conversions.
Taking Your Email Newsletters to the Next Level
To take your email newsletters to the next level, it's crucial to implement personalization tactics using dynamic email content and invest in advanced technologies.
Personalization enables you to connect with your audience on a deeper level, while advanced technologies like Vibetrace offer dynamic product recommendations and behavior-based automation.
Additionally, remember to continuously analyze performance metrics, experiment with different strategies, and optimize your campaigns for continued success.
Stay innovative and continue to provide valuable content to engage subscribers and achieve remarkable results in your email marketing endeavors.