In 2022, the Hiking & Outdoor Equipment Stores industry generated revenue of $7.3 billion, which accounted for 0.8% of the total market size.
Some of the products that you may consider including in your outdoor e-commerce store are apparel, transportation, camping supplies, and accessories such as sleeping bags.
Popular retailers in the growing outdoor product business include Backcountry, Amazon, Eddie Bauer, REI, Steep and Cheap, Patagonia, Huckberry, and many more.
So if you think that you have no chance in this industry, you might just be doing it wrong. Make sure you don't miss the opportunity of getting into email marketing.
As early as you begin your business, collect email subscribers!
Why You Need to Build Your Email Subscribers
As a business selling outdoor gear, whether you just starting or have been existing in the industry, building your email subscriber list is important because your subscribers are likely to be people who are passionate about spending time in nature and have a genuine interest in your products.
Need help Acquiring New Customers?
We can help you acquire valid traffic and convert this traffic into customers. Let's discuss and see what we can do for you.
And the goal is not to disappoint them but give them the best you can offer.
To provide them with valuable content and information about your outdoor gear products, you can establish a deeper relationship with them, which can lead to increased loyalty and retention.
Moreover, having a strong email list will allow you to communicate directly with your audience and keep them informed about new products, special promotions, and other relevant updates. Using marketing automation can help you automate all communication efforts.
This can be particularly important in the outdoor gear industry, where trends and technologies constantly evolve.
Outdoor Gear Store Email Building Smart Strategy Using AIDA Framework
Email marketing is one of the most cost-effective and measurable forms of marketing available today. However, using a proper strategy will help you optimize and maximize the positive impact of your marketing efforts.
Therefore, here's how you can use the AIDA framework to build your email subscriber list for your outdoor gear store: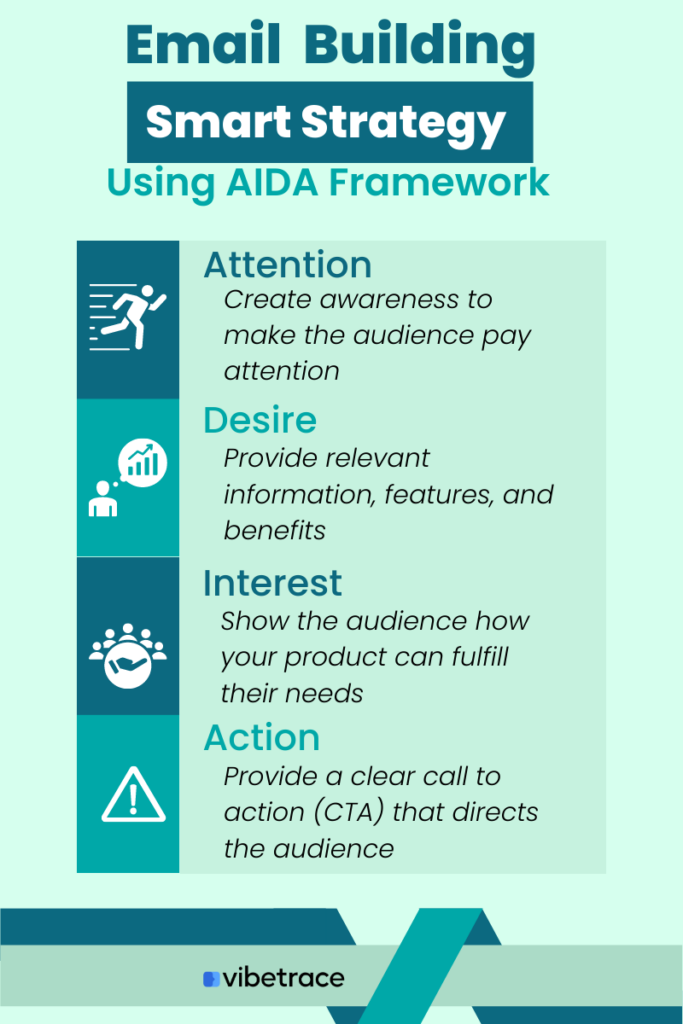 Attention
Grab their attention with an irresistible offer or lead magnet.
You could, for example, use a stunning image of a hiker exploring a mountain range or a bold headline such as "Discover the Ultimate Outdoor Gear Collection".
Interest
Generate interest with relevant and valuable content.
For example, you could make an incredible video of people using your products on a camping trip with their family and friends, or you could write a blog post about the best hiking trails in your area.
Desire
Create desire by highlighting benefits and features.
For example, to attract customers, you could highlight the waterproof capabilities of your backpack products or the eco-friendly materials used in your clothing.
Action
Encourage action with a strong call to action.
For example, in your email, you could include a prominent "Sign Up Now" button or offer a special discount code to new subscribers to entice them to try your product for the first time.
Need help building and growing your Subscribers List?
We can help build, grow and nurture your subscribers list using our Automation Strategy and Tools.
Email List Building Checklist for Outdoor Gear Stores
If you are struggling with how to begin, It's always best to keep yourself organized so listing down things you have to keep in mind when building your email list can exceptionally be very useful in the long run.
Here are sample checklists you can include in your list: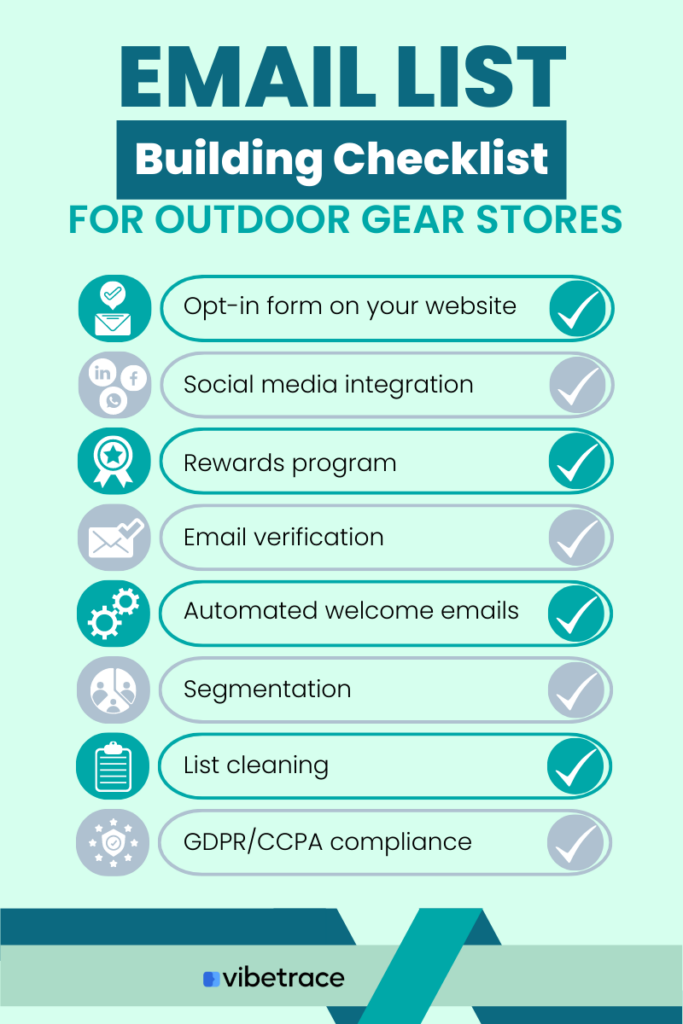 Opt-in form on your website: Make it simple for visitors to subscribe to your mailing list by prominently displaying an opt-in form on your website featuring outdoor gear products.
Social media integration: Allow visitors to subscribe to your mailing list directly from your social media accounts, showcasing your outdoor gear products.
Rewards program: Try to entice people to join your mailing lists by offering discounts, exclusive content, or special deals on outdoor gear products that will help them live a more active lifestyle.
Email verification: Subscribers should be double-opted-in to ensure that the email addresses are valid and that the people signing up are actually interested in your outdoor gear products.
Automated welcome emails: Send an automated welcome email to each new subscriber, thanking them for their participation and providing them with more information about your mailing list and outdoor gear products.
Segmentation: To increase your chances of collecting email addresses for outdoor gear products, segment your audience based on interests such as hiking or camping.
List cleaning: Remove unsubscribers and invalid email addresses from your list on a regular basis to keep it clean and current with your audience's interest in outdoor gear products.
GDPR/CCPA compliance: When building your list and collecting data about your audience's interest in outdoor gear products, make sure you're following GDPR regulations.
8 Techniques for Collecting Email Addresses from Your Outdoor Gear Website Visitors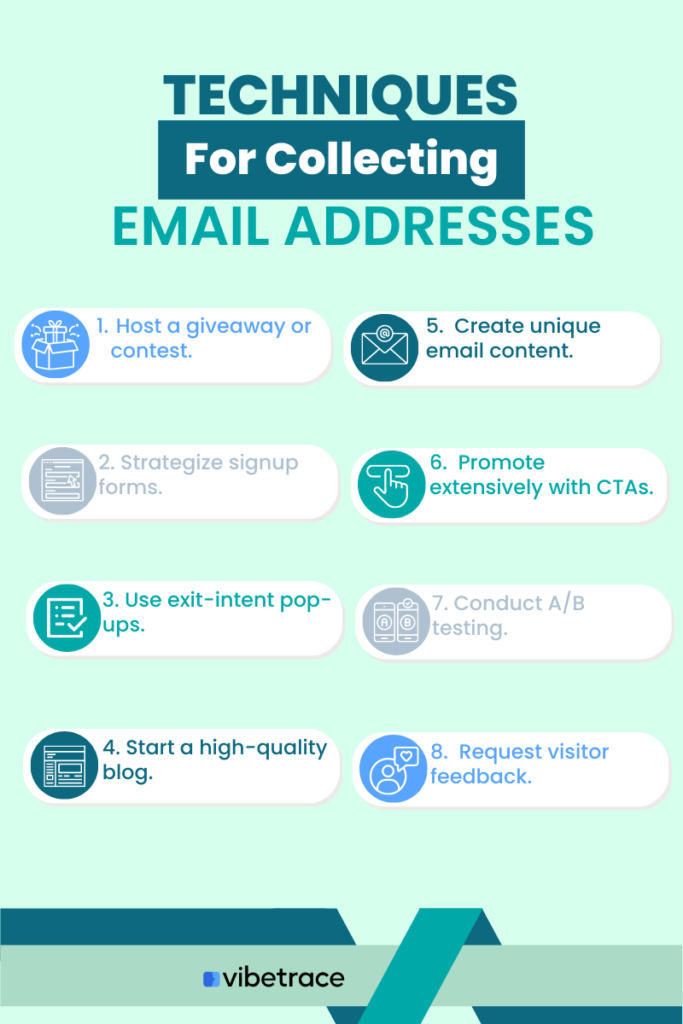 Creating your own checklist of what you need to do to build your email list is awesome but using the best technique for collecting email addresses is a must in order to have a good start with email marketing.
Host a giveaway or contest.
Create a giveaway or contest that would require your visitors to provide their email addresses to enter.
For example, you could give away a free outdoor gear item to one lucky subscriber each month, or run a photo contest where participants must submit their email address to enter.
Strategize the placement and targeting of signup forms.
Place your email sign-up forms in strategic locations throughout your website.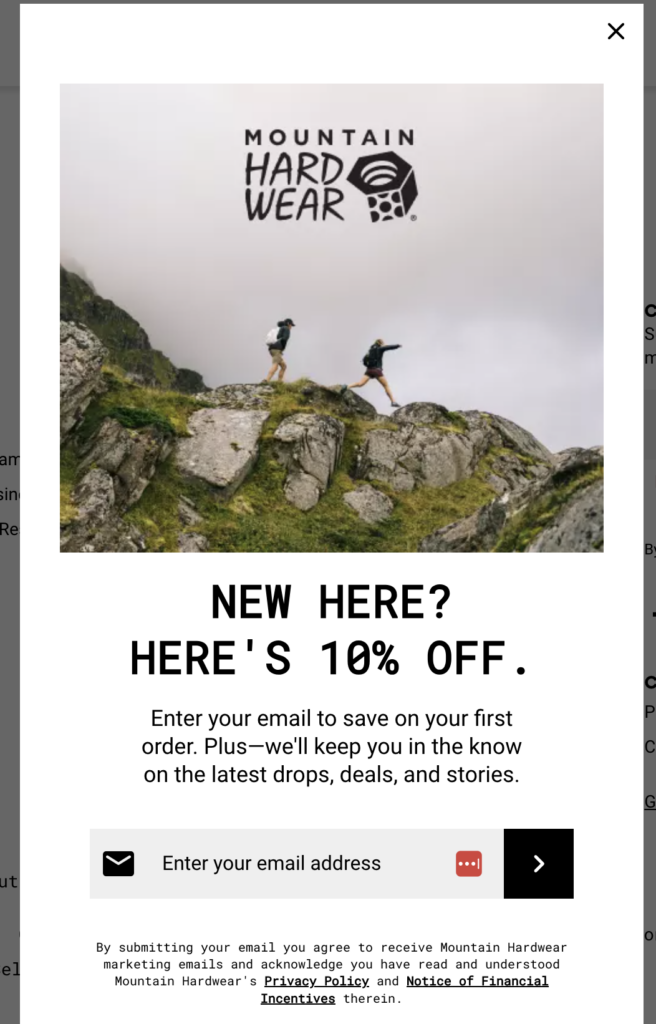 For example, include a sign-up form on your homepage, on product pages, and in the footer of your website. Target your forms to specific audiences based on their behavior and interests.
Use exit-intent pop-ups.
Exit-intent pop-ups are triggered when a visitor shows intent to leave your site.
These pop-ups can be used to offer a last-minute incentive, such as a discount or free gift, in exchange for the visitor's email address.
Start a high-quality blog.
Blogging is a great way to attract visitors to your website and encourage them to sign up for your email list.
By producing high-quality content that is relevant and valuable to your audience, you can establish yourself as an authority in the outdoor gear industry and build a loyal following of subscribers.
Create unique email content.
Offer exclusive content to your email subscribers that they can't find anywhere else, such as insider tips, behind-the-scenes stories, or exclusive discounts.
Encourage your subscribers to share this content with their friends and family, and make it easy for them to do so by including social sharing buttons in your emails.
Promote extensively with CTAs.
Promote your email list through all your marketing channels, including social media, email signatures, and blog posts.

Use compelling call-to-actions (CTAs) that encourage visitors to subscribe to your email list, such as "Get exclusive deals delivered straight to your inbox".
Conduct A/B testing.
Experiment with different messaging, design, and placement of your sign-up forms to see what works best for your audience.
Use A/B testing to compare different versions of your forms and messaging and make data-driven decisions to optimize your conversion rates.
Request visitor feedback.
Ask your website, visitors, for feedback on how you can improve your email list and sign-up process.
Use this feedback to make improvements to your website, sign-up forms, and messaging, and to provide a better user experience for your visitors.
Start to Get The Most Out Of Your Outdoor E-Commerce Email Marketing
Building your email list is crucial for the success of your outdoor gear store.
The truth is your email list is a valuable asset that can help you connect with your audience, promote your products, and drive sales over the long term which will help you get the most out of your e-commerce business.
However, it's not enough to simply build your list and forget about it. You need to update your list regularly to get the most out of your email marketing efforts.
Do you need help with Ecommerce Analytics?
Test our tool for free to see how our ecommerce analytics features will help you run your marketing campaigns in a much better way.
Keeping it updated and clean means removing dead or unusable emails, collecting new emails, and extending subscriber data with new information that can be used for segmentation.
Make sure you don't waste your time sending emails to inactive users.
With that, Vibetrace can help you sort out your list better for a better email marketing process.
Vibetrace can help you ensure that your email list remains a valuable asset that drives growth and success for your outdoor e-commerce business.