Converting email needs careful consideration of different parameters.
It's critical to keep your reader's interest from the subject line through the body of the email when writing conversion-optimized emails for outdoor gear retailers.
Within the email, craft succinct and engaging copy that highlights the distinctive features and benefits of your outdoor gear products, emphasizing their durability, performance, and versatility.
Although this is just one of the many ways how to create an email.
In this article, you'll be able to have more ideas on how outdoor gear gained growth, how to create an email that converts for the niche you chose and the benefits of implementing email marketing to boost the growth of your business.
The Surprising Growth Of Outdoor Gear Stores
In recent years, the expansion of outdoor equipment stores has been beyond anything amazing. The demand for high-quality gear and equipment has soared as more people embrace outdoor activities and the thrill of adventure.
In fact, Adventure tourism and travel are projected to be worth $1.7 trillion globally by 2023 which signifies the increasing growth of the outdoor recreation industry since the pandemic happened.
As a result, outdoor gear stores have benefited from consumers' desire to get outside and lead active lifestyles by capitalizing on the expanding outdoor exploration trend.
Furthermore, The popularity of outdoor activities has grown as a result of people's growing awareness of health and wellness, which has also fueled the expansion of this industry.
And one of the strategies that have been observed that boosts the growth of the industry is successful email marketing.
Indeed, a successful email marketing strategy can be extremely helpful in fostering the expansion of outdoor gear retailers. It enables your business to interact directly with your customers, fostering a sense of neighborhood and fostering brand loyalty.
A strong email marketing strategy enables any kind of business you may have including an outdoor gear store to inform subscribers about new product introductions, limited-time offers, and exclusive discounts.
Need help with your Email Marketing?
We offer managed services from strategy, to implementation and tracking. Usually getting a 15-25% increase in results. Let's see how we can help you!
Benefits Of Email Marketing For Your Outdoor Gear Store
Email marketing offers various benefits. For the outdoor industry, it has been proven really effective. Your outdoor gear store can benefit greatly from email marketing.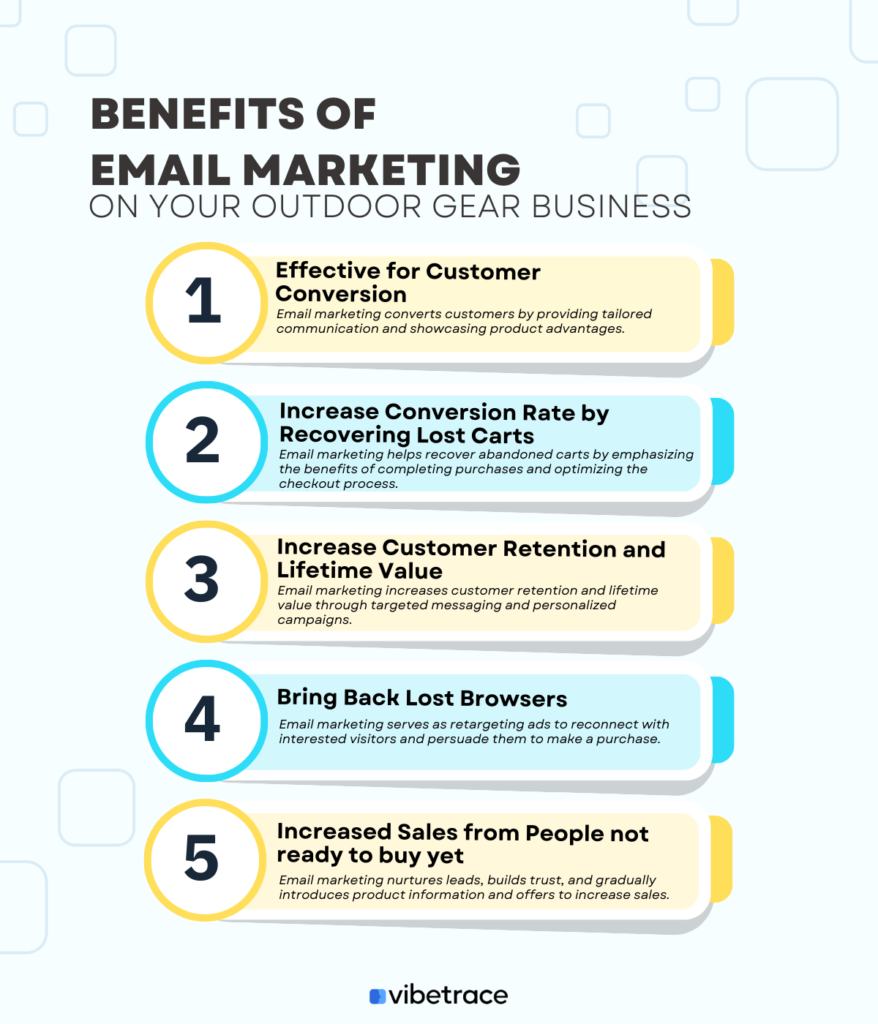 Effective for Customer Conversion
Email marketing is proven to be effective in converting more consumers.
Email marketing enables you to create a direct and tailored line of communication with your target market. It makes sure that customers get consistent information that fits their outdoor interests and needs.
Furthermore, email marketing offers a venue for showcasing the distinct qualities and advantages of outdoor gear products. This increases brand trust and aids customers in making wise purchases.
Indeed, it is known to be very effective at reaching customers who buy outdoor gear products because it highlights the advantages of the products, keeps customers engaged, creates a sense of community, and provides measurable campaign performance.
As most marketers say, Email marketing has a 40X ROI.
You probably have consistently seen a high return on investment (ROI) from email marketing. Feels like you're missing out on the game by having no email marketing, right?
Well, email marketing is widely acknowledged to be capable of generating an impressive ROI, despite the fact that the precise ROI may vary depending on a number of variables like industry, target audience, and campaign execution.
In fact, Industry reports and studies suggest that the typical email marketing ROI is in the range of 40X the initial investment.
Several factors contribute to email marketing's high return on investment. First off, email marketing enables affordable outreach to a sizable audience.
Email marketing is more affordable and offers better targeting options when compared to conventional marketing channels like print advertising or direct mail, which results in cost savings and increased efficiency.
Keep in mind that, tracking and analyzing email campaign metrics enables you to optimize your tactics and make data-driven decisions.
You can pinpoint areas for improvement, improve their messaging, and see better results over time by tracking key performance indicators like open rates, click-through rates, and conversion rates.
Need help recovering more Abandoned Carts?
We can help you recover at least 15% of your abandoned carts using omni-channel campaigns.
Increase Conversion Rate by Recovering Lost Carts
Recovering abandoned carts is a practical way to boost your outdoor gear store's conversion rates and sales. A missed opportunity occurs when a customer leaves their shopping cart open without finishing the transaction.
In this case, email marketing can help your business increase the conversion rate and recover abandoned carts easily.
By creating an automated email sequence to contact shoppers who left their carts unattended, you can emphasize the advantages of finishing their purchase.
Try to entice customers by providing incentives like discounts, free shipping, or privileged access to promotions.
Although, look over your checkout procedure to make sure it is quick, simple, and secure. Reduce the number of required fields on the form and add guest checkout options to make the process of making a purchase easier.
With the right use of email sequences for abandoned carts and optimized customer experience, there will be no doubt of a recovery.
Increase Customer Retention and Lifetime Value
For your outdoor equipment store to be successful over the long haul, use email marketing to retain customers and increase their lifetime value.
Since email marketing allows you to target certain segments of your customers you can deliver specific messages and campaigns that would most likely resonate fo them.
You can also simply choose those customers who are more likely to respond positively as this can increase your customer retention and lifetime value.
In fact. getting in touch with your customers will lead you to increase customer loyalty and brand awareness.
Bring Back Lost Browsers
Returning lost browsers—visitors who expressed interest in your outdoor gear store but left without buying anything—gives you a great chance to sell them something.
Email marketing can be your go-to retargeting ads to connect with those website visitors who have always been there.
You can simply showcase relevant products or special deals in your emails to pique their interest once more and persuade them to come back and make a purchase.
You may also send customized emails to website visitors who have browsed your site without making a purchase, similar to abandoned cart emails. Remind them of the items they looked at, give them more details or suggestions, and give them rewards to get them to come back.
You can also establish your brand as an authoritative resource and keep visitors interested by providing helpful and educational content. This could be one of the reasons why visitors have gone through your website.
And the next time more visitors visits you, targeting them through email will surely help you convert more sales!
Increased Sales from People not ready to buy yet
Building trust, delivering value, and fostering relationships are the key components of a strategic approach to increasing sales from people who aren't yet ready to buy.
Luckily, email marketing was for this purpose.
Create a number of automated email campaigns that gradually introduce your leads to personalized and pertinent content. Prioritize developing relationships, answering queries, and highlighting the benefits of your goods or services.
As the relationship develops, gradually introduce your product information and promotional offers.
This will eventually increase your sales in the future once people begin trusting what you offer and how you can help them.
You may also offer worthwhile incentives, such as privileged access to content, savings, or cost-free resources, in exchange for email sign-ups. This enables you to gather leads that you can then nurture using email marketing campaigns.
With the help of your email campaigns, you can make customers feel how you value them and how you can help them to make wise purchasing decisions.
As you gain more leads, this will get you to have increased sales in the future with the proper implementation of an email marketing strategy.
Want to be up to date with Marketing?
Subscribe to Marketing Automation dedicated newsletter!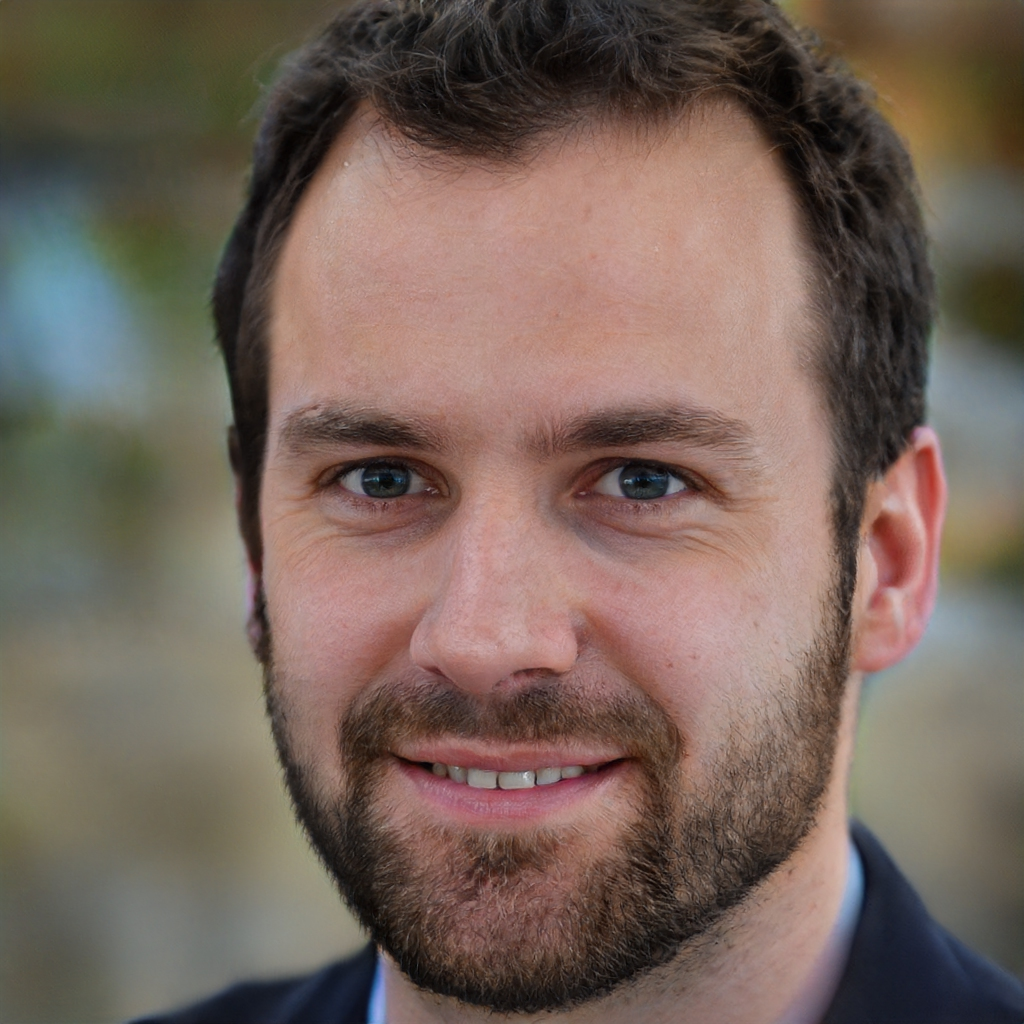 Stay connected with what's really important to optimize your digital revenues.
By clicking the button, you accept our Terms & Conditions. Also you will need to confirm your email address.
Steps For Writing An Effective Email For Your Outdoor Gear Store
Several crucial steps must be taken in order to write an effective email for your outdoor gear store. The following tips will assist you in writing persuading and exciting emails: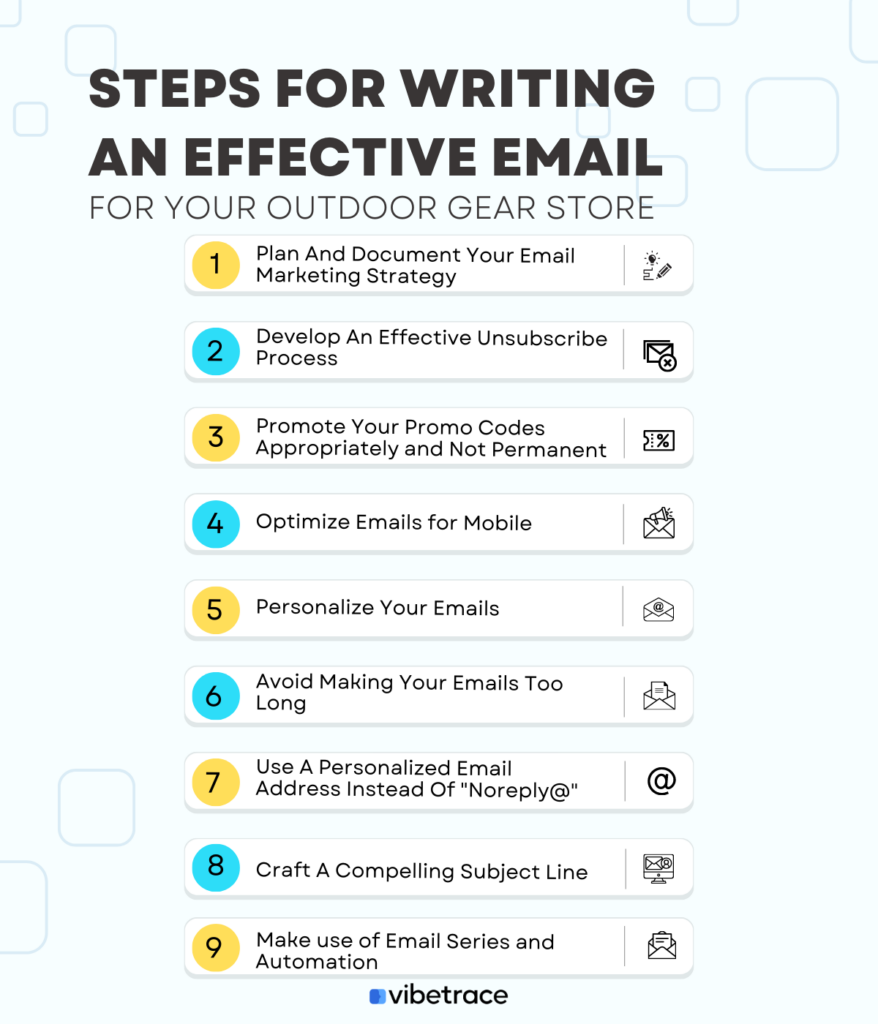 Your email marketing strategy needs to be planned and documented if you want to guarantee consistency, potency, and quantifiable results.
Begin by stating the objectives for your email marketing. These objectives may involve promoting new products, boosting website traffic, and increasing sales.
But always make sure that you recognize your target market and divide it into segments based on their demographics, interests, and purchasing patterns. This will help you tailor your email campaigns and send each segment relevant content that appeals to them.
Additionally, implement strategies to work on building and expanding your email list. Encourage visitors to subscribe by providing rewards like privileged access to discounts, insightful content, or competitions.
Other things you need to consider while planning is determining the types and frequency of the emails you will send and how the content of your email campaigns should be written.
Make sure your content reflects the voice of your brand and benefits your subscribers.
One key thing to remember is using automation will help you focus on email marketing. Set up automated birthday wishes, post-purchase follow-ups, welcome emails, and cart recovery emails. This will help you save time and spend less on marketing.
Develop An Effective Unsubscribe Process
Maintaining a good relationship with your subscribers and ensuring compliance with email marketing regulations require developing an efficient unsubscribe process.
Include an unsubscribe link in every email you send by making sure it is clear and visible. Put it in a visible place, like the footer or the bottom of the email. Make use of simple, direct words like "Unsubscribe" or "Opt-Out."
Make sure that subscribers can unsubscribe with just one click. Send recipients to a specific unsubscribe page where they can confirm their opt-out with a single click when they click the unsubscribe link. A user should not be required to log in or supply additional information in order to unsubscribe.
Instead of completely unsubscribing, present substitute options. Give users the option, for instance, to modify their email preferences or email frequency. Due to this, subscribers can tailor their email experience based on their preferences and interests.
Display a confirmation message after someone unsubscribes, thanking them for their prior participation and confirming their successful removal from your mailing list. This demonstrates respect for their choice and helps leave a good impression.
Review and analyze unsubscription data on a regular basis to spot trends and insights. Pay close attention to the justifications given by customers for unsubscribing, as this information can help you enhance the strategy and content of your email marketing campaigns.
Promote Your Promo Codes Appropriately and Not Permanent
Allowing different promo for different seasons and occupations. It will have a positive effect when you have a huge discount sale. Promos can be shared through various locations.
By presenting promo codes as time-limited offers, you can evoke a sense of urgency and exclusivity. To compel prompt responses from your customers, clearly state the promotion's duration or expiration date.
You may also segment your audience to target particular customer demographics with pertinent discount offers. This enables you to tailor your promotions based on aspects like past purchases, client loyalty, or particular interests.
Promote your promo codes by using your email marketing campaigns. Send targeted emails highlighting the promo code and its advantages to particular customer segments. To grab attention and encourage conversions, use clear subject lines and content.
Promo codes can be prominently displayed on your website by using banners or pop-up windows. By doing this, it is made sure that customers are aware of the current specials and are encouraged to benefit from the deals while they last. In order to prevent confusion, clearly state the terms and conditions of the promotional code.
Optimize Emails for Mobile
A large portion of your audience will be accessing their emails on smartphones and tablets, so it is essential to optimize your emails for these devices.
Ignoring mobile devices will have a huge impact on your sale.
Utilize responsive email templates that instantly adjust to various screen sizes. Your emails will look great and be simple to read on mobile devices as a result. To ensure consistent rendering, test your templates on various mobile devices and email clients.
Maintain a simple, clutter-free layout for your emails. Make use of a single-column layout that can fit smaller screens.
In addition to that, making your subject lines clear and attention-grabbing is important because mobile users will read them first.
In email previews, the preheader text can be seen next to or below the subject line. Make good use of this area to include extra details or a preview of your email's content.
Lastly, Make your call-to-action (CTA) buttons large and simple to tap on mobile screens by using this technique. Use bigger buttons with text that is clear and concise.
Personalize Your Emails
Email personalization consists of using appropriate data to let the user feel that emails are not general but made from them specificallly.
Collect useful customer information from a variety of touchpoints, including sign-up forms, purchase histories, preferences, and demographic data.
Names, locations, previous purchases, browsing patterns, and any other details that can help you customize your emails can be included in this data.
Divide your email list into distinct segments based on your audience's shared traits or behaviors. This may involve demographics, purchasing patterns, level of engagement, or interests. You can create more relevant and targeted email content by segmenting.
Demographic segmentation based on age, gender, and location.
Occasion segmentation based on different outdoor activities and individual needs.
Psychological segmentation based on attitude toward outdoor activities as well as lifestyle.
Behavioral segmentation based on the purchase habits, frequency and loyalty.
Income segmentation based on their spending power.
Brand loyalty segmentation identifying customers that are loyal to a particular product or brand.
Need help with Customer Segmentation?
Based on a powerful CDP, you will be able to segment customers on RFM status, CLV or many other elements for successful Marketing Segments.
Avoid Making Your Emails Too Long
Concise emails have a higher chance of getting their attention and keeping it.
People's attention spans are constrained, especially when it comes to reading emails. Long emails may be overwhelming for recipients and deter them from reading the whole thing.
Many email recipients scan messages rather than reading them word for word. It can be challenging to skim through long paragraphs or walls of text, which can cause crucial information to be missed.
Your recipients will find it simpler to quickly understand the main points if your emails are concise and well-structured.
Lengthy emails can muddle your main point and make it more difficult for readers to understand what you're trying to accomplish. You can make sure your message is clear, concise, and impactful by concentrating on the important details and being brief.
Clearly state the purpose of your email and concentrate on communicating it in an effective manner. Remove any information that is superfluous or off-topic and doesn't directly advance your main point.
Use bullet points and short paragraphs to convey information clearly. Use bullet points or numbered lists to divide your content into manageable chunks. This makes the email easier to read and makes it quicker for recipients to scan through it.
While visuals can improve your emails, don't overdo it with them by including too many pictures or graphics. Without unnecessarily making the email longer, strategically use visuals to enhance the text and engage readers.
Use A Personalized Email Address Instead Of "Noreply@"
Noreply emails are being taken as general emails.
A customized email address, such as "[email protected]" or "[email protected]," fosters a feeling of relationship and approachability. It demonstrates that there are people behind the emails, increasing the likelihood that recipients will interact with them and reply.
It will let the users trust that emails are from a single person in the company.
It also gives your email communications a professional feel. It strengthens the perception of your brand identity and lends credibility to your emails.
You can better manage customer relationships by using a personalized email address. Customers can link a personalized email address with a particular division or team within your company when they see it. This makes communication easier and guarantees that inquiries are sent to the right people.
You can better manage customer relationships by using a personalized email address. Customers can link a personalized email address with a particular division or team within your company when they see it.
This makes communication easier and guarantees that inquiries are sent to the right people.
Craft A Compelling Subject Line
For your email to be opened and to get the attention of your recipients, a catchy subject line is crucial.
Here are some pointers to assist you in coming up with a subject line that stands out.
Subject lines are the first thing in the emails that catch your attention. So better the subject line higher conversion rate and open rate.
Strive for a subject line that is succinct and direct. A succinct subject line ensures that it is fully visible and effective because the majority of email clients have a small display area.
Personalize by addressing recipients by name or making mention of their past interactions or preferences. Receivers are more likely to open emails with personalized subject lines because they convey relevance.
To instill a sense of urgency or FOMO (fear of missing out), use language that does so. "Limited Time Offer," "Ending Soon," or "Final Hours" are a few examples of phrases that can encourage recipients to open your email right away rather than waiting.
Create a feeling of exclusivity: Use subject lines that convey exclusivity to make recipients feel special. Words like "VIP Access," "Exclusive Invitation," or "Limited to our loyal customers" may encourage recipients to open the email because they will feel appreciated.
Be sincere and pertinent, and make sure the subject line of your email accurately summarizes its content. Unsatisfactory communications and a decline in trust can result from misleading subject lines. Assemble a subject line that is pertinent to both the email's recipient and its contents.
Make use of Email Series and Automation
Automation can be very beneficial for different email marketing series like the welcome series, and cart abandonment series.
Different series can be automated to improve productivity and cost savings. Automation can help you to reach the customer on a particular event triggered.
Here are the different series which can be very helpful to automate email marketing.
Introduce your brand, offer pertinent information, and forge a connection with new subscribers to your email list by setting up an automated welcome series.
To engage new subscribers right away, take advantage of this opportunity to highlight important products, share helpful resources, or provide special discounts.
Create an onboarding email series for clients who have just made a purchase to walk them through the post-purchase process.
Order confirmation, shipping updates, product usage advice, and follow-up emails can all be included in this to make sure customers are happy and promote repeat business.
Implement a targeted automated email campaign for customers who have abandoned their shopping carts.
Send a series of follow-up emails encouraging them to complete their purchase along with personalized offers or incentives. This series can boost conversion rates and help make up for lost sales.
Find customers or inactive subscribers who haven't opened your emails in a while. Avoid setting up triggered or transactional emails in response to particular behaviors or actions, like abandoned searches, wishlist additions, or product views.
To re-engage customers and increase conversions, send automated emails with personalized advice or reminders.
Create email series that are specific to different customer lifecycle stages, such as those of new customers, devoted customers, and customers who haven't made a purchase in a while.
Increase customer satisfaction and loyalty by using automation to send pertinent emails that nurture and retain customers at each stage.
You can streamline your email marketing efforts, deliver targeted and timely messages, foster customer relationships, and increase conversions for your outdoor equipment store by using email series and automation.
Copywriting Techniques To Increase Email Conversions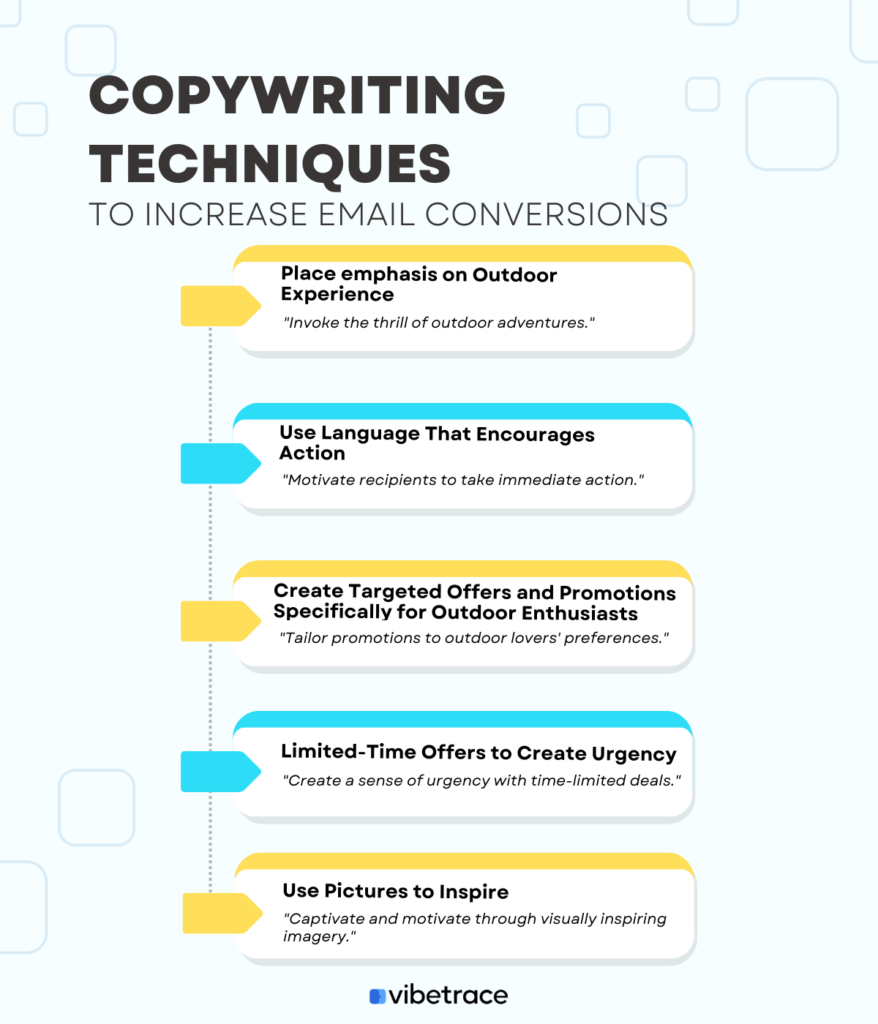 Only a few paragraphs here. Provide examples dedicated to outdoor shops.
Content is everything when it comes to email marketing or newsletter or blogs. You need to focus on different strategies to convert email marketing to revenue. Copywriting has the biggest role in order to generate sales or conversion or revenue.
Place emphasis on Outdoor Experience
Use Language That Encourages Action
Create Targeted Offers and Promotions Specifically for Outdoor Enthusiasts
Limited-Time Offers to Create Urgency
Use Pictures to Inspire
Outdoor Gear Brands Leveraging Digital Marketing For Brand Awareness
Patagonia
The North Face
REI
Arc'teryx
Backcountry
Conclusion
Creating emails could be a bit challenging. It requires a strategy and creativity to entice your subscribers otherwise you will end up throwing dollars into campaigns that don't work.
It is indeed true that email marketing is a great channel for a successful outdoor gear store business. So, keep note of everything you learned on how to create an effective email that converts people to customers.
Additionally, make sure that you use the right tool for automation to save your time and money. If you are still looking for one, Vibetrace could be the fitted software for your outdoor gear store.
Vibetrace's robust personalization and segmentation capabilities enable you to customize your marketing messages based on consumer preferences, behaviors, and purchase history.
Also, Vibetrace tracks customer behavior across a variety of touchpoints and channels, such as website visits, email correspondence, and social media activity.
The effectiveness of customer communication is maximized by using this data to automate personalized marketing campaigns, such as abandoned cart recovery, product recommendations, and customer re-engagement.
Vibetrace offers a variety of email marketing features that is worth for you to try!