Trying to persuade potential buyers to make a purchase can be difficult, especially if you are just starting out. Sending emails is easy, but sending newsletters with products included it's an art you will easily learn with us.
Building people's trust is not as simple as it appears; it takes the right tools, such as newsletters, to create an effective marketing strategy.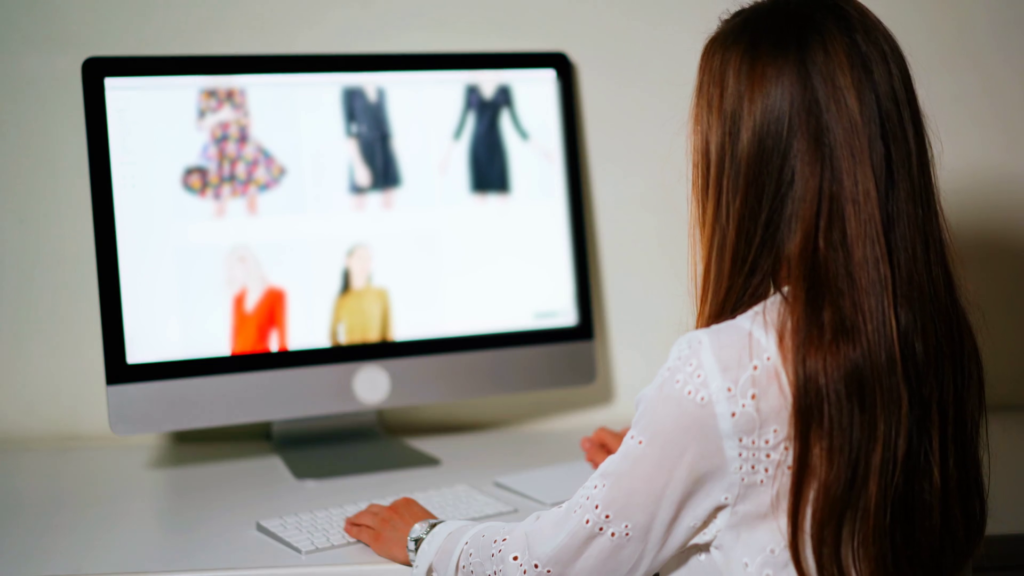 Newsletters are one of the best ways to deliver your message directly to your target customers' inboxes. This is ideal for reminding them of your existence, providing a limited discount, and demonstrating what you have to offer.
In fact, it can assist you in developing strong relationships with both current and potential customers. If you are an ecommerce business, adding products to your newsletters is a must! And you know it!


However, there are several things to keep in mind when sending out a newsletter. This post will cover all you need to know about newsletters that will be essential for your products and promotions to help you get started.
What are newsletters?
A newsletter is a marketing tactic used by businesses to communicate with subscribers, customers and potential leads through email. It can be sent manually or on a regular basis to share relevant and valuable information.

It enables a company to market items, offer discounts and promotions, communicate news and updates, curate content, and increase website traffic. In fact, newsletters as part of the marketing plan can help maintain customer trust and create relationships.
In reality, I'm 100% sure you have already received a newsletter, and it's, in some ways, an excellent way to be updated by your favorite brands.
What are product newsletters?
There are several types of Newsletters you can make depending on your business objectives. A Product Newsletter is one of them, a type of hybrid newsletter that offers important information while also advertising products.
It can either be a single-product newsletter featuring one product with its description or a multiple-product newsletter that includes several products in one category highlighting its effectiveness and competitive advantage.
If you've been following the brands you like, you'll notice that they've been trying to present you with the most relevant products they have to offer in their email newsletters in order to excite you with their upcoming products and to grow their sales.
In simple terms, businesses use product newsletters to promote their product or services to their email subscribers.
Here are a few examples of product newsletters from different businesses that offer product and services their newsletters:
Apple is one of the most famous brands based in the United States that specializes in consumer devices, software, and internet services. Additionally, Apple uses newsletters to give promotions on their different electronic products.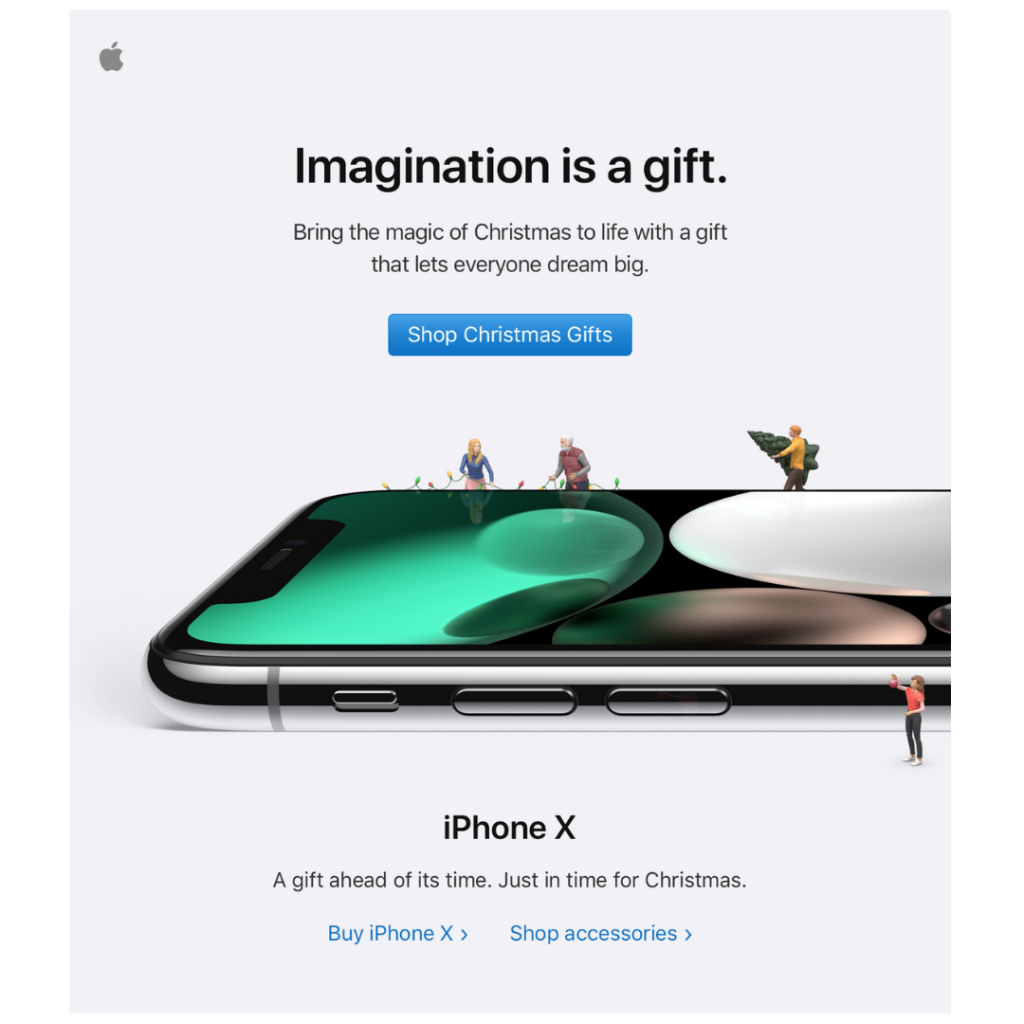 Bloomscape delivers healthy home and decorative plants to your door, as well as all the tools needed to keep and maintain the plants growing.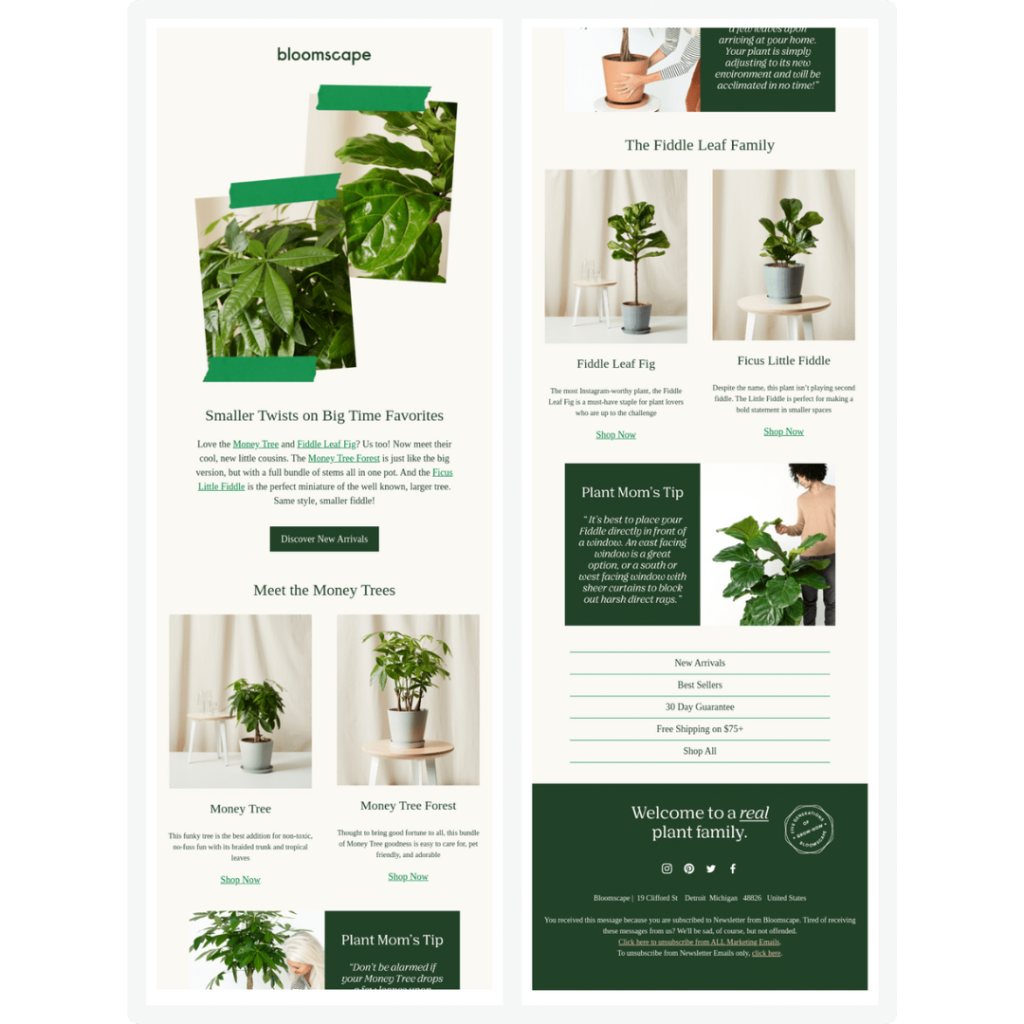 Mulligans Pharmacy is a business that sells drugs and other pharmaceutical supplies online. Mulligans uses their product newsletter to provide virtual help to their patients.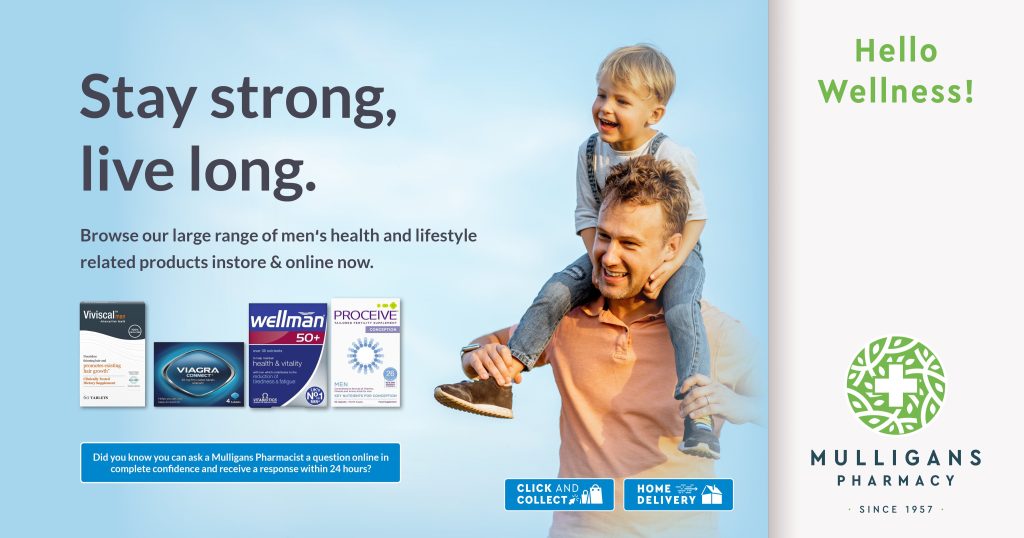 What kind of products to add?
If you completely grasp the significance of a product newsletter, you may be asking what type of product you should include in your email.
The first thing you must consider is the type of item you provide.
If you sell clothes, you should choose the most popular clothes or new arrivals in your store, and if you want to sell food, you should include your special menu or the food that most people order. You should also constantly include products with actual and high-quality photographs.
If you wanted to advertise a specific product with an exclusive discount, you might also include a photo of the product and a few descriptions to urge customers to buy, similar to the Fitbit email seen below.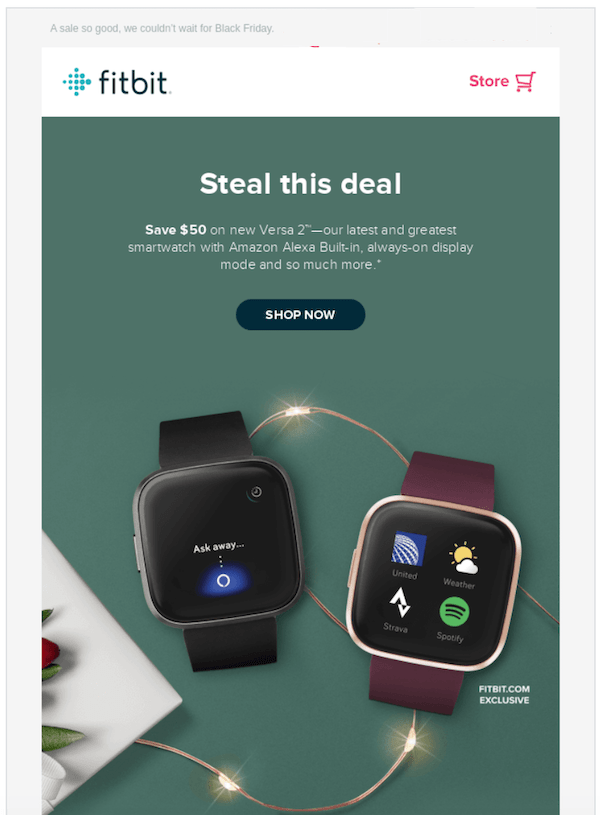 When and how often to send newsletters?
On average, twice a week is the most ideal frequency for sending email newsletters although you can also send once a month. According to an Email Research chart, 60% of email subscribers want to hear from brands once a week.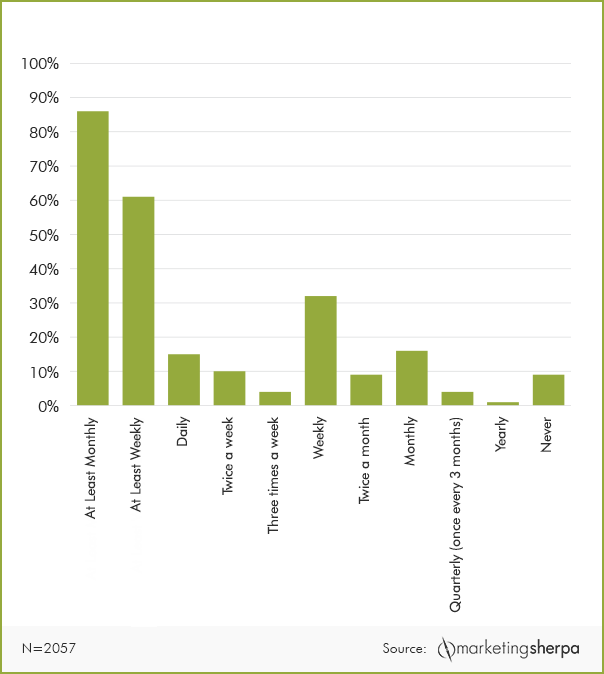 However, sending newsletters may also vary depending on the kind of business you offer. It can be daily, weekly, or monthly
If your company provides time-sensitive information, you must keep your subscribers updated on a daily basis. Stock market tips, cryptocurrency, news websites, e-learning lessons, and even software upgrades are some examples.
On the other hand, if your firm is a lifestyle company that provides health and fitness services as well as food options from your café and restaurant. People would rather hear a weekly update on your promotions and special offers.
Finally, if you offer a luxury brand and occasional services, you should limit your newsletters to at least once a month. You can also email during seasonal weeks to give your readers a preview of any promotions you have.
Do you like this article?
Join Mary and the Marketing Automation dedicated newsletter!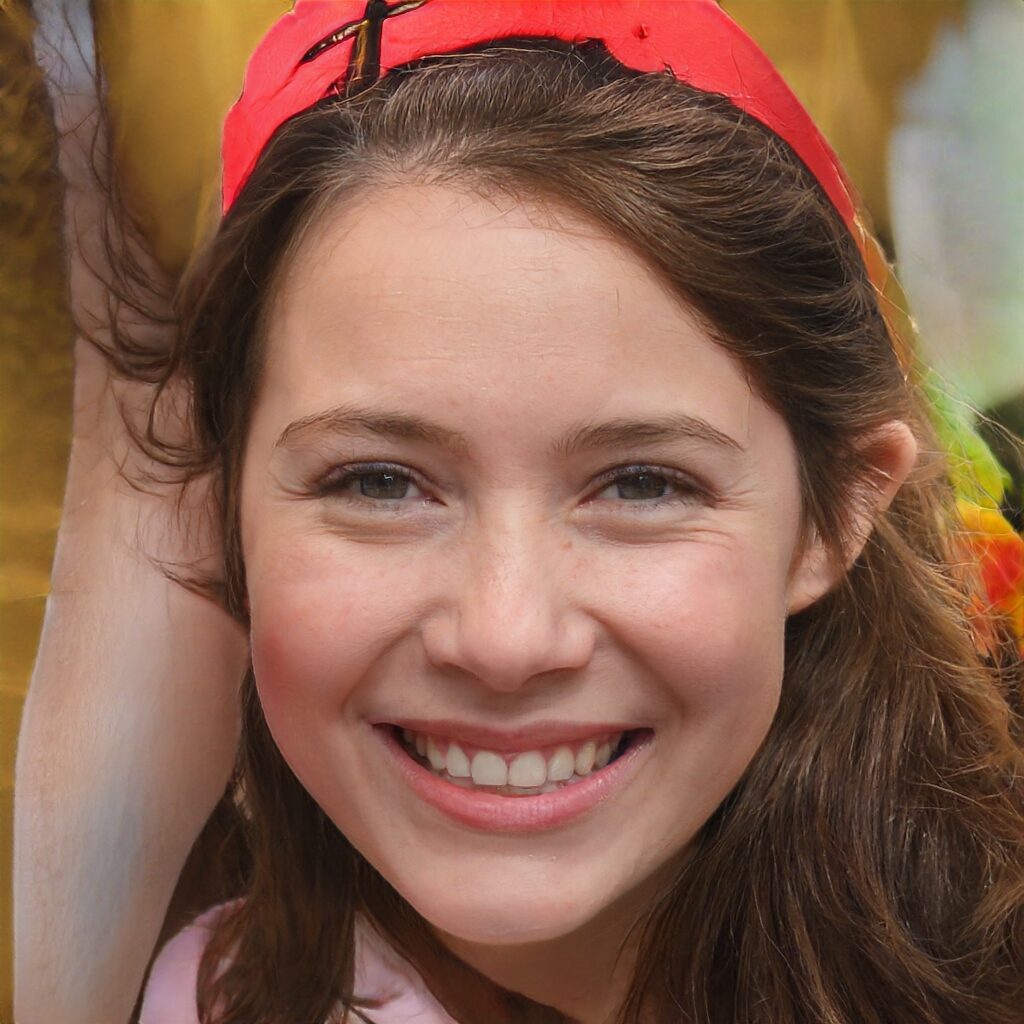 Stay connected to what's really important to optimize your digital revenues.
By clicking the button, you accept our Terms & Conditions. Also you will need to confirm your email address.
What should a newsletter include?
When composing a newsletter, there are various things to consider in order for it to be effective enough to help you increase conversions. Here are five essential elements of your newsletter: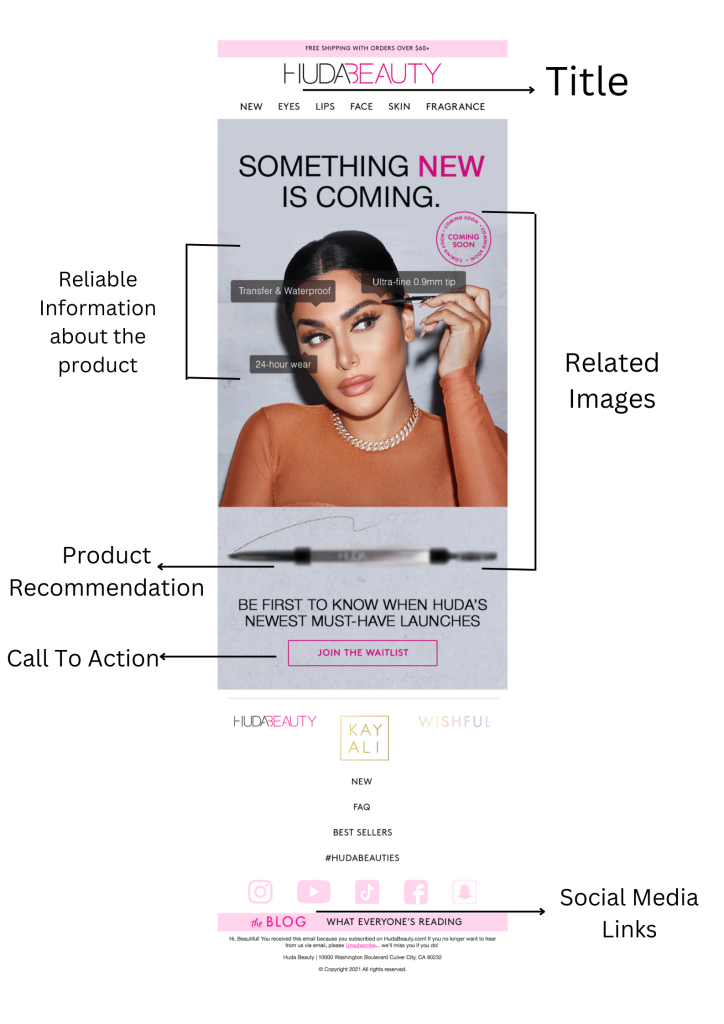 Direct Title
When creating a newsletter, you must think of a catchy title that is not too long for the email subscriber to read. Using the word "newsletter" alone is already a cliché and is commonly used, so come up with something creative to give your newsletter a personality and spice things up.
Interesting Images and High-quality graphics
Most people will not read your entire newsletter unless they find it interesting. This is why good images in your newsletter might help you attract attention. Just make sure that the images you use are relevant to the content of your newsletter.
Reliable and Engaging Information
The key to effective information and content is to use a traditional storytelling style or simply make the text more conversational so that readers feel valued. However, in order to hold your reader's attention, you must avoid lengthy content. In fact, you can also simply add descriptions of the products from your website.
Call to Action
This is an important part of your newsletter because it directs your readers to your website to avail discounts and promotions, or just allows them to view the most recent update on your website.
Product Recommendation
If your goal is to get clients to buy your goods, you should feature your best-selling items as well as new arrivals to increase your chances of making sales.
Social Media Links
Finally, keep people in touch with you, including all of your social media links on Facebook, Twitter, Instagram, LinkedIn, and so on. In the long term, this will help you involve more potential clients.
How to add products to newsletters?
Product blocks, which provide rapid access to the incorporation of items from your eCommerce website into your email product newsletters, can be used to add products to newsletters. You can easily drag and drop things into your content before customizing it with titles and images to create a great layout.
Here are some considerations when adding merchandising data to newsletters.
The first thing you should do is sell your own products using your email list. You can send subscribers-only special offers or discount coupons using your email list.
By including calls to action and providing subscribers' content, demos, and free samples, you may entice visitors back to your website.
Remember the "Value Value Value Pitch" concept when attempting to market your own products. It implies that you ought to provide three times as much value as your pitch.
Upselling is a sales strategy that encourages clients to purchase an add-on. You can send customized offers to your product newsletter readers as your email list expands.
Upsell emails typically perform significantly better because of their highly focused messaging and customized offers.
You must keep in mind that in order for your emails to be effective, they must first provide value.
List of algorithms that Vibetrace provides to use in your recommendation engine: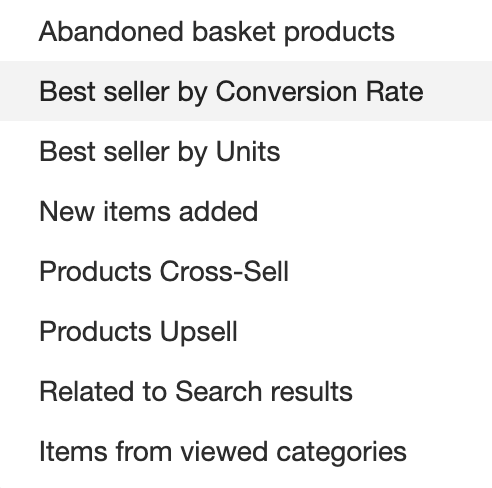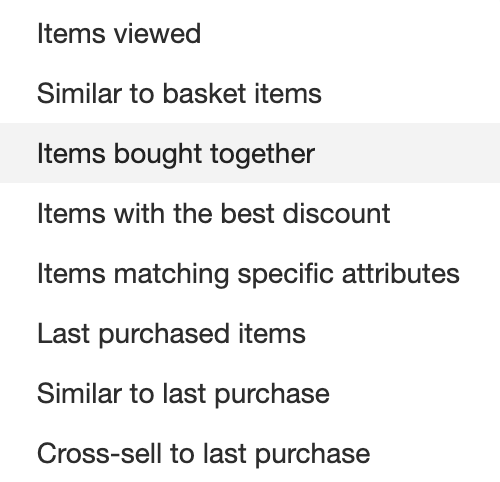 How to send newsletters with product recommendations?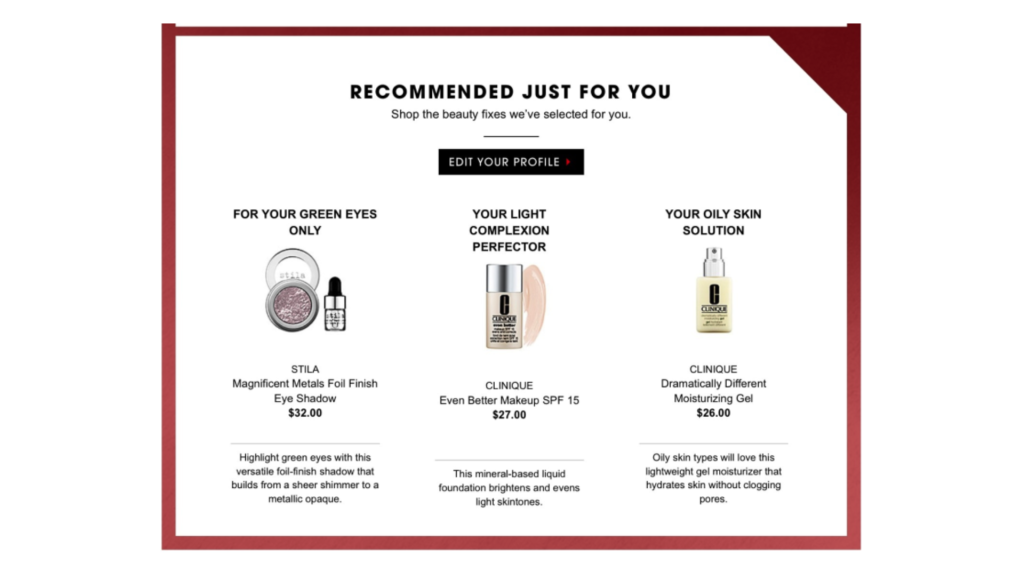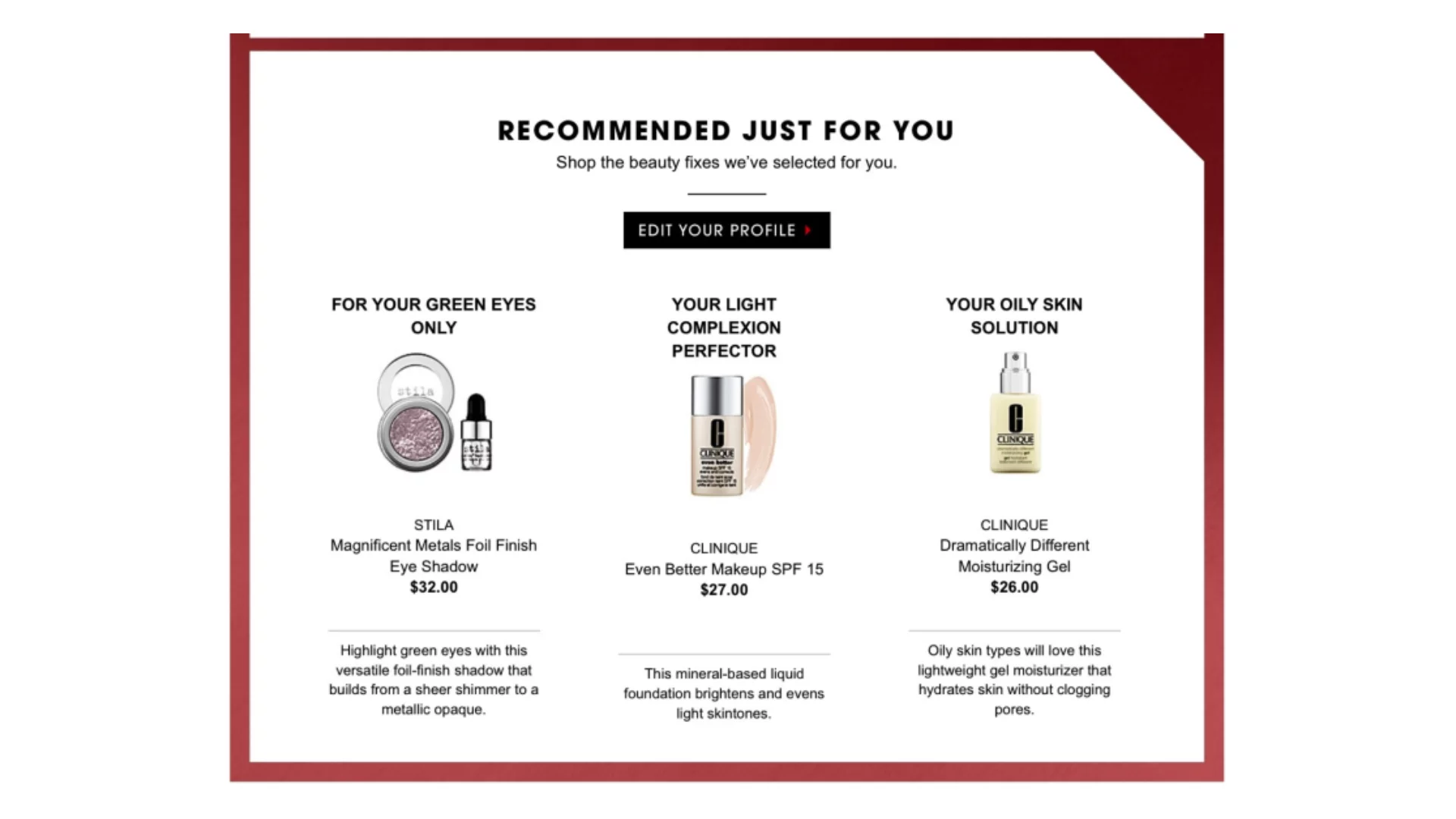 1. Make a list of personalized product recommendations
Vibetrace provides many email layouts and can assist you in automatically inserting the most appropriate product from your eCommerce site for your newsletter. You may, however, have the opportunity to select products on your own.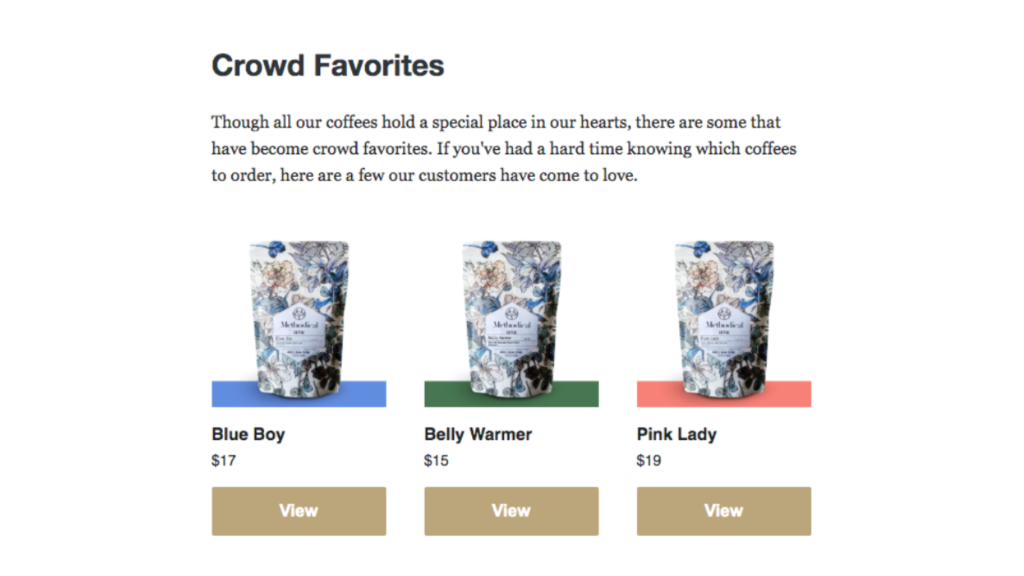 2. Showcase your store's most popular item
To add extra appeal, include the most popular thing you have, which is commonly referred to as a "best-selling item," so you can inform customers about which product most people loved.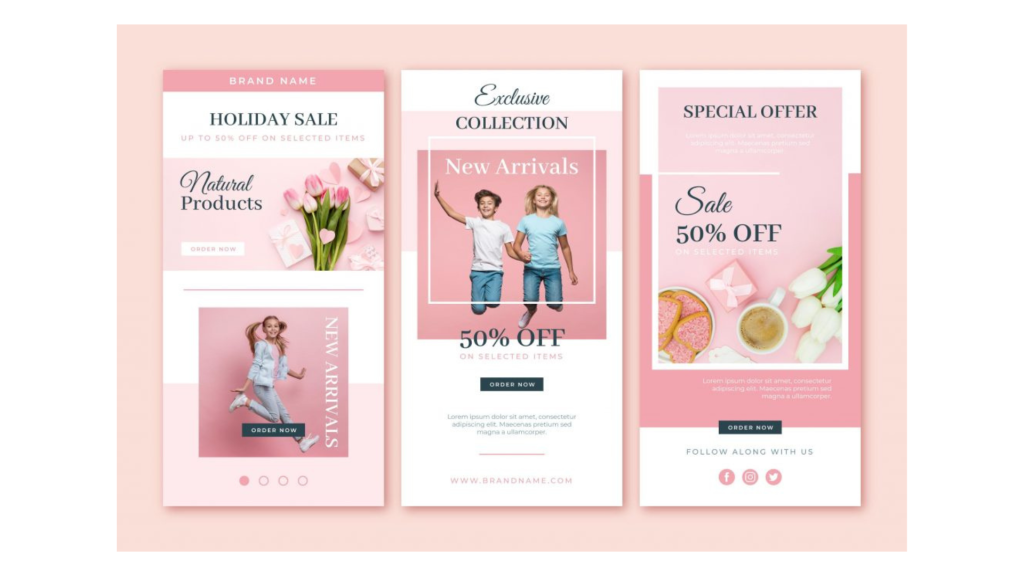 4. Keep your readers posted with the new arrivals
If you want to increase consumer engagement, provide them with an overview of your store's new arrival list to keep them updated.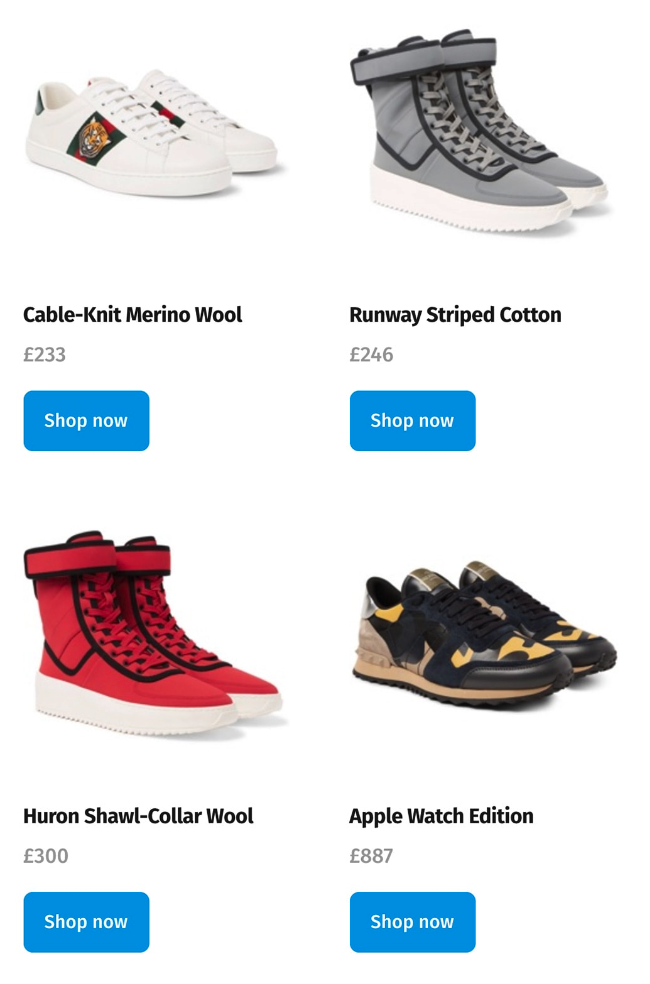 5. Show what similar shoppers have bought
People want to find out what similar shoppers like them have purchase.
How to automate newsletters with new products?
By categorizing your subscribers, you can design and test messages to their specific interests. Rather than manually segmenting subscribers or tagging them to lists, you can use Vibetrace customer data platform to start the segmentation party automatically.
For example, you may send a newsletter promoting your newly released products; in any case, you would want to distribute the content directly to those who are exclusively interested in your product for a higher probability of conversion.
At Vibetrace we've built a recommendation engine that works well both over email and onsite. So you can either embed a set of products on your website or within your website.
Add products in email:
Select a product recommendation block

2. Add products manually.
You have 2 options, either select the products manually or use the recommendation engine.
Selecting products manually. The system allows you to type any of the product titles you know and all data will be embedded within the specific location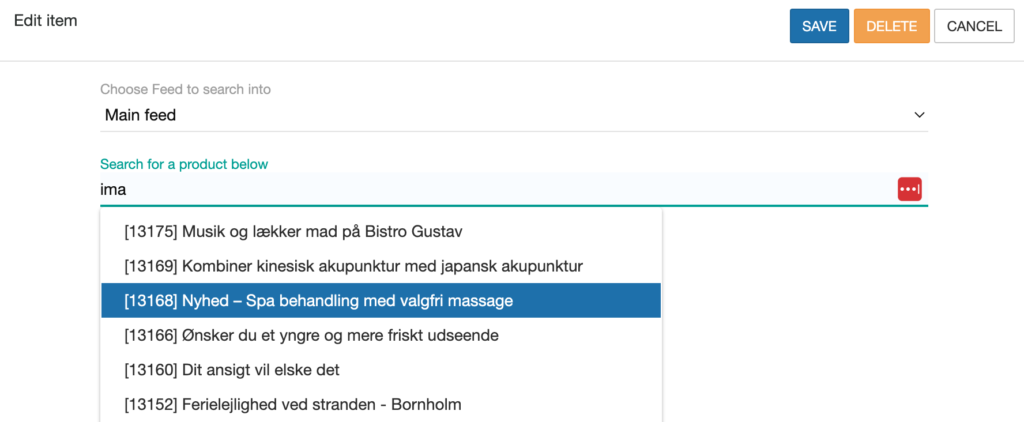 3. Add products automatically.
When you let our recommender engine use it's smart brain to choose products, you have many options available:
List of algorithms in cascade. So when one algorithm does not return results, it falls back to second one.
Include and exclude filters. You can take business decisions which categories to exclude for example
General options that are available: min stock, or increased discovery.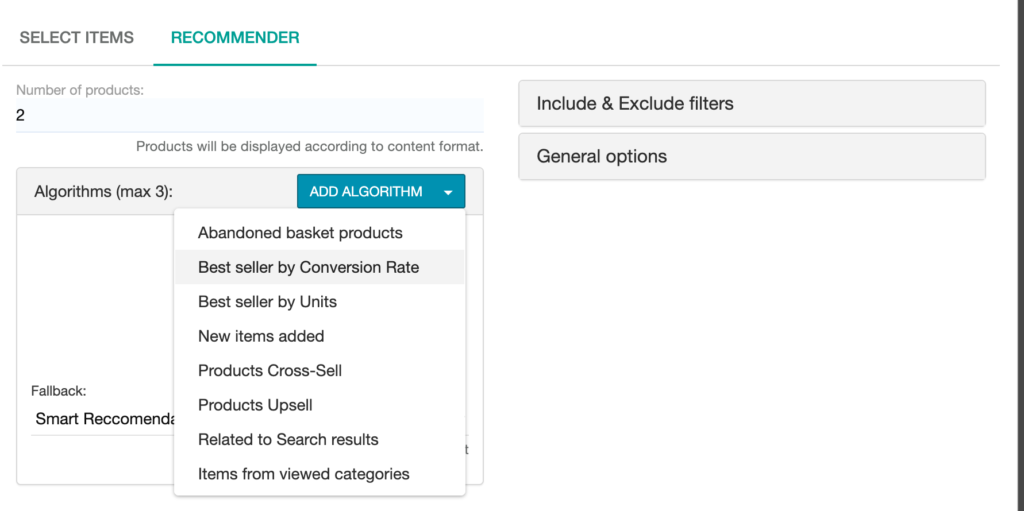 There are multiple options (almost unlimited) to use your catalogue data within your emails.
Select one of our templates and start sending immediately.