Have you ever struggled with thinking about your next designs? Well, maybe you need more ideas to level up your marketing campaigns!
Your marketing ideas can help you reach out to your target audience, attract new customers, and grow your brand. However, coming up with fresh and effective marketing ideas can be challenging, especially if you're feeling stuck or uninspired.
It might require deep focus to be creative enough to create a unique design that will also inspire others, especially for emails.
To improve email design in marketing campaigns, it can be helpful to consider the various components of email marketing such as content, design, and style. Seeking inspiration from other sources can help you generate new ideas and improve marketing efforts, rather than simply copying existing designs.
In this article, you will explore some of the websites where you can find marketing inspiration to help you come up with new and innovative marketing campaigns for your next emails.
What is a Marketing Inspiration?
The concepts, ideas, and tactics that inspire and direct marketing operations are referred to as "marketing inspiration." It can originate from a number of places, such as market trends, customer trends, and the triumphs and failures of rival businesses.
Marketing inspiration can influence the direction and emphasis of marketing efforts and inspire creativity and innovation in marketing initiatives. Research, industry events, and other marketing materials are just a few examples of places to look for marketing inspiration, which may play a significant role in the creation of successful marketing plans.
So, If you are starting to use email marketing for an e-commerce business, it may be helpful to focus on the content of the email, the unique style that represents the brand and to look for inspiration from various sources online. By considering these factors and finding inspiration, it can be possible to create effective and engaging email marketing campaigns.
Do you like this article?
Join Mary and the Marketing Automation dedicated newsletter!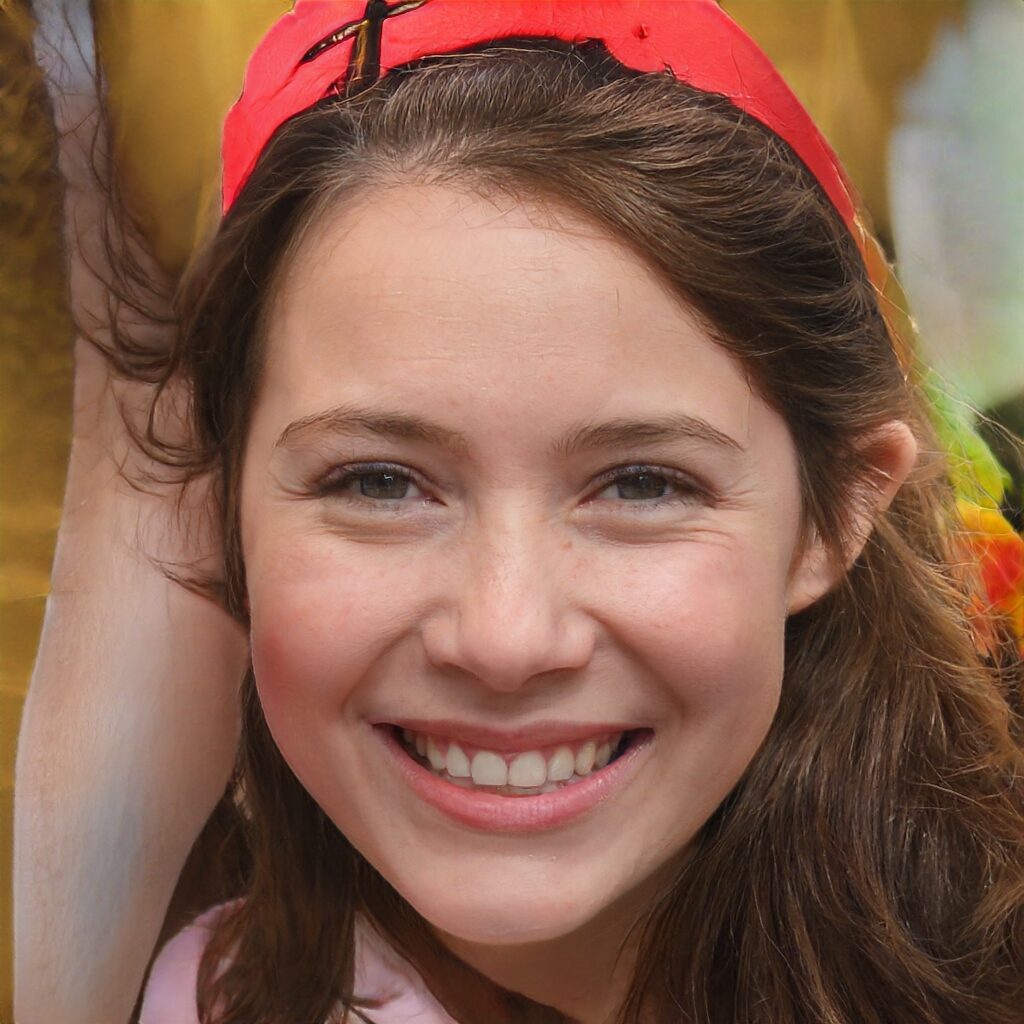 Stay connected to what's really important to optimize your digital revenues.
By clicking the button, you accept our Terms & Conditions. Also you will need to confirm your email address.
How to create an Ideal Email?
Specify the content
To create an effective email, it is important to first determine what content you will include. The content of your email is important because it helps attract customers and generate leads, which can ultimately lead to increased revenue.
Emphasize the style
To make your emails stand out, it's important to focus on the style of your brand. This includes things like your unique design, color palette, and logo. While it's not a good idea to copy someone else's email design, you can learn from their work and use it to improve your own brand's style and design. Make sure to keep your brand's style consistent in all of your emails.
Grab the top inspiration
To come up with new and creative ideas for your email marketing campaigns, it's important to seek inspiration from various sources. There are many online resources available that can help you generate new ideas and find inspiration for your email designs. It can be challenging to consistently create unique and original designs, so it may be helpful to create a mood board to aid in the idea generation process.
When you come across something that inspires you, try to determine what specifically about it caught your attention and how you can incorporate that into your own campaigns, rather than simply copying it outright.
Get Motivation and Turn Them Into Emails
Follow Industry Leaders
Find out what email marketing campaigns other successful companies in your industry are doing. You can borrow ideas from them while still making it unique to your brand.
Inspiration Galleries
There are many websites out there that compile email marketing examples for you to browse through and find inspiration. These galleries often have a variety of different categories to choose from, so you can find examples that match the type of campaign you want to create.
Create Mood Board
Use a visual tool like Pinterest or Trello to create a mood board of design elements and ideas that inspire you. This can help you brainstorm and come up with unique designs for your email campaigns.
Design Tools
There are many design tools out there that can help you create professional-looking emails quickly and easily. These tools often come with templates and design elements that you can use to create visually appealing emails that stand out.
Where You Can Find Marketing Inspiration?
Your own inbox
By subscribing to emails from various brands and businesses, you can gain inspiration for your own email campaigns and see how others have achieved certain effects or made decisions about timing. It's helpful to sign up for newsletters from a wide range of industries and sources, and some good examples to consider are Todoist, Thinx, and YNAB.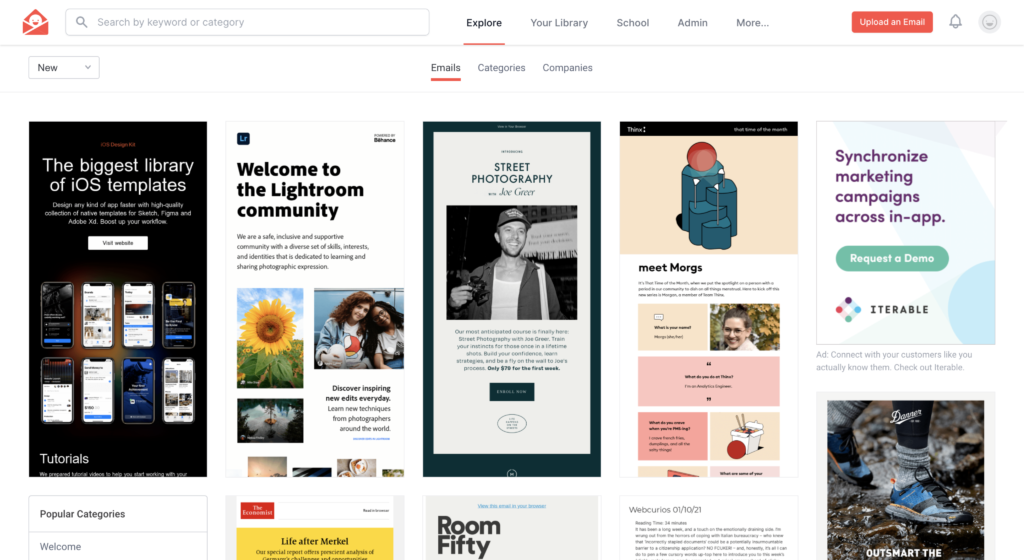 Really Good Emails is a website that curates and showcases examples of effective email design and marketing campaigns. The website features a variety of emails from different industries and organizations, and includes categories such as newsletters, promotional emails, abandoned cart emails, and more.
You can browse through the emails to get inspiration for your own campaigns, and can also use the site's search function to find emails on specific topics or from specific brands. The website also includes a blog with articles and tips on email marketing and design.
Overall, Really Good Emails is a useful resource for anyone looking for ideas and best practices for creating effective email campaigns.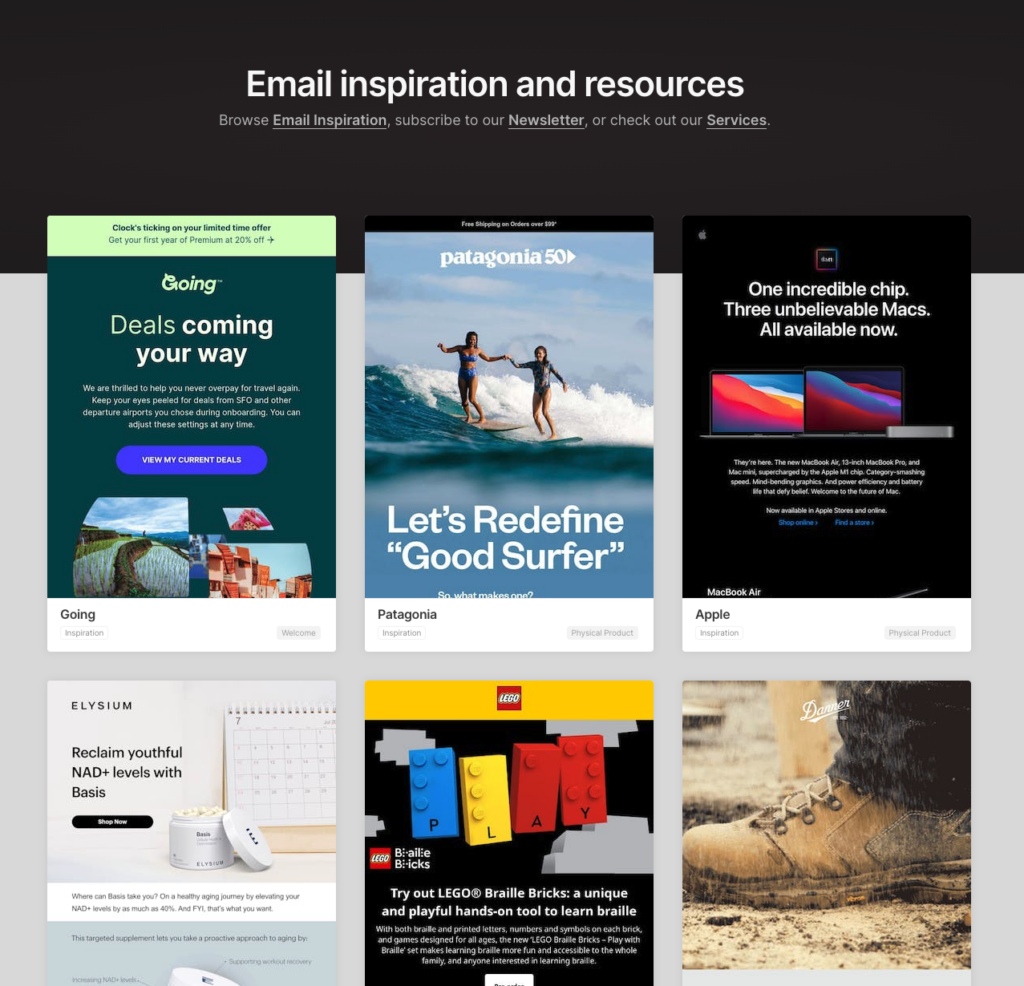 Email Love is an inspiration gallery, blog, newsletter, and agency focused on one thing – Helping marketers elevate their email marketing. It's founded by Andy and you can find his articles on Chief Marketer, Econsultancy, and MarTech. Follow on Twitter for updates on all things email.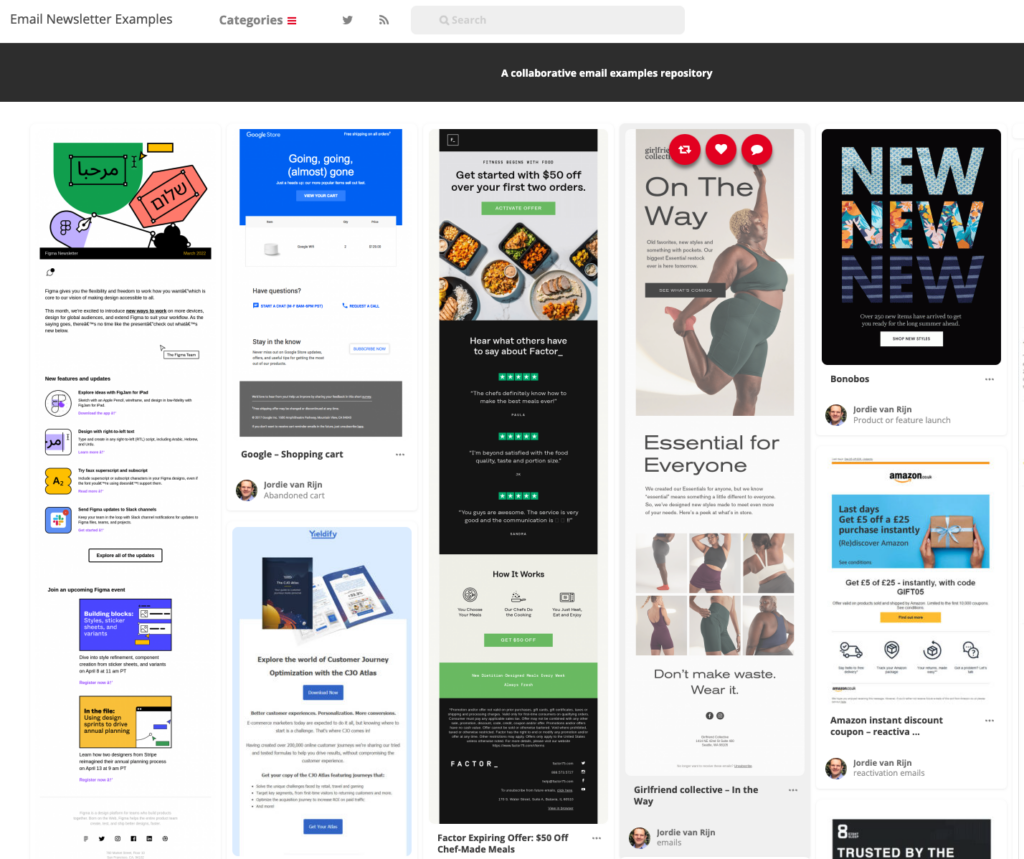 Very little information you can find about EmailNewsletterExamples. Althrough it's a great website with an impressive email collection.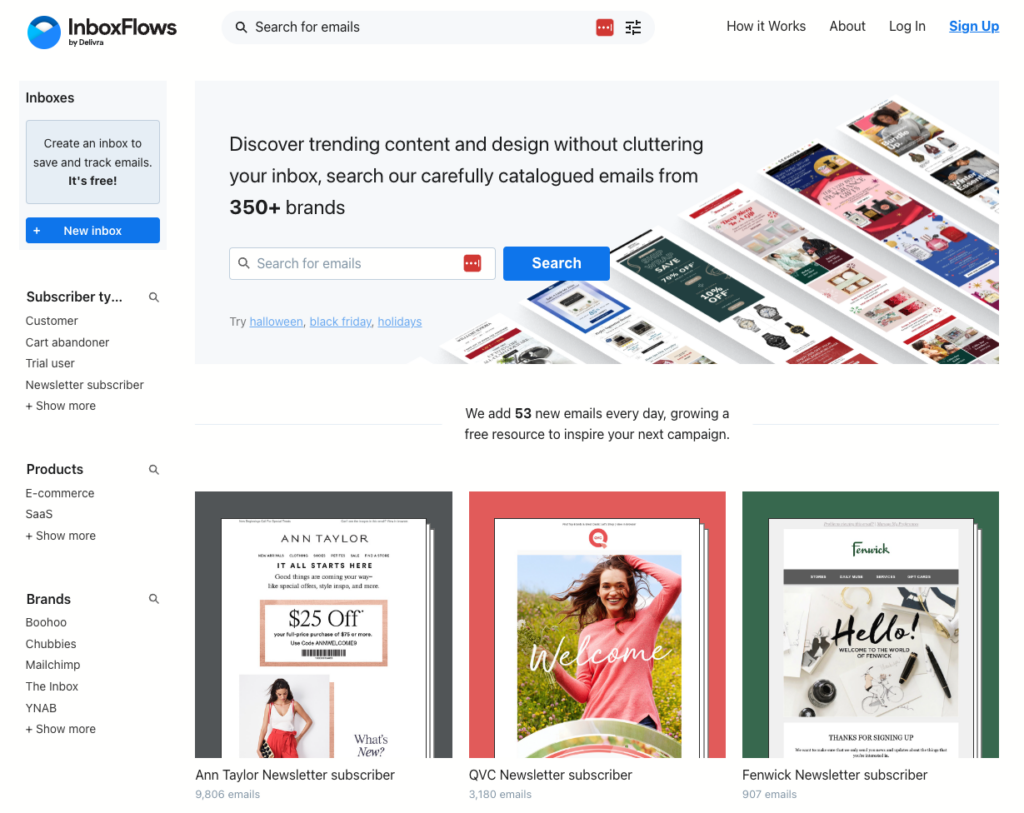 InboxFlows is powered by delivra and you can discover trending content and design without cluttering your inbox, search our carefully catalogued emails from 350+ brands.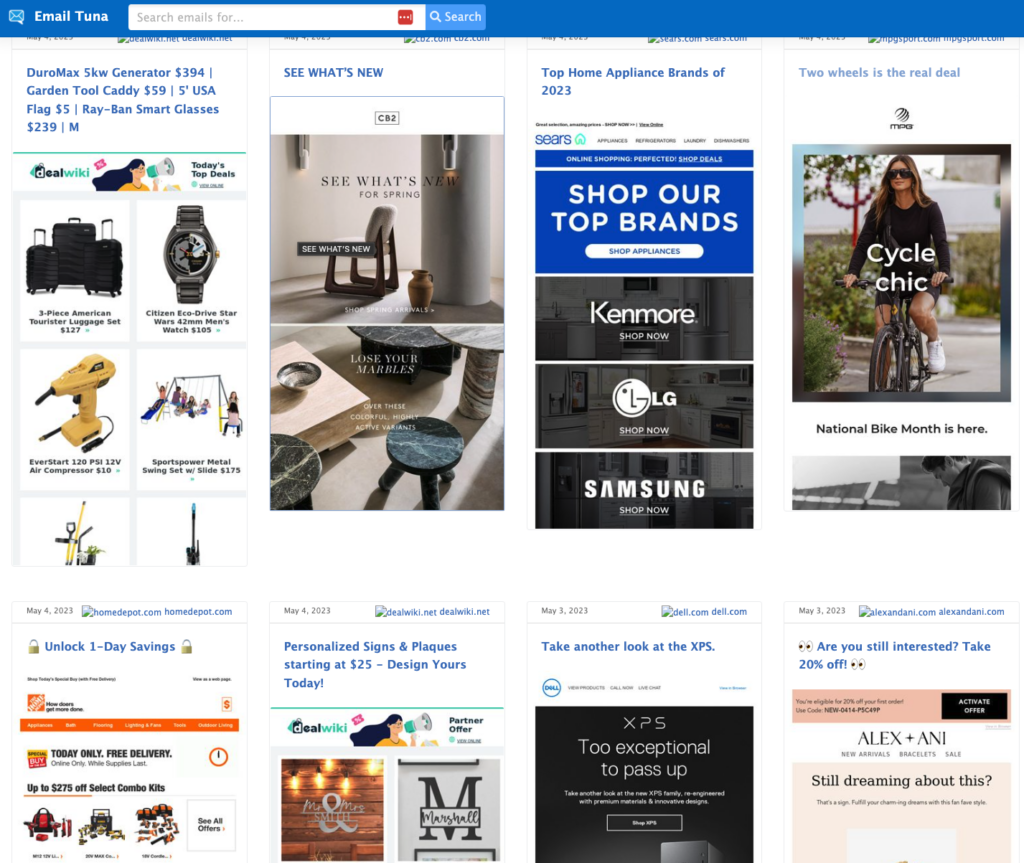 EmailTuna seems not to be managed anymore, but you can still browse through the old emails that are still present.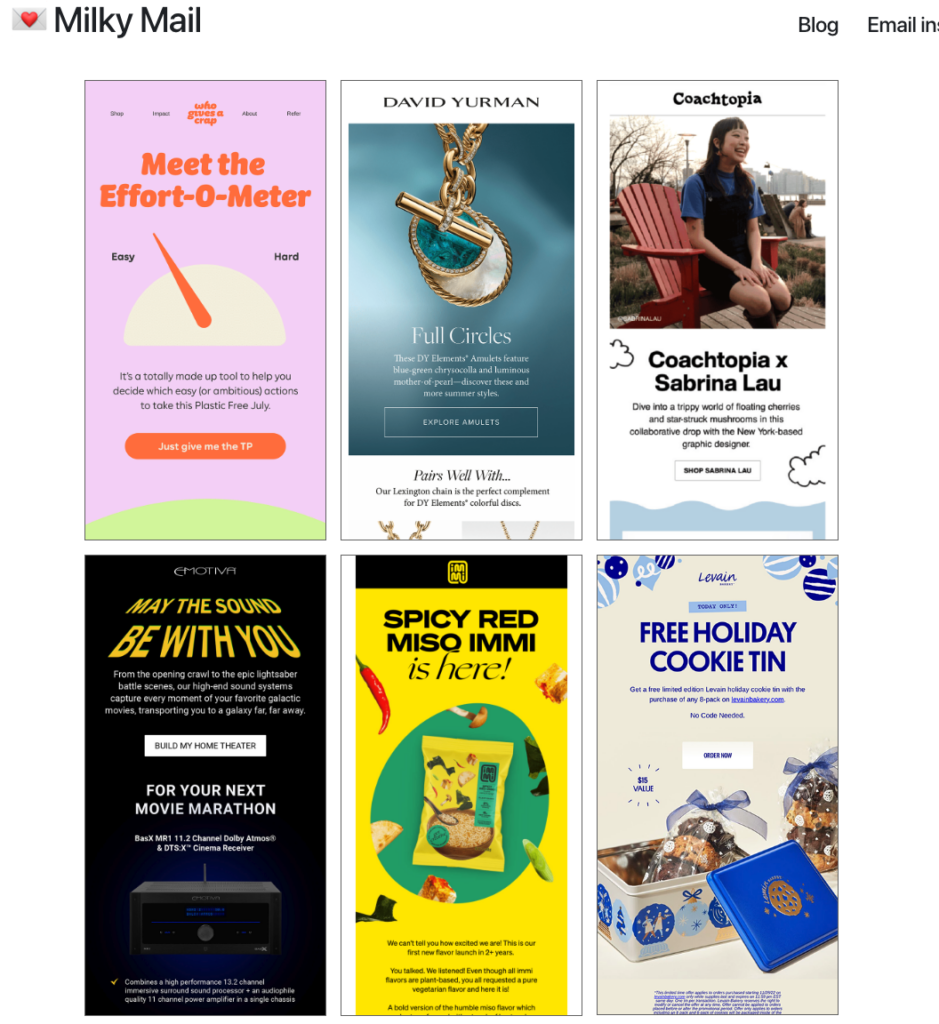 Milkyway Co is powered by a guy named Steve. You can also follow his blog on the same website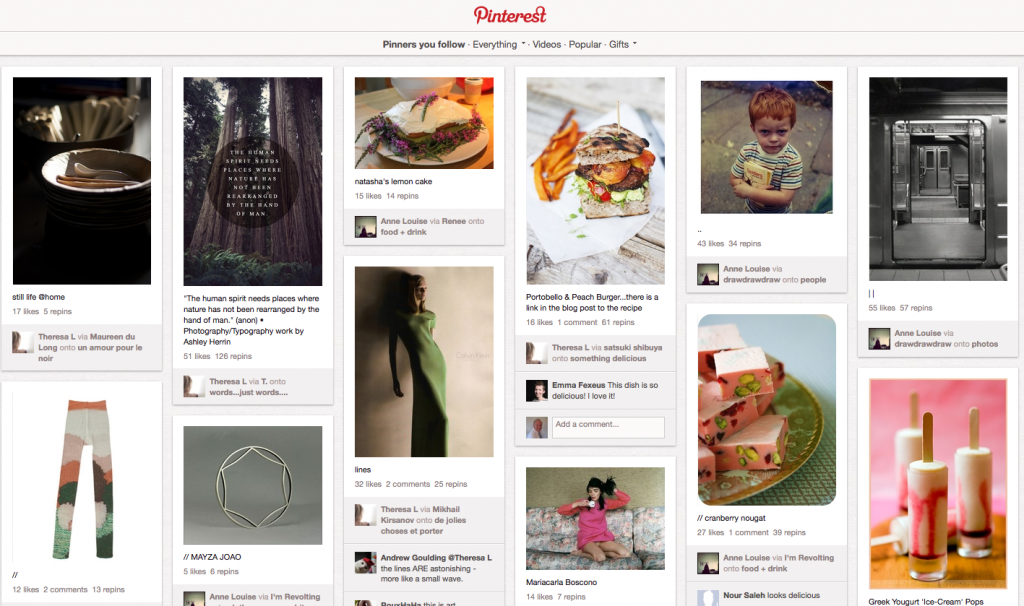 Pinterest features a range of boards and pins connected to various kinds of email campaigns, making it a valuable site for getting inspiration for email design. You can find a multitude of suggestions and examples from other people and companies by looking up keywords like "email design" or certain types of campaigns.
Additionally, you can make your own boards to share with others the email copy and designs you prefer. Like the Email Design Pinterest account referenced in the original paragraph, which contains hundreds of email designs arranged by campaign type, many businesses and individuals also have accounts especially dedicated to serving as sources of inspiration for email design.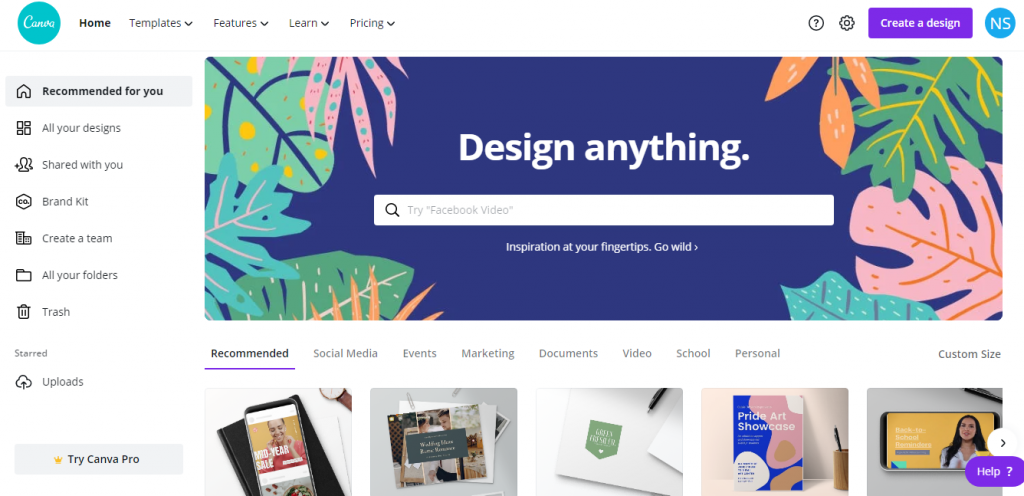 Canva's Design School is a resource that offers daily inspiration and guidance for design, including tips and tutorials. It is particularly useful for email marketers, as it includes a selection of favorite email designs and a wealth of information on design, branding, and integrating design into marketing campaigns.
The blog covers a range of topics related to design, including color, image, and pattern inspiration. Overall, Canva's Design School is a comprehensive resource for anyone seeking inspiration and information on design for email marketing and other purposes.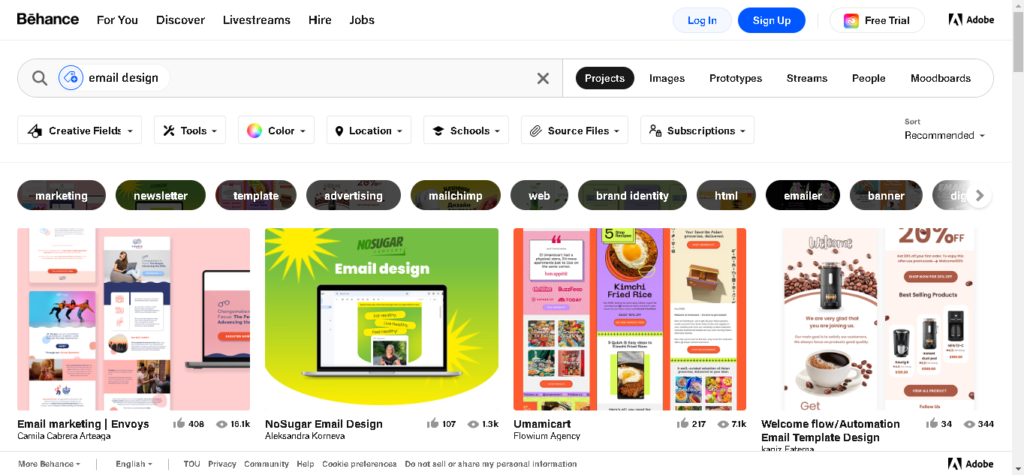 Behance is a platform that allows users to search and discover design inspiration by browsing through thousands of online portfolios organized into various categories. These categories include graphic design, branding, and more, and users can narrow down their search using tags, colors, and the tools used to create the artwork.
Behance's interface also includes options to filter results by specific projects or contributors, and by country, which allows users to discover unique and local design work. Overall, Behance is a valuable resource for anyone looking for inspiration and ideas for their own design projects. Behance helps all designers to come under one roof and share ideas and thoughts. Nothing could be better for getting more inspiration.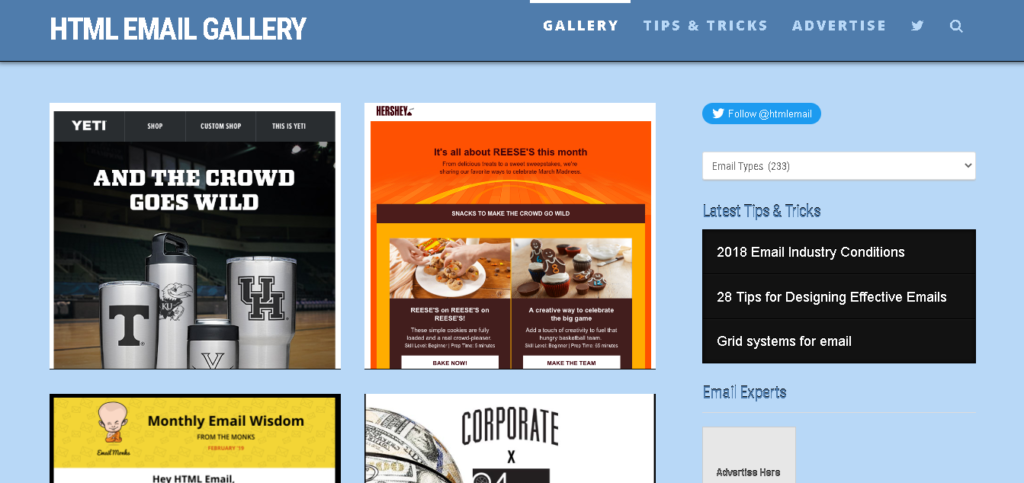 HTML Email Gallery is a website that offers a collection of email design ideas and templates organized by category, including season, event, product type, and color. The site is updated with the latest industry trends and also includes a Tips & Tricks section with links to helpful blog posts on email design from other sources.
It offers a large selection of email templates and building blocks, with over 200 templates and thousands of pre-designed blocks. They are currently seeking beta testers to help shape their product, which is focused on improving the user experience. Both HTML Email Gallery and Chamaileon are useful resources for finding inspiration and ideas for creating effective email campaigns.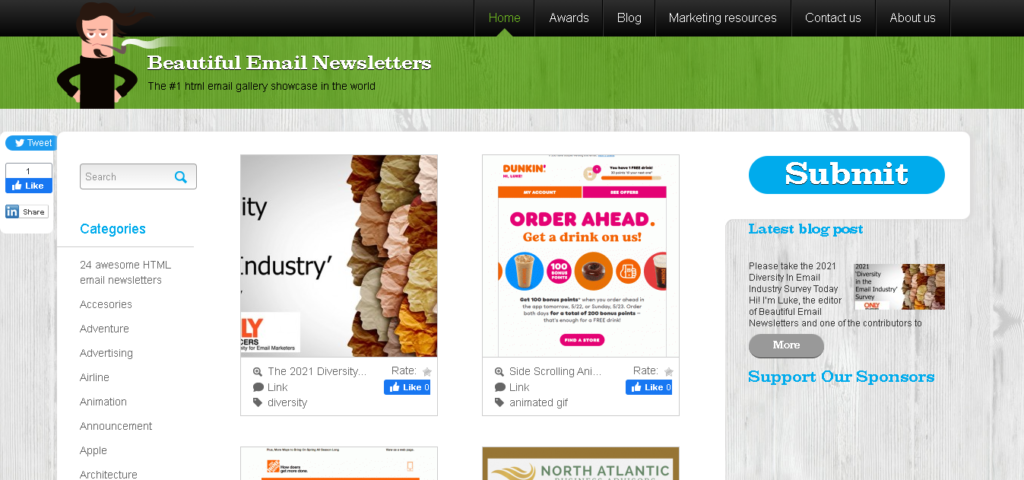 Beautiful Email Newsletters is a website that offers a variety of email design ideas organized into over 60 categories, including environment, jewelry, finance, and emails with images that are disabled by default.
By subscribing to their newsletter, you can receive daily updates with new examples of inspiring email campaigns. This resource is helpful for finding ideas and inspiration for your own email campaigns, and the wide range of categories ensures that you will find something relevant to your industry or needs.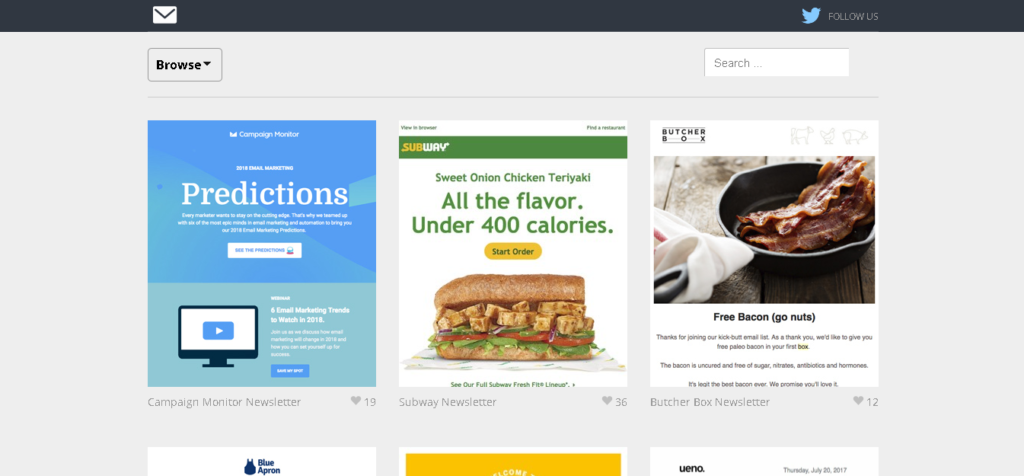 Email Gallery is a resource for email marketers that collects and showcases email newsletters from various sources to provide inspiration. It stands out because it allows users to search for emails by specific features, such as the number of columns, industry, and color.
The website also has a "Browse" menu that allows users to filter results by type of business, color, and other criteria, and features the latest email designs. Email Gallery is a helpful resource for finding design ideas and templates for your email campaigns.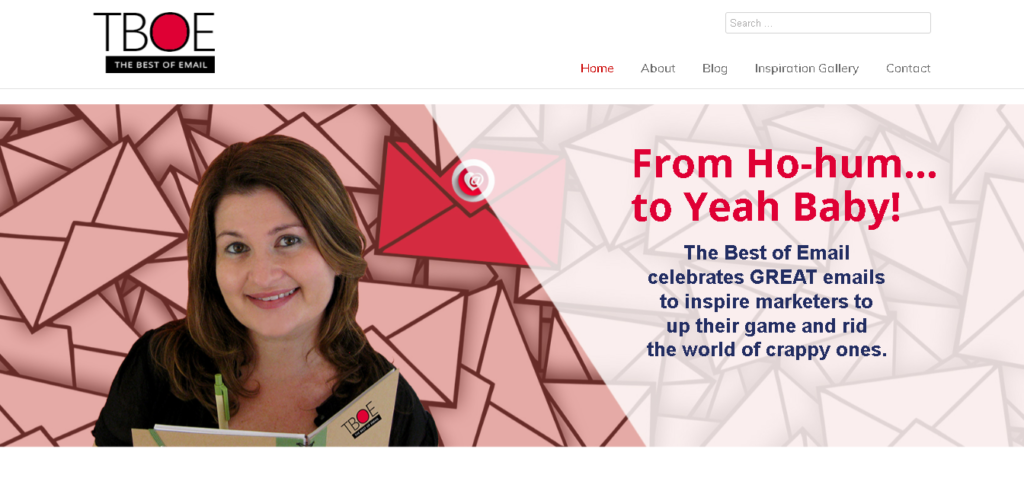 The Best of Email offers a range of resources for email design and marketing inspiration, including an Inspiration Gallery with over 20 categories of email examples, such as welcome emails, emails with GIFs, and emails optimized for mobile.
The website's blog also features posts on topics like email design, segmentation, and list growth and management. Although the website has not been updated as frequently in recent times, it still contains a wealth of useful resources and ideas for e-commerce email campaigns.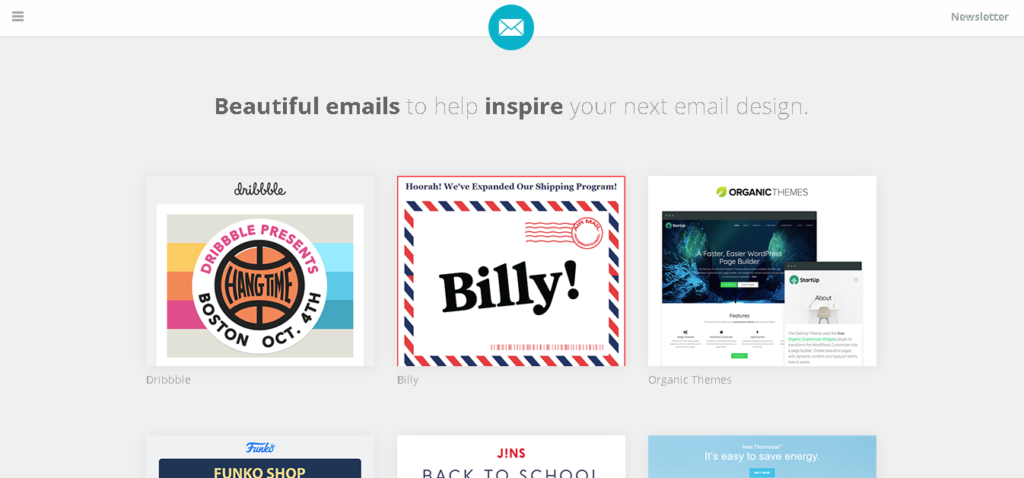 HTML Email Designs offers a collection of email designs organized by the sending company. While it does not have a search feature, users can browse through the many designs on the site to find inspiration for their own campaigns.
The website also allows users to submit their own designs to the gallery, contributing to the diversity of the collection. Overall, HTML Email Designs is a useful resource for finding ideas and inspiration for email design.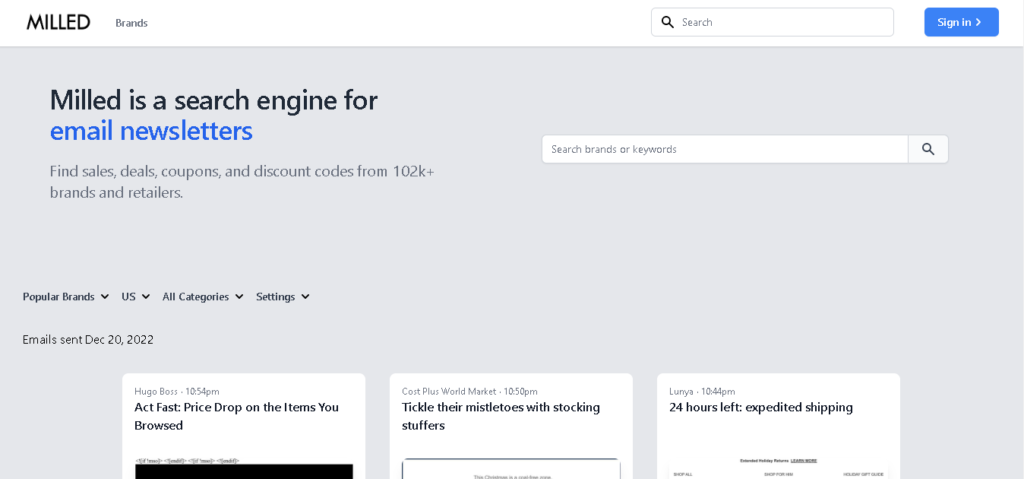 Milled is a search engine that allows users to browse and discover email newsletters from retailers and brands offering sales, deals, coupons, and discounts. There are many other online resources available for finding email design inspiration, such as using Google's Image Search to search for email templates or accessing a collection of 900+ free responsive email templates mentioned in the original text.
Users can also sign up to receive notifications when new content is released on the topic. Overall, there are various options available for finding ideas and inspiration for email design, and it is worth exploring a range of sources too.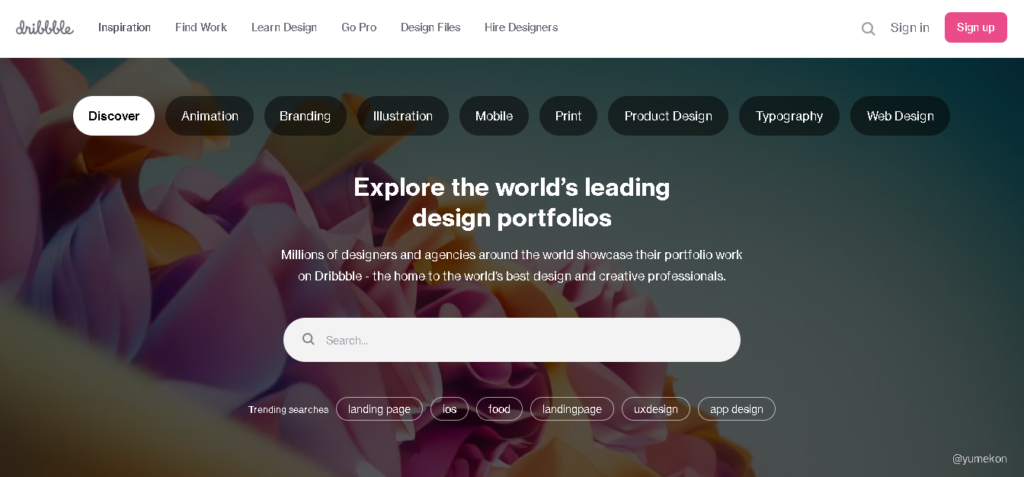 Dribbble is a platform that brings together thousands of designers from around the world who share their artwork, including email newsletter designs. It can be a valuable source of inspiration for email designers, as well as web, UX, and UI designers.
Many people, such as Lily in the original text, use Dribbble as a go-to resource for finding inspiration for all kinds of design projects. Overall, Dribbble is a useful platform for discovering new ideas and approaches to email design.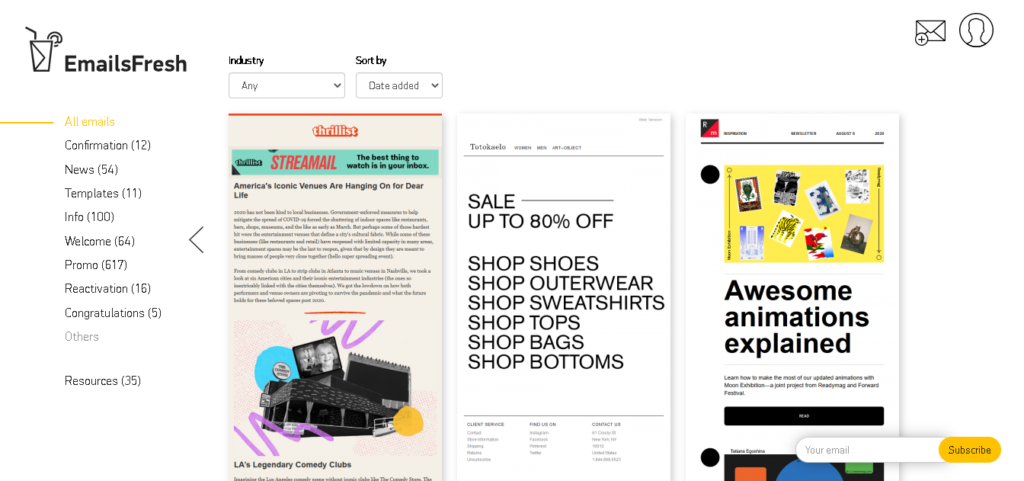 EmailsFresh offers a range of examples of different types of e-commerce emails, including transactional emails (such as welcome emails and confirmation emails), newsletters, and informational emails. The website's search function allows users to filter by industry, enabling them to see how other stores in similar markets are approaching their email marketing.
EmailsFresh also offers the ability to sort emails by rating, so users can find inspiration from the most popular and successful emails on the site. Overall, EmailsFresh is a useful resource for finding ideas and inspiration for various types of e-commerce emails.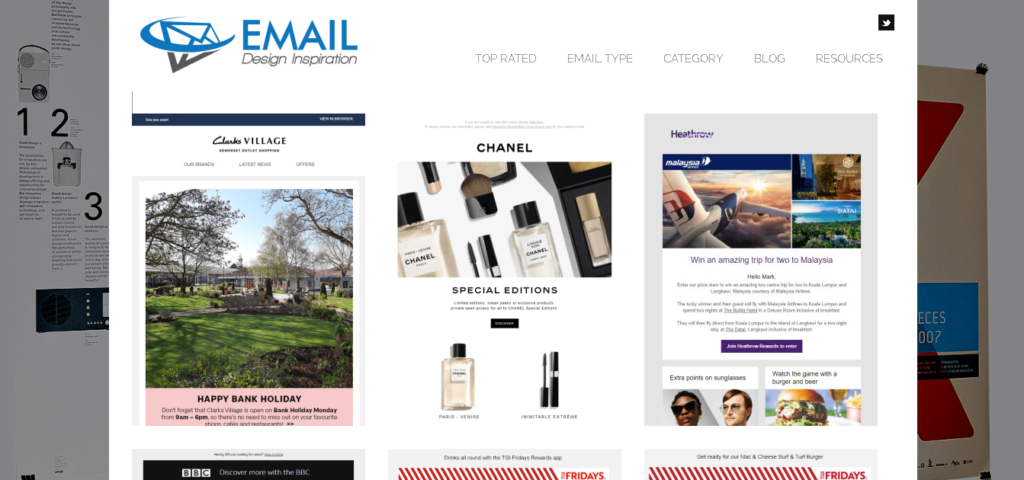 Email Design Inspiration is a website that offers a range of examples of great email designs, as well as a blog with helpful tips and information for email marketers. The website's email gallery does not offer a search or filter function, but users can sort the emails by ratings based on star reviews left by users.
The blog section of the website contains posts with useful advice and insights on various aspects of email marketing, including design and content strategies, testing and optimization, and analytics and reporting.
Whether you are looking for ideas for your next email campaign or seeking to improve your existing campaigns, Email Design Inspiration can be a valuable resource.
Need help with your Email Marketing?
We offer managed services from strategy, to implementation and tracking. Usually getting a 15-25% increase in results. Let's see how we can help you!
Key Takeaway
There are many websites and online resources available that can provide you with marketing inspiration.
By keeping an eye on these resources and staying up-to-date with the latest marketing trends and techniques, you can come up with creative and effective marketing campaigns for your business.
Additionally, don't be afraid to think outside the box and try new things – sometimes the most successful marketing campaigns come from unexpected sources of inspiration.