With 36% ROI, email marketing continues to be one of the best channels for business communication with clients.
66% of businesses currently use email marketing. (Do you?)
3 out of 4 small businesses would like to purchase marketing automation software during the nearest time (Will it be you who provides it?)
59% of marketers proclaimed email marketing as a channel with the highest ROI. (Are you one of them?)
That's why businesses, especially digital agencies, are so partial to white label email marketing platforms. However, it is not a secret that they save your time, budget and increase client loyalty.
So, how do you choose one of the best white label email marketing solutions?
Are you a Digital Agency?
Read this guide to find out how white label email marketing can work within your business.
What is a white label email marketing solution?
White label email marketing benefits.
Possible disadvantages of the wrong white label email provider choice.
Features to check when choosing a white label email marketing software.
Best white label email marketing automation tools.
What is a Whitelabel Email Marketing Solution?
To answer it first, we should understand what a white label solution is.
It refers to a product, service, or application that has been fully created and developed by one company but branded by another business. In this regard, the manufacturer makes use of the purchaser or marketer's branding on products or services that have been developed by it.
For example, a Chinese factory develops sportswear. Some US blogger desires to launch their merch. So he makes an order from this Chinese factory, and they put this blogger logo on sportswear. The result? The factory has money, blogger — money, and customer loyalty. There is no need to worry about the development process, employee salary, fabric supply, etc.
The same thing with white label email marketing.
White label email marketing definition implies an email marketing software or service branded by the company that uses it for marketing and advertising purposes.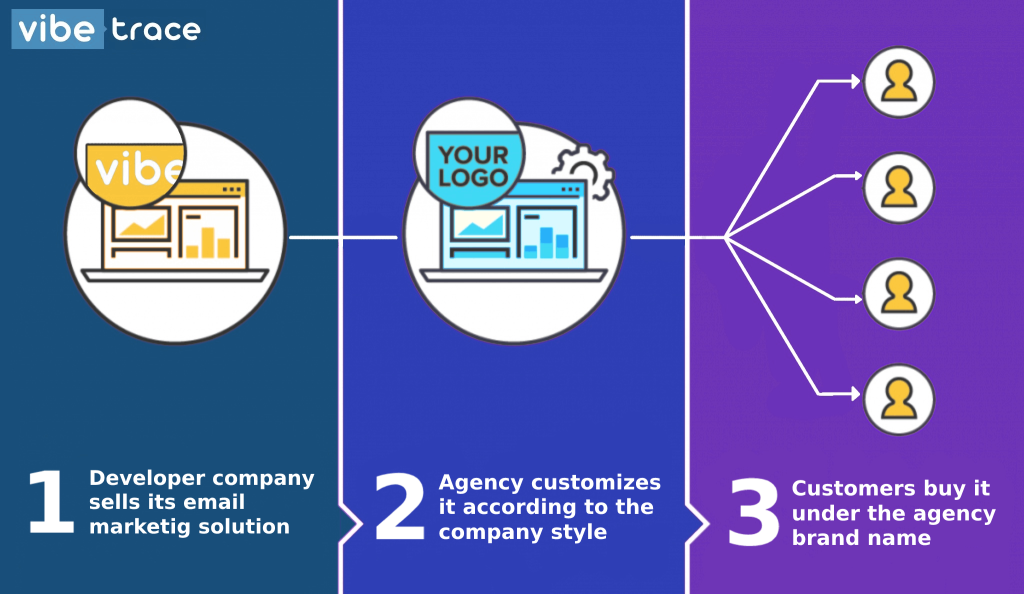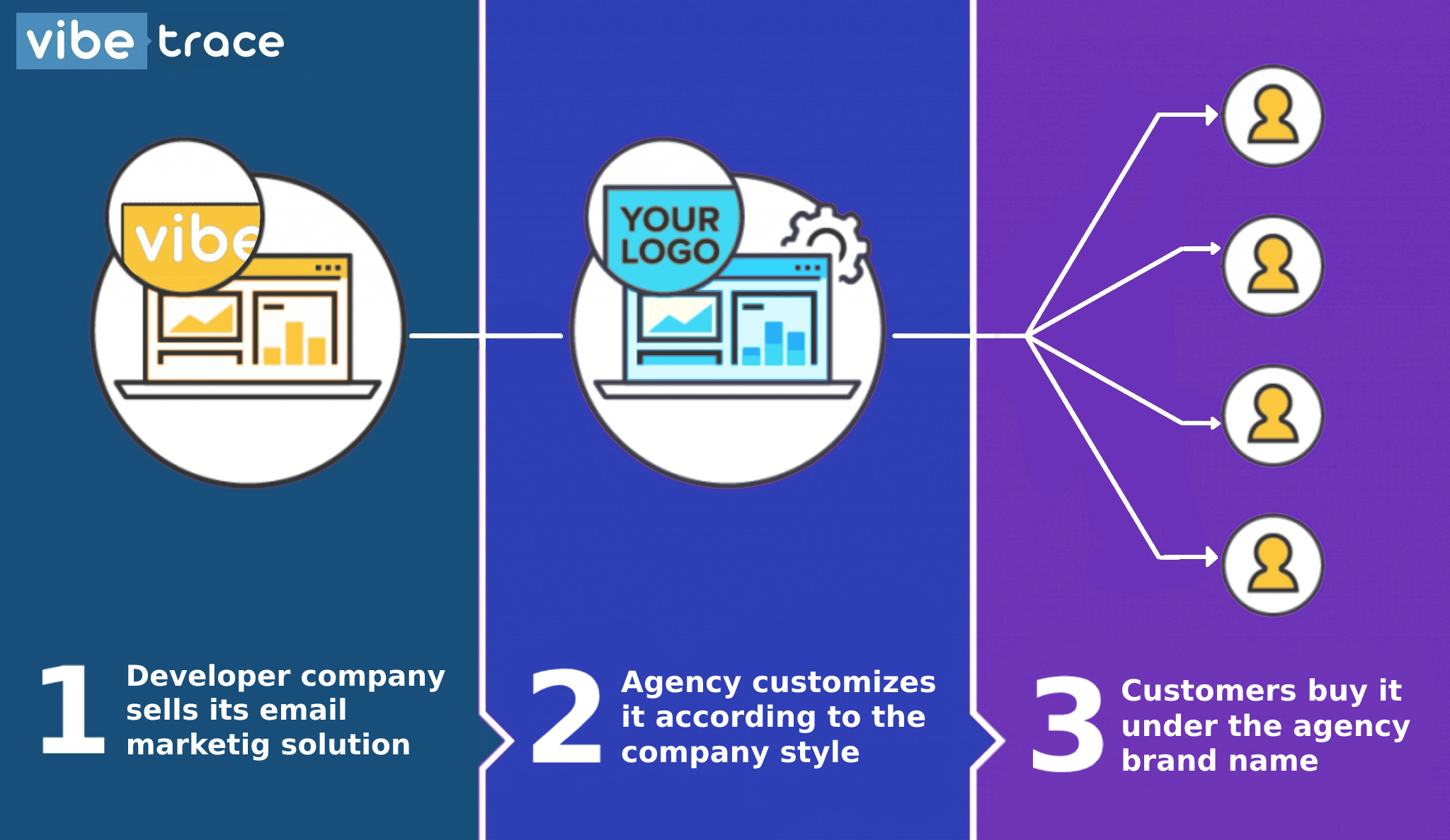 It is excellent for digital agencies when you employ a solution that you haven't developed independently, but it certainly appears so. For example, a white label email marketing service would help your business get more exposure and leads than a third-party solution.
Wanna know how? Continue reading 👇
7 ways your businesses can benefit from using white label email software
Agencies use white label email marketing services to manage several client accounts, design customized email content, and engage with new customers. There are several reasons why they chose it.
We will discuss them one by one.
Cost-Effective Solution
Companies are always looking to save money on their business operations, which can often hinder productivity and efficiency. Therefore, a white label email marketing platform can be used to reduce operational expenses.
Building your custom software can be incredibly expensive. Moreover, it can also be futile and time-consuming since most of the features you need are already present in the existing and available solutions.
As a small company, you might not be able to foot the bill for developing your email marketing solution. But you can benefit from a white label email software that already exists. Just put your logo on it.
2. Better Customer Service
When you buy a white label email marketing software, you usually buy its service. It means you don't have to care about deliverability, bug fixing, etc. Instead, your team can focus on more important things.
The more time you devote to your client, the happier they are. Which also translates to more orders and higher revenue.
Plus, when clients use your email marketing software, it would give you access to their marketing analytics and results. Thus, you will be able to gauge exactly what they need to stay ahead of their competition.
3. One Solution for All Clients
Most marketers tend to look for third-party solutions and applications when they have landed a client, which means that they cannot provide high-quality services or drive results the way they have promised. Moreover, it reflects poorly on the client, who would be more inclined to look for other marketing agencies.
However, when you use a single and efficient white label email service provider for all your clients, you won't have to look for third-party vendors or software for each of them. You will be able to manage their email marketing campaigns without breaking a sweat and will also be able to ensure consistent and promising results. This way, your clients will also trust your services and won't think about jumping ship.
4. Brand Awareness
The more services your agency provides, the more clients it has. Having its white label email marketing platform is one more competitive advantage. People will recommend you to friends.
This will create more awareness. The more people know about your brand, the more potential customers you will have.
5. Reselling Options
The best thing about white label email marketing service is that not only can you buy and personalize it for your own business. But you can also resell it to your clients. This will help you generate a new revenue stream, but it will also ensure that your clients have a full-fledged and dynamic solution that they can use for their email marketing purposes.
You can set the price of the white label email marketing yourself, and you can also customize the software according to your client's branding. Therefore, you will be able to tap into a new customer base and gain recognition.
6. No need to know to code
Another great thing about implementing white label email marketing is that such software eliminates the need to learn coding or programming in any capacity, especially if you are from a non-IT background.
These solutions are comprehensive and easy to customize, so neither you nor your clients will have any trouble setting them up or using them for marketing and generating leads and prospects.
White label email marketing software contains a wide range of features and functions designed to make it easier for anyone to understand how everything works. In addition, visual builders, email templates, and ready-made automation are created to save your time.
7. Complete dependency of clients on your service
Last but not least, another major benefit of white label email marketing services is that they help cement your name as the expert in email marketing for your clients. The last will be completely dependent on your services for their marketing needs.
Moreover, it would also help you build a reputation in the industry as an expert, leading to further clients in the future.
Cool, heh? But it wouldn't be fair to say white label email marketing is 100% perfect.
Implementing white label email marketing, be ready to face disadvantages
It is you (not a developer) who will be responsible for all possible platform bugs. If they mess up, clients will blame you first of all.
You can't control the quality of the service that a white label email software developer provides. You can't increase the speed of the bug fixing or the quality of support. So, it is better to test white label email software before paying for it.
By now, you have a clearer idea of what white label email marketing is and how you and your business can benefit from implementing one. Now let's look at some of the key features that the best white label email service providers should offer.
Features of white label Email Marketing Solutions
If you're a digital agency, in terms of email marketing, you should have an opportunity to provide clients with all possible types of email campaigns:
Trigger email automation
The best white label email marketing software provides an opportunity to launch personalized email campaigns targeted at a specific segment of subscribers.
Welcome emails to greet those who have just subscribed to your product/service. Such email series are aimed to explain what your company does, how to use your product, etc.
If you chose a reliable white label email tool, it wouldn't be a problem to schedule its sending by the "subscribed to email" or "registered "events.
For example:

Failed to load
Lead nurturing campaigns to engage people who showed some interest in your service/product but aren't ready to buy it. For example, users of the free trial. A lead-nurturing sequence helps them move from "I'm not sure" to "Yes."
For example, an email from Lingo aimed to encourage people to move to the paid plan: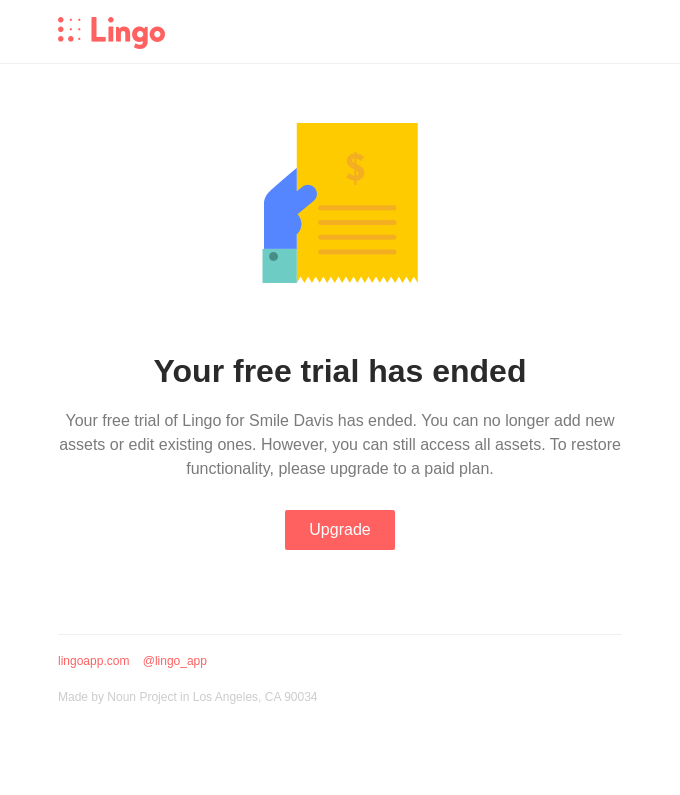 Reminders about an upcoming event, sale, items in a cart, etc. For example, attending a webinar, making a payment, updating an app, etc.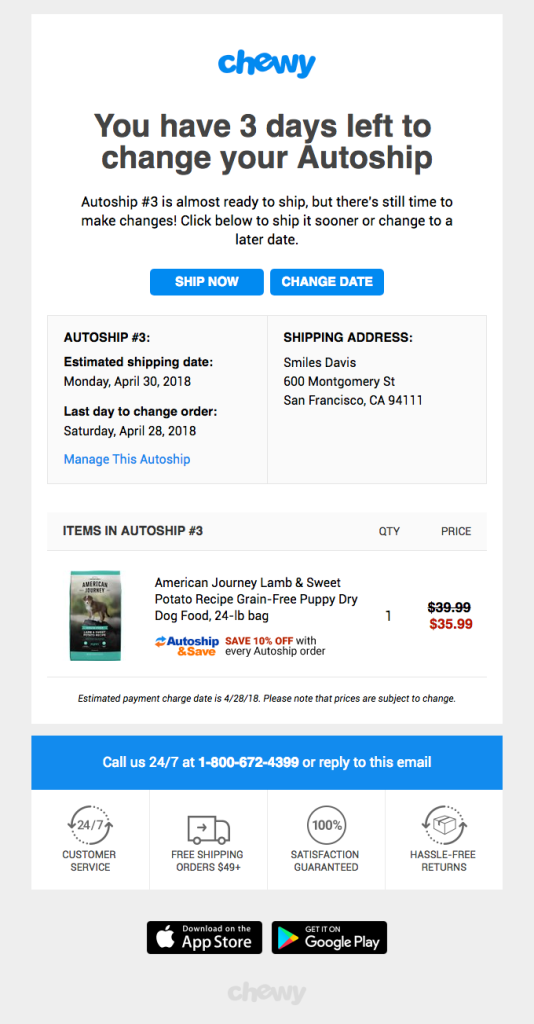 It is important to have an opportunity to set a time when and to whom such emails will be sent.
Promotion campaigns to notify subscribers about upcoming deals and new products or send promo codes.
For example, a promo email from Grammarly: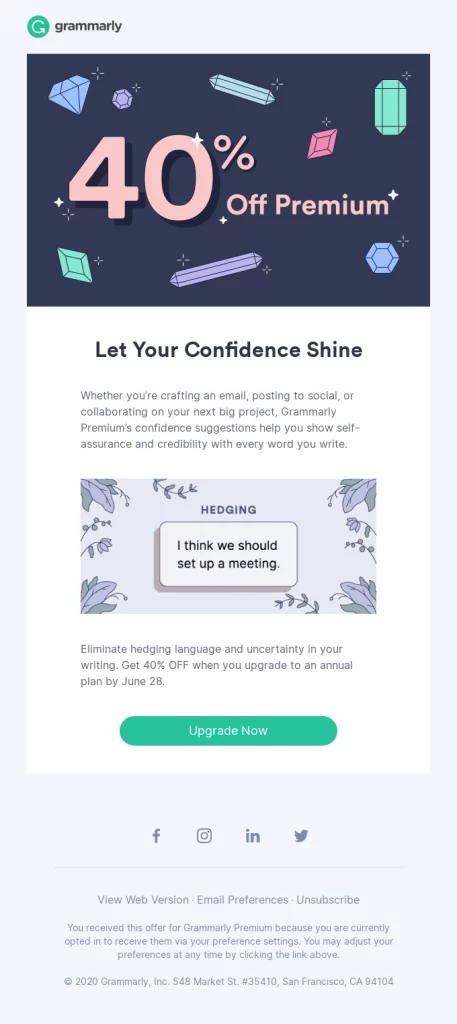 Re-engagement emails for those who have been inactive for some time. For example, customers that haven't visited your website for a month or abandoned carts.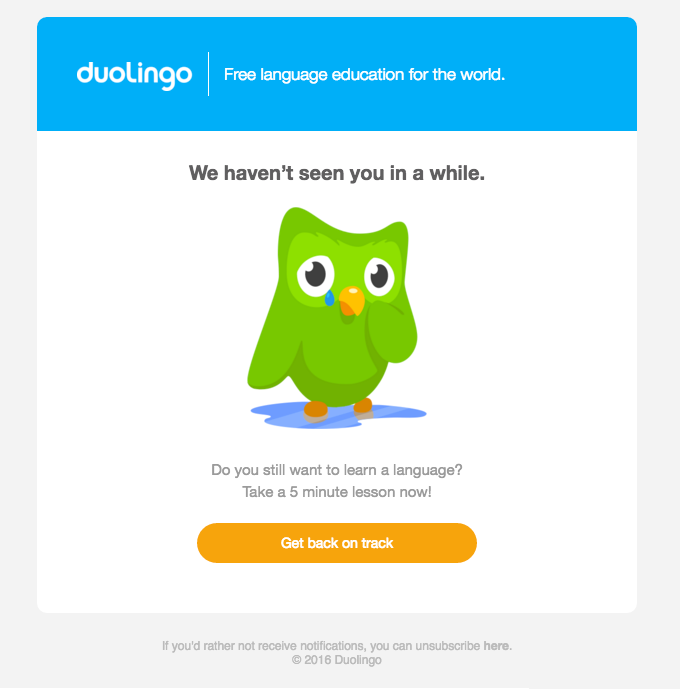 Upselling and re-selling campaigns with relevant product recommendations. The best white label email platforms have algorithms that allow crafting and sending such emails based on the custom'ser interest.

Pay attention to the last block of this email with best sellers. This is a brilliant example of an upselling technic based on the customer's interests (sneakers in a cart.)

Autoresponders
The best white label email marketing service provides your clients with an opportunity to launch transactional and drip campaigns. They are used for automated email replies to subscribers, users, and customers' actions on the website. Moreover, they are also used as confirmation emails or emails to guide customers toward the next step.
For example, Whereby email with confirmation code: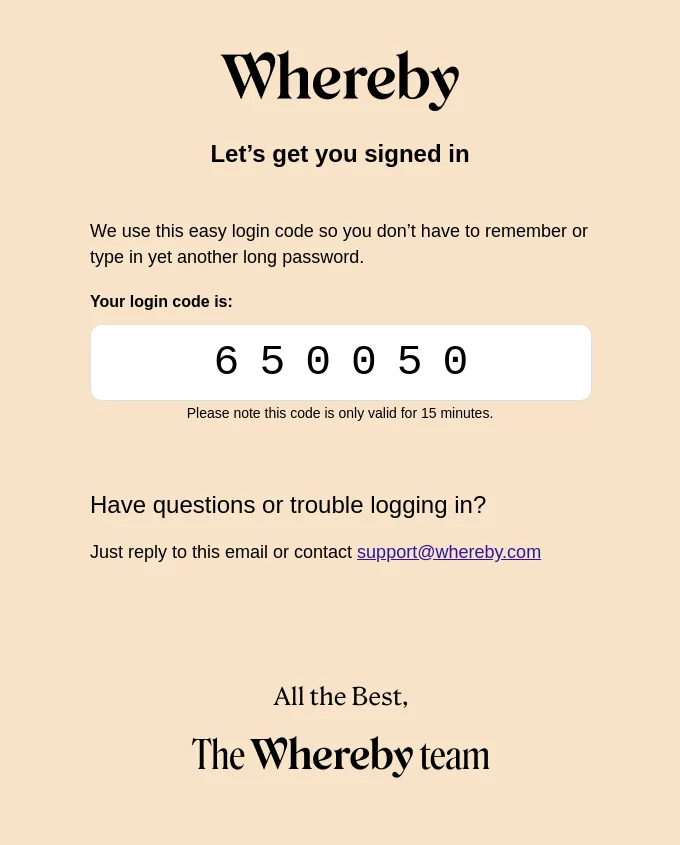 Newsletters
White label email service is nothing without an opportunity to send newsletters. It is a type of email containing educational information like articles, videos, etc. Usually, they are sent once per week to a chosen segment of subscribers, but each time the content differs.
For example, Trello digest email:

White label bulk email
White label broadcast, mass, email blast refer to a single email sent to a group of subscribers or non-subscribers if it is a cold campaign. They are usually meant for non-personalized communication. They also eliminate the hassle of sending the same email one by one to each subscriber.
Example a cold email from a link builder in my inbox: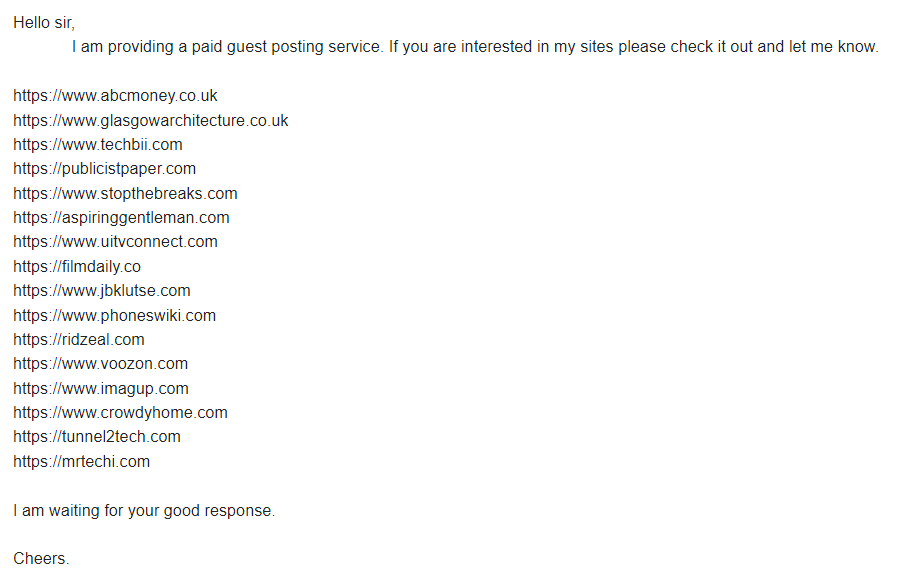 Totally impersonal.
Each of these email campaigns requires a set of features that the best white label email service provider should have. There are the best must-have features to check when choosing a white label email system:
100% customizability of all white label email marketing reports, templates, features, etc.
There needs to be a visual email builder to create beautiful designs with no code.
Customer data platform is a must for mailing list segmentation, personalization, and tracking visitor behavior for triggered email campaigns.
Automatic optimization of the emails for mobile devices because 60% of email campaigns are read on mobile.
White label email marketing demands a clear dashboard with campaign performance metrics. For example, CTR, Open Rate, Bounce Rate, and Unsubscribe Rate are must-have data tracked by eCommerce analytics software.
Lead capture pop-up forms are a common feature of the white label email marketing software that will help you to grow your mailing list. These forms collect valuable information from clients, including their email and contact number. This information is entered into a database and used for prospect targeting through emails.
Landing pages are another key option to look out for in a white label email marketing service. It is crucial for lead generation. Such pages are designed to entice users to sign up or interact with the business. They contain certain motivating elements, such as testimonials, user reviews, contact forms, benefits, etc. By offering your clients the opportunity to build landing pages through email marketing software, you will be able to help them gain traction faster.
Ready-made templates are a beneficial feature that the best white label email marketing services provide. It allows clients to design their marketing campaigns without worrying about the content or design. In addition, these templates are a major motivator for customers to engage with businesses and move on to purchase a product or service from them. Therefore, if you offer your clients the best templates for their campaigns, you will be able to gain their trust for a lifetime.
In addition to the increasing client satisfaction rate, with these features, you will also be able to markup the cost of the ESP and bill it directly to clients — thereby improving your profit margins.
Do you like this article?
Join Mary and the Marketing Automation dedicated newsletter!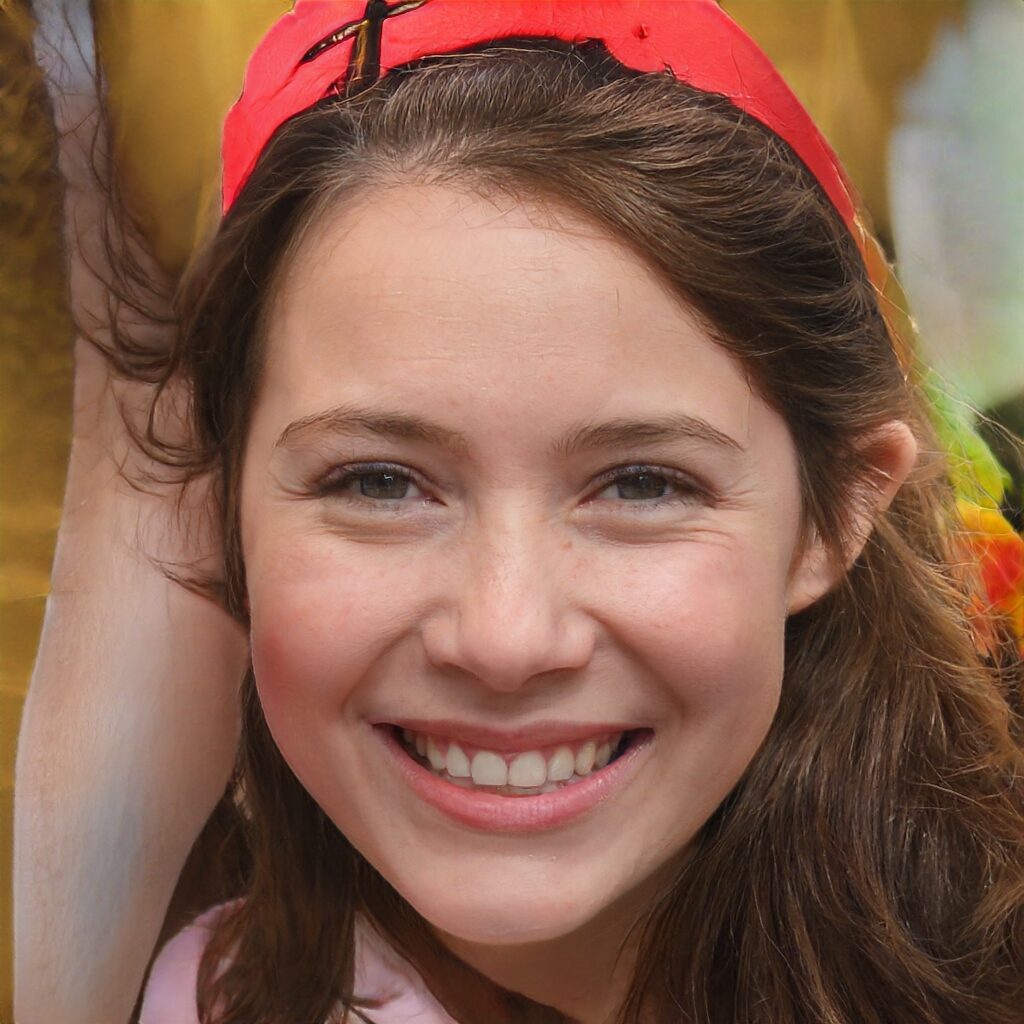 Stay connected to what's really important to optimize your digital revenues.
By clicking the button, you accept our Terms & Conditions. Also you will need to confirm your email address.
Best White-label email marketing automation tools
As white label email marketing has grown popular, over 100 companies in the market provide this service. The number is growing day by day. But don't be alarmed. Here are our five best white label platforms agencies chose for email marketing automation.
1. VibeTrace is a white label email marketing software designed for agencies and eCommerce. It offers its clients a list of email marketing must-haves and additional tools like SMS, web push notifications, and product recommendations. Furthermore, due to a list of ready-made and on-demand integrations with email servers, it is fully customizable and easy to implement.
2. Zoho white label platform provides advanced email marketing tools for mid-size and enterprise-level businesses. It has fully customizable email templates, analytics, and a visual builder to send highly-personalized campaigns.
3. ActiveCampaign white label service provides its users with a list of email marketing automation tools for B2B and B2C businesses focusing on eCommerce. Some of its customizations are easy to do, but some demand HTML and CSS coding.
4. SendGrid cloud-based email SMTP provider offers white label domain hosting. With a focus on transactional campaigns, it allows you to send email without maintaining email servers. But this platform can be a bit difficult to maintain and deploy.
5. MailChimp white label email marketing automation software. It is famous for its powerful A/B testing feature, first. Another factor making it worth your attention is affordable pricing.
Here is their short comparison:
White label email marketing software
Visual
builder
Ready-made templates
Analytics
& Reports
Landing pages
Pop-ups
Customer data platform
Automated email campaigns
Bulk email campaigns
VibeTrace
+
+
+
+
+
+
+
+
SendGrid
+
+
+
–
+
+
+
–
Zoho
+
+
+
+
+
+
+
–
MailChimp
+
+
+
+
+
+
+
–
ActiveCampaign
+
+
+
–
+
+
+
+
To sum up
Time is money. Your potential clients won't wait for you to hire and train a team or build email marketing software. Instead, they will pay your competitor.
If you want to provide email marketing service right now, look at white label tools available on the market. Test different options and choose the best white label platform to give your clients the ultimate bundle of email marketing or even complementary services.