Stop the loss of revenue for your digital agency.
Well, the goal every marketer and store owner want is to be able to offer the product that's most likely to convert to the right customer at the right time.
This is why Product recommendations software is a crucial part of every e-commerce site today. It's the key to boosting sales and ROI. That's the technology we come across daily – when online stores tell us "you might also like".
The impact is clear – product recommendations software drives sales.
Don't let potential cash vaporize – if you're still not offering product recommendations to your clients, then it's time for a change. This technology can help you provide your clients with better results, leading to the direct growth of your own agency.
If you think there's too much technology involved to be worth it, think twice.
Today, white-label software solutions like バイブトレース give the technology in your hands.
All you need to do is put the branding of choice on it and cater to your agency's clients with better tools and advanced technology you don't have to develop yourself.
From data collection to personalized recommendations straight to shoppers' inboxes, you can handle your clients and, in turn, get to know their customers with ease and minimal effort. Keep reading to find out exactly how!
What Is a Product Recommendations Engine?
Product recommendations software is an advanced filtering system that can predict the products online store visitors are most interested in.
It can also make those same suggestions at every stage of your customer's journey. Below, we'll go into more details:
1. How does white-label product recommendations software work?
This sophisticated filtering system uses collected data and sets of rules – product recommendation algorithms, to make the most relevant recommendations to users.
You can boost sales and create and execute more efficient upsell and cross-selling campaigns. The best part is that with cutting-edge white-label product recommendations software like VibeTrace, you can take the technology and use it as your own, providing your agency's customers with the best services possible.
2. What types of engines are there?
There are 3 main types of product recommendation engines you can use, depending on the data that's being collected and how it's used. These are:
Collaborative filtering systems – they use the wisdom of the crowd to predict which products can be of interest to users. The analyzed data comes from multiple customers and plays a role in recommendations like "customers also liked", "also purchased with this product", etc.
Content-based filtering systems – they analyze the purchasing behavior of individual customers. That helps develop and flesh out unique profiles and provide personalized recommendations based on the user's personal preferences.
Hybrid filtering and recommendations – such systems run parallel analyses of groups of customers and individuals. Data can be cross-referenced to determine which would be the best recommendations to make.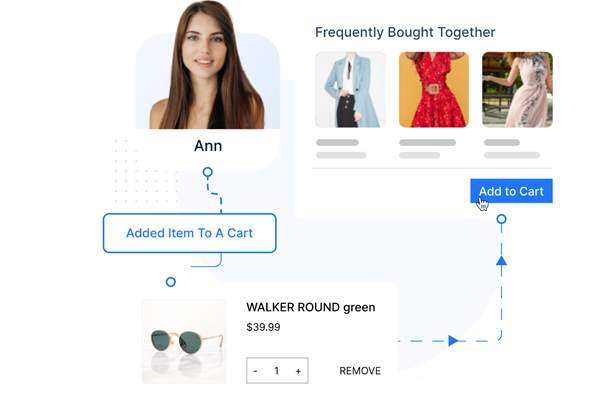 3. Features of product recommendations engines
There are several invaluable features the product recommendations engine you're using can have. VibeTrace checks all the boxes because you can't compromise with the scope of these types of services. These include:
Advanced Filtering – product recommendation engines require a massive amount of data to make the algorithms work properly and achieve the best results.

That's why they come with advanced filtering options. Once a visitor lands on a site, their activity and interests are tracked and stored. That creates detailed customer profiles and allows you to use the information based on one of the three models we covered above.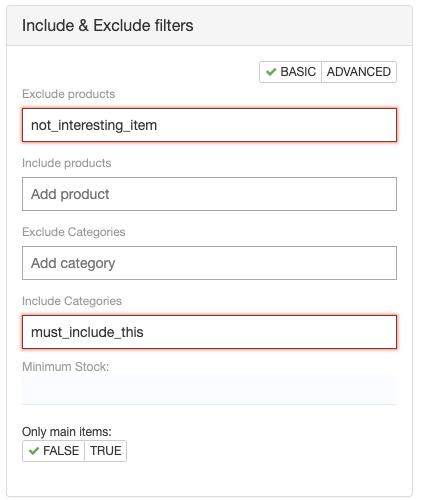 スマートなアルゴリズム – those are the set of rules the engine follows to make relevant recommendations. The VibeTrace recommender engine provides 15+ algorithms with custom settings and simple configuration.

These include popular scenarios for abandoned carts, best sellers (according to units or conversion rate), new products added, algorithms for cross-selling and upsells, products related to search results, popular products, viewed products, similar products, "bought together" products, products with specific attributes, and more. You can see the variety of algorithms at your disposal right here.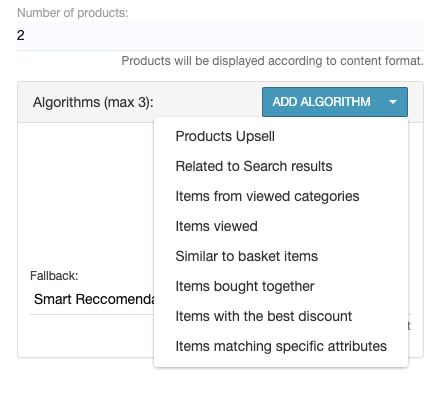 Algorithm Fallback – those are algorithms instructing the system on what recommendations to make when no other algorithms kick in.

VibeTrace comes with 4 fallback algorithms for the engine to act on – Smart recommendations, According to filters (filters you've set on the products), Ignore position, Stop display/delivery. You can see how each of these works right here.

Advanced Recommendation Settings – advanced settings give you better control over what products are displayed and when.

You can exclude or include specific products and entire categories. You can also set a minimum stock condition to prevent products that are in low or out of stock from being recommended.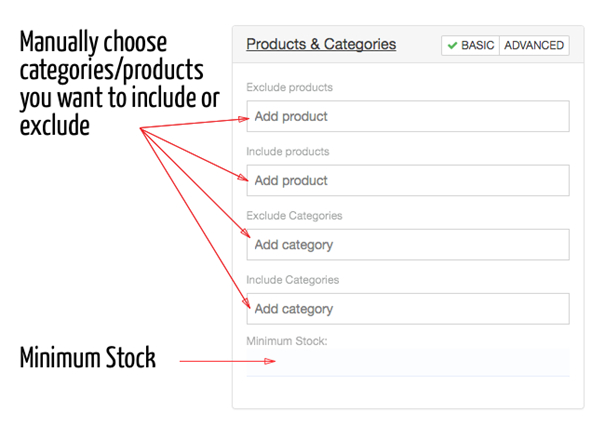 A/B Testing Capability – A/B testing is crucial for choosing the right course of action and the best way to display recommendations. With a tool like VibeTrace, you can perform multiple A/B tests within your campaigns to see when and what recommendations generate the best results for various user segments.
デザインのカスタマイズ – design is essential for grabbing the target audience's attention. For example, you might want to skip pricing within email campaigns to get customers back to the store.

That's why VibeTrace gives you complete control over customization, branding, and design of campaigns.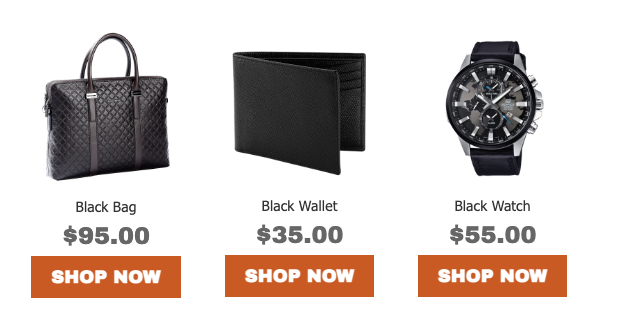 マーケティングの最新情報を知りたいですか?
マーケティング オートメーション専用のニュースレターを購読してください。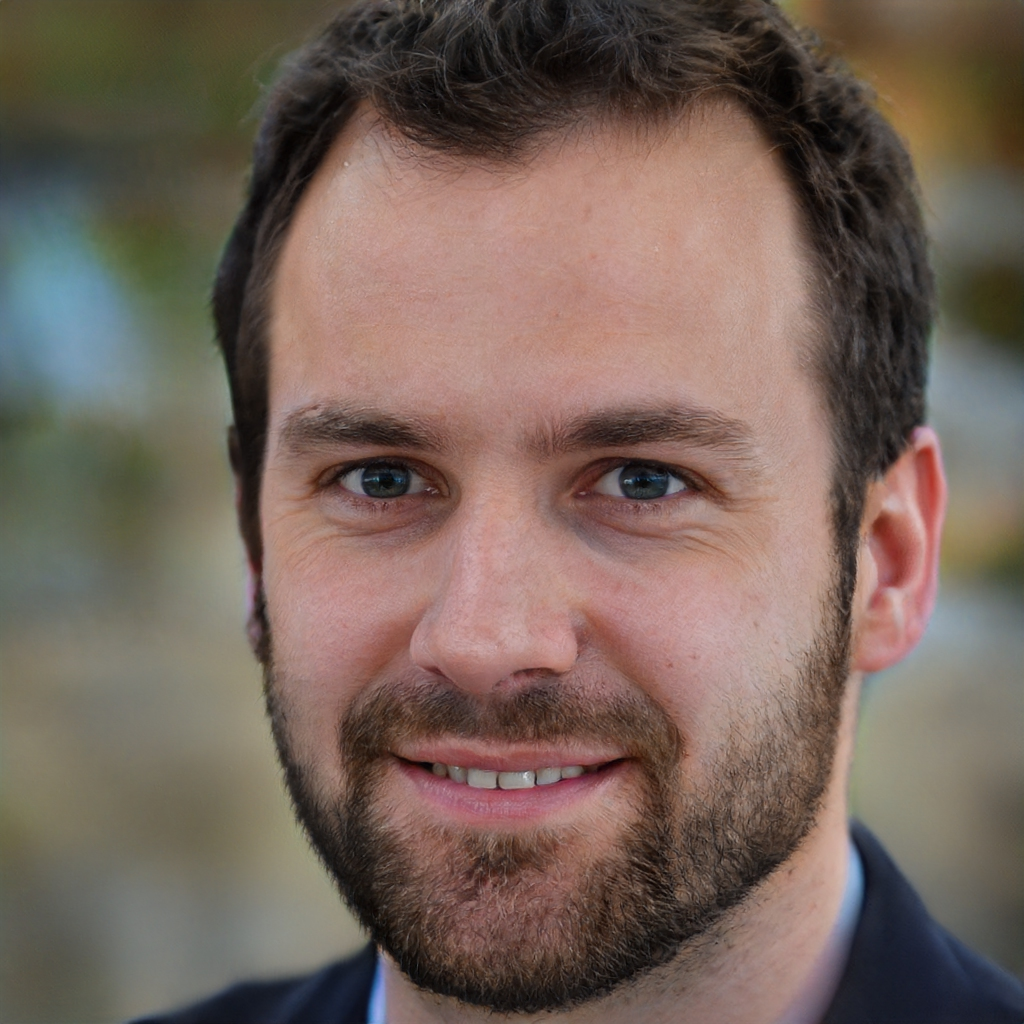 デジタル収益を最適化するために本当に重要なことと常につながりましょう。
ボタンをクリックすると、当社の内容に同意したものとみなされます 利用規約。また、メールアドレスを確認する必要があります。
4. What are the best use cases for product recommendations?
If you're ready to accelerate your agency's growth, here's how a white label software solution like VibeTrace can do it for you! A powerful white label product recommendations software like this takes care of several main objectives:
Maximize Product Discovery – the software's powerful segmentation tools help you provide the most relevant recommendations and highlight trending and bestselling products or new arrivals. What direction you'll take and the products you'll showcase is up to you – the dozens of algorithms and scenarios give you tons of options.
Increase Cart Value – lack of a recommendations engine equals lost revenue in missed sales. With relevant recommendations, you can both cross-sell and upsell customers, increase order values and dramatically decrease cart abandonment. By displaying recommendations on checkout pages, you can further boost order values.
Remarket Across Channels – product recommendations based on advanced filtering and detailed segmentation can help you launch and execute better email marketing and advertising campaigns. You can also serve relevant push notifications and create a better omnichannel experience for end customers who would want to return to a store with relevant recommendations time and again.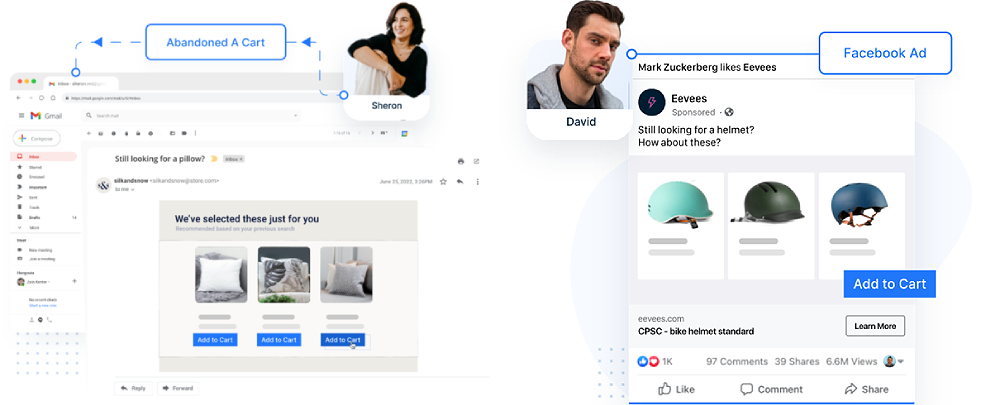 Using the VibeTrace recommendations engine and taking these uses cases as a stepping stone, you can achieve several things:
Boost customer engagement and sales;
Promote specific products from your inventory;
開封率の向上 up to 40% and CTRs between 25-30%;
ブースト email marketing conversions by up to 30%;
Boost average order value for individual shoppers through high-quality recommendations;
Increase revenues through relevant upsell and cross-sell offers;
Improve the overall shopping experience for visitors for all your clients;
Use on web and mobile, as well as in email marketing campaigns and ads.
You can use the VibeTrace product recommendations software on all your favorite e-commerce platforms.
With the white label solution, you'll have all the needed technology at your fingertips to impress your clients with the quality of your services and boost your own digital agency business. Here's the overall effect the VibeTrace engine will have on businesses:

And the best part is that you can place recommendations wherever you choose. This might be a store's Homepage, product pages or search results, category pages, even shopping cart and checkout.
You can place them on 404 pages, pop-ups, push notifications, and inside email marketing campaigns. All this can help you serve the best products for customers, the ones they won't be able to resist.
What Is White Label Software?
White label product recommendations software allows you to establish your brand and service as high-quality and effective without investing in expensive R&D. The technology you need can be yours today. We'll take care of all the technical stuff. Here's what you get with VibeTrace:
Complete branding and personalization – get the software, brand it as you see fit. Set it up for all your clients and run everything under your domain and brand. You can manage all your clients from a centralized place with the unlimited accounts you can create.
Spend less time on development, get ready-made software – of course, you can develop your own software once you know what you need from your recommendations engine. Hire and onboard developers, explain the logic you need them to build, and wait. Or get the VibeTrace white label product recommendations software now and start offering relevant product recommendations tomorrow. We take care of the technical stuff – from deliverability to support.
Get access to pre-made templates and scenarios – the sophisticated white label product recommendations software offered by VibeTrace comes loaded with the most powerful scenarios and a ton of templates for you to design and customize.
Detailed real-time reports – VibeTrace offers real-time reports you can monitor and provide to your clients, demonstrating your excellence. Get to know your clients' customers and track user behavior and campaign results from one spot. Your customers will be more than happy by the increased scope of services they're getting.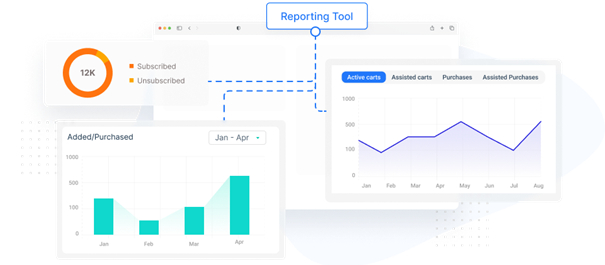 Exclusive pricing model based on usage – VibeTrace uses transparent pricing models based on account activity like traffic and results. You can choose the pricing model most suitable for you and your business. We keep things transparent so that you always know how much you're paying and how much it will cost you to bring in new clients.
製品の推奨事項についてサポートが必要ですか?
カスタマー ジャーニー全体にわたって、製品の推奨はコンバージョン率を高めるために重要な役割を果たします。私たちがどのようにお手伝いできるかをご覧ください
Benefits of Going for White Label Product Recommendations Software
White label product recommendations software provides you with a ready-made solution of sophisticated technology you don't have to build from scratch. That translates to:
Optimized efforts and investments – with a white label solution, you'll skip the whole development cycle, achieving two things.

First, you save time and financial resources related to development. Second, you can quickly expand your portfolio of services for your clients.

No expertise or technical knowledge required – we take care of all deliverables, and we made sure the VibeTrace recommendations engine is user-friendly, with an easy-to-use and navigate interface which allows you to quickly and efficiently create rules for the algorithms.

You get a risk-free solution to grow your portfolio of services with a cutting-edge product recommendations engine and delight your clients.

Focus on your agency's growth while you help your clients grow – product recommendations have an undeniable positive effect on growth that extends to your clients and your agency.

With a white label solution, you will work more efficiently and attract more customers through verifiable results.
マーケティングオートメーションに関するサポートが必要ですか?
オムニチャネルの自動化はオンライン ビジネスにとって必須です。カスタマー ジャーニー全体を通じて電子メール、SMS、Web プッシュ キャンペーンを簡単に実行できます。
Choosing Your White Label Product Recommendations Software
White label product recommendations software can help reduce costs, optimize efforts and investments, save time, and establish a strong brand for yourself and your clients. But how to choose the best solution? We'll be answering just that!
Figure out what you need from a product recommendations engine – when talking about e-commerce, the most important thing is reaching customers with the relevant product at the right moment. You don't have to build the software yourself, but you also want software loaded with tons of scenarios and templates that can be personalized and used. That's where VibeTrace truly shines with nearly 30 recommendation scenarios;
List the features you must have to cover business needs – consider what you are trying to achieve for your clients. To boost ROI, increase revenues, and strengthen relationships between store owners and their customers, you need product recommendations software that can increase conversions, boost average order value, improve product discovery, and enhance customer loyalty through its features. The VibeTrace white label software can satisfy your need for information and customer data, grow the scope of your services、 と improve the results you can deliver to clients.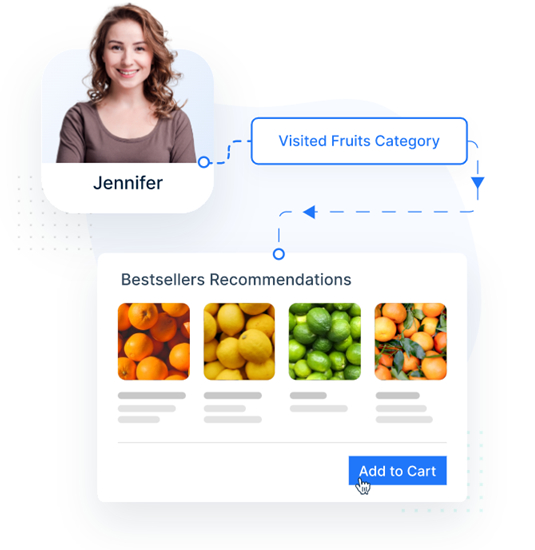 Determine the level of customizability you need – you want to build a strong, trusted brand. Being able to add a logo is a no-brainer, but there are other branding elements that will impact performance, including vanity URLs, colors, and even typography. That's why VibeTrace offers a high level of customizability for its white label solution.
Consider available support – a white label solution with unreliable backing will waste your time. And it's not just about maintenance. Your business growth and development, as well as your client's needs, might require the development of additional features. With VibeTrace, you can focus on your clients and their business. We'll take care of whatever features you might need.
Take it for a spin – you'll always want to test a white label product to evaluate its quality and usability. You want to make sure its features align with your needs. Especially when talking about white label product recommendations software – you need to test recommendation options. That's why we at VibeTrace offer you a demo to see everything the software is capable of.
Choose a payment model – now that you know what you have access to, time to settle on a payment model that corresponds to your business and size. We offer transparent pricing so that you always know what you're paying for and grow confidently.
The only thing left is to start using your white label product recommendations software and help your clients grow. Skip the development process, save time and money, and focus on what matters – better results and accelerated growth.
With white label solutions like that, you can enjoy the benefits without too much effort. Setting aside a budget for a high-quality white label product recommendations engine is worth it.
See it in action and VibeTrace デモを予約する today to start growing tomorrow!
役立つリンク:
Ultimate Guide to White Label Marketing Solutions for Agencies
2022 年のベスト ホワイト ラベル マーケティング ソフトウェア 13 選 [代理店推奨]